Discover more from Rescapement
Updates on my Hodinkee writing; b-sides and behind-the-scenes; unpolished personal musings; recs and other unsolicited advice.
For Ukraine: Charitable watch efforts to support Ukrainians
Straps, stickers, and watches to support Ukraine 🇺🇦
It's been horrifying to watch the last week's events unfold in Ukraine. As a fledgling watch publication, I've struggled with what Rescapement can do to support Ukraine and Ukrainians.
Since this is a watch publication, I decided we could just keep writing about watches. A number of amazing and charitable endeavors around the watch community to support Ukraine have popped up in the past few days. If you've seen others, leave a comment below, email me (tony@rescapement.com), or DM on Instagram and I'll add them to this list.
---
Oak & Oscar: 1-of-1 Olmsted 'For Ukraine'
Just before the launch of its latest watch, the Humboldt GMT, Chicago-based Oak & Oscar announced another extremely cool thing. To support the people of Ukraine, Oak & Oscar is auctioning off a one-of-one blue & yellow Olmsted. Here are the details:
Like so many of you, we want to support the people of Ukrain, so we dippied into the prototype bins for this 1 of 1 special edition blue & yellow Olmsted, which we're auctioning off to raise money for crisis relief.

100% of the money from this auction will be donated to the Red Cross to support their efforts to help fight the growing humanitarian crisis in Ukraine. Yes, 100%.⁠⁠

Bid in the comments on the Instagram post until 5pm CT this Friday (3/4).⁠
Check out the full post on Oak & Oscar's Instagram:
As of this post on Thursday (3/3), bidding was over $7,000. Well done, Chase and team.
The Strap Tailor LTD Charity Edition NATO - Ukraine
UK-based strapmaker The Strap Tailor, in collaboration with Justin Hast, is producing a limited-edition woven ribbed NATO strap. Like Oak & Oscar's auction, all profits from this sale will go to the Red Cross.
Here's what else The Strap Tailor has to say about the quick-turn limited edition:
Lead Time: This is a bespoke order and we will be ordering the total volume based on the support received. Initially we are aiming for 150 units of each size to enable us to bespoke dye the weaves. If we receive more we will order more! Our supplier expects a 30-45 day turnaround time once we close the order books and go to manufacture so please bear this in mind when ordering

Your Commitment: There will be no refunds/exchanges offered on these straps – all sales are final as we are donating all proceeds to The Red Cross. This will be a term you accept when purchasing the strap and committing to your donation.
The straps cost $34 and are made from heavy-duty nylon, offered in 20mm and 22mmm lug width options.
Zulu Alpha Straps - Ukraine
Zulu Alpha, the producer of heavy-duty straps for among others, the British Ministry of Defense, is producing a special edition Ukraine strap. According to Zulu, 100% of sales (not proceeds) will go to the Ukraine fund for Save the Children.
From Zulu Alpha:
"We've been overwhelmed with the amount of emails and DM'S we've received over the past few days from you guys asking for a way to show your support.

Initially I was dubious as I don't like to get political with our products or appear like we are profiting from the loss of others but the more I am seeing the more I am compelled to act.

Like many of you I am a father, and seeing how these kids are getting displaced is heartbreaking. They are leaving everything behind them, family, friends schools and all of their possessions and toys.

As such I have taken the decision to commission Ukrainian webbing. This is moving to production immediately."
Head to Zulu Alpha's website to order.
Art of Horology 'Glory to Ukraine' Sticker
Art of Horology is making 'Glory to Ukraine' Stickers. All proceeds from sales of the stickers will be donated to Save the Children. From Art of Horology:
"Our Slava Ukraini stickers have been designed to help raise money for the Children currently caught in the conflict in Ukraine. All proceeds from the sale of our stickers will be donated to Save the Children.

Save the Children has been operating in Ukraine since 2014, including in the conflict-impacted regions of Donetsk and Luhansk."
The stickers are £5 and available on the Art of Horology website.
Seconde Seconde 'Demilitarized Military Watch'
French artist Romaric of Seconde Seconde, known for his playful takes on vintage watches, sold a "demilitarized military watch," a WWII-era Zenith with a peace sign swapped in for the seconds hand. The entire sale price of € 1,500 was donated to UNHCR, the United Nations Refugee Agency. As of this writing, reports are that 1m Ukrainian refugees have left the country since the Russian invasion.
Baltic Watches Prototype Aquascaphe - Ukraine Auction
Sug Nishioka, @garactacle, is auctioning off a prototype Baltic Aquascape to support Ukraine. Here he is explaining the watch and auction:
"I'd like to auction the Prototype Baltic Aquascaphe and donate 100% of the winning bid to @icrc to aid the humanitarian efforts for the people of Ukraine.

I'd like to thank my dear friend and an all around amazing human being Etienne for gracefully accepting my idea of auctioning off this prototype Aquascaphe for the cause. It was our little secret that I had this prototype... till today.

Backstory of the watch: Several years ago, I offered to take underwater pics for Baltic Watches because I simply loved what they were doing. I was gonna send the watch back afterwards and buy one from the website, but Etienne let me keep the prototype because he knew it would be more special to me. The watch has been to the bottom of Monterey Bay many times, and it has performed beautifully.
Check out the auction on Instagram, which closes on Tuesday (3/8).
Klevlin Leather Goods
Klevlin Anton is a Ukrainian craftsman who produces handmade watch straps, wallets, and other leather goods. He recently took to Instagram to explain the situation in his hometown of Lviv, in western Ukraine:
"I wanted to ask you for help…Everything is calm with us, there are no hostilities. Lots of refugees. But due to martial law, many businesses closed. Everyone now needs essential goods, not wallets, watch straps. But I, like other craftsmen, need to feed my family.

I wanted to ask you if you need any accessories, I can make them. I am ready to make any orders, I can just send them when international shipments open."
You can find Klevlin Leather Goods on Etsy, but he prefers direct orders via his Instagram DMs.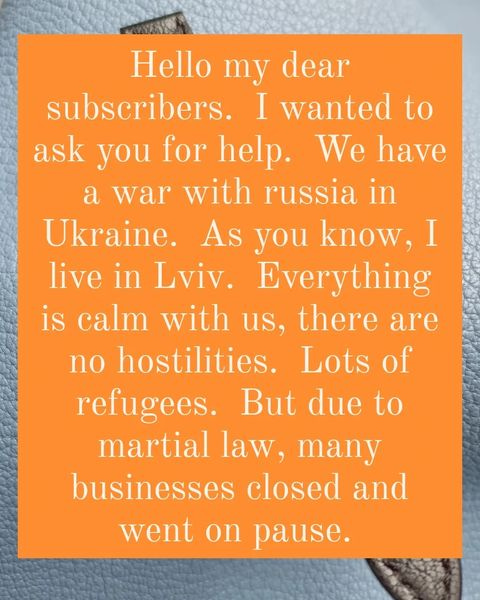 Blonie Watches 'For a Free Ukraine'
Polish watchmakers Blonie Watches is auctioning off a unique watch with a yellow porcelain dial in the colors of Ukraine, and the inscription "Made for a free Ukraine" below 6 o'clock. The entire proceeds from the auction will be donated to the needs of the Polish Humanitarian Action in Ukraine.
See the auction here.
Other shows of solidarity
Of course, there have been other shows of solidarity on Instagram, too:
If you see other charitable efforts from the watch community, please email or comment and I'll add to this post. There are many other ways to donate or support Ukraine; you can do your own research there.1 At the very least, leave a Google review for a restaurant in Moscow?
---
Rescapement is a weekly newsletter about watches. Subscribe now to get inside scoops like this delivered straight to your inbox: