Discover more from Rescapement
Updates on my Hodinkee writing; b-sides and behind-the-scenes; unpolished personal musings; recs and other unsolicited advice.
An introduction to the Zenith caliber 146 through a steely A271
The history of Zenith, Universal Geneve and Martel; In-depth on Rolex Submariners and GMTs; Rolex still dominates retail
The history of Zenith, Universal Geneve and Martel; In-depth on Rolex Submariners and GMTs; Rolex still dominates retail
Discovering the Zenith caliber 146 through a steely A271 chronograph
For the full article, with plenty of images, click here.
Mid-century chronographs are some of the most collectible models in all of vintage watches. References from Heuer, Rolex, and even Seiko have cult-like followings.
The reasons any collector is attracted to any particular watch are as plentiful as the number of watches in the world, but allow me to submit a hypothesis as to why these old chronographs are so popular. They're the perfect blend of function and form ("everything you need, nothing you don't," as a more pedantic blogger espousing the virtues of Bauhaus might put it). Many of these beloved chronographs are simple designs: monochromatic, or perhaps a panda dial, with just a few sub dials to perform their necessary function of measuring time.
Further, these chronographs tug at the heart strings: they went to the moon, or at least drivers used them to time laps or something. All that history, squeezed into a few austere sub dials and a tachymeter.
Among the most revered and historically important of these chronographs is the Zenith El Primero A386, a chronograph with a claim to the title of the "world's first automatic chronograph." But Zenith's journey to become a historically important chronograph maker began at least a decade earlier.
That's why I was drawn to an earlier Zenith chronograph, the A271, powered by Zenith's manual wind caliber 146.
This piece serves as an introduction to the Zenith caliber 146 via my A271, but — as you'll see — the caliber 146 powered an array of watches over its 30-plus year production run. If you've got a watch powered by the caliber 146 and want to tell its story, let us know.
Making (Martel) moves
Before we get back to the A271, we're going to take a quick detour through Le Locle. I swear it'll be worth it — like one of those mythical family road trip detours to see the world's biggest ball of yarn — and it provides the preface to Zenith's development of the El Primero movement.
Around 1960, Zenith acquired its longtime movement manufacturing partner, Martel. Martel Watch Co. was located in Le Locle, just a stone's throw from Zenith and, at the time, Universal. In fact, Universal's earliest chronographs used movements from Martel and the companies developed a partnership that lasted throughout the early part of the century.
The Martel-Universal partnership hit its stride in the 1930s, when Martel developed one of the first two-pusher chronograph calibers for wristwatches and jointly promoted it with Universal. In the 1930s and 40s, Universal also started using the "Compur" or "Compax" name for its chronographs. Martel introduced its manual wind chronograph caliber 749 in the early 1940s, which Universal used and signed as its caliber 285.
Zenith also started using this same Martel caliber 749, signing it as its caliber 146. It also adopted the "Compur" and Compax" branding, selling models that sometimes bear striking resemblance to their Universal counterparts. Some advertisements from the time openly tout the collaboration between the two brands. Many Zenith watches from this period also have case and reference numbers in Universal Geneve format, rather than Zenith format, suggesting that Zenith obtained assembled watches from Universal (rather than just ebauche movements — but the discussion of these cases, in particular Jeanneret cases, must be left for another day). There was also probably some familial and/or corporate inbreeding between Zenith and Universal, but I'll spare you those details too — we've got enough of that to deal with in our modern politics and boardrooms.
Martel's manufacturing of complicated chronographs reached its apogee in the 1940s, when it developed a chronograph caliber with full calendar and moonphase, or "Tricompax". The movement can be found in both Universal and Zenith models from the era.
Fast-forwarding through a golden age of chronographs — particularly from Universal Geneve — we arrive at the 1950s, when Zenith began to use both Martel and Excelsior Park movements in its chronographs. During this time, in addition to continuing to manufacture chronograph movements, Martel also developed an automatic (rotor) movement.
By 1960, Zenith had outright acquired Martel, bringing its chronograph manufacturing capabilities in house. This meant production of the Zenith caliber 146 was also brought fully "in-house" for Zenith. It also brought Martel's other manufacturing capabilities into the Zenith portfolio, including Martel's production facility in Pont de Martel, Switzerland, which had been built with Universal Geneve in the 1940s. The El Primero movement was later developed in this very building. It's also where long-time Martel employee Charles Vermot spent months defying companying orders by hiding equipment used in the production of the El Primero in the attic before the facility was shut down by Zenith Radio Corporation, which purchased the Swiss watch manufacturer in 1971.
In 1962, shortly after the Martel acquisition, Zenith announced that it had begun development of an automatic chronograph. While JFK was making bold proclamations that we'd put a man on the moon by the end of the decade, Zenith just wanted to use its newly acquired chronograph expertise to build the first automatic chronograph, which they eventually accomplished with the announcement of the El Primero in 1969.
It's clear that Zenith would not have been able to accomplish this but for its acquisition of Martel and that company's decades of expertise building world-class chronographs for both Zenith and Universal Geneve.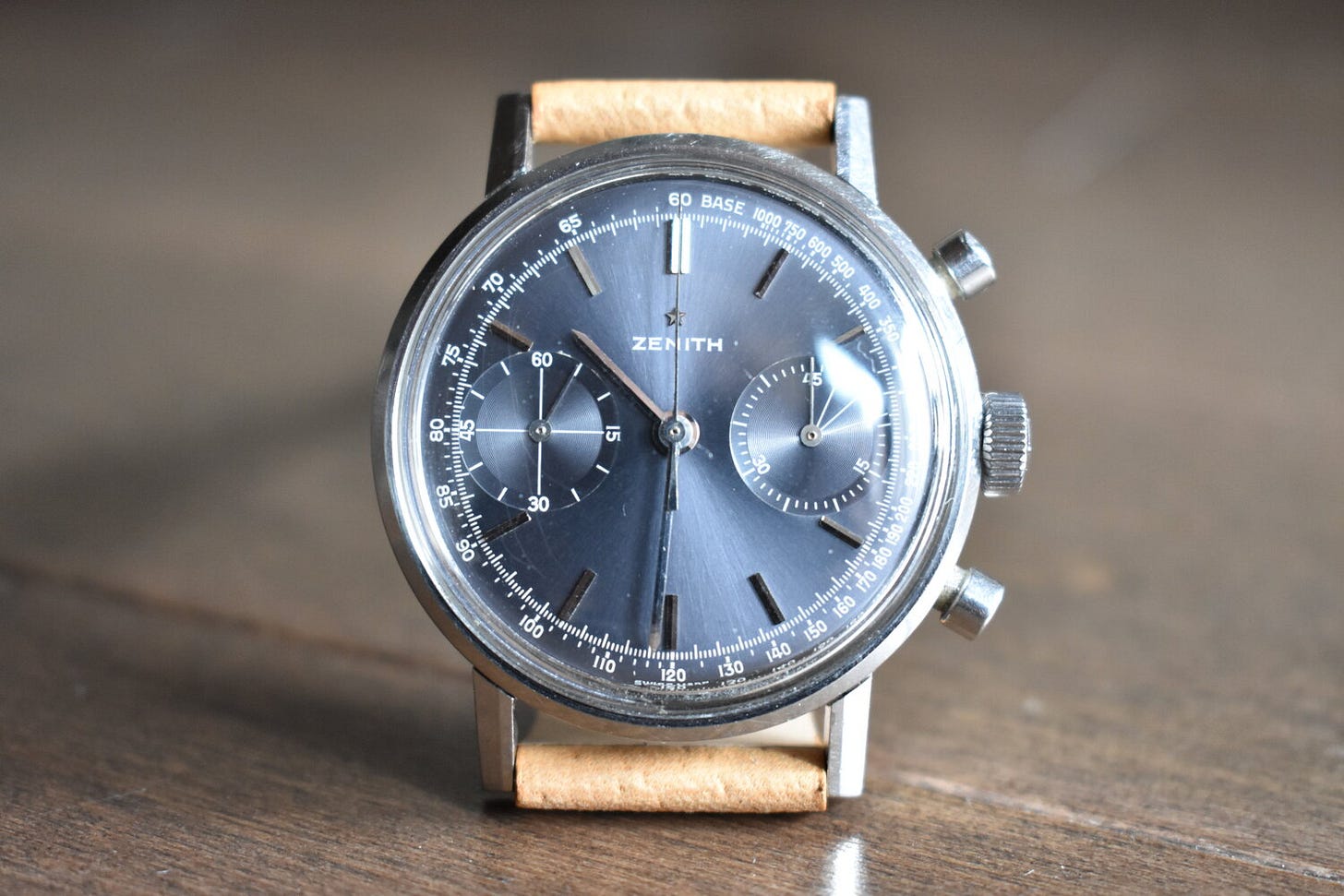 Yea, but how's it run?
By now, you might be thinking "that's a nice story, but is the caliber 146 even a good movement?"
Quite simply: Hell yes.
First, it winds as crispy as fallen autumn leaves. But, the chronograph is just as smooth as the wind is crunchy. I don't know how a movement first developed 80 years ago got it so right.
The Zenith caliber 146 (née Martel 749 or Universal 285) is not quite a movement, but a family of calibers. It was distinctive not only for its quality of construction, but also because it could be easily made in different sizes (from 13 to 16 lignes), with parts that could be interchanged between those sizes. Zenith would go on to name this family of calibers 136, 146, 156, and 166 with a "D" or "H" after the caliber indicating whether it was a two- or three-register model. (Universal had its own names for its production versions prior to Zenith acquiring Martel.)
The caliber 146 is a column wheel chronograph with Breguet hairspring. Additionally, you'll find both 146H and 146HP movements: the 146HP has a flat coil, kif shock protection (instead of incabloc), as well as a different balance wheel and regulator.
You'll find that both Zenith and Movado were using this same Martel-based movement as the engine for various chronographs during this period. For example, you can find the 146H or 146HP movement in Movado Super Sub Seas and their Zenith equivalents (not to be confused with Movado's own M95 chronograph movement). In fact, in 1969, Zenith and Movado merged, forming the Mondia-Movado-Zenith holding company which would facilitate cooperation between the brands until 1984.
Zenith largely abandoned use of manual wind movements in its chronographs after the introduction of the automatic caliber 3019 in 1969, making the caliber 146 all the more interesting. The Zenith caliber 146 was used to power a variety of Zenith references until it was retired, including: A271, A273, A277, and A278. This range of references has a bit of something for everyone, from robust diver's chronographs to understated models that embody minimalism.
Hit 'em with the angles
I've seen different measurements cited for the A271's case, but it's about 37mm in diameter and 11mm thick. Models with the larger caliber 156 come in at closer to 38mm.
The case of the A271 is extremely circular, almost giving it a bit of a "flying saucer" effect. This is accentuated by the squared, angular lugs that jut out abruptly from the case's body.
Many competing chronographs of the era feature lugs that more gently curve off the case — even the notoriously angular lugs of the Heuer Carrera create a more curved case profile than that of the Zenith A271. Altogether, this does make it feel a bit like you're wearing a big half-dollar coin on your wrist.
One of my favorite features of the watch is its sharp angles and multi-faceted lugs. The lugs angle slightly to meet at a sharp point in the middle, and any lack of these sharp angles makes it particularly easy to distinguish between polished and unpolished examples of the A271. Like so many of these old stainless steel sports watches, the beauty lies in the original lines and angles of the case.
Feeling grey
Now, to what attracted me to one particular Zenith A271: the dial. Most examples you'll find have the typical silver sunburst dial. It's a classic, clean look to be sure, but with vintage watches, sometimes you want a little something extra.
I'd spotted the slate grey-blue-slightly-purple dial (it catches the light so differently at different angles, I struggle to assign a color to it) examples before, but they're certainly the most rare variant of the Zenith A271, along with the reverse panda version of this grey dial. Paired with the stainless steel case, the dial gives the entire watch a cool, steely feel.
What's more, many of these steely grey dials seem to experience flaking, especially around the sunken sub dials (here and here, for example). I've seen some speculate that these dials may have been manufactured by the same company that produced the blue soleil Speemdaster dials. The dials certainly seem to share some common DNA; however, while many have come to believe that those Speedmaster dials are service replacements, there's no such originality concern regarding these gorgeous Zenith dials.
The recessed sub dials on the A271 work especially will with the grey dial, helping to reflect light and color in seemingly infinite directions. It's hard to capture in still images how light makes this dial dance. I've always preferred the two-sub dial chronograph layout, finding the simplicity and symmetry mesmerizing. Here, a simple cross hair sections off the running seconds sub dial, while the chronograph registers allows for 45 minutes of recording. On the chronograph register, there are also full lines at 3, 6 and 9 minutes, meant to help in timing long distance calls. A true anachronism of 1960s life.
Sharp, stainless steel indices and a finely printed white tachymeter finish off the dial. It's a lesson in restraint, leaving as much space as possible for the grey dial to shine.
Bring it all together
Bring together Martel's history as a superlative manufacturer of chronographs, Zenith's expertise and business acumen to take Martel in house, throw in a beautifully well-executed, unique dial, and it all culminates in this Zenith A271. It's the consummate "dress chronograph", as I've come to think of it. It's not water resistant and has no lume, making it ill-equipped to function as a real sports or tool watch.
But let's focus on what it is: a chronograph stripped down to its core elements. A top-notch column wheel caliber, a sharp steel case with better angles than your favorite Instagram model, and that dial. It's a chronograph for chronograph's sake, and as the precursor to the El Primero, it's hard not to appreciate exactly what that means.
Heritage 146: History lives on
Of course, Zenith hasn't let a vintage icon like the A271 whither in the archives. In 2016, Zenith partnered with Hodinkee to create a limited edition El Primero, with the dial being directly inspired by the grey dial A271. The case and movement of Hodinkee's limited edition draw from the later El Primero line, and do well to modernize the grey dial. While the limited edition's dial lacked some of the features I most appreciate in the vintage A271 — recessed sub dials, slight purple and blue tints in the color — it's a modern re-interpretation still deserving of a hat tip. Soon after the success of that Hodinkee limited edition, Zenith released its own version of the Heritage 146, in both a blue and brown dial variant. It's encouraging to see Zenith acknowledging their history while still pushing itself forward as a brand.
---
In-Depth Rolex
Produced for just a short time in the late 1950s, the Rolex Submariner reference 6538 represents a transformative period for not only Rolex, but for its iconic dive watch. Blackbird took a deep dive into the reference, including a look at some recent auction lots. Among the highlights: The $1 million reference 6538 "Explorer dial" that sold at Christie's in 2018.
Many readers of this newsletter have likely seen this video and piece already, but if you haven't, take an hour this week to read and digest it in its entirety. It goes in-depth with the Rolex GMT-Master and GMT-Master II, from the first GMT-Master reference 6542 through the modern "Bat Girl" and "Pepsi" models. It's one of the most comprehensive deep dives on any model, and worth a read and bookmark.
---
Business News
What started as an innocent blog post is now a fully published article. My friend Professor Brendan Cunningham and I have published an article in the latest issue of Tax Notes entitled "Tax Developments in Charity Auctions." You'll have to head to Tax Notes to read the full article (with some great graphs courtesy of Prof. Cunningham). But, I'll provide an excerpt below:
Charity auctions have come a long way from the days when local businesses donated a free meal or service and a few hundred or thousand dollars were raised for an important cause. For example, in the fall of 2019 the eighth "Only Watch" auction was held in Geneva, Switzerland. Some of the most elite watch brands in the world create one-off versions of their watches for this auction, and the proceeds benefit medical research for the treatment and prevention of Duchenne Muscular Dystrophy. In two and a half hours almost $40 million was raised, and the auction included the sale of the most expensive watch in the world ($31 million). Similarly, in 2019 Christie's auction house participated in more than 400 charity auctions worldwide and raised a total of $65 million.
According to the IRS, donors (i.e., auction bidders) who purchase items at a charity auction can claim a charitable deduction for the excess of the purchase price on an item over its fair market value. All the donor has to do is show that he or she knew the value of the item was less than the amount paid. Assuming the donor has no reason to doubt an auction estimate, the donors can then point to auction estimates as their basis come tax season. It
We conclude by writing:
For charitable giving to continue to thrive in the auction ecosystem, it is increasingly important for bidders to understand the tax implications of their participation. Otherwise, surprises and disappointments can dissuade participants.
Read the full article Tax Developments in Charity Auctions here.
Morgan Stanley estimates that of the CHF 20.5 billion in Swiss watch exports in 2019, 53% went to went to the top 7 brands.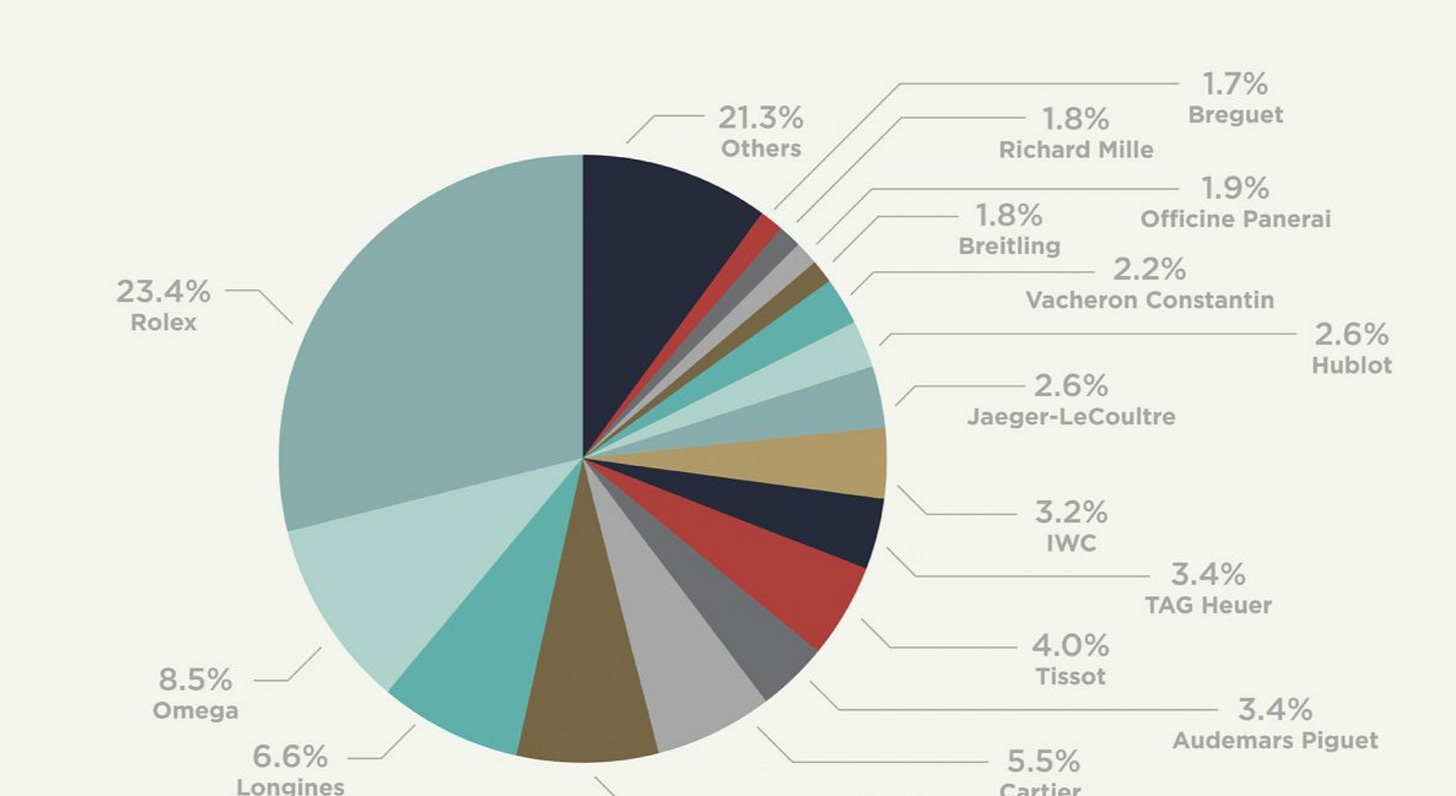 ---
Sales Corner
Heuer Yachting reference 2447. A Heuer Yachting, the iconic chronograph model with a multi-colored register, recently sold for £13,000. The silver dial on this example looks to be picking up a nice patina. It sounds like the Valjoux 72 movement might need some servicing, but examples of this model doesn't come around often.
Zenith El Primero A386. Following on today's in-depth piece, Analog/Shift has a Zenith El Primero A386 up for sale. It's got what's generally believed to be a correct 539 serial number on the case back to match its Mark 1 case, and an "A under H" dial. Price: $30,000.
Zenith Compax by Universal Geneve. Another beautiful timepiece that ties into the complex, intertwined history of Zenith and Universal Geneve. This is a gold Zenith Uni-Compax made by Universal Geneve. What's more, it's got one of the Jeanneret cases alluded to in the article, and this one's super sharp. This watch is just further proof that, together, Zenith and Universal made some of the best chronographs around in the middle of the century. Check it out at Wind Vintage.
---
Ticks & Tocks
🔢 Arabic numeral dial Air-Kings are awesome. 💯 Watch auction results in the time of coronavirus. 🚀 Fratello on why the Omega Speedmaster X-33 is underrated. 🖤 The H. Moser Vantablack is black.
Eater: At Home
Thanks for reading!
-Tony
Tap the heart above to like this email, reply to comment, and if you're new, subscribe here: