Discover more from Rescapement
Updates on my Hodinkee writing; b-sides and behind-the-scenes; unpolished personal musings; recs and other unsolicited advice.
Zenith S.58: For Your Reference
The best GMTs under $2k; in-depth on the Zenith S.58; and an update on Rolex v. laCalifornienne
In-depth on the Zenith S.58; the best GMTs under $2k; and an update on Rolex v. laCalifornienne
This week's feature from Rich Fordon goes in-depth on everything you need to know about the Zenith S.58, a vintage diver manufactured for just 10 years.
[Note: Like last week, please head to the above link for the full article with all images.]
By: Rich Fordon (@richfordon)
Articles in the For Your Reference series aim to serve as a resource to collectors and would-be buyers of vintage watch lineages. This is the curious case of a vintage diver from Zenith, manufactured for only ten years, the S.58.
It is my hope that as reference material grows, the world of vintage collecting welcomes more entrants and sees fewer defectors. The market has already shown this to be true where information has recently been written on, for example, Enicar or Nivada & Croton Chronomasters. Thanks to a collector community striving to find more material, there has never been a better time to collect and get into this hobby.
Zenith's S.58 has long stood out in my mind as under appreciated and, more so, unknown.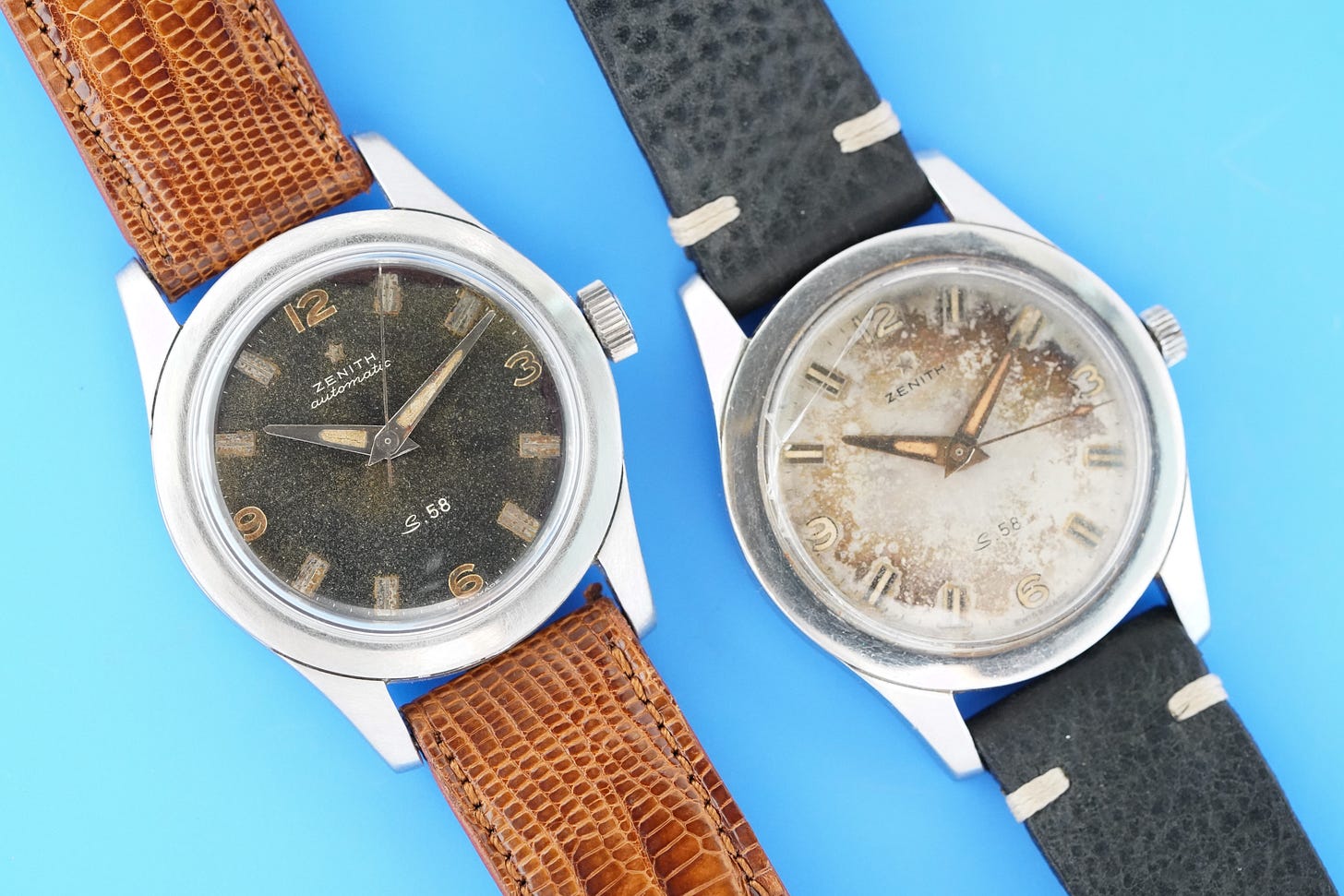 Mark II / I | Watch courtesy of Greg Selch, @
livingstonsatnight
.
Their offerings long dominated by the great El Primero movement, Zenith is recognized today as a chronograph maker. Prior to the development of the first automatic chronograph in 1969, the manufacturer was casting a much wider net, one that, for ten years, included the S.58, an ultra-capable and robust tool watch. The model run can be broken down into four generations: the first two with a smooth metal bezel, succeeded by two with a rotatable diver-style bakelite bezel. Everything you need to know about all four and their respective nuances will be outlined here.
What's in a name?
Before jumping into it, a few often debated topics within the collector community should be addressed — or hopefully tied into a bow.
Years of arguing on forums have left a murky history as to why Zenith named this watch the S.58 in the first place. One side references the Sikorsky S-58 helicopter, while others believe the S stands for "super water resistant" and 58 for the model's introduction in 1958.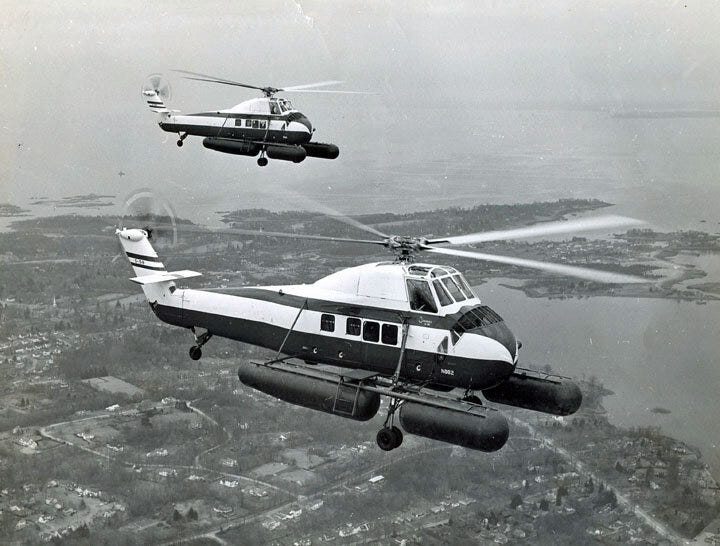 Sikorski S-58 | Image courtesy of sikorskyarchives.com.
My original plan was to stay away from this discussion; however, while piecing together the history of the S.58, a reputable source at Zenith shared some new information. According to a search of extensive register materials, the S is believed to be a reference to the french word "scaphandre," roughly translating to diving suit, with the 58 representing 1958 and the watch's introduction to Zenith's catalog.
Scaphandre specifically refers to surface-supplied diving, which, compared to SCUBA diving, does not include back tanks and involves a larger helmet. As the name may suggest, an umbilical cable supplies breathing gas either from the surface above or a nearby diving bell. What does all this mean for the watch itself? I think this does speak to Zenith's design intention — the S.58 was a diver, straight from the outset.
While earlier variants may not be what comes to mind when thinking of a dive watch, the competitive landscape was very different when the S.58 hit Zenith's catalog. Blancpain released the first true diver, the Fifty Fathoms, in 1953 and Rolex's Submariner followed in '54. That was about the extent of the market. Omega's Seamaster 300 came in '57 but the S.58 was likely sketched in some form prior. None of these watches had crown guards, now a feature of nearly all dive watches. Today's idea of a dive watch was not yet crystalized when the S.58 hit the market; Zenith created the watch without the hindsight of history.
When in Rome
With any vintage watch lineage, the earliest variants are more likely to get attention from collectors, and the S.58 is no different. Claims within Manfred Rössler's Zenith: Swiss Watch Manufacture Since 1865, one of the few books dedicated to vintage Zenith, have only increased early focused interest. Rössler's work is extremely well researched; however, since its writing, vintage Zenith scholarship has advanced, causing objections to the work. On the S.58, Rössler states:
"In 1958, Zenith presented a men's wrist watch, that was designed to have a particularly great resistance against external factors. Zenith warranted at the time, that the watch protected against the attacks of water, steam and dust. It was water resistant up to 200m. The army was the target customer, but technicians, chemists and similar professionals could benefit from it. Its steel case, with a diameter of ca. 36mm, housed a Caliber 120 with shock protection. For an accurate time-setting the balance could be stopped by pulling the crown. The watch held a highly domed mineral crystal. Production counted 2,500 pieces. Cairelli, in Rome, bought the whole production without further ado for the Italian navy. 2 years later an automatic model followed."
Collectors have long been suspicious of this particular statement as no S.58s have been observed with military style markings of any kind, often found on other military use watches of the era, especially those with lineages through A. Cairelli. Furthermore, multiple examples have been found that were produced and sold in 1958 but have solid provenance of original owners not from Italy let alone a part of the Navy. A source confirms that evidence of Carielli's order for 2,500 S.58s remains to be found. I have also been told that Rössler is looking back to his notes on where this information originated during research and writing his book.
The S.58, I believe, was Zenith's response to a market demanding watches built with purpose — no fantastic stories are necessary, the watch likely did not see field time on the wrists of Italian Naval officers.
Mark I - Cal. 120 - Circa 1958-1960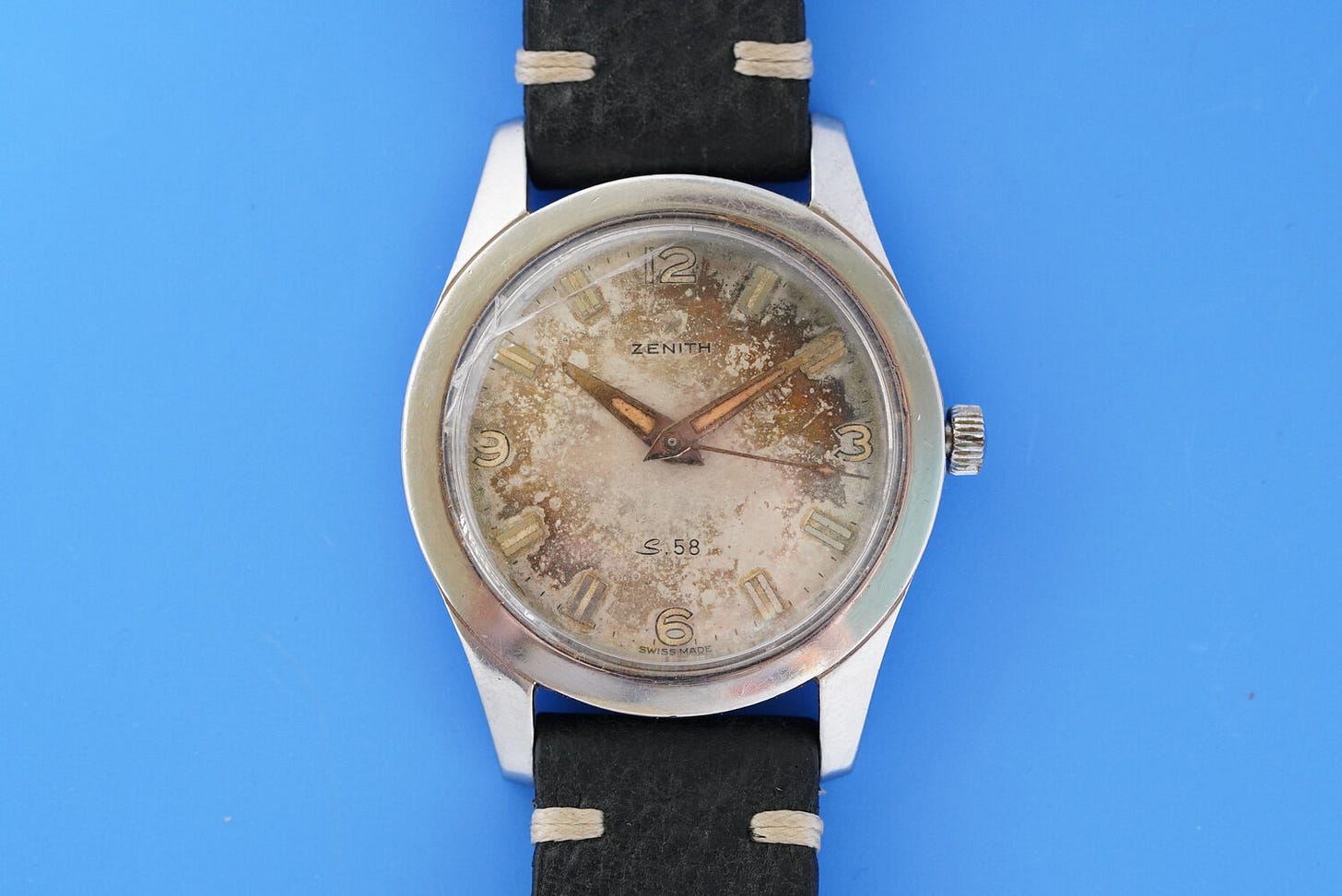 Mark I | Watch courtesy of Greg Selch, @
livingstonsatnight
.
Either a result of a finely tuned design process or stubbornness, the very first S.58 dials have a strikingly similar look to all the rest. No refining was needed or, at least, done. Either on a base of black, white, or grey, 12, 3, 6, and 9 hours are marked by large and exceptionally lumed numerals while the rest sport applied metal markers. Rather than a metal marker next to a plot of luminous material, hour markers incorporate radium directly into the marker itself. A finer point to note is the more narrow "SWISS MADE" signature, spanning between 3 and 4 dashes in the minute track, below the lumed 6.
The calibre 120 inside was a workhorse for Zenith, produced from 1953 to 1963 with the brand manufacturing about 100,000 in total; those finding their way into S.58 cases are from the later portion of this production run. Believed to have been developed for pilots, the 120's most notable feature is hacking seconds allowing for precise setting of time.
Offered only in stainless steel, the Mark I case features a smooth metal bezel, simple straight lugs devoid of any twisting or beveling, and a flat, 12-sided, "S.58"-stamped, screw-down caseback. If an unpolished example is what you're looking for, lugs were originally cut to a sharp edge and the bezel should appear slightly concave. Mark I crowns are unsigned and smaller in size compared to later examples. Look for Mark I S.58 case numbers to fall between 9.43 million and 9.49 million.
Mark II - Cal. 133.8 - Circa 1959-1961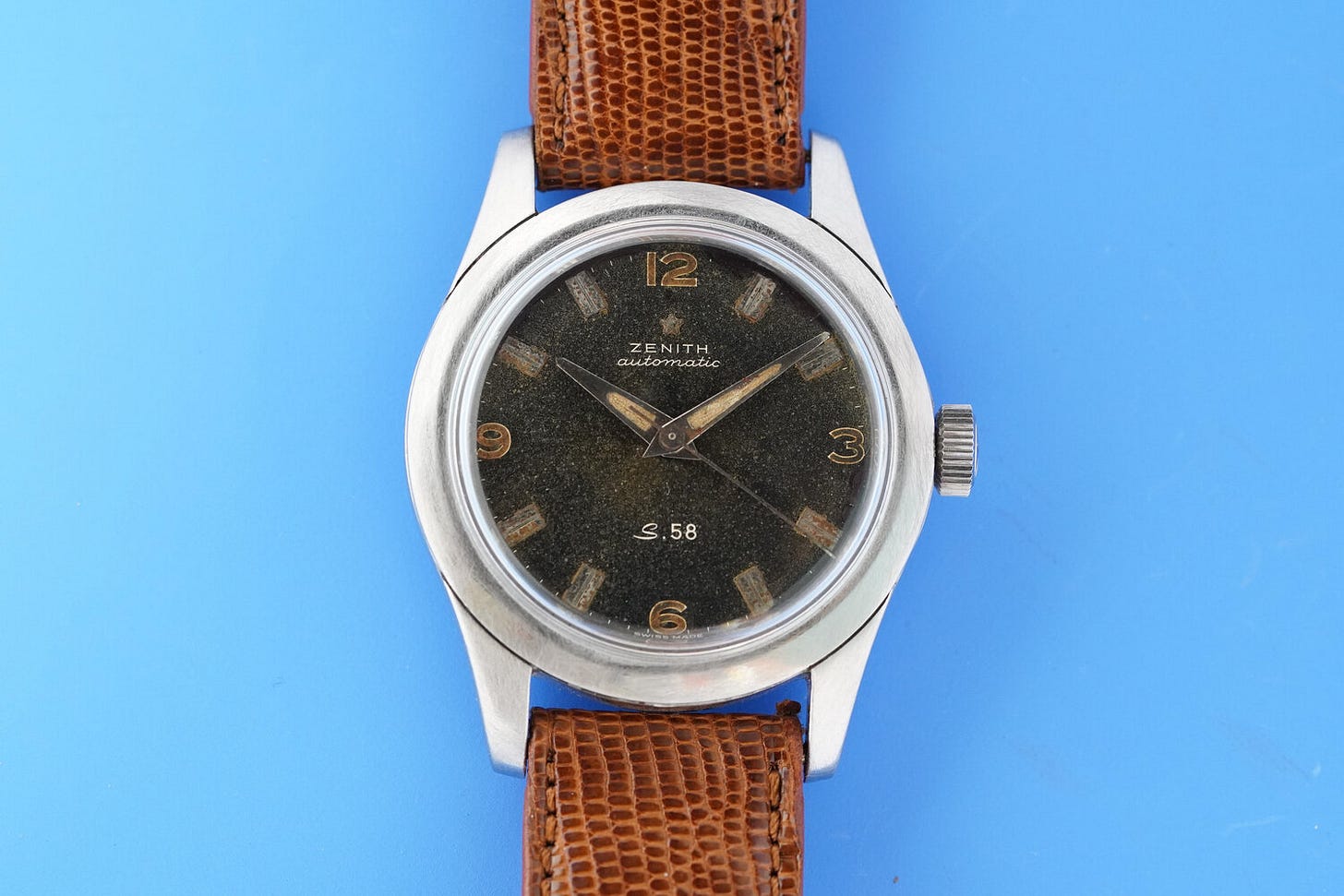 Mark II | Watch courtesy of Greg Selch, @
livingstonsatnight
.
While early advertisements clearly touted the brand's caliber 120, within the late 50s dive watch market, Zenith needed to develop and update the S.58 to an automatic movement. Little time was wasted; just two years after the initial release Zenith completely reworked the midcase and caseback allowing room for the caliber 133.8 bumper automatic.
This Mark II case comes in a millimeter thicker than the first S.58 at 8.6mm compared to 7.6mm, thickness measured without the crystal from the highest point of the bezel. This one millimeter change has a fairly significant impact on wrist feel as the caseback is no longer completely flat but, rather, stepped.
Aside from wrist feel, viewing the two straight on, you would never notice a difference aside from the script automatic text. Zenith beefed up the model but did not change the case from a two-dimensional point of view: both Mark I and Mark II measure 36.6mm in diameter and 45.5mm lug-to-lug.
Right around 77,000 cal. 133.8s were manufactured by Zenith, with a very small amount of those being cased in S.58s — the observed case number range for Mark II examples is 9.48 millions to 9.65 million.
Mark III - Bakelite - Cal. 71 / 120 - Circa 1962-1964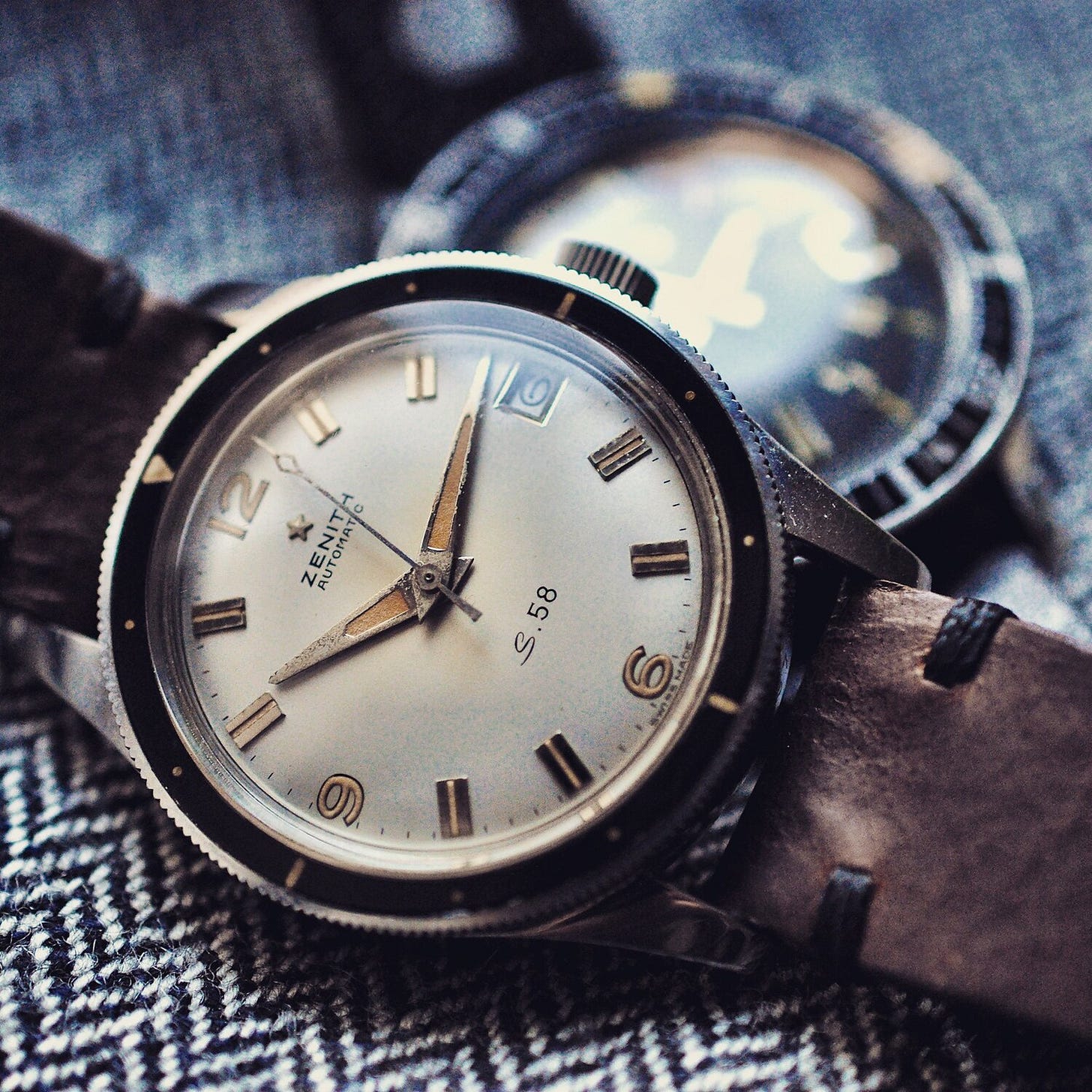 Mark III. Extract dated to 1962 by Zenith. | Image courtesy of Nico, 
@_jimjupiter
.
The S.58's most obvious change is here, between Mark II and Mark III — an external, rotating, black with luminous markers, bakelite bezel. In uniquely slim form and with minimalist markings, the S.58's is one of the most aesthetically pleasing dive bezels ever created. In looking at what other high-end Swiss brands were already offering for dive watches at the time, this change serves as no surprise.
As with seemingly any change in the S.58, Zenith tweaked the case shape while upping the diameter to 38mm. After having bumped out the caseback to allow more room in the Mark II, the backs are again flat here as with the original S.58. Any rationale behind this modification is hard to pin down, but the flat casebacks are worth pointing out as they are unique to Mark III examples versus Mark IVs.
As a transitional series, there is a lot going on here. A date is featured at 3 o'clock for the first time. This is achieved by utilizing Zenith's cal. 71 movement, hailing from the same family as the cal. 133.8 but with a date module added.
No longer are Zenith's bumpers marked by a script automatic at 12 on the S.58's dial; rather, Mark IIIs are printed with the word in a small caps or block lettering — another easily identifiable change. Dial colors remain the same but whereas grey dials are extremely seldom seen in Mark Is and Mark IIs, more greys pop up with bezels starting with the Mark III. More research is needed on dial color variants across the entire range of S.58s.
A small number of watches showing all signs of a Mark III such as caseback shape, bezel, and early 60s numbers but with manual winding 120 movements have been seen. My belief is that these are entirely correct although more examples would have to be found to come to any solid conclusions.
All Mark III examples should have case serials starting in the 9.58 millions and ending in the 9.76 millions.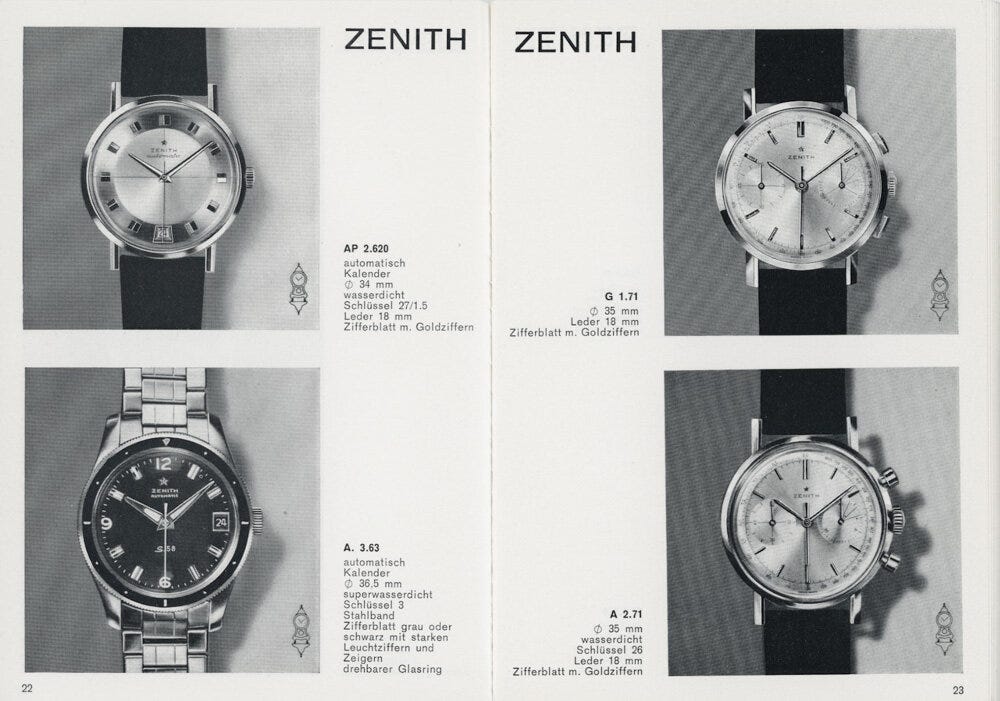 1964 or 1965 Zenith catalog likely depicting a Mark III. | Image courtesy of Tony C. at omegaforums.net
Mark IV - Bakelite Cal. 2532 PC / 2542 PC - Circa 1964-1968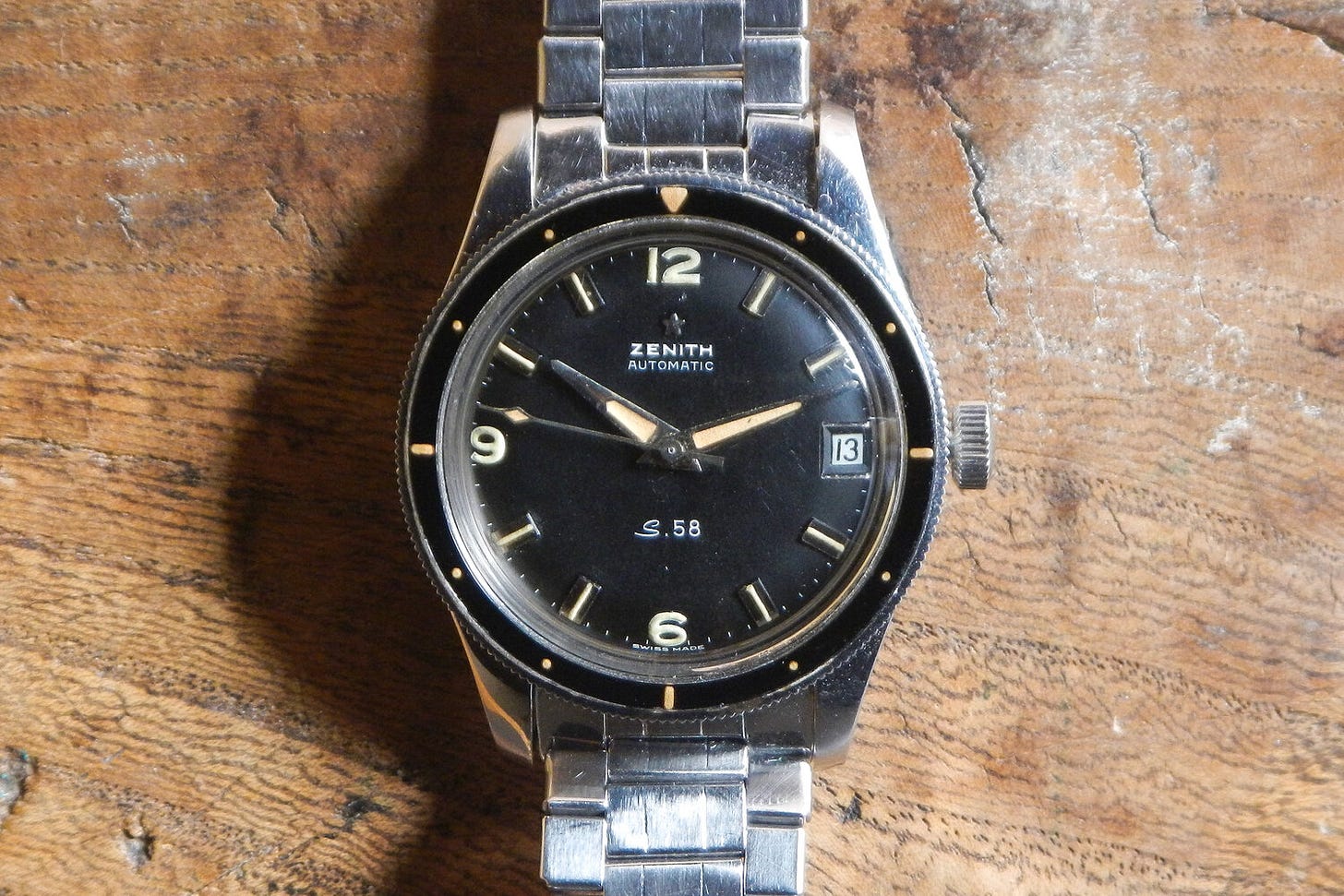 Mark IVa. Extract dated to 1964-1965 by Zenith. | Image courtesy of @
maijasdaddy
.
Some time between 1958 and 1960—a disputed point in the brand's history—Zenith acquired a local watch manufacturer and, notably, movement specialist, Martel Watch Company. Along with a few desirable chronograph calibers, Martel supplied Zenith with rotor automatics and in 1964, the Martel/Zenith caliber 2532PC found its way into an S.58 — along with the model's last material changes.
The 2532PC movement is about a millimeter taller than the bumpers, resulting in, once again, case changes. Leaving the midcase as is from the Mark III, the caseback was again bumped out and the dial was domed slightly for clearance.
After only about a year of 2532PC use in S.58 divers, the brand's next iteration within this family of rotor automatics was dropped in: the 2542 PC. No real changes here — it is essentially the same watch and the same movement.
The Mark IV generation can be further broken down to IVa for 2532PC watches and IVb for 2542PC; outside of the movement caliber and dial text this is the same watch.
Mark IVa examples with block "automatic" text at 12 o'clock have only been observed with black dials, differentiating themselves from later Mark IVb examples found with both black and white dials. Additionally, the former are the last in the model range to feature a narrow "SWISS MADE" signature under 6 o'clock, all 2542PC examples have a wide signature of around five dashes in the minute track. I call specific attention to these details as service or replaced dials often get them wrong.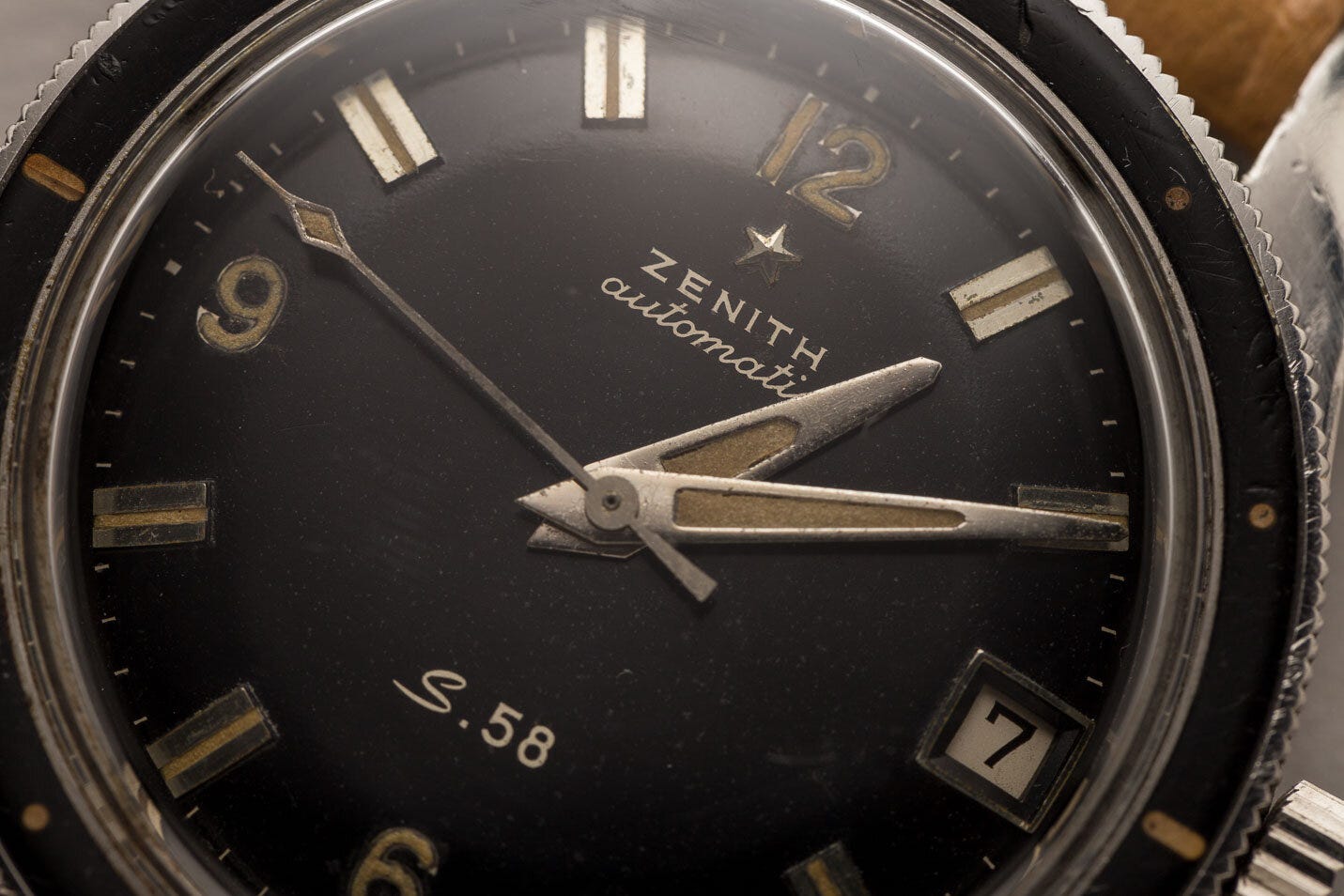 While I am partial to earlier iterations, the S.58 culminates to fulfill Zenith's initial purpose in this final series — a classically styled, utilitarian dive watch. Generations prior to the series of rotor automatics may not have fully completed this purpose from a technical standpoint. Although this was the variant eventually axed from Zenith's catalog altogether, sales were good; more Mark IV examples have been observed than any other S.58.
Case numbers in 2532PC, Mark IVa examples are all in the 9.80 million range and between 522Axxx to 012Dxxx for the Mark IVb.
For Basel Fair in April of 1968, Zenith rolled out a new line of divers under the reference series of A36xx,  marking the end of the S.58's run. The latest examples observed suggest that for the months before Basel, S.58s continued to be manufactured or, at least, distributed.
Final Thoughts and Collecting the S.58
Neither Christies, Sotheby's, Phillips, Heritage, Fortuna, nor Bukowski's have ever sold an S.58. Antiquorum has sold 3 examples; Fellows, one; Bonhams, one example; and Watches of Knightsbridge, one poor example that was pulled pre-auction. "Rare" is an overused term in the watch world, but where a well-connected dealer can source many, many Paul Newman Daytonas in 15 minutes on the phone, they might only dig up two or three clean S.58s.
In all four iterations, the S.58 is beautifully designed and executed. Coming from a brand with one of the most decorated technical histories in the Swiss watch world, the S.58's movements stand up to any and external build quality is exceptional with high quality finishing. And where other brands swung and missed at manufacturing a bakelite bezel able to stand up to hard wear, Zenith did not.
On the topic of the bezel, although certainly not as prone as other models of the era, cracking remains an issue after 60 years. Pay close attention to the lume triangle at 12 as well as other luminous markers around the rotating ring. In the manufacturing process, bakelite material was scraped away from the reverse side in order to fill markers with luminous material, creating weak points susceptible to fractures.
As one may expect, original bracelets carry a premium. S.58s are most often found with Gay Fréres manufactured brick or flat link bracelets but some later Mark IVs were offered with an NSA mesh option. All original bracelets are stainless-steel, and have Zenith signed at the clasp.
Outstanding S.58 examples perform higher than many observers or uninformed buyers might guess. I believe this to be a reflection of supply rather than demand with those aware and regularly watching the market willing to pay up for top quality due to having seen so few. Smooth bezel Mark I and IIs change hands between $3k and $9k when well-listed; whereas Bakelite Mark III and IVs sell anywhere from $4k to $12k. The ranges are wide here on purpose: condition matters above all else.
Zenith S.58 Reference Table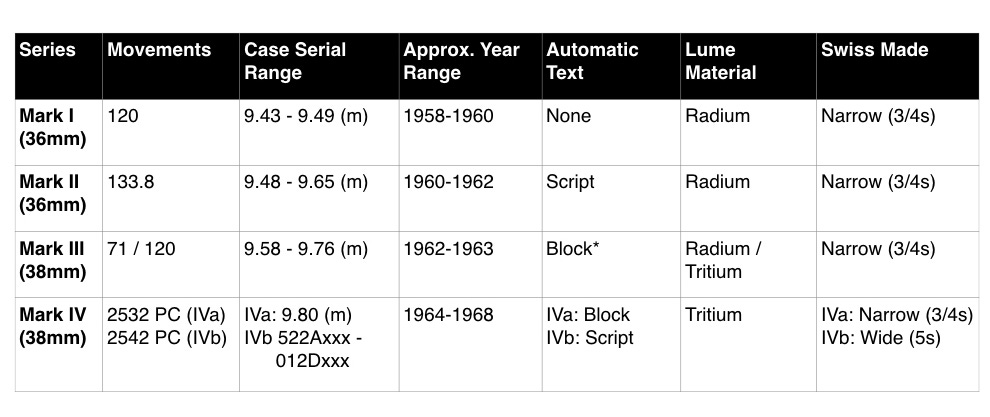 ---
Interview
I had the chance to catch up with Charlie, the man behind the popular books_on_time Instagram account, to discuss some of his favorite horology books, Vulcain Crickets and jump hour watches, and visiting Patek Philippe boutiques just to read. Checkout out the full interview, but below are a couple of my favorite quotes from Charlie.
On why he's drawn to books:
I'm drawn to books because, rather than going out and searching for an answer on Google, where it's so accessible and easy, books allow you to stumble upon information and almost naturally find your way to learning. For me, it's very therapeutic to sit at a coffee shop for a few hours and get lost in a book that I've stumbled through numerous times but I might find something interesting that I haven't found before. It's more experiential. It's almost more difficult to find your interests through books.
On the watches he enjoys personally:
I like to enjoy watches that are not necessarily supposed to tell you something about your self. I know who I am, and a watch wouldn't make any difference in how I see myself or other people. Some of the most intelligent people I've met wear Swatches.

I enjoy looking for watches that are not the most Instagram-worthy — there's something really fun in discovering those watches.
---
Ticks & Tocks
✈️ Cure the quarantine travel bug with the best GMTs under $2,000. 👨‍🎨 Andy Warhol's watch collection. 🖍 Per NYT, watch customization is all the rage. Cole Pennington was on fire this week: first, in-depth on why we've seen four stainless steel Lange 1s at auction recently; second, his "two watch collection". 🎙 Monochrome interviews IWC's CEO. 👨‍💼 Derek Guy and Michael Williams on whether we'll see a #menswear 2.0. 🛍 Shoptimism: In the week the federal government sent out stimulus checks, fashion and jewelry sales rose 18% and 13%, respectively.
✋ More coming from me on this next week, but a judge has denied Rolex and laCalifornienne's proposed settlement agreement.
In Chicago: Apparently John Cusack is our best local reporter now.
Thanks for reading!
-Tony
Tap the heart above to like this email, or leave a comment:
Meme of the Week: