Discover more from Rescapement
Updates on my Hodinkee writing; b-sides and behind-the-scenes; unpolished personal musings; recs and other unsolicited advice.
Your Next Watch Is Designed By: Data?
A perfectly unpolished Ref. 175 GMT-Master
Feature
Your Next Watch Is Designed By…Your Favorite Website?
This week, GQ had a feature analyzing the boom in private label brands coming from dominant online marketplaces: everyone from Amazon and Target to Mr. Porter and Union is using customer and purchasing data to analyze the most popular items, then manufacturing those items themselves to make an even better (i.e. more optimized, according to data) product, which it can sell at a healthier margin. It's not like this is a new phenomenon, but as ecommerce companies collect more data than retailers of generations previous, it's perhaps a bigger trend than it's ever been.
GQ's article coincided with Farfetch and Zenith's collaboration on a limited edition Defy Classic, which I couldn't help but feel was informed by data. It's technically a women's watch, but what does gender even mean anymore? The point is, it's an inoffensive 41mm size (small lugs make the Defy wear a little smaller), white ceramic watch (white watches seem to be in, so this Defy Classic is riding that trend) at an accessible $7,5000 price point. Further, it's a skeletonized movement, but not obnoxiously so — no Richard Mille here, nothing too blingy. The watch seems like it's designed to hit every trend, making it the perfect crossover between luxury watchmaking and streetwear, Farfetch's sweet spot.
And that's fine, but at some point the menswear world has enough camp collar shirts for the season. We need someone to tell us what's new and next; not what's already hot, and then optimizing that with data to arrive at the perfect iteration of that trend. In watches, we need the next Genta or Newson (see below for a chat with a Nomos product designer). Established Swiss brands have become really good at "sustaining innovations"; that is, small iterations on existing models to sell a few more watches and appeal to a few more consumers each year. But not enough are doing things that are truly disruptive. Just look at this year's Baselworld releases.
Listen, at some point we've had enough white t-shirts, minimalist leather shoes, or generic field watches (yea, come at me Hranek, but I don't see you wearing your Serica watch on your IG feed).
But maybe that's what Kanye and Shia are for.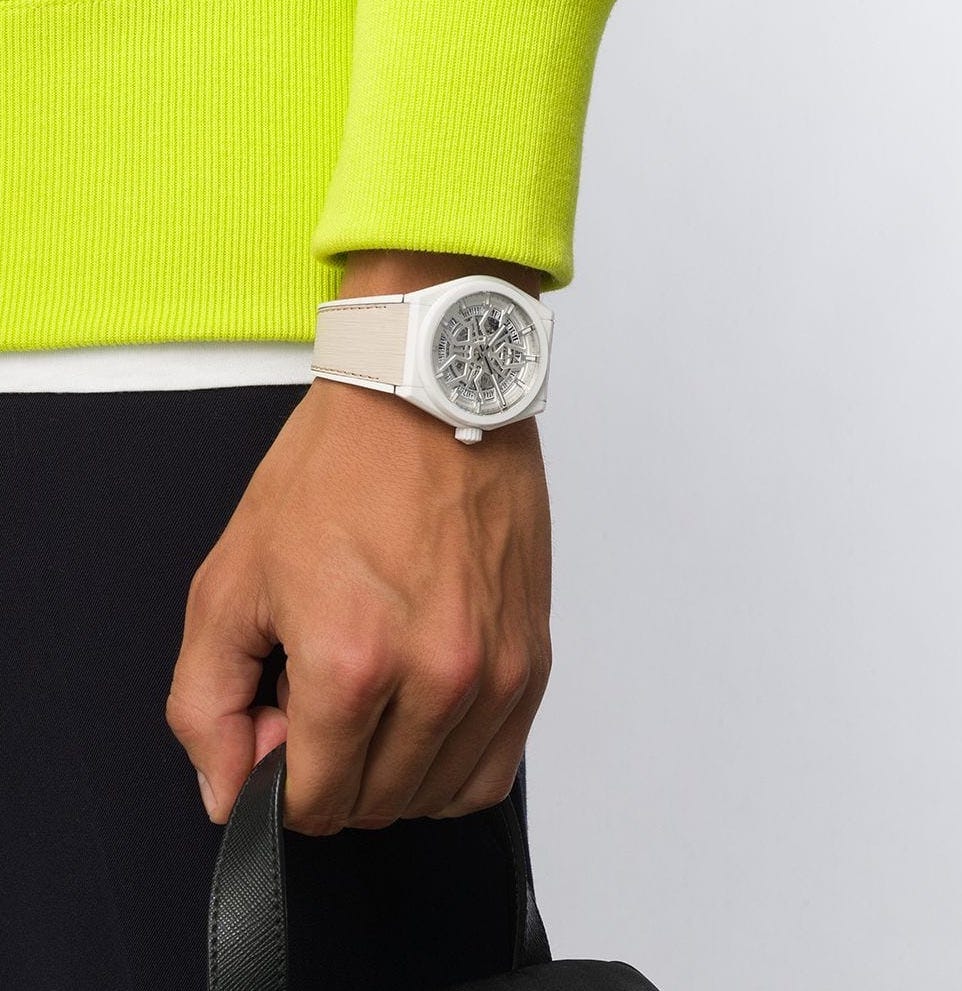 ---
Other News
Interviews with Two of the Biggest Independent Brands
Eduoard Meylan, CEO of H. Moser & Cie, is a little bit like the brand he's created: stylish, sophisticated, smart, with an ever-present sense of humor. Time and Tide sat down with him to talk about critiquing the Swiss watch industry with the Swiss Alp watch, and the future of the brand. And he feels good about where H. Moser is positioned:
We're either the biggest independent, or the smallest of the established brands. I prefer the latter. We've done well to define our product. Before 2012, the problem was we could have been any brand. Now we showcase our dials, cases and all the Moser details. We're the funky Patrimony or the funky Calatrava. That's our sweet spot.
Christopher over at Nomos Watch Club recently paid a visit to Berlinerblau, the in-house design shop of Nomos Glashutte, where he interviewed Thomas, a Nomos product designer. There are a bunch of takeaways, but to highlight a few:
The design of a watch always starts with the caliber at Nomos.

There are no complications in the works at Nomos (that they divulged). Nomos takes the interaction between its in-house calibers and clean design seriously, which is why, for example, they had to completely rethink the date complication to develop the Tangente 41 Neomatik Update.

Questions to ask when designing a watch: Who would wear this watch? What would it be it it were a car, a piece of furniture, a men's shoe?
I love this photo of typography. If this is what gets printed out, imagine the work that went into arriving at these "final" 15 options: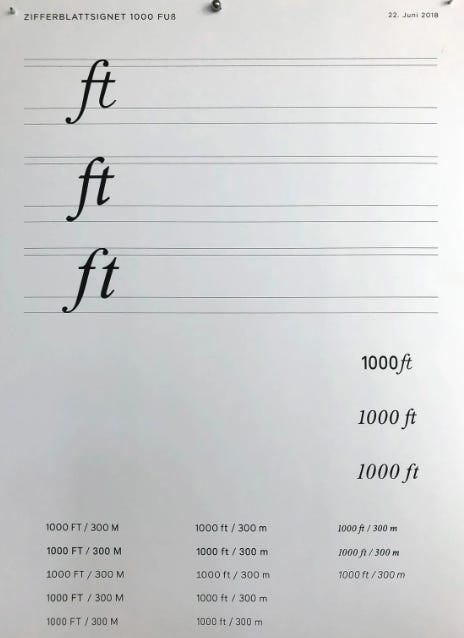 ---
Sales Corner
Mid-Century Chronographs and a "Perfect" GMT-Master
Movado M90 Chronograph with Breguet Numerals.
We've spent time going in-depth on the Movado M95 before (For Your Reference), but not the M90. Like the M95, it was a trailblazing chronograph in the middle of the century; it used cases from Patek Phillipe's case manufacturer François Borgel, meaning these M90 share many traits with Pateks of the era. Similar shape, pushers, etc.
Menta Watches now has an extremely minty example on offer. While you can find these for much cheaper in the depths of eBay, they won't be in the sharp, clean condition this one is in. Additionally, the Bregeut numeral examples are more difficult to come by than others. Price: $13,000.
The Gallet Multi-Chron is a quintessential mid-century chronograph. Three-register dial with three colors, historic Swiss brand, the list goes on. Gallet made these in two caliber variations, using either the Valjoux 72 or the Excelsion Park 40 (EP40). As you might imagine, the Valjoux-powered versions are more desirable (with the price tag to match).
On offer from Omega user ChicagoFrog (instagram: @bazamu) is an EP40 Gallet Multi-Chron. What it doesn't have (Valjoux movement), it easily makes up for in condition. The white dial looks extremely clean with honest aging to the lume offering a nice patina. The watch has also been serviced, so no concerns there. Asking price: $3,650.
Eric Wind over at Wind Vintage has a Rolex GMT-Master Reference 1675 from 1972 up on his website right now. In the very posting, he's calling it "unpolished", and if Eric uses that term, you're damn sure the edges on this Rolex are as good as you're going to see. So take a mental picture of the below and etch it in your brain. Just look at the thick, sharp lugs (not rounded); that's the case shape you should be looking for on vintage Rolex sports watch like the GMT-Master.
This later iteration has a matte dial, creamy lume and faded bezel, and its original bracelet. Price: $22,000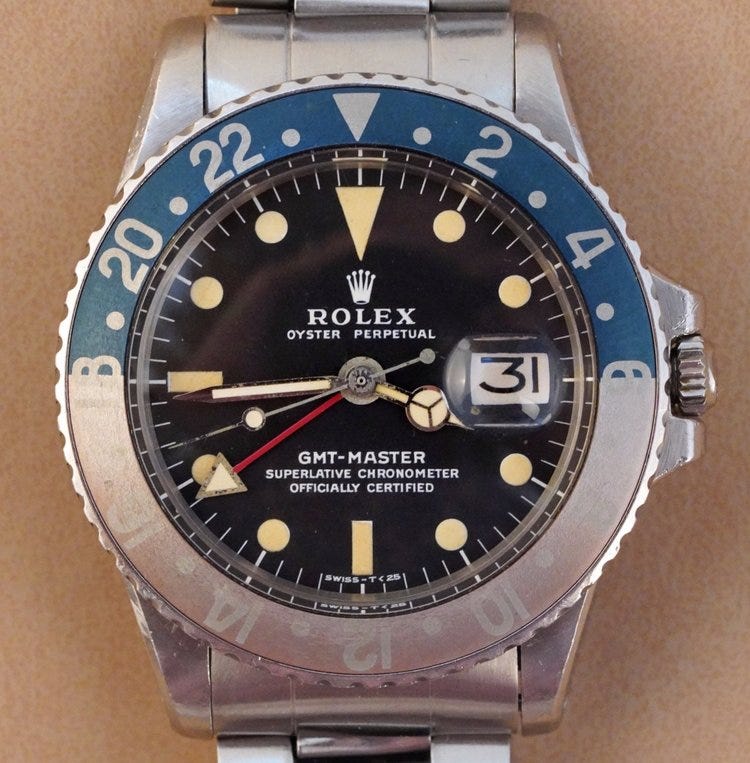 ---
Ticks & Tocks
🎥 Once Upon a Time in Hollywood miscasts a watch. 🔦 Revolution goes in-depth on the history of lume. 😇 Ethical fashion is on the rise. 🍹 Dudes love White Claw, too. NY Times' 52 places to visit in 2019 (it's already August, so pressure's on). The birth of the semicolon.
In Chicago: The hottest restaurants in August.
Thanks for reading!
-Tony
Questions/comments/tips? Just respond to this email (and please tap the heart above to like it!).
Meme of the Week: