Discover more from Rescapement
Updates on my Hodinkee writing; b-sides and behind-the-scenes; unpolished personal musings; recs and other unsolicited advice.
What to know before buying your first vintage Rolex Submariner
A numbers-driven guide to buying your first vintage (no-date) Rolex Submariner
This week: A bit of a "beginner's guide" to the Rolex Submariner. If you're new, subscribe here:
I'm not really a "Submariner guy", whatever that means.
Back in 1953, Rolex introduced the first Submariner. That same year, the Rolex Explorer's lore also began, with Edmund Hillary and Tenzing Norgay bringing a few Rolex Oyster Perpetuals with them to the summit of Mount Everest. If there are two types of people in this cruel world — Submariner people and Explorer people — I'm firmly the latter.
That said, I get it. The Submariner — specifically the no-date version — is the platonic ideal of a watch: A purpose-built tool watch that somehow manages to look rugged yet elegant. It's the Kanye West (controversial!) of watches, leaving legions of imitators in its wake. It's a design that hasn't changed much over 70 years, mainly because it hasn't had to.
Using auction data and analytics from Roundtable Vintage, I wanted to give an introduction to early no-date models of the Rolex Submariner: the model, references, price points, and where to begin your vintage search and what you might expect to pay.
This isn't an in-depth guide to the vintage Submariner and its various references and "Mark" dials. For that, head to our Resources Page and check out some of the Rolex Submariner links that will help guide you through how to evaluate specific examples. Instead, this is the what you need to know to start "speaking Submariner" — understanding why one example might command twice the price of another, if it's worth it to you, and how to start looking for your first Sub.
Submariner: By the Numbers
Over the nearly 600 no-date Submariner examples Roundtable Vintage has in its database of auction sales dating back to the 1990s, the average selling price is $32,400 (table below). But, with a high sale price of $1.1 million and many examples selling below $10,000, the Submariner offers perhaps more variety in price point than any other Rolex model. Indeed, that's part of its enduring appeal. Also keep in mind this is historical data, with sales dating back to the 1990s: over the period represented in Roundtable's database, the sales prices of Submariners have increased by nearly 100 percent.
We'll take a look at vintage no-date Rolex Submariners, from the first reference 6204 through the '"transitional" reference 14060, and offer some insights on where to begin your search for your first vintage Submariner, particularly with the diverse reference 5513.
These vintage Submariner references fall into roughly these three categories (with our general recommendation on where you might start your search):
Early Submariners (ref. 6204 — 5508): Don't start here

The Golden Age (ref. 5512 — 5513): 'Bread and butter' Submariners

Transitional Years (ref. 14060): Go for it, kid

Historical data showing 546 auction sales of no-date Submariners over the course of more than 20 years. | Data: Roundtable Vintage
---
Early Rolex Submariners
"Don't start here": Big crowns, Bond, and aspirational Submariners
Just because we're starting this article chronologically doesn't meant that's where you should start your Submariner journey. These earlier Submariners are defined by their gilt gloss dials and lack of crown guards (and their high prices). In short, this isn't where a collector looking for his first vintage Submariner should start. That said, a collector's gotta dream — and half of being a "collector" is knowing how to answer the inevitable "what's your grail watch" question at the next RedBar — so let's take a quick look at the first era Submariners.
The first Rolex to bear the "Submariner" name on the dial was the reference 6204 in 1953, followed the next year by reference 6205. Since these were the early days of Rolex, there are a lot of subtle variations in these references, and there just aren't that many around. For instance, in Roundtable Vintage's database of no-date Submariner sales, only 19 are references 6204 or 6205.
In 1956, Rolex introduced the "big crown" reference 6538 (alongside the smaller crown reference 6536). The reference 6538 is the Submariner: Sean Connery wore one as James Bond, and the most expensive Submariner ever sold — for $1.1 million — was a 6538. The average auction sale price is $121,400, which also makes the 6538 a minefield for fakes and frankenwatches. By the late 1950s, Rolex swapped out the big and small crown 6538/6536 for references 5510 and 5508. But many of these early Submariner references were also produced concurrently, making it even more difficult to distinguish what's original and what's not.
These early Submariners are the ones to aspire to: historic, big crowns, Bond. They represent Rolex working out the design and mechanical kinks to find a watch that could stand the test of time. By the early 1960s, it finally did so.
The Golden Age
"Bread and butter Subs": After the early Submariners, Rolex went on to release iconic references that would define the Submariner for a generation — the 5512 and 5513. The primary distinction made in this golden age of Submariners is between earlier glossy gilt dials and later matte dials. These later matte dials offer the accessible entry point into vintage Submariners that's the focus of this piece.
REFERENCE 5512 AND 5513: GILT DIALS
Rolex introduced the reference 5512 in 1959. Take a look, and you'll immediately understand why this reference endured until 1980. It's clearly gesturing towards the modern Submariner — okay, without the white gold, high-tech ceramic bezel and other luxury flourishes — but the DNA is there. There's a 40mm case, large crown, 200m of water resistance, a hashed diving bezel, and those sharp beveled lugs.
Early examples of the reference 5512 still feature coveted gilt dials with gold text, with the crown guards evolving before landing on the rounded version we see for much of the 5512's production life. During this gilt dial era, Rolex was also transitioning from radium to tritium lume, complicating matters more.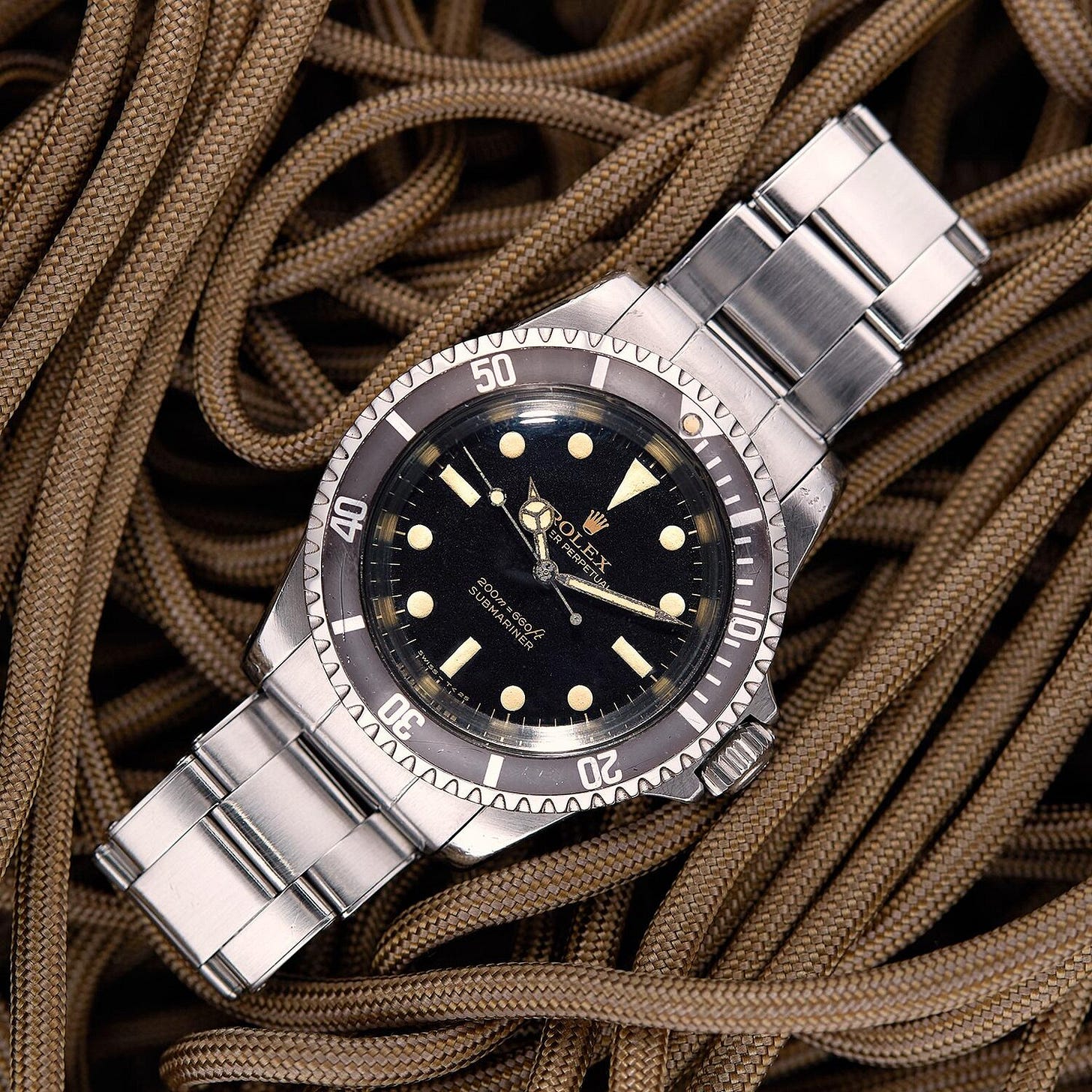 A gilt dial reference 5513 "Bart Simpson". The 5513 in particular illustrates the evolution of the Submariner form the 60s through the 80s, starting with these glossy gilt dials, and ending with the glossy black dials of the 1980s. | Saga Trading Co.
A few years after introducing the 5512, Rolex introduced the reference 5513. It's the same as the 5512, just lacking a COSC-certified movement. All together, differences in crown guards, text on the dial, and lume (not to mention underlines and coronet variations, like the Bart Simpson, above) can make the world of early gilt reference 5512s or 5513s overwhelming to even the most ardent collectors.
Forgot all that for now. Let's focus on the fact that picking up any reference 5513 is a worthy introduction to vintage Rolex, and look at later matte dial models, where there are still plenty of details to deal with. To me, the details are not important in and of themselves (I mean at some point, a Sub is a Sub), but as markers to help ensure the originality of the example in question.
This distinction between gilt and matte dials is the primary reason you'll see such variation in prices across 5512 and 5513 examples: The average auction sale price for either model is about $24,000, but the median price for a 5512 is a more modest $12,500, while for a 5513 it is $7,860, illustrating how truly special examples skew the averages upwards. Quite simply, many more of the matte dials we're about to dive into were made, and can now be found on the vintage market for reasonable sums. And hey, if you make a mistake, at least it'll only cost you in the low five figures.
Because the reference 5512 used a COSC-certified movement, it was more expensive and less sold into the market. If this type of "superlative chronometer" is your pick for a first vintage Submariner, expect to pay a premium compared to the reference 5513, even for later matte dials. While nearly 50 percent of the no-date examples in Roundtable's database are 5513s, 5512s make up less than half that amount. For that reason, let's drill down on matte dial 5513s a bit.
REFERENCE 5513: MATTE DIALS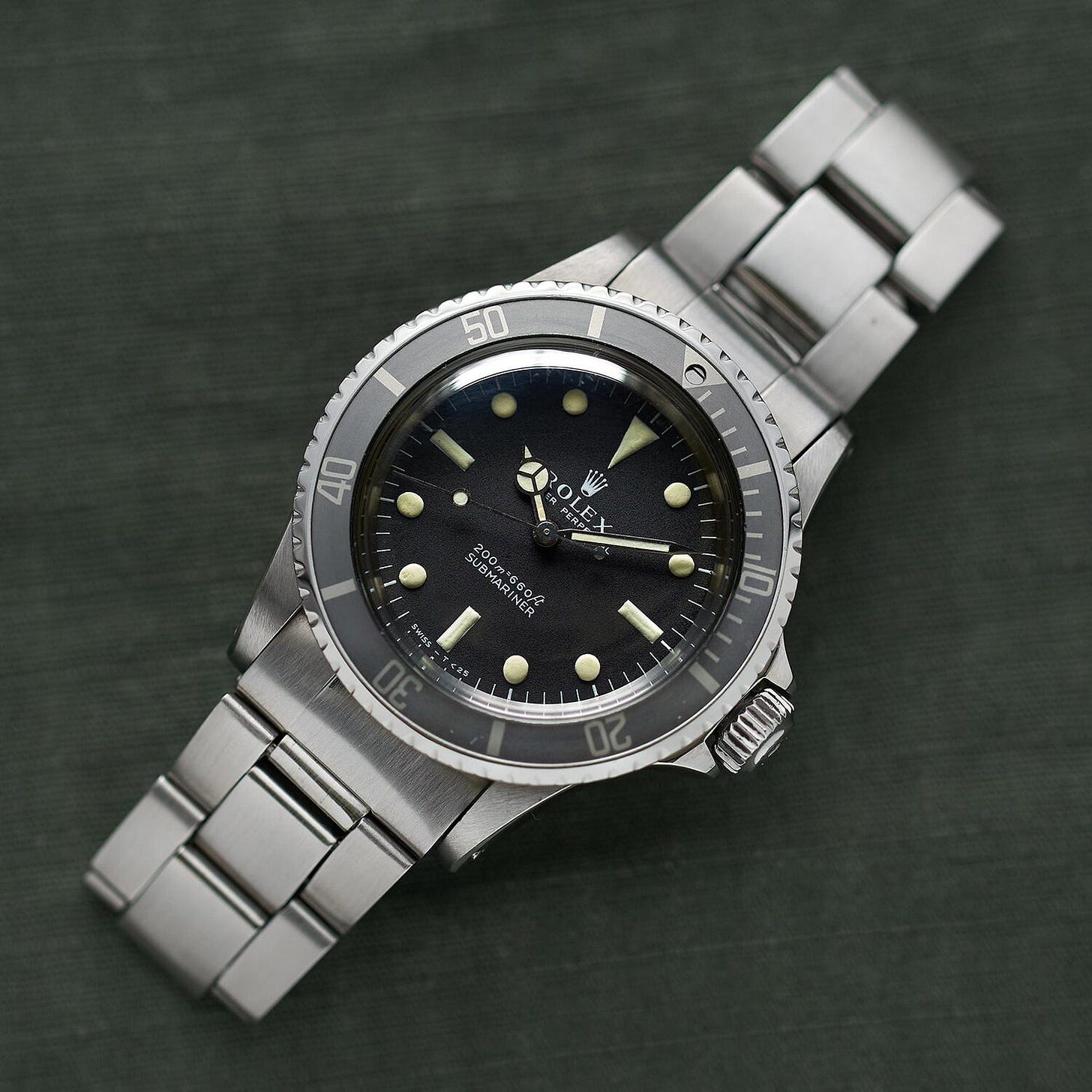 Matte dial reference 5513 "Meters First" (1970) | Saga Trading Co.
Meters First
In about 1966-67, Rolex transitioned from gilt dials to matte dials with white text. The first reference 5513 to feature a matte dial are the so-called "Meters First" first examples, so named because their depth rating has meters — not feet — printed first. It's a small detail, but it becomes a big one when you realize Rolex made these Meters First dials for just a few years. You should also see "Swiss - T < 25" spread wide across five hash marks below 6 o'clock, indicating that Rolex has indeed transitioned to tritium lume by this point.
Serif and Non-Serif
After the Meters First dials, we move onto the "Serif" and "Non-Serif" dials. To be honest, this is where my eyes start to glaze over, so I'll keep it brief: In the early 1970s, you either can (Serif) or cannot (Non-Serif) see the paint that's applied underneath the tritium lume plots on the dial. The dials look alike in many other ways; namely, switching from meters first to feet first, because America, supposedly. Rolex would stick with the feet first layout for the remainder of the 5513's production run.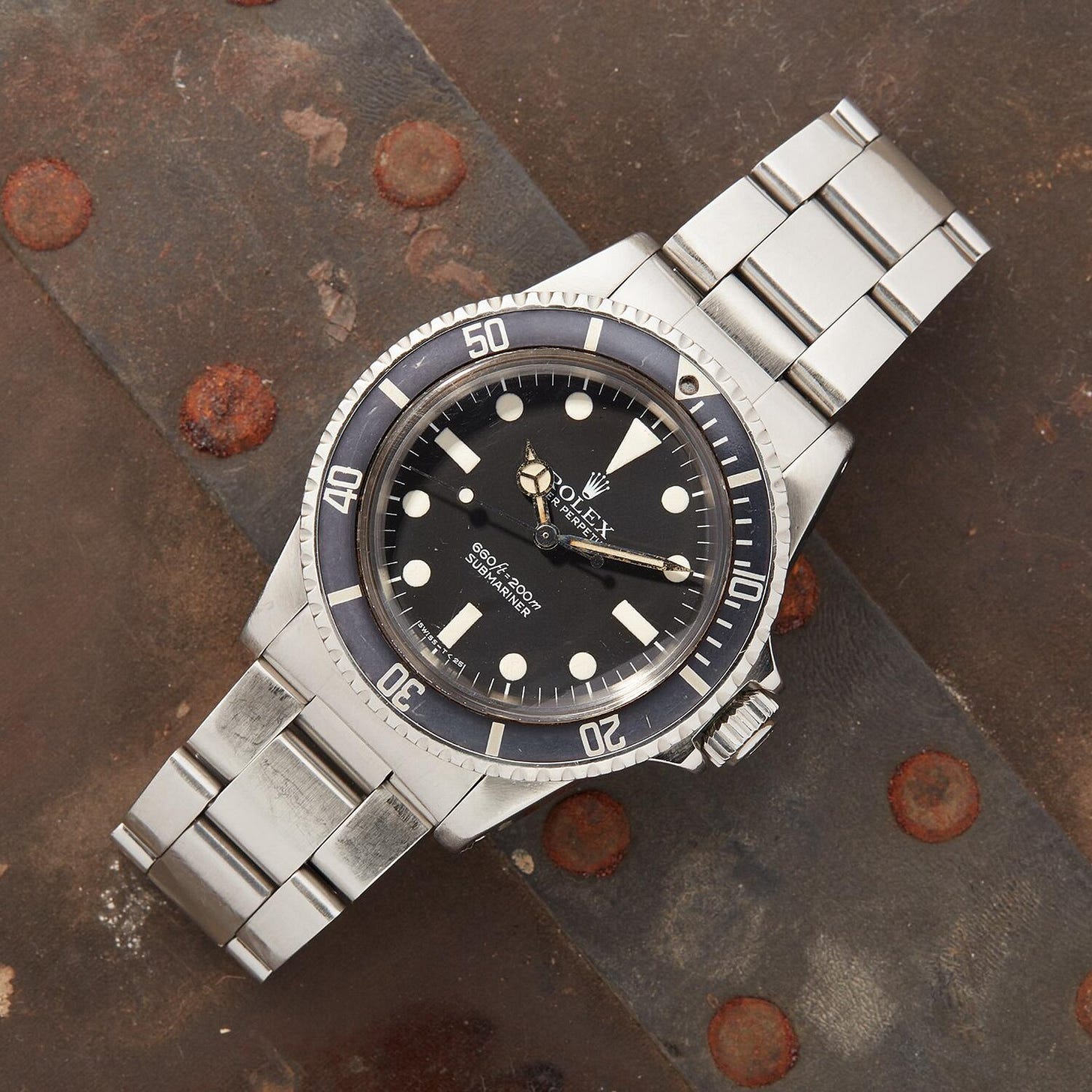 Matte dial reference 5513 "Maxi" Mark I (1978) | Available at Saga Trading Co.
Maxi
Next, we get to the era of the "Maxi" dial Submariner, so named because of the introduction of larger lume plots. Running from the mid-70s to the mid-80s, there are five flavors ("Marks") of the Maxi dial reference 5513 — a few identifying features of each include:
Mark I: "Submariner" printed under the depth rating (in all others, it's above); an "S" in Submariner that looks more like a backwards "Z"

Mark II: "Submariner" above the depth rating, with a more normal curving "S"; the "=" in the depth rating appears directly under the "A"

Mark III: tritium plots seem to touch 5 minute hashmarks, giving it the nickname "lollipop"

Mark IV: "Submariner" printed above the depth rating, with a zig-zagging "S" (as seen in the Mark I)

Mark V: "Submariner" written above the depth rating and is longer than the depth rating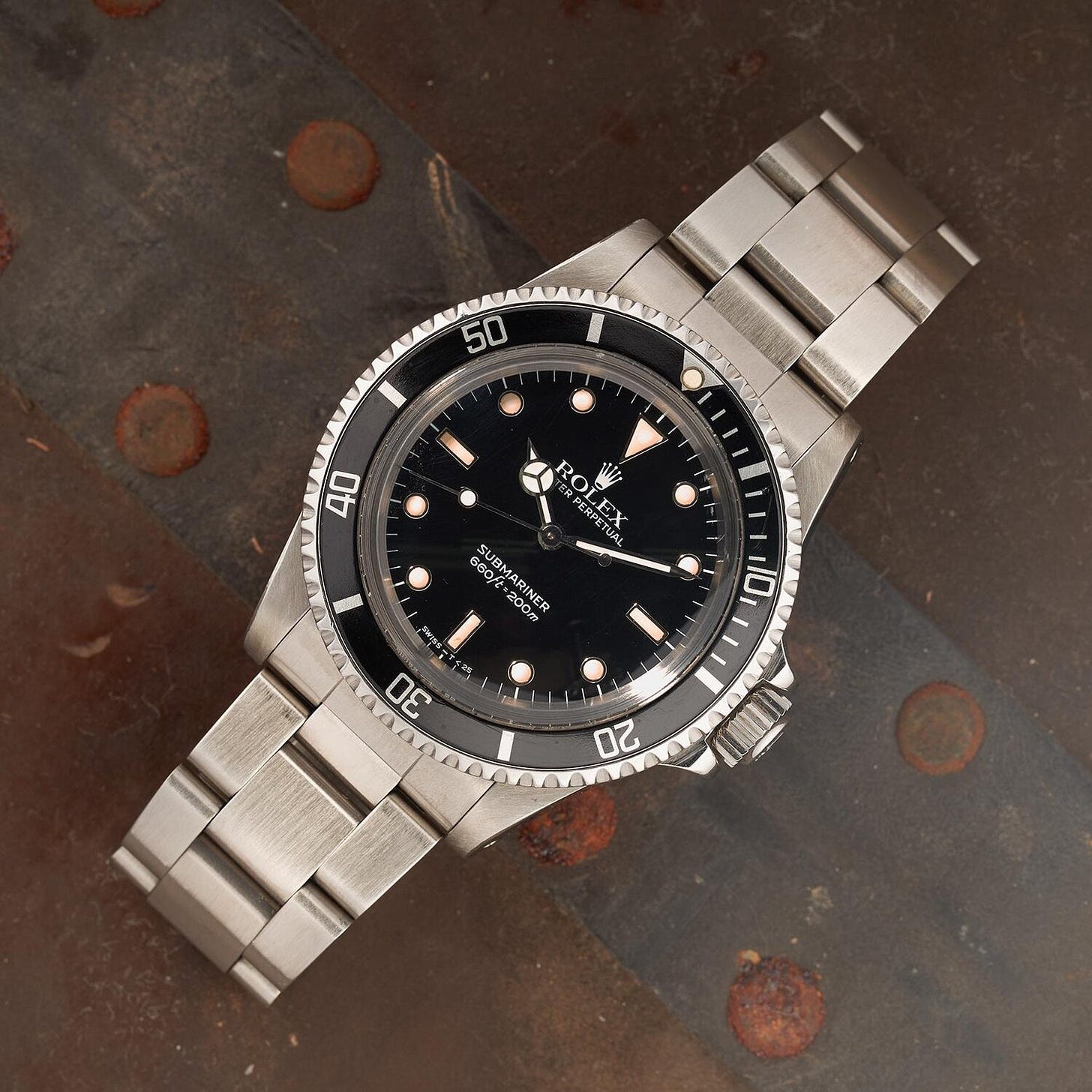 Glossy dial reference 5513 "R Serial" (1988) | Saga Trading Co.
Glossy
Purists might tell you the maxi dials are something of the end of the line for true vintage Submariners. In the 1980s, Rolex introduced a glossy dial to the reference 5513, taking the reference to the end of its production run in 1989. These later examples feature glossy black dials and white gold surrounding the tritium lume plots. Sometimes you'll hear of "R serial" or "L serial" 5513s: these are simply examples produced in the last two years of the references production, respectively. It's a preview of the modern, luxury Rolex we know today.
Transitional Years
"Go for it, kid": In 1990, Rolex finally did away with the reference 5513, introducing the reference 14060. If it's tenuous to call the later years of the 5513 "vintage", then surely calling the 14060 "vintage" is dubious. But we still love it.
REFERENCE 14060
The reference 14060 is the next iteration of the no-date Submariner, and if you want something that truly straddles vintage and modern, this is it. There are still some vintage-inspired touches: aluminum bezel, more slender case profile and lug holes.
But the updates to the 14060 are what define it: sapphire crystal, increased water resistance, in addition to the glossy dial and white gold surrounds introduced in the reference 5513's later years.
If you want a Rolex that's pretty easy to find on the secondary market, don't have to worry about beating around a bit, and that hues a bit more modern in aesthetic, just pick up a reference 14060 already.
According to Roundtable, the average historical auction price of the reference 14060 is $6,300, with a high price of $16,800 for a souped-up military version. For the same amount of money that might get you a standard matte dial 5513, you can pick up some of the most desirable and potentially collectible 14060s around. As 4-digit vintage Rolex models continue to get snatched up and rise in price, later 5-digit transitional models like the 14060 present interesting alternatives for savvy collectors just starting out.
Tying it all together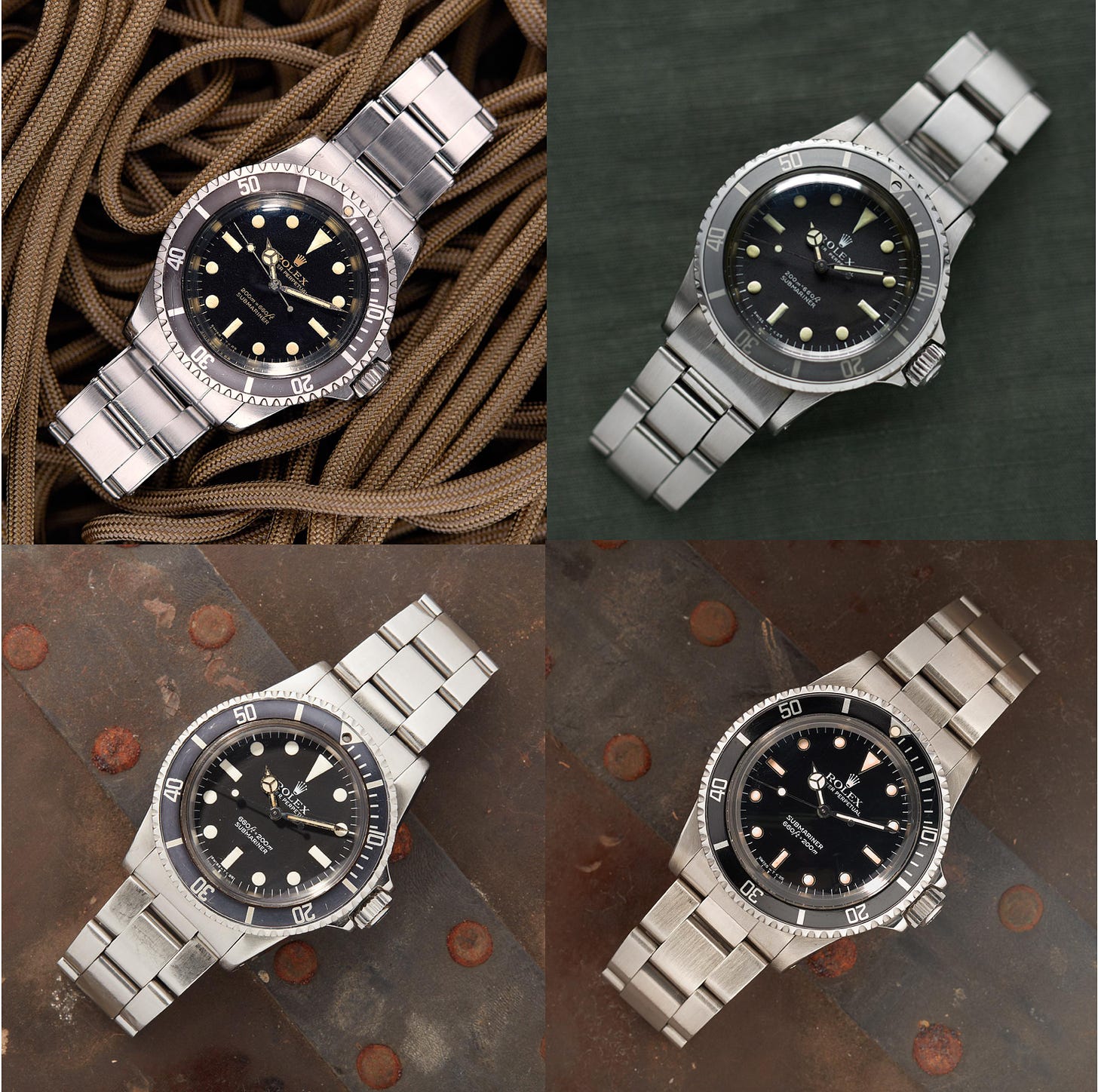 The four reference 5513 examples highlighted earlier in this article, courtesy of Saga Trading Co.: gilt 5513 "Bart Simpson"; matte 5513 "Meters First"; matte 5513 "Maxi" Mark I; glossy 5513 "R Serial".
The four reference images of the 5513 throughout this article perfectly and succinctly illustrate the evolution of the reference 5513 over nearly 30 years, so I wanted to display them together one last time. The first example represents a collectible gilt dial with a rare coronet design that's a favorite among collectors. The "Meters First" example illustrates a matte dial Submariner at inception, followed by the first iteration of the "Maxi" dial with its noticeably larger lume plots. Finally, you see the glossy dial of the late 5513, as Rolex begins its transformation from a manufacturer of tool watches to a purveyor of luxury timepieces, a trend that continued with the transitional reference 14060.
Each example represents a distinct era of Rolex that speaks to different collectors in different ways. Find the one that works for you, and as always: buy the best condition example of a reference you can afford, instead of stretching for a mediocre example of something you can't (or shouldn't) really swing.
A special thanks to Roundtable Vintage for collaborating on the data and analysis for this piece, and to Saga Trading Co. for providing images of the beautiful Submariners throughout.
---
Sales Corner
Like the Maxi dial Submariner we featured above? Lucky for you, it's up for sale over at Saga Trading Co. The "Maxi" Mark I dial has "Submariner" printed under the depth rating, with that zig-zagging "S" in Submariner. This particular example has a fat-font bezel that's aged to a gorgeous grey navy: the large "Maxi" lume plots were meant to make reading the dial even easier, and the slight, even patina on this example seems to hint towards a watch that was put to the test. It's got a 555' serial number, placing its production year at 1978, still the early years of the Maxi dial's run.
Offered at: $15,200
---
Ticks & Tocks
🎨 Thieves stole a Vincent Van Gogh worth millions. Now what? 😅 A Collected Man takes a look at all aspects of the watch market amid the coronavirus. 👷‍♂️ Bjark Engels finishes the new Audemars Piguet museum. 💯 Pitchfork gave Fiona Apple its first perfect 10 since Kanye a decade ago: here's a look at all the 10s it's given out. 👨‍🔧 He Spoke Style on how to start collecting vintage watches with E. Wind. If you completely missed it: Rolex, Patek, and a few others say bye to Baselworld, with LVMH's stable of brands following suit a few days later.
In Chicago: Renaming the Sears Tower.
Thanks for reading!
-Tony
Tap the heart above to like this email, comment, and if you liked it, share it: