Discover more from Rescapement
Updates on my Hodinkee writing; b-sides and behind-the-scenes; unpolished personal musings; recs and other unsolicited advice.
What to Know about the Rolex Commando
What are eBay's most popular watches?
When collectors think of Abercrombie & Fitch, they usually think of Heuer: through the 1950s and 1960s, Heuer made a number of Abercrombie-branded models. The striking designs and rarity of these models make them extremely collectible today.
But, Rolex also made a model to be sold at Abercrombie & Fitch. These were the days when Abercrombie was known as an elite outdoors outfitter, beloved by the likes of Theodore Roosevelt and Ernest Hemingway. In that vein, Rolex retailed a simple, three-hand entry-level model through Abercrombie: the Rolex Commando. It's a rare model worthy of any collector's attention.
Get to know the Commando
At one point the cheapest model in the Rolex catalog, the Rolex Commando sold for $108, or about half the price of a Submariner from the era (that's $715 in 2020 dollars).
The reference 6429 was sold only in the United States, and only through two channels: U.S. military bases and Abercrombie & Fitch. Every single example of the Commando I've seen offered for sale has been in an extremely tight serial number range: 2.0 million. This means the Commando was produced for just a year or two in the late 1960s or 1970, depending on which Rolex serial number chart you trust. In any event, this makes it an extremely rare model.
The Commando features an Oyster case measuring 34mm in diameter. What makes the Commando so attractive is its matte black "Explorer" dial, featuring the 3-6-9 layout made famous by the model of the same name. The dial of the reference 6429 is either printed with "Commando" at 6 o'clock or left blank. In all, it's an austere take on the more expensive Explorer 1016 of the same era.
With a manual movement ticking inside, the Commando sits slimmer on the wrist than most other Rolex sports models. It is powered by the manual wind caliber 1225, a simple 17-jewel non-COSC certified movement. It's perhaps best known for also powering other simple Rolex Oyster models (like references 6294 and 6694) that remain an "entry point" into vintage Rolex collecting to this day.
The Story of the Commando
I've seen varying theories on how and where the Commando was sold:
One theory claims that there were two versions of the Commando: the version printed with "Commando" at 6 o'clock and a version left blank at six. This theory typically claims that the blank version was sold at military post exchanges ("PXs"), while the "Commando"-stamped version was sold at Abercrombie & Fitch.

A second theory claims the Commando was first offered exclusively at military PXs. A couple years later, the watch was sold at Abercrombie to get rid of Rolex's remaining inventory. Under this theory, the Commando was sold at military PXs for a couple years in the late 1960s and early 1970s, and then at Abercrombie in 1972.
It's also possible that some combination of these two theories is true: upon Rolex not selling through its entire inventory, it may have stamped previously blank reference 6429 models with "Commando" before selling the watches at Abercrombie. It would've been a shrewd marketing move by Rolex to connect the watch to its military roots (though perhaps not worth it for a watch that was selling for only $108).
Without more information, it's hard to know which theory true, but I'm slightly inclined to believe some version of the second. While the serial numbers of these watches indicate production in the late 1960s or 1970, Abercrombie ads or sales receipts for the model don't seem to appear until 1972. Thus, it seems plausible that the Commando was sold exclusively at military PXs for a couple years before Rolex partnered with Abercrombie to sell through the rest of its inventory.
There's limited information about the Commando available on the internet, so this article is also intended as a cry for help: if you know more about this model, please reach out or comment!
Collecting the Commando
The Commando is extremely rare, and like with other vintage Rolex models where much of the value lies in the unique dial, is fraught with danger for collectors.
The case will be engraved "6429" between one set of lugs, and should be engraved with a serial number in the previously mentioned range between the other lugs.
Meanwhile, the case back will be engraved "6426" on the inside. At the time, it was common for Rolex to use parts from various models to put together any particular watch. The Rolex reference 6426 was an entry-level Oyster, also featuring the caliber 1225 fitted in a 34mm case. The Commando case has a bit more of a "cushion" shape to it then the typical Oyster case (like the reference 6426, for example), but could still be fitted with the same screw back case as the reference 6426.
The reference 6429 features tritium lume on the 3-6-9 hour markers, as well as the stick markers in between. Every example of the reference 6429 I've seen (except for this one from Bob's Watches) features baton hands with substantial lume. I'm inclined to say that baton hands are thus "correct" though it's possible Rolex threw different hands from similar models onto a few examples of the Commando (for example, by using hands from a reference 6426 or 6694). Honestly, Rolex may not have given much thought to what hands it was putting in its entry-level watch that apparently didn't sell through that well.
Conclusions on the Commando
These models pop up rarely: only a few have been seen at auctions, and they tend to command attention. Christie's recently sold an example for $8,125 in 2016, but we've seen examples go for as much as $25,000. Not bad for what was once an "entry-level" Rolex.
It's always interesting when a model's rarity conflicts with its spartanic simplicity to create widely disparate views on its value. Some collectors will view the Commando as highly sought after, due to its rarity and the infrequence with which examples appear on the market. Meanwhile, others will look at the simple 34mm manual wind Oyster and wonder how one could pay a couple thousand dollars, much less upwards five figures for such a watch.
Neither view is right or wrong, and there is plenty of room in this hobby for collectors of both stripes.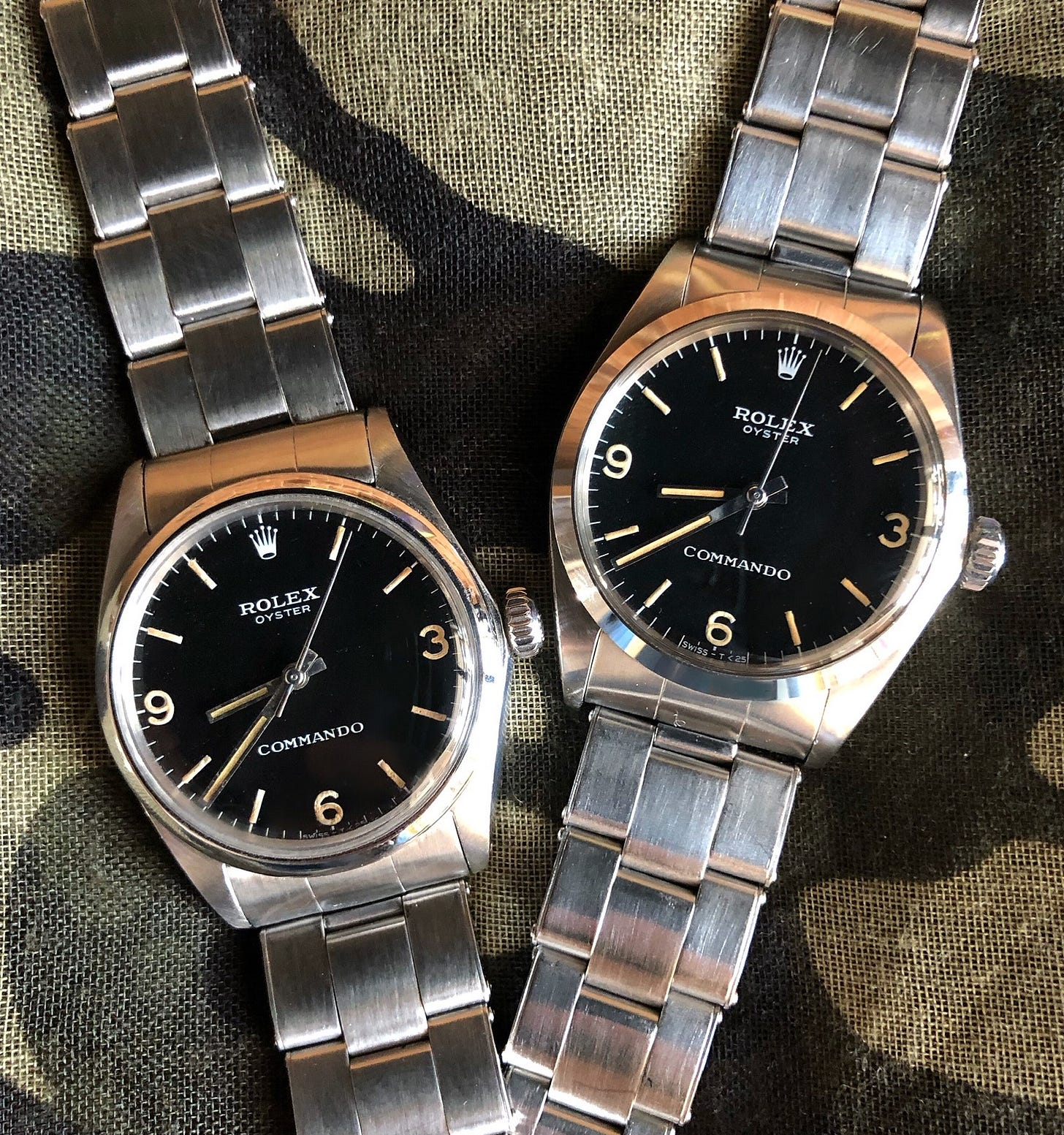 ---
Other News
An industrial designer by training, Ressence CEO Benoît Mintiens has always thought about watches a bit differently. He sat down to talk about the brand's new dive watch, the Type 5, and when asked why Ressence made the face two-dimensional, his response was interesting:
The reason is because your brain can read two-dimensional information, on screen or on paper, better and faster than on a three-dimensional object.

Because your eyes look at it from a different perspective, your brain needs to transmute this three-dimensional information into two-dimensional information in order to understand what it is looking at. That is why it is very easy to read words on paper. You can read really fast because your two eyes see the same thing.
This feels like a "things you can't unsee" insight. I can't even look at my three-dimensional watch face right now.
When most people think of dive watches today, they typically think of large external rotating bezels. But in the early days of dive watches, another style also found popularity: the Super Compressor. The Super Compressor was a type of watch case patented by (now-defunct Swiss company) Ervin Piquerez SA in 1956 and manufactured for the next two decades. The company designed a case sealing method that actually became more water tight the deeper the watch went — as more pressure was applied to the case back, it pressed up against a specially designed O-ring gasket to more tightly seal the case.
Most Super Compressor cases are defined by their internal rotating bezel and twin crowns at 2 o'clock and 4 o'clock. Early dive watches with external bezels turned in both directions, presenting obvious risks that the bezel might be knocked around under water. The internal bezels of the Super Compressor cases solved this problem by putting the timing bezel underneath the crystal. This gives these dive watches a sleek look when compared to their external bezel counterparts
Since EPSA only made the cases, by some counts, over 100 different brands can be found using variations of the common Super Compressor cases with dual crowns. Some of the most notable include: Jaeger-LeCoultre, Longines, Enicar, Hamilton, Bulova, Universal Geneve, Hamilton, IWC, and Blancpain. The list reads like a who's who of important dive watch makers of the era, showing just how important the Super Compressor case was in the dive watch's development.
A throwback to Walt Odets' seminal review of his A. Lange Saxonia. Upon re-reading, this particular passage, appreciating the three-quarter plate of the Saxonia, stood out:
At dinner the night I got the watch, my [watchmaker] friend told me that the three quarter plate is one of his favorite features. Such a watch is so difficult to put together, and he found this entertaining. The entire train of the watch, excluding the balance, must be placed in position in the plate, teetering precariously on the lower pivots. Then the upper plate (the three-quarter bridge) is placed carefully on top, at which point all top pivots fall perfectly into their respective upper bearings. Yeah, right. That's the mainspring barrel, center wheel, third wheel, fourth wheel, escape wheel, transmission wheel (between the crown gear and barrel ratchet), barrel click, and what look like two unjeweled pivots for the date mechanism in the upper right corner of the plate, just in case you get cocky. All these parts, teetering like sunflowers in the wind, their upper pivots waving in all directions, as if to mock your every effort to get this watch back together.
According to eBay, 25% of luxury watch sales on the platform are Rolex, with popular models like the Submariner and GMT-Master leading the way. While stainless steel models still remain the most sought-after pieces, eBay says rose gold is popular too.
---
Sales Corner
If you liked the guide to Super Compressors above, you might like these watches:
💧Blancpain Fifty Fathoms Super Compressor
🌊 Benrus Ultra-Deep Super Compressor
---
Ticks & Tocks
This YouTuber I watch too much found his grandpa's Zenith A386 by a dumpster. ☔️ The oral history of Prince's Super Bowl halftime show (Commissioner Goodell: "yeah, that was boner."). Why do I keep watching Kevin O'Leary videos (Mr. Wonderful visits the maison)? 😱 Go ahead and listen to Eric Wind on Hodinkee Radio. 👑 The King of Morocco's cleaning lady is going to prison for stealing 36 watches.
In Chicago: As we guessed a few weeks back, Worn & Wound announced they'll be hosting a Windup Watch Fair in Chicago from July 10-12.
Thanks for reading!
-Tony
Tap the heart above to like this email, and please share Rescapement Weekly:
Meme of the Week: