Discover more from Rescapement
Updates on my Hodinkee writing; b-sides and behind-the-scenes; unpolished personal musings; recs and other unsolicited advice.
What is a 'Gilt' Dial?
Kanye's gold Submariner, the Horology House scandal, why that Rolex is making you miserable, and signs of the next quartz crisis
Kanye's gold Submariner, the Horology House scandal, why that Rolex is making you miserable, and signs of the next quartz crisis
We've spotted Kanye West wearing his Cartier Crash a couple times (here and here, for example), detailing how it's the perfect choice for the design-obsessed musician/artist who also happened to be in a life-altering car crash early in his career.
Kanye doesn't wear watches much, but when he does, they tend to stand out. So, it was exciting to see Kanye out and about in New York this week, wearing not just a killer fit, but also a killer watch: an 18k gold Rolex Submariner with a blue face.
It's difficult to tell if Kanye's wearing the full 18k gold reference 116618 or the two-tone reference 116613, though if I had to bet, I'd peg Kanye as a solid-gold guy (after all, he used to be seen wearing a gold Day-Date Presidential regularly).
Either way, it's an excellent choice for Mr. West. As his choice of a Cartier Crash shows, he has little regard for the watches or style choices of others — "skate on the paradigm and shift it when I feel like," as West himself has put it. While the rest of the watch world continues to go crazy for stainless steel sports watches, especially those with blue dials, Kanye does something different. The Submariner is unmistakably a sports watch, basically setting the design standard for every other dive watch out there, but Kanye's is also unmistakably gold. While others are scared off, Kanye runs towards the bright light. And while the other popular blue-faced watches of the day — your Nautiluses and Royal Oaks — feature subtle, deep blue hues, the blue on this Rolex Submariner is almost as loud as some of Kanye more infamous rants.
This is not meant to take a position on what defines a "gilt" dial, but rather to present information so that collectors can be more informed about the various potential uses of the term.
From the 1950s into the 1960s, many brands produced gilt dials for their timepieces. Most commonly associated with deep black dials and gold-hued text that give the watch a warm and unmistakably vintage look, the technique is actually quite versatile. But, "gilt" is also one of those words — along with "patina", "tropical" and a bevy of other words that don't necessarily mean what one might think they mean — that is perhaps used more than it is truly understood in the watch world.
Because of this distinctive warm look, gilt dials of all types from any brand can be extremely desirable and collectible, but it's important to understand the various ways in which the term gilt might be used to properly evaluate these dials.
The printing press
As with most things in vintage watch collecting (especially those that arose largely from the vintage Rolex collecting community), the answer to this question isn't straightforward (warranting a spirited 11-page discussion years ago, which I'd submit you read yourself so you can draw independent conclusions as to the "true" definition of gilt).
The dictionary definition of gilt is "anything covered thinly with a layer of gold." To some collectors, then, any dial with gold-colored lettering is a gilt dial. But for clarity, dials with gold print applied on top of the surface will sometimes now be referred to as "gilt print" or "gilt writing" dials to differentiate them from those produced using the gilt process described below.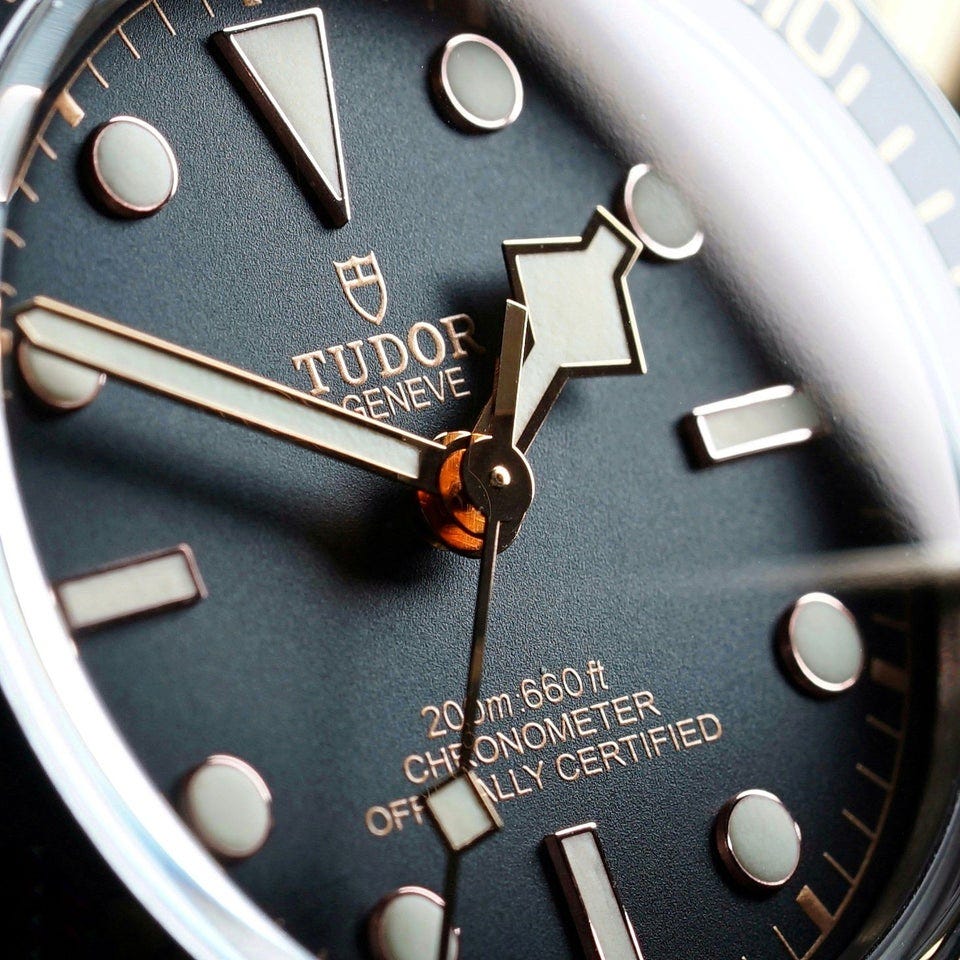 Gilt: Trust the process
However, to some collectors, a "true" gilt is defined by the time-intensive process that exposes the underlying metal of the dial in negative relief. This often results in golden text and markers, because the technique exposes the blank brass underneath the dial's face, but that need not be the case for a gilt dial produced using this method (it could also expose yellow or white gold, silver, or another material that's been applied to the underlying plate). Thus, "true" gilt describes not gold-colored print, but a manufacturing process.
Producing a "true" gilt dial is an intensive process. First, the blank brass is highly polished to a mirror finish. Then, the desired design — text, name, logo, markers — is printed or stamped with a special clear coating. Then, black paint is galvanically applied to the dial; the applied clear coating prevents this paint from binding to those parts of the dial. Lastly, a clear lacquer coating is added to the dial to give it a "glossy", shiny finish. Thus, for clarity, you'll often find dials manufactured using this process referred to as "glossy gilt" dials to further differentiate them from dials that might simply have applied gold print. After the lacquering process, additional print may be added. For example, Rolex often printed depth ratings in white or red print after lacquering. Rolex produced glossy gilt dials for a number of its models until 1967.
On these glossy gilt dials, you'll find the print produced using this gilt process is slightly recessed to the dial's surface. Further, the light plays differently on the gilt text at different angles, rendering it anything from a bright white to a deep bronze. The applied lacquer prevents corrosion of the underlying metal, so as long as the lacquer remains in tact, the polished plate will remain sharp and shiny. But, given the age of many of these glossy gilt watches, some have began to show signs of age — the "spidering" evident on many of these watches is the lacquer cracking — and the golden hue of the underlying gilt gives way to a warm amber or orange.
If you're not one of the 400k+ people that has read some (or all) of the now 52-page Rolex Forums thread about Chris Essery of Horology House, I envy you. But, Time + Tide also has a concise summary of the alleged events after speaking with Essery's victim.
If you're familiar with watches at all, you've probably seen Essery's content from Horology House, videos defined by slow-motion, up-close macro shots (his YouTube and social accounts have all gone dark since the Rolex Forums post went up). In short, Essery has become a mainstay in the watch community, especially in his native Australia, launching one large Facebook group and moderating another (in addition to his Horology House work). He's now been accused of selling a fake Rolex Daytona to one customer, and others have come forward with similar tales. Shoahib, the original victim that came forward via his friend's forum post, also did an interview with Scottish Watches to tell his side of the story. The scandal has taken the watch world by storm. And in a hobby where the most oft-repeated adage is "buy the seller", it's a wakeup call to buyers to live by another adage: trust, but verify — the seller, the watch, or the dealer. It's also a reminder to consumers to always scrutinize those with power: moderators, dealers, and "experts" of all stripes. [Insert your favorite adage about how power corrupts here.]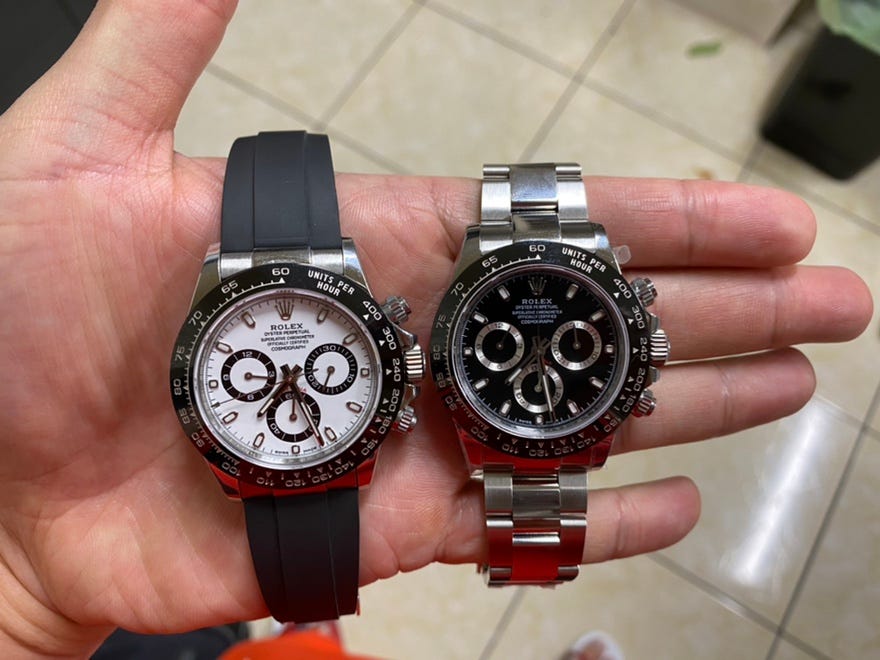 A new study shows that, despite consumers' expectations that buying a luxury item provides a pick-me-up, they actually experienced a "dissonance between what luxury represents and who they truly are", generating "the impostor syndrome of luxury consumption."
Two-thirds of the 1,000 research subjects, regardless of their income level, felt that sporting a luxury buy made them feel "inauthentic", as if their true identity was at odds with the opulence the items projected.
Perhaps you're reading this and thinking, "my watches make me feel amazing!" Well, you might not be flattered by the study's next finding.
One factor researchers determined could reduce feelings of this imposter syndrome is "an inherent sense of psychological entitlement". The study found that we experience less dissonance with luxury items when they are marketed as something we deserve. This manipulative rhetoric has emerged as the ultimate marketing tactic for brands: reframing consumerism as self care or treating yourself, convincing consumers they need whatever is being sold.
---
Ticks & Tocks
📉 A new pattern in the Swiss watch industry emerged in 2019: Exports of watches over 3,000 Swiss francs (CHF) increased, while those priced from CHF 500 to 3,000 declined (those priced under CHF 500 have long been in decline). Is this evidence of the next quartz crisis? Loupe the data here.
😴 Sleeper grails: Three under-the-radar watches that serious collectors love. 🤔 Vintage is rather problematic. 💍 Did you read that study about how luxury makes us feel (above)? Well, Peter Singer thinks conspicuous consumption will be unthinkable in a generation. 🧀 I left my Rolex next to a vat of Cheez Whiz, and other lies we tell the insurance company. Foxtrot raises $17m to build the modern convenience store.
In Chicago: A Richard Mille boutique is coming to Oak Street. The storefront immediately to the east of Razny Jewelers on Oak Street (109 E Oak) is currently cloaked in a black Richard Mille tarp, indicating that a boutique from the high-end watch manufacturer is "opening soon." The boutique will be Richard Mille's sixth in the United States and eighth in North America.
Thanks for reading!
-Tony
Tap the heart above to like this email, and please share Rescapement Weekly:
Thing of the Week
Did your "friends of Hodinkee" LE get lost in the mail too?
Loving the "Friends of
@hodinkee
" edition of 100 Tudor Black Bay 58s.
Swipe left to see proof that I actually have friends.