Discover more from Rescapement
Updates on my Hodinkee writing; b-sides and behind-the-scenes; unpolished personal musings; recs and other unsolicited advice.
Vintage Picks: Rolex Oysterquartz, Titus Calypsomatic, and More
Virgil and Drake show off a unique Nautilus
James Dowling on the Vintage Rolex Market
A few weeks ago, Watch Box sat down with dealer, author and Rolex expert James Dowling to talk about the vintage Rolex market. Dowling talk about the current state of the market before diving into some of his specific observations.
Where's Dowling see value in the current market? "Plastic glass Day-Dates are, in my opinion, dirt cheap," pointing to early reference 6611s as just one example. The interviewer (take off your sunglasses, bro) then asks Dowling about the value of Oysterquartz models.
"Can we cut this because I don't want other people to know about this shit," Dowling responds, referring to the fact that he believes these watches to be not only rare, but also generally under appreciated by collectors. "I own every freaking one of them." They also talk about the transitional "Triple Six" Seadweller (reference 16660) as heavily under appreciated.
James goes on to bemoan what he calls the confluence of two trends in the vintage Rolex market: obsessive study and the desire to make money. Collectors draw distinctions to create hype instead of to determine the age and originality of a watch, then seek to monetize this knowledge. "Give me a break — it's a Sub, wear it," Dowling concludes.
Watch the full video here, and check out the Sales Corner below for some vintage picks following Dowling's observations.
---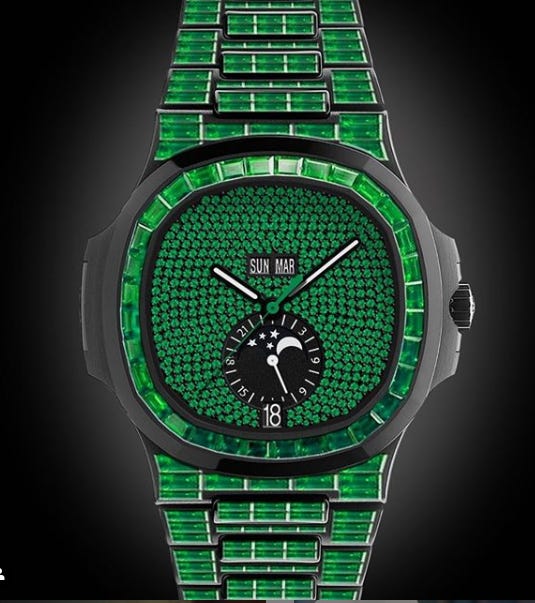 Early on January 10, Virgil Abloh showed off a ridiculous emerald-set Patek Phillipe Nautilus reference 5726 on his Instagram (photo below). We've seen Virgil wearing his own blacked-out Nautilus Ref. 5726 from Mad Paris before; this one just adds a whole bunch of emeralds on top.
Virgil also tagged Drake in his post, seeming to insinuate the watch was for @champagnepapi. Drake seemed to confirm this later, soon posting the same photo of the watch to his feed. Of course, you can go to the comments of either post if you'd like to see a bunch of hot takes on the watch (for example, @amsterdamvintagewatches: "That is a painfully poor execution of a baguette Emerald after-market set 5726"). In a bit of omnichannel marketing, Drake also dropped a couple lines seeming to reference the watch on his new track with Future, "Life is Good", rapping: "Virgil got a Patek on my wrist goin' nuts."
A Patek Ref. 5726 runs $45,930, if you can find one at retail. You'll find them on the secondary market often trading for a hefty multiple of that. That leaves some collectors understandably frustrated when they see a couple guys like Virgil and Drake with way too much money ruin what was otherwise a perfectly good annual calendar Nautilus in stainless steel. But hey, if Champagne Papi thinks it looks cool, I'm sure others will too.
Next up, a feature on a guy who's doing something in college that a lot of us probably wish we would've thought of.
When Jesse Linevsky started as a freshman at Cornell University, he noticed an opportunity. As a student majoring in hotel management in Cornell's world-renowned School of Hotel Administration, he saw students all around him interested not only in business, but also in high fashion and the luxury goods market.
"This might be the only place on Earth that could have a successful watch club", Linevsky said he remembered thinking as he looked around campus. And so he got to work.
Linevsky has been into watches since he was a kid, so the opportunity to turn his passion into a successful club was a worthy challenge for the business-minded student. He recalled a childhood trip to Switzerland as particularly transformative in developing his passion for watches.
"We visited a boutique and my mom said I should get a watch, thinking I could get one for a few hundred bucks. I bought one for $350. It had a Chinese movement, German design, but it got me thinking: what actually makes a watch?" Linevsky said.
From there, Linevsky was hooked, obsessed with learning everything he could about watches and the watch industry. He started reading Hodinkee and fishing around on eBay for watches, eventually picking up an Omega Bullhead from the 1970s.
Eventually, Linevsky made his way to Cornell, where he realized he could leverage Cornell's resources to turn his passion for watches into a full-fledged club on campus.
Read on

for the rest of the story on starting a Horological Investment Club at Cornell, including Theo & Harris' visit to Cornell.
---
Sales Corner
A look at what's selling at different dealers across the web.
Want to take James Dowling's advice from above and dig into Rolex's Oysterquartz line? Take a look at this newly listed example from Eric Ku at 10 Past Ten. This is an early "Mark 1" reference 17000 — you can tell because the movement was not yet COSC certified and thus the dial simply reads "Datejust" at 12 o'clock and "Oysterquartz" at 6 o'clock. Later on, Rolex submitted the Oysterquartz movement for chronometer certification and added the familiar "superlative chronometer / officially certified" text to the dial. While Rolex produced the Oysterquartz from 1978 until 2001, it wasn't producing that many, and this watch has become more sought after in its afterlife than it was during its production years. Eric Ku is offering the watch for $5,200.
Watches with Patina is the source for learning and finding a vintage Titus Calypsomatic. Take a look at this second-generation example that dates to the early 1960s and you'll see why he loves these humble dive watches: glossy black dial with gilt text, radium lume, and gorgeous original hands, highlighted by that lollipop seconds hand. All with a reliable ETA movement inside; slap "Tudor" on the dial and this watch would trade for 3-4x what this one will set you back. The crystal isn't original on this example (an original second-generation crystal has a cyclops), but everything else is. Watches with Patina is selling this Calypsomatic for $3,800.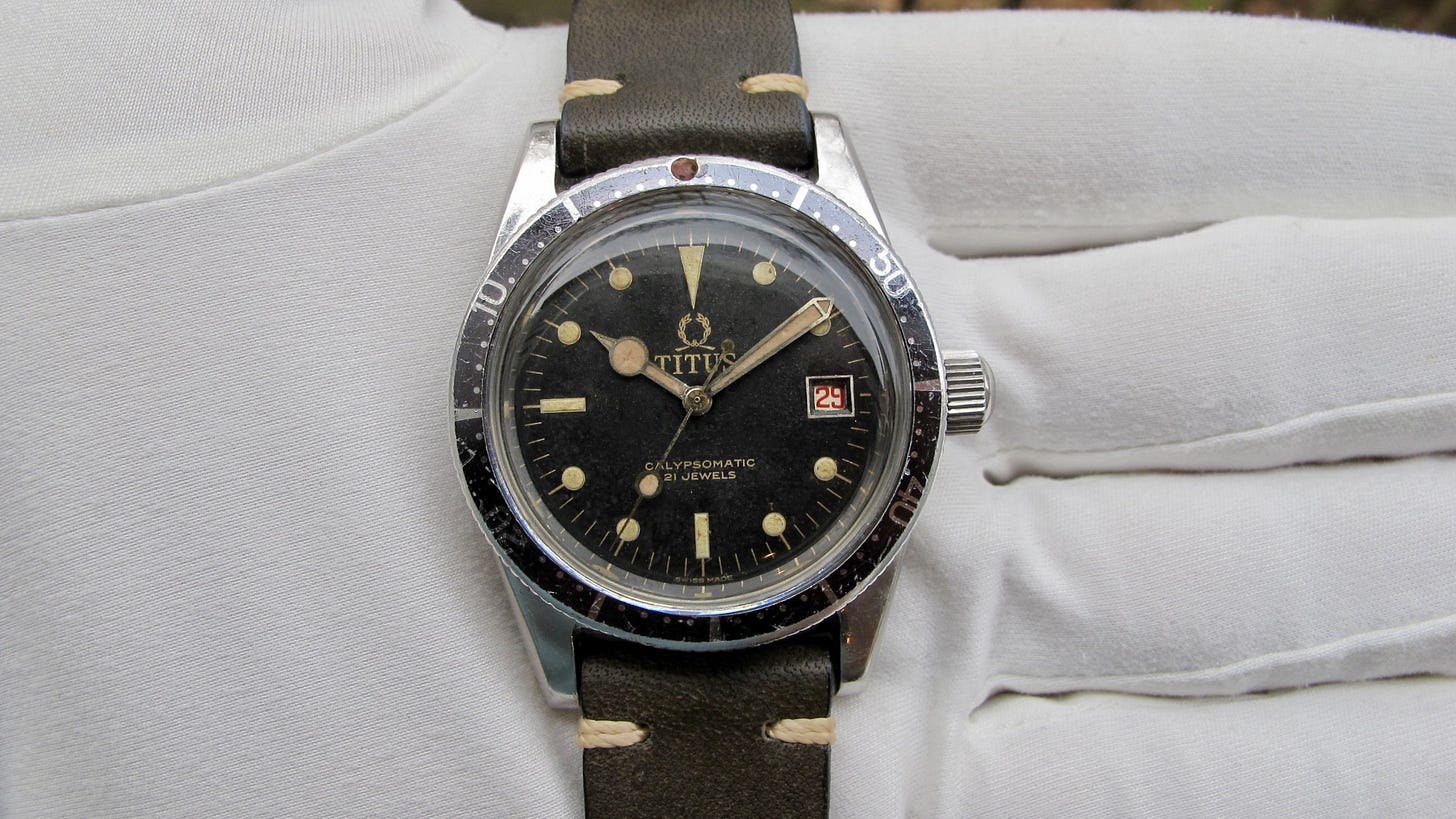 Last week, I recommended "anything Gallet" as slightly under-the-radar chronograph options. The makers of the first waterproof chronograph produced a number of variations of their "standard" chronograph, one of which was the Decimal. With an outer track counting to 10, it allowed professionals in medicine, sports and engineering to quickly divide time recordings into tenths of minutes. Due to this specialized nature, relatively small numbers of the MultiChron 45 Decimal were produced. This example is a "First Series", identifiable by, among other things, its slightly larger 37.5mm case. It's powered by an Excelsior Park movement, renowned by collectors for its smooth chronograph operation. Crafted & Tailored is offering this Gallet example for $5,950.
The Patek Phillipe Travel Time reference 2597 is a classic Calatrava reference 570 case with a special "travel time" movement inside that lets the wearer jump hours forward or backward by engaging the two pushers on the left side of the case. This is from the first series of the Travel Time — the second series has a second hour hand that doesn't move (i.e. staying in place to tell "home" time). These watches are extremely rare, especially in the crisp condition that the example from Matthew Bain here seems to be in. Matt Bain is offering the watch, with price available upon request.
The Smiths W10 was issued to the British Army in the 1960s, and while made in large quantities from 1967-1970, it's got a classic military design that never goes out of style.
On top of that, while nearly all of the watches commissioned by the British came from Switzerland, this was made in England (as denoted at the bottom of the dial), featuring a quality in-house movement. As I mentioned last week, military watches are good bets to see a steady rise in appreciation (both monetary appreciation, and appreciation by collectors). S.Song is offering this example for $1,800.
---
Ticks and Tocks
😱 Hodinkee's vintage watch team on the private sales they made in 2019. Hodinkee's two-person vintage watch team posted about the best watches they sold that never hit the site last year. The round-up includes some true rarities: a "blue" Daytona ref. 6239, a non-Paul Newman reference 6241, a double-red Sea-Dweller, among other special watches. It's cool to see the exceptional watches Hodinkee is moving under the radar. Of course, since everything Hodinkee does nowadays is viewed with a raised eyebrow, it's also interesting to see a post from two folks that are typically more "behind the scenes" than front of the house. The post ends with them soliciting readers to reach out directly with inquiries. Both of Hodinkee's vintage specialist have backgrounds at large auction houses, so they're certainly familiar with and comfortable in this space, but it's interesting to see them making such a full-throated play towards being a dealer in the market.
📅 Watch auction calendar for the first half of 2020. Auction houses are still announcing their events for the year, so bookmark and stay tuned as we update this page over the next few weeks.
🤑 The five most expensive watches sold on eBay in 2019. Last year, the two most expensive watches sold on eBay were variations of the Patek Phillipe reference 5270G perpetual calendar chronograph, selling for $139,000 and $125,000 (good enough for the 18th and 19th most expensive items sold across eBay, amidst a list of Lamborghinis and Ferraris). A Rolex Pearlmaster, Richard Mille, and white Gold Rolex Daytona rounded out the top 5. By the way, if people tell you you're insane for spending what you do on watches, point them to this list: the second and third most expensive items were trading cards of Tom Brady and Michael Jordan, both selling for $350k+.
New Releases
🌚 Omega is introducing the re-launched caliber 321 in a new stainless steel Speedmaster based on the Ref. 105.003 "Ed White". It'll be priced at $14,100.
🏎 Hands on with the new H. Moser Streamliner Flyback chronograph. Ebel- and Porsche-inspired design, Singer-based movement; it's a strong entry into the stainless steel sports watch market by the innovative brand.
🥯 In New York: How New York's Bagel Union Fought — and Beat — A Mafia Takeover
Thanks for reading!
-Tony
Questions/comments/tips? Just respond to this email (and please tap the heart above to like it!).