Discover more from Rescapement
Updates on my Hodinkee writing; b-sides and behind-the-scenes; unpolished personal musings; recs and other unsolicited advice.
Universal Geneve 'FS': The Italian Railway Watch
A prototype grey Speedmaster, Eric Clapton Daytonas, and some Enicar
This week: The Universal Geneve Ferrovie dello Stato, a prototype grey Speedmaster, Eric Clapton Daytonas, and Enicar.
---
There's nothing quite like vintage Universal Geneve. From time-only pieces that cost a few hundred bucks to complicated watches and chronographs that hold their own against the best, there's something for everyone. The brand's highly collectible chronographs come in hundreds of variants and reference numbers, so numerous that a 500-page compendium doesn't even cover them entirely. Indeed, our introduction to Universal Geneve hardly scratches the surface. While the brand essentially went extinct as a result of the Quartz Crisis, it remains very much alive in collectors' hearts.
It's all a bit overwhelming, so the least I can do is suggest where to start. Hence, I submit for your consideration the Universal Geneve Ferrovie dello Stato ("FS", for the Italian State Railway). When I'm looking for vintage watches, I like to transport myself back in time, thinking of the type of person that might've bought the watch I now find myself considering — who was this guy, what was he like, would we join a Zoom happy hour together?
I'm about three-eighths Italian, which perhaps offers partial — ahem, 3/8ths — explanation for my fascination with the Universal Geneve Ferrovie dello Stato. "Ferrovie dello Stato" is simply Italian for Italian State Railway, the state-owned company that owns and operates the railways and trains in the Bel Paese. As the story goes, the Italian State Railway commissioned Universal Geneve in the 1960s to produce these watches, making them in three different series through the 1970s. But the story is so much more than that.
The Ferrovie dello Stato in the 20th Century
"Say what you like about Mussolini, at least he made the trains run on time," or so went the famous excuse for Italian Fascism under Benito Mussolini. Of course, it was nothing more than Fascist propaganda: Il Duce would show up to railway openings (with huge crowds, I'm sure!) for projects initiated by previous governments, prioritize important tourist lines (and even those ran late), and otherwise bloviate about punctual railways.
Throughout the 1920s and 30s, this left the Italian railway network neglected and unmaintained. When wartime came, the railways weren't even capable of delivering Italy's coal needs that could no longer be met by sea.
By the end of WWII, the Italian railway system was absolutely decimated. In the decades after the end of the War, the Ferrovie dello Stato rail network was almost completely rebuilt: The FS built new lines, introduced high-speed rail, and even used electric trains. The Ferrovie dello Stato was completely transformed, from a symbol of Fascist propaganda to that of a new, dynamic Italy.
The watches FS workers used also became a symbol of this revolution. During the Fascist years, Mussolini granted the Italian company Perseo a monopoly on the issuance of watches to Ferrovie dello Stato workers.
But in the 1950s, amidst the railways' rebuilding, the Ferrovie dello Stato started to give workers a choice between pocket watches and wristwatches, also allowing multiple suppliers to sell watches. Universal Geneve — whose complicated watches and chronographs were already quite popular at the time — became a go-to supplier.
Imagine being a young Italian gentleman in the 1950s: Perhaps you're fresh off fighting in the War and you just got a position with the state railway. What once was a stodgy, Fascist bureaucracy is suddenly a dynamic administration literally transporting Italy to its future. To symbolize your excitement, you get a new watch from the FS. Even better, it's from Universal Geneve. And while it might not be that Tri-Compax your rich neighbor wears, that guy probably has Fascist tendencies anyway.
Introducing the Universal Geneve Ferrovie dello Stato ('FS')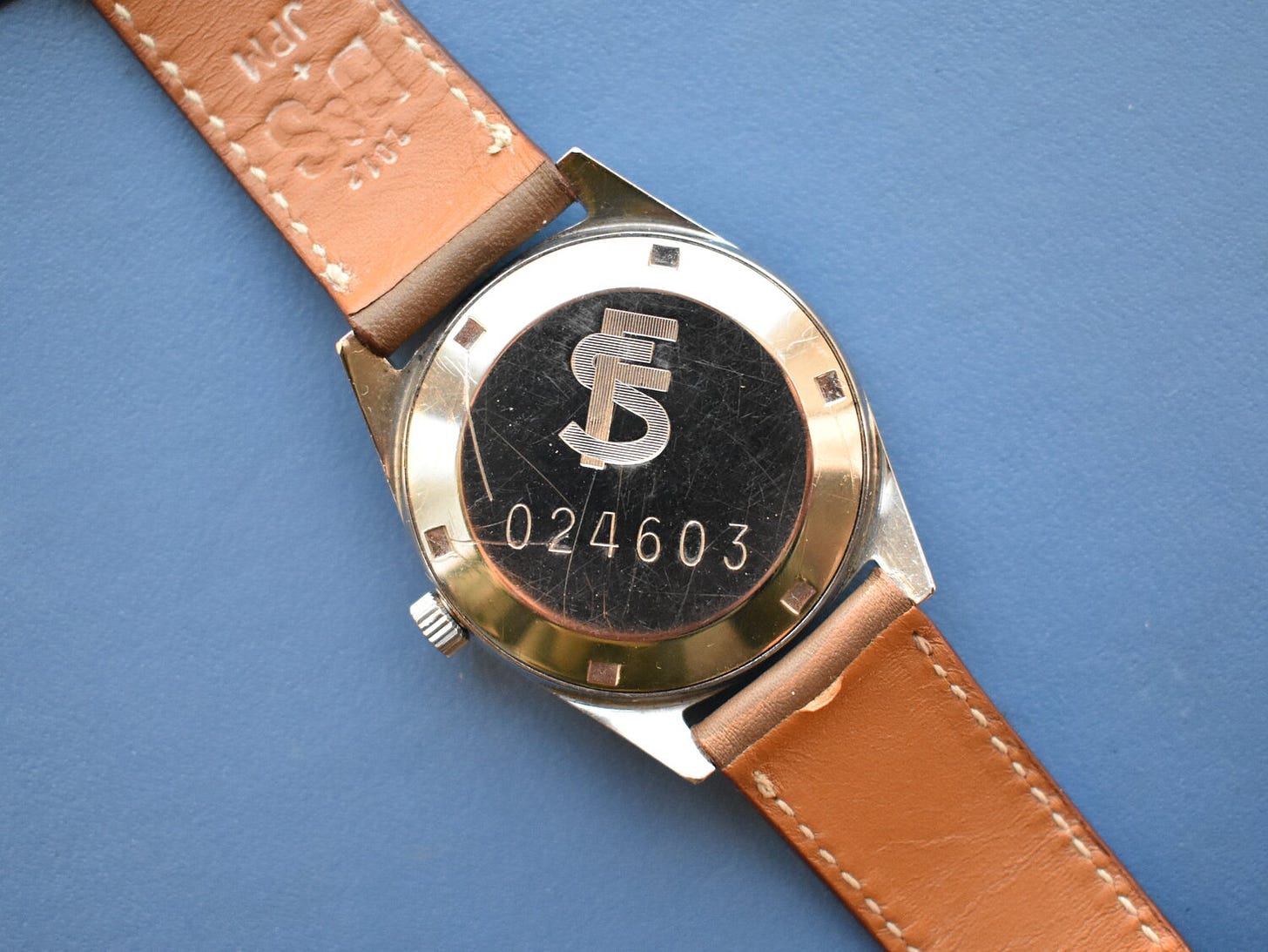 The Universal Geneve FS was produced in three series from the mid-1960s through the mid-1970s. The general requirements from the Italian State Railway were to produce a wristwatch measuring 34-36mm in diameter with a white dial, sub-seconds at 6 o'clock and Arabic numerals. Further, all three series feature a manual wind Universal Geneve caliber 64, a non-hacking, non-chronometer movement, which also makes for a thin case profile.
The most noticeable difference between the First Series and Second Series is the case size and shape; meanwhile, the Third Series does away with the beautiful white enamel dial of the first two series. All examples are also engraved with an "FS" and a unique serial number on the case back.
The numbers engraved on the case back are sequential serial numbers; with that, it can be estimated that approximately 82,000 Universal Geneve wristwatches were made for the Ferrovie dello Stato between the years of 1964 and 1975. Of these, 56,000 (or nearly 70 percent) would have been from the Second Series.
Collectors have also discovered a few examples of a separate "prototype", with a seven-digit serial number engraving. I'll largely leave this model out of this discussion, except to call your attention to its existence.
Because of its accessibility and affordability, the Universal Geneve FS is a watch best discovered through other collectors; with that, you'll see wrist shots of collector friends below.
Universal Geneve FS: First Series ('Mark 1')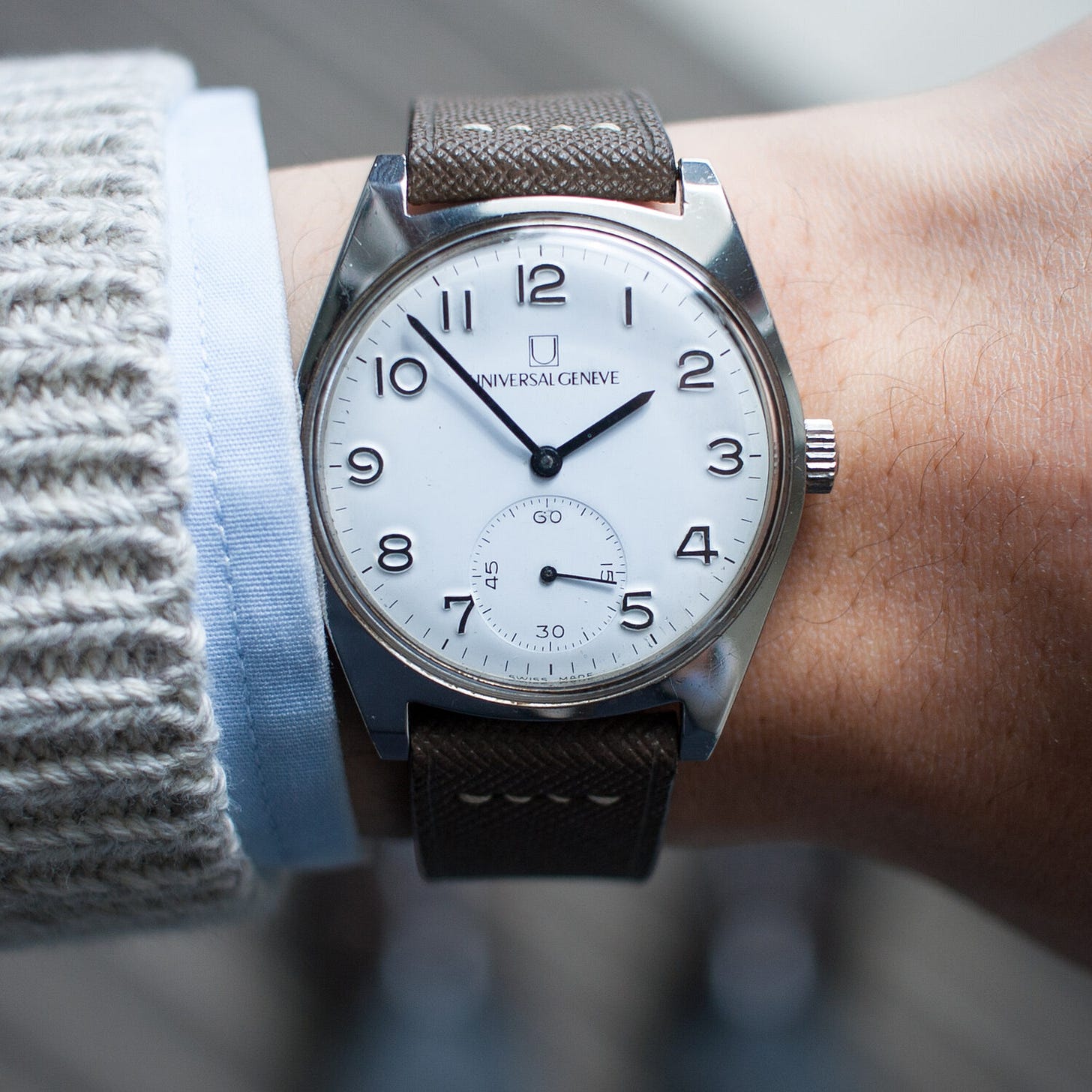 Universal Geneve FS First Series | Photo courtesy of Daniel Wang (@
wonger.bonger
)
The First Series of the Universal Geneve FS features a 34mm case with sharp, faceted lugs. The dial is a beautiful, creamy-white enamel. The Arabic numerals on the dial are prominently stamped from the back of the dial and painted in dark contrast to the enamel. The sub-seconds dial at 6 o'clock has the numerals printed radially (i.e. the 15 and 45 are sideways), and you'll also see that the "6" in 60 is wide open.
In all series, it is difficult to find and identify a correct crown, though it seems that a signed Universal Geneve crown with a capital "U" logo is correct.
Produced only from 1964-1966, the First Series is considerably more rare and difficult to find in good condition compared to the later Second Series. Further, the case tends to lose its sharp edges when polished.
Universal Geneve FS: Second Series ('Mark 2')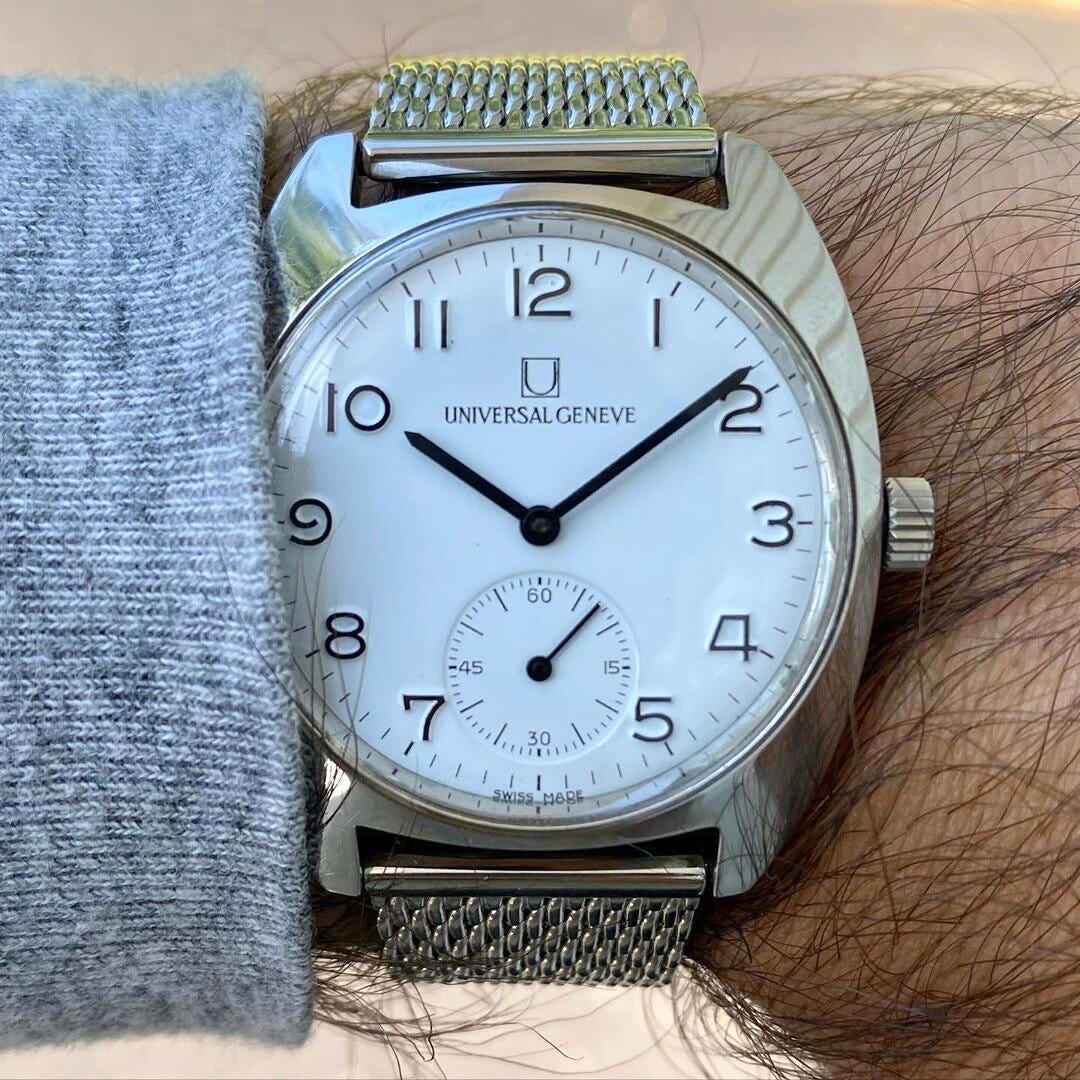 Universal Geneve FS Second Series | Photo courtesy of Michael (@
ctwatchguy
)
The Second Series of the Universal Geneve FS differs most noticeably from the First Series in its case. Universal Geneve opted for a larger, 36mm cushion-shaped case with 19mm lugs. Like the First Series, it features a white enamel dial with stamped Arabic numerals.
On the sub-seconds dial, the numerals are all now printed straight. The "6" in 60 is no longer wide open like in the First Series, though upon close inspection you'll see it's not quite closed.
The Second Series had the longest production run of all three series, with production from 1969 through 1974. Note the gap in years between the First and Second Series: It seems that between the years of 1966 and 1969, Perseo again took over production of watches for the Ferrovie dello Stato.
Universal Geneve FS: Third Series ('Mark 3')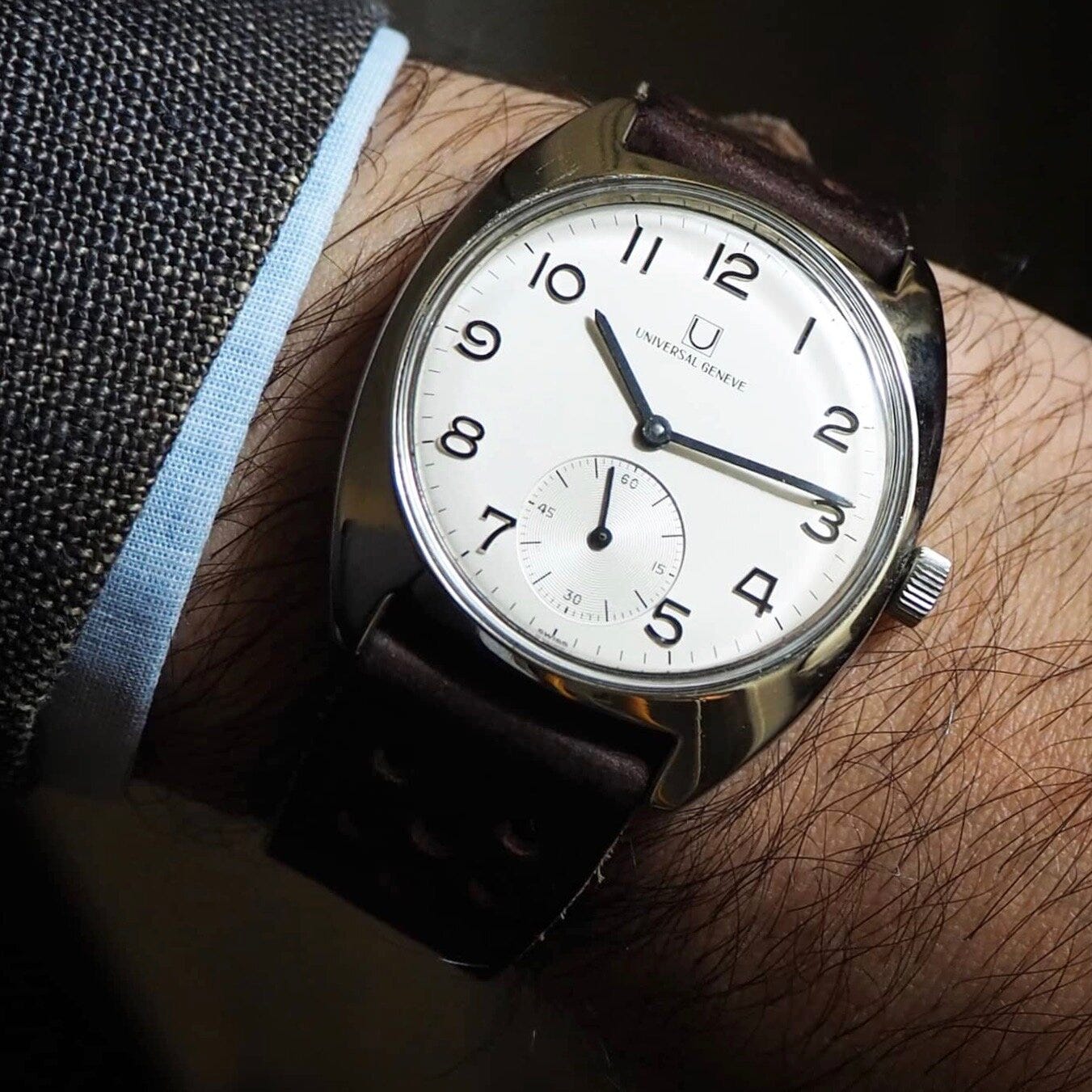 Universal Geneve FS Third Series | Photo courtesy of @
captain.lelocle
Like the Second Series, the Third Series uses a cushion-shaped case. However, the white enamel dial is swapped out for a silver dial. The subdial of the Third Series also features smaller print and concentric circles within. While the first two series seem to have used a stamping process to imprint the Arabic numerals from the back of the dial, the Third Series looks to use applied numerals. Finally, you'll also see "Swiss" instead of "Swiss Made" printed below the 6 o'clock position of the dial.
The Third Series was produced only at the end of the Universal Geneve FS's production run, from 1974-75. Based on serial number ranges, as few as 1,500 Third Series examples may have been produced.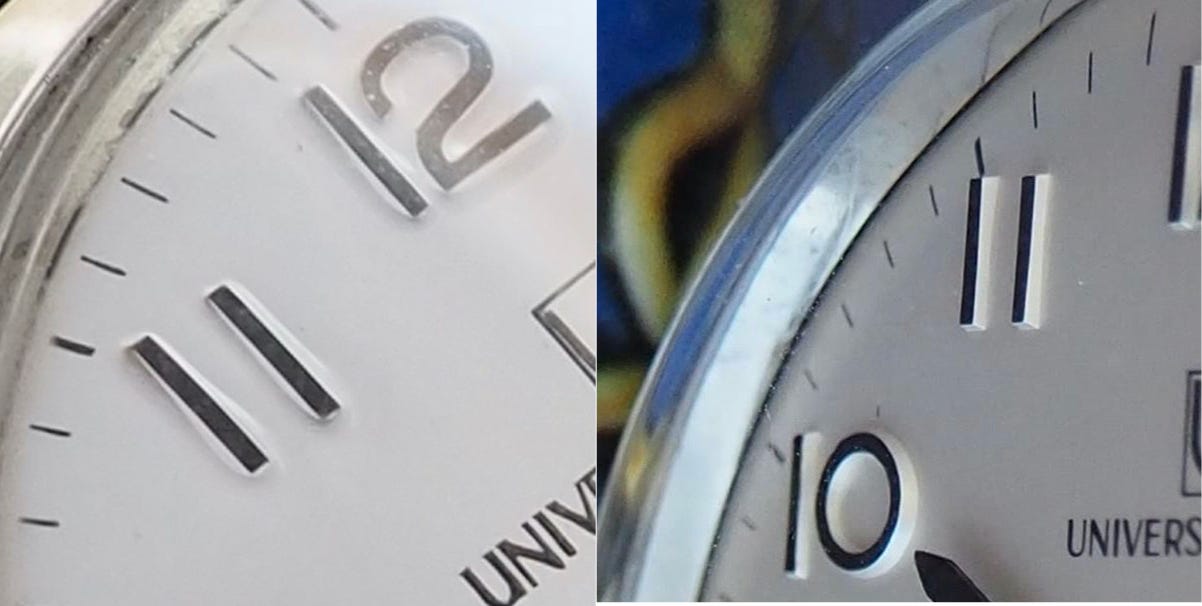 Stamped numerals of a First Series compared to the applied numbers of a Third Series | Photo courtesy of @
captain.lelocle
Collecting the Universal Geneve FS
The First Series of the Universal Geneve FS tends to be the most sought after by collectors, due to its rarity and, of course, our fascination with anything "first series". While the diminutive 34mm diameter might scare off modern collectors, it wears a bit larger: The white dial, faceted lugs and flat case all give it a larger wrist presence. The Second Series is more readily available — again, the cushion case wears larger than the 36mm diameter lets on.
The Third Series had the shortest production run of the bunch, perhaps making it the rarest series. However, with Universal Geneve doing away with the white enamel dial for a more typical silver dial, the watch loses some of its charm.
The Italian State Railway sold these watches without a strap; today, they do well dressed up or down on any variety of straps. The manual wind movement is by no means accurate, but it gets the job done: It seems to be off by a minute or two a day — close enough for government work. Well, Mussolini's government, at least.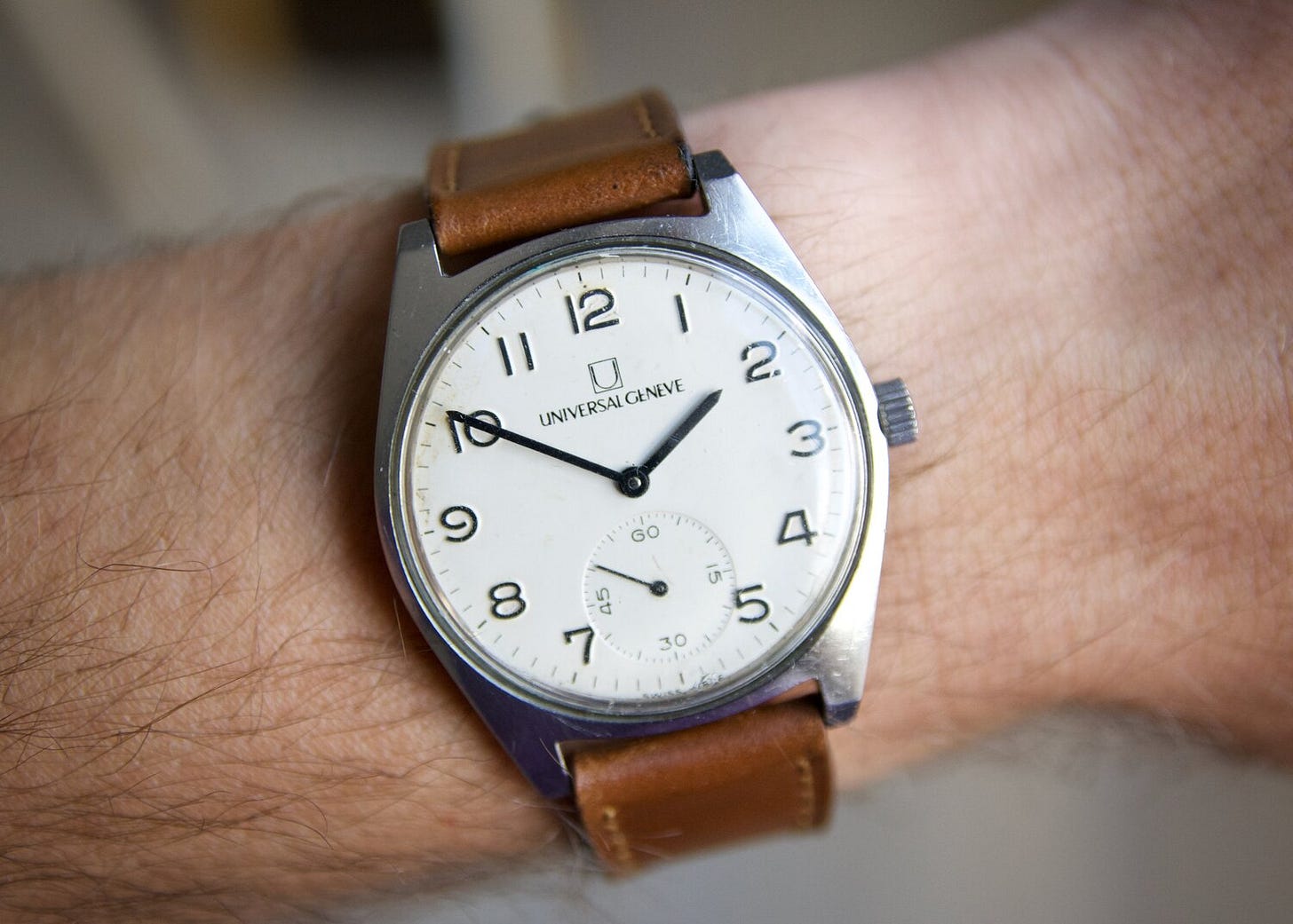 Over the last few years, new and experienced collectors have caught on to the Universal Geneve FS, and prices reflect this. While original, clean examples used to be available for $500 or less, that's rarely the case nowadays. Still, an honest, clean example from any series shouldn't run more than perhaps $1,000. As you might imagine, examples are the most readily available in Italy. Keep an eye out on eBay.it, or make friends with your favorite jovial Italian dealer and you'll be sure to pick up an example in no time.
Even with the surge in popularity and prices, the Universal Geneve FS still remains one of the best affordable entry points into vintage Universal Geneve, if not all of vintage watches: Historic brand, a watch with a history and story to tell, and a timeless design. Enough to make anyone feel like a mid-century Italian gentleman.
Universal Geneve Ferrovie dello Stato Reference Table

Serial number ranges in this article are reproduced from the book Il Tempo Nei Treno by Roberto Trombetta; the author has been extremely generous in offering his knowledge to collectors. Thank you to Mr. Trombetta, and to the other collectors who helped in the development of this article.
---
Auctions
Cream: Grey Speedmasters and Eric Clapton Daytonas
A lot of headlines will likely come from this weekend's auctions: FPJ is bananas, lots like a Tank Asymetrique, Patek Amagnetic ref. 3417, and J.C. Biver's ref. 1518 outperformed "estimates" ("grains of salt"). People cried bubble (!), and the world kept turning. It's so hard to draw meta-conclusions about what it all means … so let's not. Instead, let's just zoom in on a few cool watches.
The cover lot for Watches of Knightsbridge's summer auction is an Omega Speedmaster with a prototype matte grey dial manufactured by Singer. According to WoK, "These dials were discovered by the vendor solely as dials with their batch reference sticker applied on the back and no dial feet. They are presented today fitted to the correct watches from the period." That "correct watch" is the reference 105.002, as now shown in this lot.
Certainly, some hold more impassioned opinions, but at the end of the day: It's a pretty cool looking watch that's been thrown together. Is it worthy the £20-30k WoK is estimating it at? The market will decide, I suppose.
For me, it called to mind a few other white or monochromatic chronographs that, like this prototype Speedmaster, tend to garner special attention.
The first monochromatic-dial chronograph that comes to mind for many is probably the "Albino" Rolex Daytona, or "Eric Clapton", so named for its fair-fingered owner who sold it for $505,000 back in 2008. As Ben Clymer wrote, that sale of Clapton's Albino Reference 6263 really ushered in the mega wave of vintage Rolex collecting we're still riding.
Lest you think Clapton stopped with vintage Rolex: Just this week, Phillips sold another "Clapton" Daytona (owned by the guitarist), this one a reference 116529 in white gold with silver dial. This reference was part of the first series of the Daytona to use Rolex's first automatic in-house chronograph caliber 4130.
I've also always been a fan of the Rodania Geometer — a watch that came before the Omega Speedmaster but which clearly "inspired" Omega when it was designing its early Speedmaster models. The white dial Geometers are particularly attractive — just this week, an example sold at Sotheby's Important Watches Auction, but there were just one too many things wrong with it (re-lumed, replacement crown, a spring bar that sticks out, etc.) for the lot to receive any serious attention.
Importantly though, these other white dial chronographs were production watches. The grey Speedmaster is a prototype dial — spit out by Omega's subcontractor and then rejected by Omega. Collectors generally don't have the same appetite for watches that aren't "born" of the brand's factory. Will this Speedmaster be different?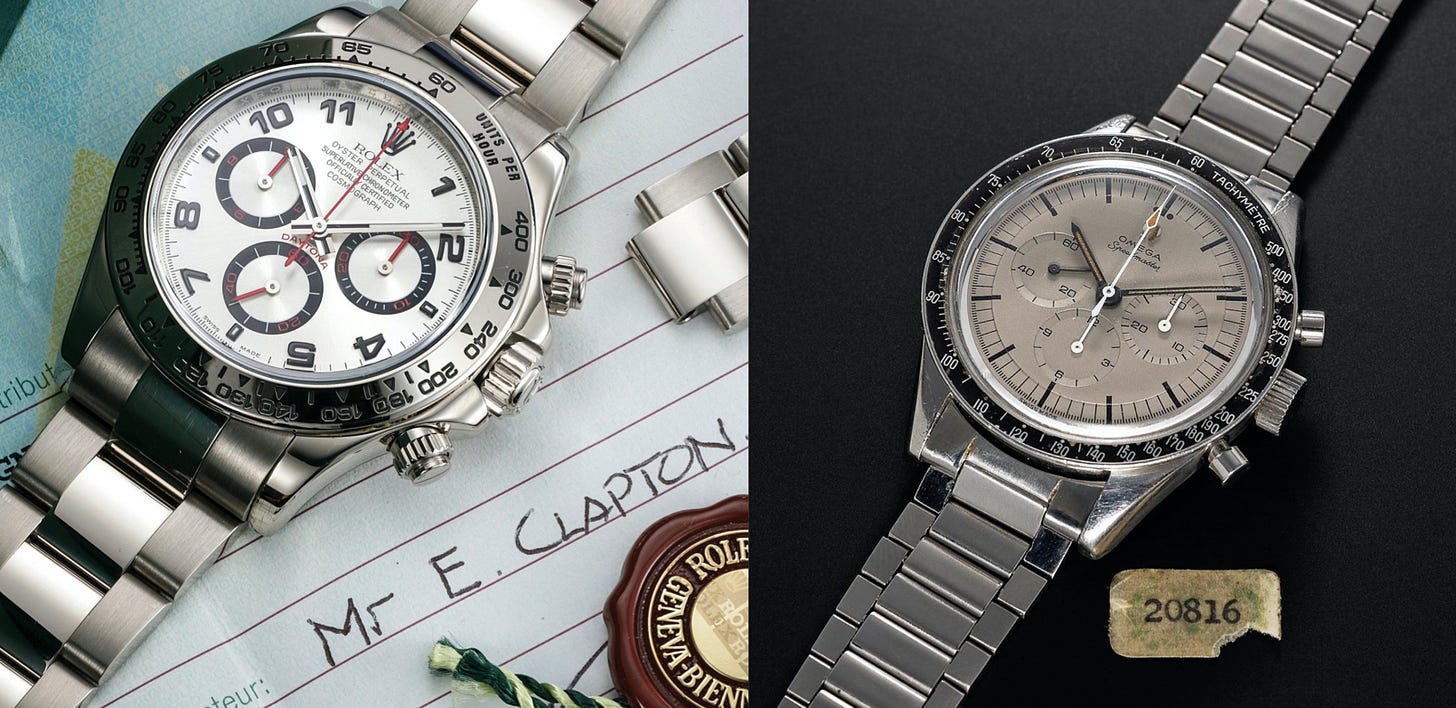 ---
Through the Wire
This sold Enicar Jet is 🔪🔪. 💻 Seeing Kanye's design process for the new Yeezy website has me rethinking everything. 💙 The AndOrian x Armoury special edition is blue enamel goodness. 😷 NYT reports on the watch brands most susceptible to the pandemic. 👨‍🍳 Michelen-starred Chef Daniel Boulud's favorite watches. 🖼 Will anyone bid $60 million online for a painting (watch industry parallels)? (WSJ). 🌚 The Watch Books Only guys have launched a new venture, WatchFid (a blockchain/ advisory/ ecosystem/ etc.).
In Chicago: The artists turning storefronts into BLM art
Tap the heart above or leave a comment to show your support!
—
Rescapement is a weekly newsletter about watches. If you enjoyed this edition, consider forwarding it to a friend. For all the latest, head to rescapement.com.