Discover more from Rescapement
Updates on my Hodinkee writing; b-sides and behind-the-scenes; unpolished personal musings; recs and other unsolicited advice.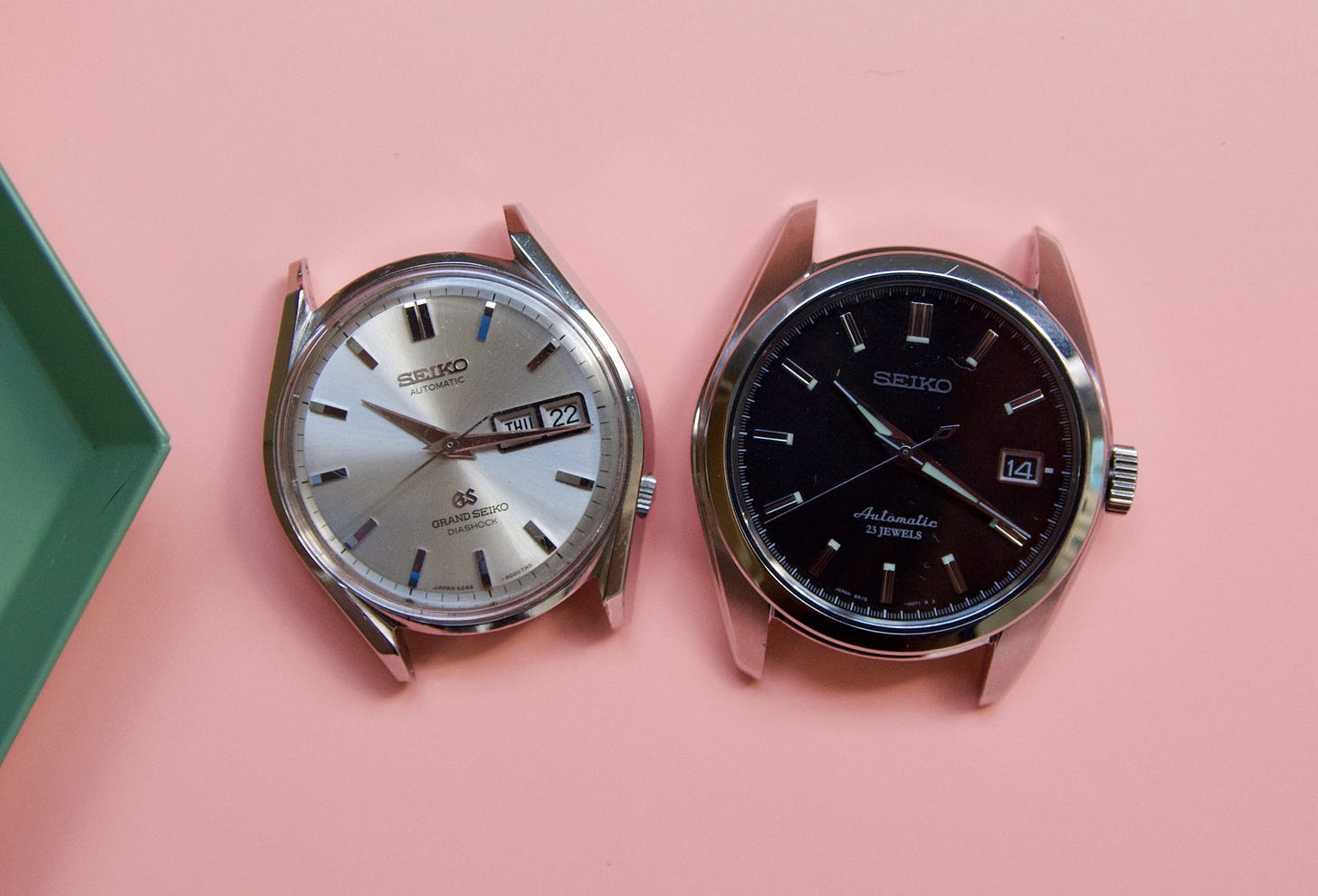 Before Rescapement was a weekly newsletter with a confusing name, it was basically a Google Doc. I'd drop in links to in-depth articles and other resources, sometimes also summarizing key takeaways so I could revisit them later. I shared it with some collectors when I mentioned that this was how I organized information. Nowadays, this list is the Resources page of Rescapement.com, with well over 100 links to various in-depth articles on models and references, as well as different databases, videos, and other tips and tricks for collecting vintage watches. I've always hesitated to explicitly share it because I fear the focus will be on what I've neglected to include, and not what I've included. So, if your favorite article is missing, please email or DM me the link and I'll include it. This week, I wanted to highlight a few of the classics, as well as a few more recent additions to the page.
Eric Wind's Lecture at the Horological Society of New York
This lecture is the place to start when learning about collecting vintage watches. The entire video is worth a watch (or re-watch), but to highlight a few choice quotes and tips:
"I really hate birth year watches and I think it's really important someone say something about it."

Eric recommends people understand where they fall on the "passion-to-value scale": if you have 100 percent to allocate, how much are you allocating to passion, and how much to value/investment? "People that are 60% passion to 40% investment are the ones I see get the best returns because they're willing to overpay for something really exceptional."

"It's important to think independently. Many collections are looking the same, with more headed that way. There's more to life than Rolex and Patek Philippe." Here Eric points to collector Greg Selch as a true original who likes watches that are, as Greg says, "hammered".
Why I Bought Pete Fullerton's Universal Geneve at the Henry Graves' Auction
This isn't the most in-depth or important article you'll find on the Resources list, but something about it is just fun. It illustrates why Hodinkee's Ben Clymer is such a great collector — he just appreciates a good watch and a great story:
I love Universal, and I've wanted a Tri-Compax for a while.  But there is more to it.  You see, this steel chronograph was made in 1945, and purchased by Pete Fullerton ([renowned collector Henry] Graves' grandson) around 1948, when he was 18 years old.  This was in fact Fullerton's first watch that he bought for himself, and he bought it directly from the Henri Stern Watch Agency.  And, if you think about it, 1948 was right around the time when his grandfather was taking delivery of some of his last Patek Philippe wristwatches, including the massive and unique platinum wristwatch that sold for over $350,000 yesterday, and from the very same company (HSWA).  In my mind, I pictured Pete Fullerton visiting HSWA with his grandfather, and after seeing Graves place an order for some incredible complication, decided to pay $150 of his own money to buy a complicated watch for himself - the Universal Geneve Tri-Compax that I currently have on my wrist as I type this.
Brought to you by some of the same guys who brought you TrueDome, TudorSub.com is an indispensable resource for those interested in the Tudor Submariner. It's got all of the details you'll need to evaluate a vintage Tudor Sub reference, from the Reference 7922 up to the 76100. From the variety of crown guards seen on earlier models like the Ref. 7928 to the dial variants of popular models like the 7016/7021 and 94010/94110, this is the first and last website you'll need to go in-depth on the Tudor Submariner.
"Due to much smaller production numbers, today you will find that few examples exist in good condition. This has made the hunt more challenging, requiring much patience and countless hours of research. It involves weaving through many irregularities and inconsistencies within the references. This is the foremost reason why I collect Tudor and find such a fascination with the brand. It's also why I chose to create a resource for fellow Tudor enthusiasts. While I do not have all the answers, this resource sets out to provide a level of clarity and insight into the references that exist. It is my sincerest hope to inspire collectors of all levels to share their experience and knowledge of Tudor."
Rolex "Fat Font Inserts" Mk1 through Mk3
This recent forum entry really starts to get into the minutiae of vintage Rolex and Tudor. The bezel for vintage Submariner references has been widely studied and discussed, but for me, this post, with its numerous images and comparisons, provides perhaps the most useful reference.
The focus here [is] on the inserts that were fitted to the 5512, 5513, 1665 and the 1680.  As always with Rolex I must preface this exposé with the fact that we are talking about Rolex and nothing is definitive so please enjoy this review as a guide of an opinion formed by experience.  I will use the nomenclature of MK1-3 as it seems to be widely accepted.  I will also sneak in a Mk0.5 as one that may have come just before the MK1 but still not stepping on the red triangle insert.  However, as there are possible variations please feel free to add your comments.  Also the inserts are prone to fading and come in an abundant array of shades of gray/black but again I am focused on the base models.
For more, including articles on the Titus Calypsomatic, how travel transformed timekeeping, and tons on Rolex, Universal Geneve and more, head to the Resources Page.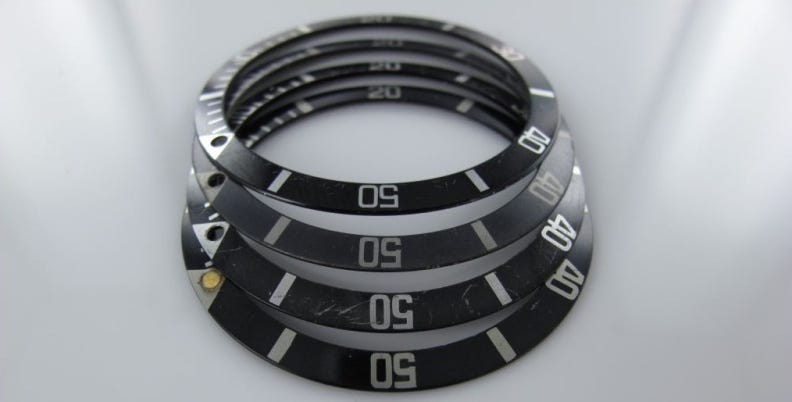 Credit: WatchProSite
---
Resources, Part II
A section of the Resources page that continues to be built out is our book recommendations. Charlie (@books_on_time), an advocate of exploring vintage watches by stumbling through books, has provided a couple recommendations of recent book releases for collectors to enjoy. Charlie also has a promo with watchprint.com running until September 20: head to watchprint.com and use promo code books_on_time for 10% off their selection of watch books.
A Grand Complication, The Race to Build the World's Most Legendary Watch, by Stacy Perman
"Stacy Perman is without a doubt one of the best writers in the world today in my opinion. Her ability to research, ask the right questions, and dig deep into the heart of a question is brilliantly reflected in her work. A Grand Complication is her first horological work and it delves into the minds of two of the greatest watch collectors of the 20th century, James Ward Packard and Henry Graves, Jr. Her words eloquently entertain as she introduces the reader into another world of wealth, privilege, and obsession." - John Reardon of Collectability.
To get a preview of the collection of one of the most prestigious watch collectors, take a trip over to Collectability's YouTube video The Untold Story of the Patek Philippe Henry Graves Jr. 'Mystery Box'.
Book available at watchprint.com
Longines Legendary Watches, by John Goldberger
As one begins to cover ground on a brand's basics, there are a few options to proceed for the deeper pursuit of knowledge and appreciation. With watch gatherings less frequent in the social distancing era and our eyes fixated to bright screens for several hours a day, a comprehensive book such as Longines Legendary Watches will provide a lifetime of enjoyment. It's important to reemphasize "a lifetime of enjoyment" because at $400+, many of us will understandably not buy on impulse alone. 
A few years back, I was not aware that books could be so costly. This led me to initially pursue my father's advice of looking into the interlibrary loan program back in 2014. What I would come to discover is that John Goldberger (Auro Montanari) is one of the world's most respected authors in the watch community. This book serves as an illustration of why, providing both an academic overview of the brand as well as an inspirational resource to watch collectors new and old.
Available at watchprint.com
---
Sponsor
This weekend's newsletter is sponsored by eBay. With eBay's new Authenticity Guarantee, most watches sold above $2,000 will be automatically authenticated. After purchasing a watch that is covered by eBay's Authenticity Guarantee, it will be shipped directly to eBay's third-party authenticator. There, the expert authenticator will perform a meticulous inspection on the timepiece, verifying each part of the watch, also checking it against the original listing and description. Then, the authenticator will safely ship it off to the buyer via expedited and insured shipping.
The best part? Authenticity Guarantee is included in your watch purchase or sale. That's right, peace of mind for free, whether you're the buyer or seller. 


---
Resources, Part III
Having recently fallen into vintage Grand Seiko — and always having been into smaller, simple watches generally — I've often found myself aimlessly exploring the corners of the Japanese internet for rarer models and references. Luckily, our Eastern Hemisphere correspondent Agaki (@agakistuff) has provided a brief summary of some of his favorite Japan-based dealers:
As English-speaking watch collectors, we have a tendency to narrow ourselves into a box of eBay, Chrono24 and our small myriad of western vendors. But what if there's an entire other side of the world that's… easily accessible through the internet? We often hear about Japan being a "treasure trove" of vintage but the thought of actually buying something from Japan seems scary to most — when it doesn't have to be. They're humans with the internet too! With this whole pandemic going on, the dream of going to Tokyo and looking at a cool watch in a rickety old shop is dashed for the moment; however, with the internet we can at least browse some cool stock.

As always, caveat emptor, due diligence and all that. Yes, some of these websites will look like they're from 2003. Returns are harder, if not impossible in another language and hell, some places might not even ship overseas or want to deal with you at all. Them's the breaks. While I can't help you with actually buying these watches (look into proxy buying, emailing people politely in English or just making friends with someone in Japan), I hope with this little resource I can shine a light on a few places on the Japanese web that I think carry some interesting stuff. In no particular order here are a few places to dig around for some vintage watches:
Instagram: @advintage_watch
Good for: Highly Curated Collections
Personal Pick: This lovely leaf indices Smiths watch (sold by the time I finished writing this article, but still worth a look!)
I'd like to lead off with Advintage because it proves two things I want to highlight straight off the bat. The power of Google Translate and the different selection of stuff compared to a western vendor.
"Most of the watches selected by advintage are made by lesser-known brands or manufacturers that do not exist today. However, they have the potential and personality to compete with famous brands, and above all, they are beautiful watches."
That's a Google-translated paragraph straight off their about page. Google translate is pretty good, people! Advintage does a cool thing wherein they curate their stock into themed collections for your convenience. Their most recent collection is 'Rectangulars', but I adore their Smiths collection as well. There are a lot of Smiths watches in Japan! Why? That's for me to find out another time.
Instagram: @specialdial
Good for: Japan's greatest hits along with the occasional top-tier Swiss piece or Cartier
Personal Pick:This Vacheron Ref. 6360 on display has a lot of soul
To state the obvious, yes — Seikos are easier to get in Japan and the folks at Special Dial are always cycling through vintage Grand Seiko's great hits. These guys tick all the boxes for ease of use in 2020: entirely in English, a nice website and very active on Instagram. If ever there were people who are working towards bridging the gap between Eastern and Western collectors, it's these folks.
Instagram: @eguchistore_official
Good for: Eclectic 'Big Swiss' taste and beautiful photography
Personal Pick: Already sold but this Patek reference 3579 is frankly incredible
Vintage clothes and vintage watches should go hand in hand, and here they do. Eguchi Store should be your go-to for the more unusual and dare I say aesthetic looking pieces of some of the big Swiss hitters. Their spread of Cartiers and Rolexes are quite tasteful and I love their funky selection of JLCs and Vacherons. With wonderful photography and sublime taste in watches, this is a really cool place to check out online — even more so in real life.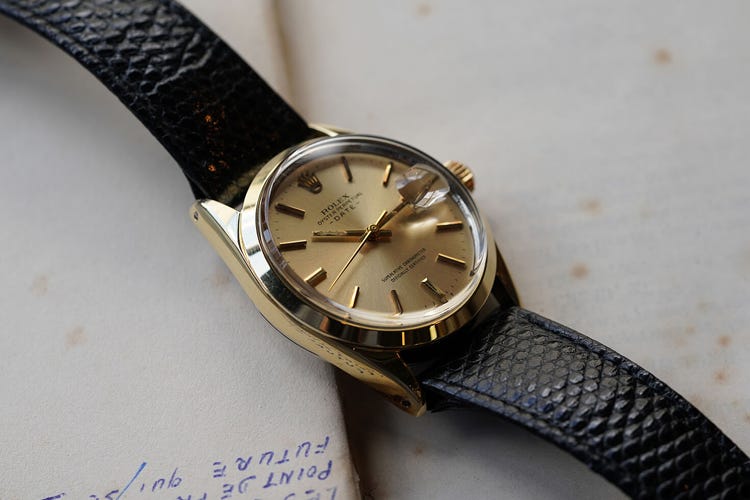 Photo Credit: Eguchi
---
Through the Wire
⚙️ On Rolex's Chronergy escapement. With Rolex's 2020 releases, just about every model in its collection has an updated movement with a Chronergy escapement. Most people probably don't care, but it's kind of important to have at least a vague understanding of what the portmanteau means. Luckily, Hodinkee's recent article about the modern watch escapement gave a brief overview of the Chornergy escapement:
The Chronergy escapement introduces a modified lever geometry, which allows more efficient delivery of energy, and the size of the pallet stones is reduced by half in comparison to the standard Swiss lever. The escape wheel is skeletonized to reduce inertial energy losses. 
According to Rolex, the Chronoergy escapement is about 15 percent more efficient than the standard Swiss lever escapement. First introduced in the Day-Date back in 2015, it's now made its way into the Submariner.

📰 Gear Patrol interviews Nick of Ad Patina. Nick sources vintage watch ads for collectors and is known for wearing watches a month at a time. "I consider myself a wearer of watches… I own to wear. And when I mean wear, I mean really wear."
🌴 Wes Lang's final watch column for GQ sings the praises of tropical dials. "When you're a younger guy, you look at these watches and you're like, 'Oh, they're faded.' " And then you get older, and your joints begin to hurt, and degradation takes on a new meaning. "That's when you start appreciating them. You accept the fact that they are aging, just like you accept the fact that you are aging."
⛳️ This 12-part video series featuring Tiger Woods is one of the best things I've watched in a while. Tiger goes on-course to offer demonstrations on his practice, driving, iron play, and more, also providing detailed on-camera commentary.
Like five new watch businesses/services were announced or launched this week. Regardless of your thoughts on them, it's exciting to see new ideas being pursued in the industry. Thanks for reading and supporting! -Tony
—
For all the latest, head to rescapement.com and follow us on Instagram.