Discover more from Rescapement
Updates on my Hodinkee writing; b-sides and behind-the-scenes; unpolished personal musings; recs and other unsolicited advice.
Timex and the Complexity of "Made in America"
And should you be able to trademark bad words?
Feature
On Timex and Being "Made in America"
I want to like Timex's new American Documents collection. I really do. Why then do I feel uneasy every time I visit the collection's landing page, like it's more sales than substance? The dial of the new collection is stamped "Made in America," just above "Swiss Mov't" (Swiss movement — it's a quartz movement from Swiss manufacturer Ronda). There's a 3-minute promotional video that doesn't so much as show the actual watch until the last 7 seconds. Instead, it's a montage voiced by a young bearded photographer, the type of guy you see purveying provisions in any newly gentrified wannabe Brooklyn in Anytown, USA (this one happens to be from Austin, TX). His voice plays over those quintessential, Rockwellian American shots we all know — think Forrest Gump's run across America, sea to shining sea and all.
The bearded photographer tells us he loves photographing American because it's a country where "you're not bound by anything, you can go anywhere and do anything, and this is reflected in the concept of the American dream."
Okay. Easy enough for a white dude from Austin to say. But research says otherwise: most kids ends up in the same socioeconomic class as their parents, meaning the American dream is harder to achieve than ever. In this way, Timex is reminding us what the American dream actually is: a selling point, nothing more than a sexy sales pitch. And now, apparently the American dream insists upon you buying a $495 watch with a $20 Swiss quartz movement inside and a knock-off Calatrava design.
But this is where the self conflict comes in: I think what Timex has done — manufacturing the case, crystal, strap, and assembling the watch in the U.S — is truly laudable. Any company bringing jobs to America in a new way like this deserves praise. To be clear, this is a level up from Shinola selling its "we're made in Detroit" myth. And I think it's a step towards Timex creating even better made in the USA products. But why does it feel so damn dirty?
It's a sales pitch that actually rings mostly true. But for some reason, like a watch with a cheapish Swiss quartz movement ticking inside, still feels hollow.
I'd love to hear your thoughts on Timex's new Made in America collection. Comment by responding to this email.
Timex Goes "Made in America" with its American Documents collection. The dials of Timex's latest release read "Made in America" just above "Swiss Mov't". The collection makes Timex the latest to attempt to capitalize on the "made in the USA" sales pitch, and is also Timex's most expensive watch yet.
---
Other News
More on watches in the US of A. Presidential candidate Pete Buttigieg wears a Skagen, but does he have to? For a guy pitching himself as the guy who cannot connect with the Rust Belt, wouldn't it be cool to see him wearing something other than the most generic minimalist watch in existence?
Swiss Watch Exports Grow 2.9% in Q1 2019. It looks like consumers are buying expensive precious metal and gold-steel pieces. Steel watches, not so much. Which means total timepiece volume sold is way down. Meanwhile, Kering (Gucci, Girard Perregaux, Ulysse Nardin) shares sank lower off of slow Q1 2019 earnings.
Streetwear goes to the Supreme Court. Streetwear brand Fuct went to the Supreme Court this week, arguing that it should be able to obtain trademark protection for its provocative brand name. They're arguing it's viewpoint discrimination not to grant them a trademark.
The best watch cases for travelling. Gear Patrol has recommendations for everyone and every collection size.
8 ways to let your significant other know you're buying a watch. Some good ideas, some bad ones.
---
Sales Corner
The forgotten sibling of Omega's legendary 1957 trilogy: A CK2914 Railmaster from Menta Watches. Sure, the Seamaster and Speedmaster might get most of the attention, but the Railmaster is arguably the most versatile of the original bunch.
The Ming 17.01 was the original release from Malaysian-based microbrand Ming Watches. It was a limited production run of 300 pieces total, in two dial colors. So, you don't seem them up for sale a lot (though the brand's current models, the 19.01 and 19.02 are also worth a look), which means I had to highlight this 17.01 for sale when I came across it.
A Movado Sub Sea Chronograph, from Analog Shift. A 34mm chronograph from the 1960s, this one is a beauty: it features a Movado calibre 95M manually-wound column wheel movement and is in extremely clean condition.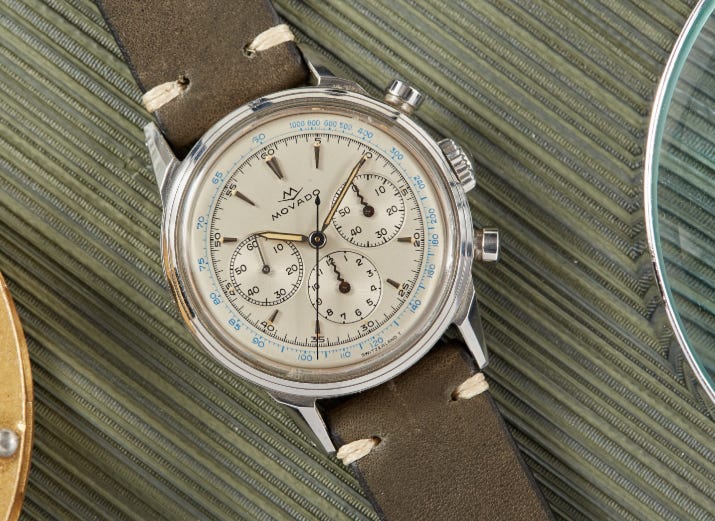 ---
Ticks and Tocks
Hodinkee has some fun with a GMT "Sprite". The New Yorker on getting slower, better news. Blamo Podcast talks to Vacheron's Heritage and Style Director. Google Maps is the new super app. The elegance of nothing. Who's really buying property in SF?
Links into the unknown:
Thanks for reading; and remember you can refer people — just send them here and tell them to say you sent them in the intro email — to our newsletter to earn a free Nato strap!
-Tony
Questions/comments/tips? Just respond to this email.
Meme of the Week: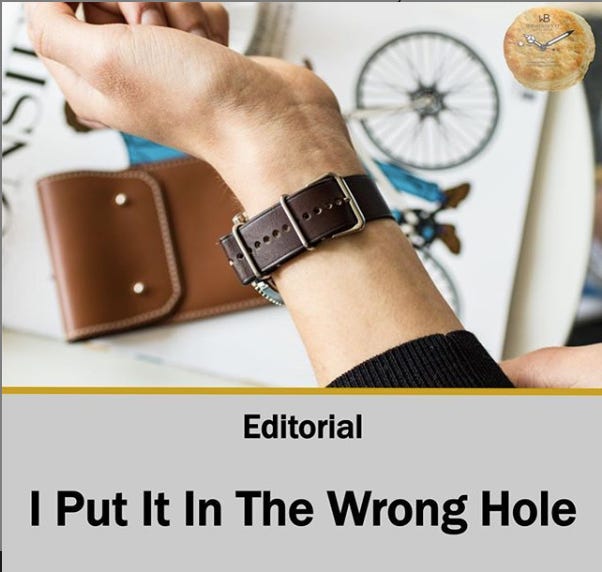 from @wristbiscuit: "I noticed right away, it just felt way too tight."