Discover more from Rescapement
Updates on my Hodinkee writing; b-sides and behind-the-scenes; unpolished personal musings; recs and other unsolicited advice.
Tiger Woods and Tudor Tigers: Underrated or just ugly?
Found: Nina Rindt's Universal Geneve Nina Rindt, Omega Soccer Timers, and the Pope as watch collector
Found: Nina Rindt's Universal Geneve Nina Rindt, Omega Soccer Timers, and the Pope as watch collector. Rescapement is driven primarily by referrals, so if you're enjoying it, give us a share:
Of all the sports events that have been postponed or cancelled due to the pandemic, this year's Masters is the one I'm missing most. By day, you'll catch me streaming Masters reruns on YouTube; by night, crying myself to sleep to the sounds of Jim Nantz's sultry baritone (this article is also part of my coping). After Tiger Woods capped his 11-year comeback with a victory at Augusta National last year, this year's tournament was (is) as anticipated as ever. And Tiger King just isn't satisfying my Tiger thirst.
When Woods slipped on the green jacket last year, a Rolex Deepsea could be seen on his wrist. Oddly enough, while his current relationship with the Crown dates back to 2011, his history with the Rolex family actually began soon after he burst onto the professional golf scene, back in 1997.
The Tudor Prince Oysterdate 72000 series
Tudor was pulled from the American market in 1996, not to officially return until 2013. Throughout the 90s, Tudor was referred to as a bit lost in the "wilderness" — its military heritage long in the rearview mirror, but unable to obtain a brand identity distinct from big brother Rolex.
Perhaps no collection was more emblematic of Tudor's position in the 1990s than the fourth series of its Prince Oysterdate chronographs, first released in 1995. For this 79200 reference series of chronographs, Tudor revamped the case from its previous "Big Block" chronographs, making it refined and softer, bringing the 40mm profile closer to that of the Rolex Daytona (which, by that time had taken off in popularity thanks to the introduction of the Zenith El Primero automatic caliber).
Add in other modern embellishments like a sapphire crystal and aluminum bezel option and you've got a watch with a thoroughly contemporary build. The movement remained the Valjoux 7750 used in previous iterations of Tudor chronographs, with some slight updates and improvements to its finishing.
What's more, 1996 also also marked Tudor's 50th anniversary. With that, Tudor was trying to set itself apart as a brand, gradually removing direct references to Rolex on its watches and swapping in Tudor's own branding. This eventually meant no more Rolex branding on the crowns, case backs, or bracelets of Tudor's own watches.
Three references define the fourth series of Tudor chronographs, distinguishable by their bezel type:
Reference 79260, featuring a black aluminum bezel tachymeter scale

Reference 79270, featuring a rotating aluminum 12-hour bezel

Reference 79280, featuring a stainless steel tachymeter scale
Tiger Woods and Tudor
While Tudor pulled out of the U.S. market in 1996, Tiger Woods was just announcing his professional arrival. I'll save the hagiography for another day, but let's put it this way: one of my first conscious memories as a kid was watching Tiger runaway with the 1997 Masters. Like, do you know how big of a deal it has to be for a kid to still remember some golf tournament on TV 20 years later?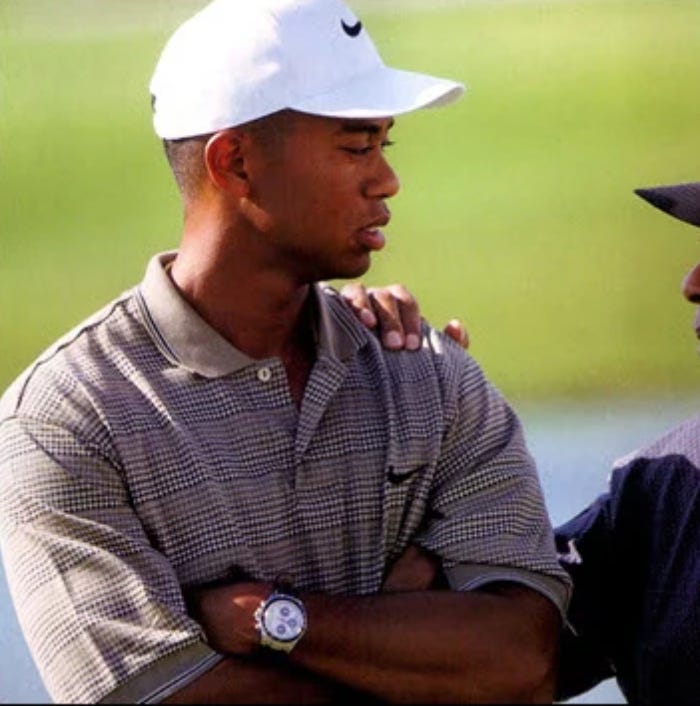 When Tiger burst onto the scene, Tudor quickly came knocking. Shortly after Tiger won that first Masters in 1997, he struck a $7 million sponsorship deal with Tudor, becoming a spokesperson for the brand's series of Oysterdate chronographs. Tudor even added Tiger's name to its Oysterdate series of chronographs, also making a series of limited edition models featuring brightly-colored "exotic" dials. These exotic dials don't command a premium like many other exotic Tudors do, but with John Mayer launching the humble green dial "Christmas" Daytona into the stratosphere over the last year, perhaps Tiger's green dial Tudor should.
Then, in what's got to be one of the greatest branding slip ups since Kendall solved everything with a Pepsi, Tudor and stablemate Rolex let Tiger get away. In 2003, by then at the pinnacle of not only the golfing, but also the entire sporting world, Tiger inked a deal with Tag Heuer. He'd stay on board with Tag Heuer until 2011, when the brand decided not to renew his contract because, well, you know.
With Tiger down and out, this time Rolex jumped at the opportunity to bring him on board as a Rolex ambassador. It was a sponsorship that always should've been, and finally was; it was only fitting that, when Tiger slipped on his 5th green jacket in 2019 he was wearing a Rolex Deepsea.
Rolex, as the brand itself is keen to remind you, is for winners. With Tiger on the verge of becoming the winningest golfer of all time, it only makes sense that a Rolex remains on his wrist. Besides perhaps Swiss Roger Federer, Tiger just seems like the most natural fit of any modern athlete to be a Rolex sponsor.
Even back in 1997, we knew Tiger was a prodigy. He'd dominated junior golf like no one, ever, and with a certain charisma that had certainly never been seen on a golf course. It's always struck me as peculiar that Rolex took a look at Tiger and said, "I've got a great idea! Let's use this once-in-a-generation figure to refocus our lower-priced sub-brand at younger consumers." This was after Tiger had already signed a deal with Nike valued at $40 million, so it's not like Rolex would've been going out on a limb to make Tiger the face of their brand.
This is all to say that I'm personally offended by the way Tudor and Rolex did Tiger, so perhaps it wasn't surprising he jumped ship in 2003. But before that, the pair managed to make a series of curious chronographs together.
Tudor Tigers: On the prowl
Much like Tiger himself, the limited edition Tiger Woods Tudor reference 79200 chronographs are a bit controversial in the collector community. Many think that the "Tiger" branding below the 12 o'clock subdial makes for a busy, confused dial and prefer the cleaner non-Tiger version.
In fact, in part because of this aesthetic preference and in part because they are more rare, non-Tiger versions of reference 79200 chronographs command higher prices on the resale market.
Whatever your opinion of the Tudor Tiger's design, this series of chronographs represents a peculiar time in Tudor's history and a branded partnership between the best golfer and the biggest watch company in the world. Because Tudor was also retreating from the U.S. market at the time, some of the references are actually quite rare — or, depending on your perspective, obscure.
Whatever the case, if you're willing to look past the Tiger branding, it's perhaps the cheapest full-size chronograph you can pick up from the Rolex family.
Welcome to the jungle
As mentioned, the 79200 series of chronographs featured three references, differentiated by the bezel. The Tudor Tiger Oysterdate chronograph measure 40mm by 47mm, with an overall design that, at first glance looks quite similar to the earlier "Big Block" chronographs, but is quite different. It maintains similar dimensions, the three subdial layout, and a Cyclops date at 3 o'clock. But with smaller crown guards and a curved profile, these chronographs wear much smaller. You'll find them in standard and 792xxP — "P" standing for polished lugs — options; the non-polished look hues closer to the Big Block's tool watch feel. Tudor also release a two-tone chronograph, the reference 79263, with a gold tachymeter bezel, that you can find with the "Tiger" branding.
Through the late 1990s, Rolex-signed parts gradually disappeared from Tudor chronographs, being replaced with Tudor-signed crowns, bracelets, and case backs. Eventually, Tudor swapped out the "Oysterdate" on the dial under the Tudor logo and name for "Prince Date". [By the way, now is a good time to to head to the full article, with plenty of images of the various references.]
The standard non-Tiger dial variants in each of these references were: panda (i.e. silver dial with black subdials), reverse panda, all silver, and all black.
You'll also find these dial options in the Tiger versions of the 79200 series, with "Tiger" printed below the 12 o'clock dial. It's printed in Tiger's signature red in the panda and silver variants, and in white on the reverse panda dial. The red print is a bit evocative of vintage "Big Red" Daytonas, but different enough so as to not be a rip off.
The reference 79260, with black aluminum tachymeter bezel, offers perhaps the most traditional chronograph look. The black aluminum bezel with black subdials is especially attractive and cohesive, and, to me, the most Tiger-esque of the bunch.
The Oysterdate chronograph reference 79270, with a rotating black aluminum 12-hour bezel, offers another layer of functionality, and makes the watch almost more reminiscent of an early Heuer chronograph than something you might expect from Tudor or Rolex.
Finally, the reference 79280 features a polished, stainless steel tachymeter bezel, eliciting vintage Daytona 6265 vibes. I prefer the subtle, clean aesthetic of a chronograph with a stainless steel bezel, but realize I'm often in the minority in this preference as many prefer the added presence of a contrasting color on the bezel.
Getting (Joe) Exotic
While most of the Tudor Tigers you'll find for sale are of the "traditional" dial variants — some combination of the black and silver seen above — Tudor also released a few limited edition exotic color variants. During this time, Tudor began offering its chronographs with a five-link Jubilee-style or a leather strap. Often, the leather strap would match the wild, exotic color of the dial.
You'll find Tudor Tigers with yellow, green, blue, and, of course, red dials. They're all, um, acquired tastes. But, you could say the same thing about vintage Tudor Monte Carlo chronographs, and collectors go crazy for those. If you find yourself drawn to one, go for it.
Tudor Tigers will only set you back a few thousand dollars, and while the "collectibility" of them might not be the same as that of other chronographs from the venerable Hans Wildsorf Foundation, it's unlikely you'll be taking a huge bath either. So if you're a fan of Tiger Woods, Tudor, big cats or chronographs, take a look at Tudor Tigers.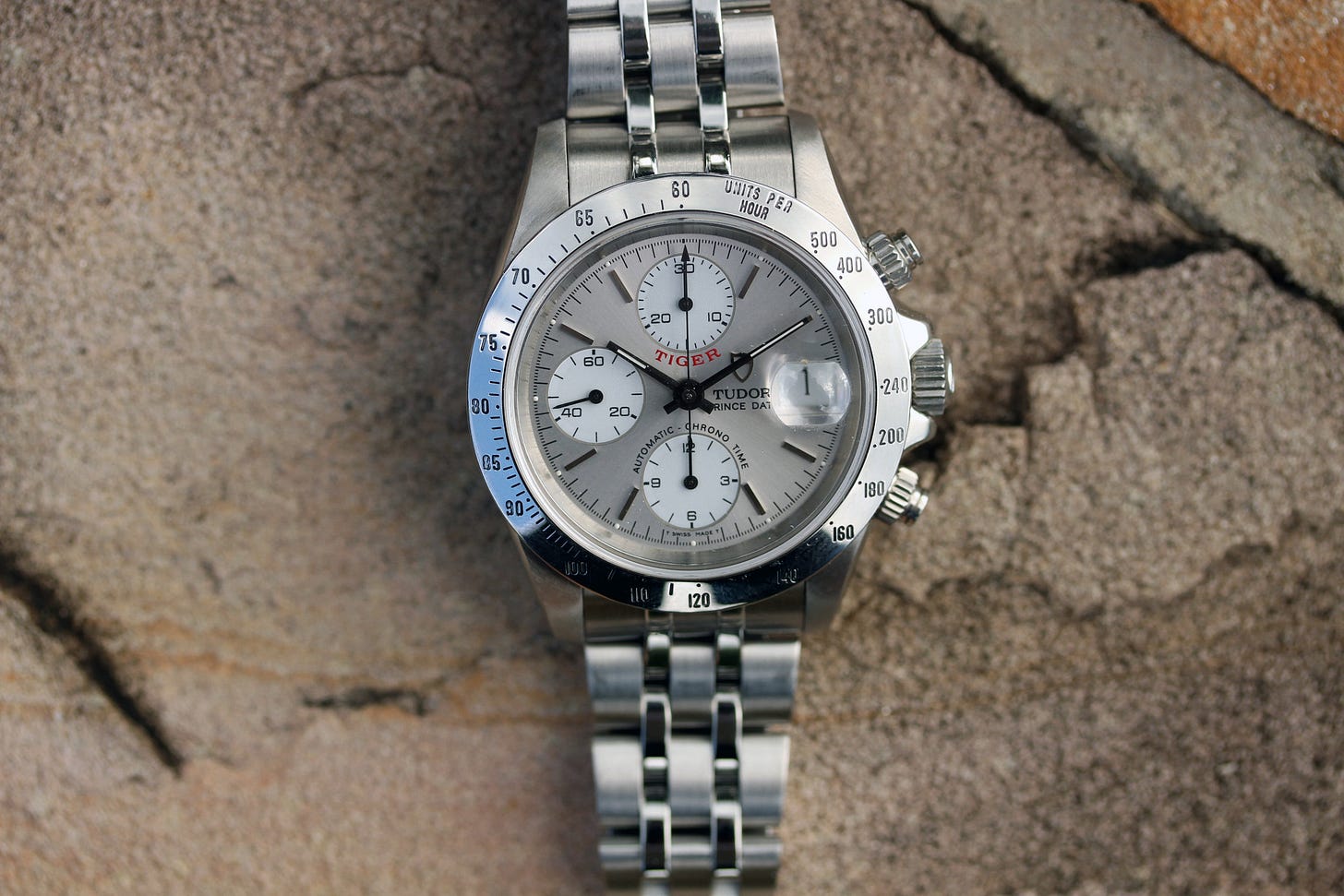 ---
More News
Alpha Hands is an amazing resource for collectors of various models and references. The website has a number of "serial number projects" where it compiles examples and serial numbers of some of the most collectible vintage references.
For awhile, it's been a go-to site for the Universal Geneve reference 885103/02 "Nina Rindt". But, what's a project on the UG Nina Rindt without the personal watch of Nina Rindt herself?
Well, Alpha Hands has gotten some details on Nina Rindt's Nina Rindt. It turns out Rindt's personal watch is still owned by her to this day. Nina's Universal Geneve was given to her by husband and famous Formula 1 driver Jochen Rindt.
Also filed under I miss sports. From friend of the program Rich Fordon, Craft + Tailored with an overview of the fun and funky Omega Soccer Timers:
The Omega Soccer Timer is one of the coolest purpose-built chronographs that came from Omega. Produced from the 1960s to the 1980s, each Soccer Timer reference was either outfitted with a gray or white dial and all featured the stunning black and red chronograph subdials. What distinguishes the Soccer Timers from the other cal. 861 powered Omega chronographs of its era are the minute recorder sub-dial marked with a 45-minute indicator below the "30." This feature was included to make it easier to time halves of a soccer match. Otherwise, the various Soccer Timers weren't much different from the other caliber 861-powered Omega chronographs available at the time of production.
Obviously, you'll see soccer referees using digital timers nowadays. But what makes these tool watches cool isn't whether they actually did what they were designed to do. As Fordon writes:
Omega's range of Soccer Timer Seamasters is great because they were designed and intended to time soccer halves, not because they actually do or did. Let's take a look at these special use Omega chronographs.
---
Ticks & Tocks
👽 A super-rare Rolex reference 1016 'Space Dweller'. 🎧 Listen to Patek-xpert John Reardon on Blamo! Podcast. 😱 New York Times recognizes the Zenith El Primero as a cult classic. ⛪️ Popes as unlikely watch collectors. 👞 Hypebeast on how to style your vintage watch. 🏷 Everything is 20% off at Sid Masburn. 🛩 Breitling brings back the classic 1960s Top Time with a new limited edition. 🩺 Dr. Anthony Fauci is a Timex guy. 💯 Free services in the time of corona. 🤷‍♀️ Why is it all so premiocre? 😏 And you know I had to link the big WSJ feature on Ye.
Letter to the Editor: A response to my recent piece about the Nomos Tangente Sport Limited Edition for Hodinkee.
Thanks for reading!
-Tony
Tap the heart above to like this email, reply to comment, and if you're new, subscribe here: