Discover more from Rescapement
Updates on my Hodinkee writing; b-sides and behind-the-scenes; unpolished personal musings; recs and other unsolicited advice.
The Vintage Watches I'm Watching in 2020
A big watch fair coming to Chicago
The start of a new year is as good a time as any to take a step back and look at the broader market: what's hot, what's not, and where is there value to be found? In this list, we'll take a look at some of the watches we're watching this year, and why. These aren't necessarily "bargain picks" or "value finds", but they are vintage watches that tend to be overlooked by the market more generally, and all will set you back less than $10,000. It's proof that, even as prices for clean, honest examples of some of the most desirable watches continue to skyrocket, there's a vintage watch out there for everyone at every price point.
Cartier Tank Louis
While a brand new mechanical Cartier Tank Louis from the maison will set you back at least $10,000, why not take a look at the vintage mechanical examples of the model? After all, the iconic design has changed little since it was introduced more than a century ago. And if it was good enough for — well, you know the list — it's probably good enough for your wrist. Over the years, the Tank has featured movements from some of the most renowned manufacturers: LeCoultre, Audemars Piguet, and Piaget. My favorite examples to hunt for are those powered by the Frederic Piguet Caliber 21, which, from 1925 through the 2000s, was the slimmest mechanical watch movement in production. The movement measures just 1.75mm thick, giving Cartier Tanks with this movement a slim, discreet profile that slips perfectly under a cuff. I'd generally avoid Tanks from the Must de Cartier collection if you can swing it. Cartier introduced the Must collection later in the century as cheaper alternatives to its classic models, typically using gold vermeil for the cases. Vermeil is actually silver with just a thin layer of gold on the outside. A vintage mechanical Tank Louis can set you back as little as $5,000 depending on how hard you search and how lucky you are.
Vulcain Cricket
Good enough for every U.S. President since Truman, the Vulcain Cricket continues to have our eyes (and ears). The quintessential mechanical alarm watch, the Cricket offers a tool that might even be useful in today's smart-phone obsessed world. Don't want to wake up to a phone alarm? Set your Cricket's alarm before bed and wake up to its soothing mechanical buzz. Vintage white/silver dial versions can still be found for less than $1,000. Black dial Crickets are substantially rarer, so expect to pay a premium — if you can find one.
Omega Seamaster DeVille Chronograph (with caliber 321) aka "Seamaster 321"
While the Omega Speedmaster gets all the attention — and rightfully so — the Omega Seamaster DeVille chronograph produced during the same era has many of the same characteristics that make the Speedmaster desirable. Most importantly, Omega put the legendary caliber 321 in these chronographs throughout the 1960s and early 1970s, the same caliber in those early and desirable Speedmasters. The Seamaster 321 comes in a number of case references, but the smaller 35mm case size and clean dial make it more reminiscent of the Heuer Carrera and other more minimal chronographs of the era than of the Speedmaster. A stainless steel example can still be found for around $4,000 to $6,000, making this one of the cheaper mid-century chronograph options from a large brand, with one of the most legendary movements to boot.
Breitling Top Time Reference 2002
A Bond watch for under $10,000? Hard to believe, but that's exactly what this Breitling Top Time Reference 2002 is. Sported by Sean Connery in the 1965 Bond movie Thunderball (Bond's Top Time was modified by Q to house a Geiger counter), this Breitling Top Time remains underrated as compared to chronographs from competitors like Heuer made during the same era. It's certainly taken undercard billing to the much more well-known Rolex Submariner Reference 6538 also worn by Connery during his stint as Bond. Connery's Top Time featured a reverse panda dial, but you'll find the Ref. 2002 in a number of color and dial variations. A particular favorite of mine is the Reference 2002-33 (pictured below), easily identifiable by its orange sweep seconds hand — think Omega Ultraman, but at a fraction of the price.
Depending on the year, a Breitling Top Time Ref. 2002 will be powered by a Venus 188 or Valjoux 7730/7733. This is because soon after the Top Time's introduction in the early 1960s, Valjoux took over Venus and re-branded the Venus movement under the Valjoux name, without changing much about the movement itself. A more common all-silver dial Top Time Reference 2002 might set you back $2,000 to $3,000. More rare panda, reverse panda, or the aforementioned iteration with a colorful sweep seconds hand are more expensive (and rare).
Grand Seiko (First and 44GS)
With Grand Seiko's efforts to take the U.S. market by storm and move up market over the last few years, there's been an increased appreciation for the brand's craftsmanship, especially at the prices its watches sell for. This extends to the brand's vintage selection as well: Seiko officially launched the Grand Seiko brand in 1960 and released a number of watches throughout the 1960s and 1970s before largely disappearing, not to resurface until the new millennium.
The Grand Seiko First, or Grand Seiko model 3180, was the brand's first watch, and housed Asia's first chronometer-grade movement (though, of course Switzerland-based COSC wouldn't certify it as such).
The Grand Seiko First came in three iterations: the first introduced to the market had the logo carved into the dial, an intense process conducted by hand. Grand Seiko eventually changed to placing a printed logo on the dial. These are the rarest of Grand Seiko First models, and thus the most expensive on the vintage market. Finally, later models have an applied logo. These are the most common, though it should be noted that because the Grand Seiko First was produced only for the Japanese market, and only from 1960-1964, it is rare to find in any form. It is said that only 36,000 Grand Seiko model 3180s were every produced, so considerably less live on in the vintage market.
The Grand Seiko First was produced in 18 karat gold plated cases, with a rare few produced in platinum; all had matching applied markers. The platinum versions are extremely difficult to find and many consider them grail pieces. See more about vintage Grand Seiko in Part I of our brief history here.
My other favorite from Grand Seiko's vintage collection is the 44GS. The 44GS series is historically important for introducing the brand's "Grammar of Design" by designer Taro Tanaka. The 44GS series is a great place for Grand Seiko collectors to get started, as there are just three variations: the 4420-9000, either with a dial that had "Diashock" printed immediately below Grand Seiko, or with just the Dani Seikosha logo beneath. The third example is the 4420-9990, a gold-capped case variation that's extremely rare. With modern Seiko's marketing focus on promoting its "Grammar of Design", these are historically important watches that will only increase in value and recognition as the brand comes to the rest of the world's attention.
Click here

for the rest of the vintage watches I'm watching in 2020.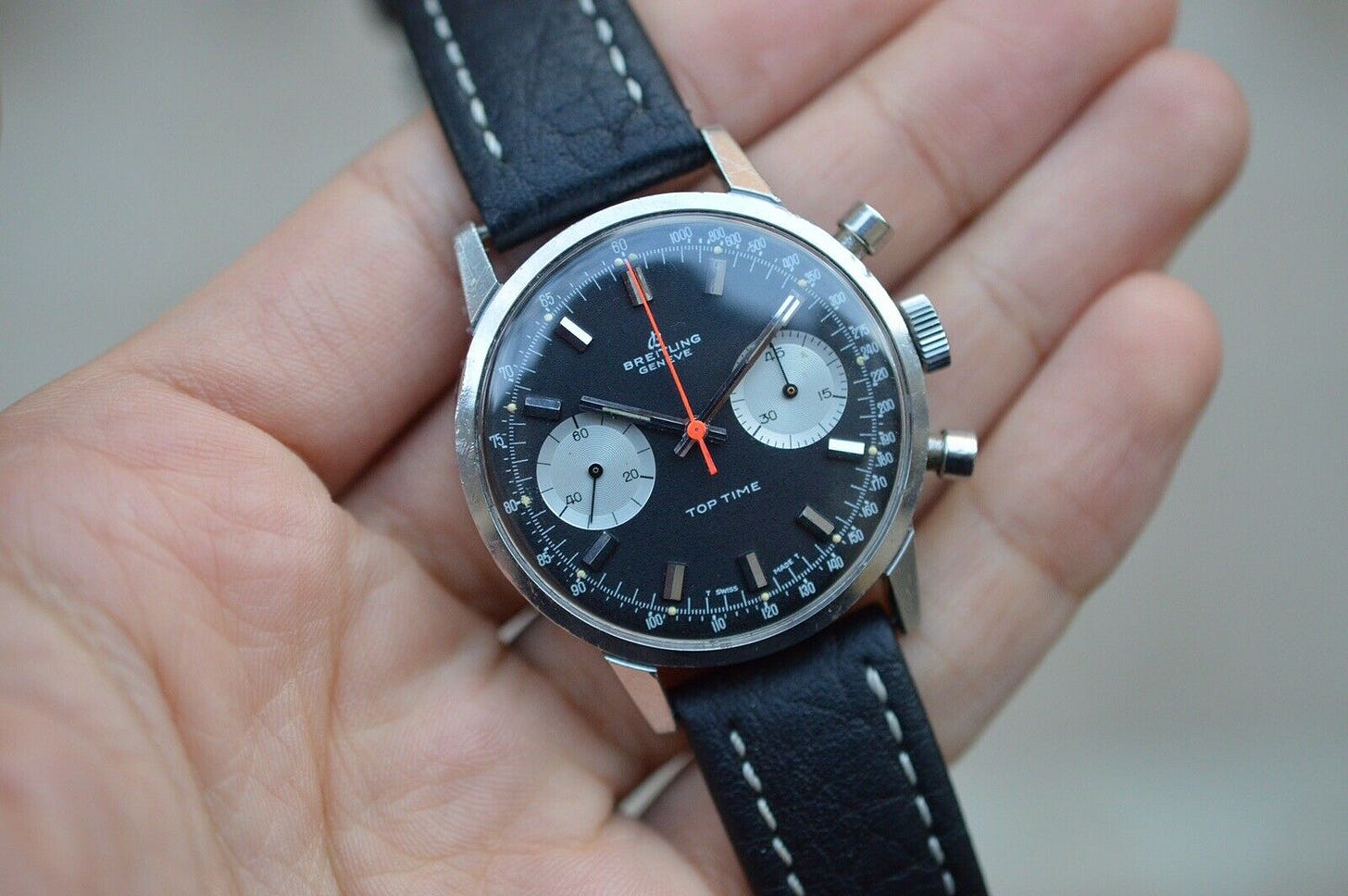 ---
Business News
In an interview with newspaper NZZ, Swatch Group CEO Nicholas Hayek says ETA is willing to limit the amount of movements it supplies to third parties to 400,000 units over the next two years. Hayek is making the offer in an effort to get Swiss regulators off Swatch Group's back after the Swiss Competition Commission (Comco) announced that Swatch subsidiary ETA is banned from selling its movements to third parties until further notice. Hayek says Comco's ban is dangerous because ETA is no longer the dominant mechanical movement supplier to the industry; Sellita is, and ETA's removal from the market will allow Sellita to become the dominant, potentially monopolistic player.

The number of independent watchmakers in the U.S. has dwindled from more than 50,000 sixty years ago to less than 6,000 today. The Philadelphia Inquirer tells the story of an independent watchmaker in Wayne, Pa., who's turning away work. He works on everything from large clocks from the 1600s to modern Rolexes. "As long as people feel those strong emotional ties to watches, there will be careers in watch repair," said the executive director of AWCI.
In Worn & Wound's final podcast of the year, hosts Zach Weiss, Blake Malin and Zach Kazan tease that a Worn & Wound Windup Watch Fair in Chicago in 2020 is "all but certain". The news came after the group had just visited the city to host an event with Chicago microbrand Oak & Oscar.
Worn & Wound has been hosting a Windup Watch Fair in New York since 2015. In 2018, they expanded to the West Coast, hosting a Fair in San Francisco in the spring, opposite New York's typical fall event. Worn & Wound followed that pattern in 2019, hosting the San Francisco Windup Watch Fair in March and the New York Fair in November. They've already announced that San Francisco's 2020 Windup Watch Fair will be held from March 27-29. The events typically span over a three-day weekend, kicking off on Friday evening and running through Saturday and Sunday. With New York's event likely slated for the fall again, perhaps Chicago's event will be slotted sometime in the summer, in between the New York and San Francisco events. The Worn & Wound team didn't provided details as they teased the event in their podcast.
---
Ticks and Tocks
At The RealReal, High-End Watches are High. Luxury online consignment shop The RealReal reported in its 2019 resale report that searches for watches were up 132% year-over-year. Searches converted into sales too: sales of watches priced $30k-$50k grew 126% compared to only 19% for watches $10k-$30k and 48% for watches $5k-$20k. This is a trend we've consistently seen in Swiss export numbers too: ultra high-end watches are hot, while the rest are not.
👕 The empty promises of Marie Kondo and the craze of minimalism (excerpt from the upcoming book The Longing for Less, which I'm excited to pick up).🖕 The Skimm is the Ivanka Trump of news. 📪 The transformation of Conde Nast. 🎧 The Atlantic's 50 best podcasts of 2019. 🌎 Monochome reviews the Grand Seiko Elegance GMT. ⏰ Qlocktwo is awesome. 💸 Rolex's price hikes take effect for the new year.
Thanks for reading!
-Tony
Questions/comments/tips? Just respond to this email (and please tap the heart above to like it!).
Meme of the Week:
from @watchumor