Discover more from Rescapement
Updates on my Hodinkee writing; b-sides and behind-the-scenes; unpolished personal musings; recs and other unsolicited advice.
The Rolex Veriflat, and Why It's a Watch to Pay Attention To
Mickey Mantle's Rolex and takeaways from Dubai Watch Week
An underrated and robust vintage dress watch from Rolex
When people think of 1950s Rolex, they usually think of stainless steel sports watches. After all, it was the decade the Explorer, Submariner, GMT-Master, and Milgauss all first came into production. But, it was a hugely transitional decade for Rolex too: for example, in the early 1950s it was still producing its Oyster Perpetual reference 6062 with a moon phase. A moon phase complication in a waterproof case is a bit of an historical oddity, but it exemplifies a transitional phase at Rolex: a maker of fine wristwatches that was swiftly pivoting to making practical timepieces for professionals.
What is the Rolex Reference 6512 Veriflat?
Another 1950s Rolex that exemplifies this dichotomy is the Rolex Veriflat reference 6512. (While a watch name with a vague attempt at wit through word play might prompt the same from a writer covering such subject, I'll resist.) It features a waterproof Oyster case, but only in pink or yellow gold, as well as other design cues that tilt decidedly towards elegance. The Rolex Veriflat was introduced in 1954 and only produced until 1962, making for a relatively short lifecycle compared to many models introduced by Rolex during the same time that remain stalwarts of the brand's collection even to this day. Apparently, the Veriflat was the same price as an Oyster Perpetual when it was introduced, but without the benefit of an automatic movement, it didn't sell well, thus its rarity on the vintage market.
You can almost think of the Veriflat as Rolex's answer to Patek Phillipe's Calatrava reference 2526. Patek launched its first automatic movement, the 12-600 AT, in 1953, 22 years after Rolex patented its self-winding movement (i.e., "perpetual"), placing it in the Ref. 2526's tough, waterproof case (but, ever since the book was written on the Ref. 2526 a few years back, those have become nearly unattainable). It's almost like after Patek came out with its first automatic movement, Rolex switched it up and said, "nah, we're gonna do manual again, and we're gonna do it super slim." Like the Patek Ref. 2526, the Rolex Veriflat is a robust, waterproof dress watch that, due to these characteristics, stands out among similar dress watches from Piaget, Cartier, or others from the same era.
The Veriflat Ref. 6512 features a waterproof Oyster case, often thought more typical of Rolex's sports watches (Submariner, GMT-Master, etc.). But, this Oyster case was the thinnest ever produced by Rolex, measuring just 9mm (and 34mm in diameter). To obtain this thin profile, Rolex engineered a special recessed case back so the movement could sit flat and the case could still retain its screw-down crown. Considering Rolex was still churning out Bubblebacks up to and around this time, it's quite an accomplishment.
Additionally, it was produced in relatively low quantities and only in precious metal: examples in both yellow gold and pink gold can be found (with pink gold seemingly much more rare). The result is a thin, precious metal watch with all the charm of a classic dress watch but a slightly more robust build that customers had come to expect from Rolex.
The super slim Rolex Caliber 1000
To achieve the Veriflat's thin proportions, Rolex produced a new in-house manual winding caliber 1000. The movement was created by Rolex by taking its automatic caliber 1030 and removing the rotor. The caliber 1030 itself was Rolex's first completely in-house movement, so it's cool to think that once they figured out the whole in-house thing, they weren't afraid to experiment, bringing new calibers and watches to market as a result. The caliber 1000 is an 18-jewel movement, adjusted for temperature and in five positions. It powers a subsidiary seconds at 6 o'clock, uncommon for a time-only Rolex in an Oyster case. The resulting movement measures just 3.45mm in thickness. The Veriflat is the close cousin of the Rolex Verislim reference 9164, a slightly dressier watch that also uses the caliber 1000. Around this same time, a partnership of Vacheron Constantin and Jaeger-LeCoultre introduced its caliber 1003, measuring just 1.64mm thick and taking the title of the world's thinnest mechanical movement.
In other words, for less than the current going rate of a matte dial Submariner, you can pick up a super rare Rolex with a gold Oyster case and one of the thinnest movements the brand has ever produced — that is, if you can find one.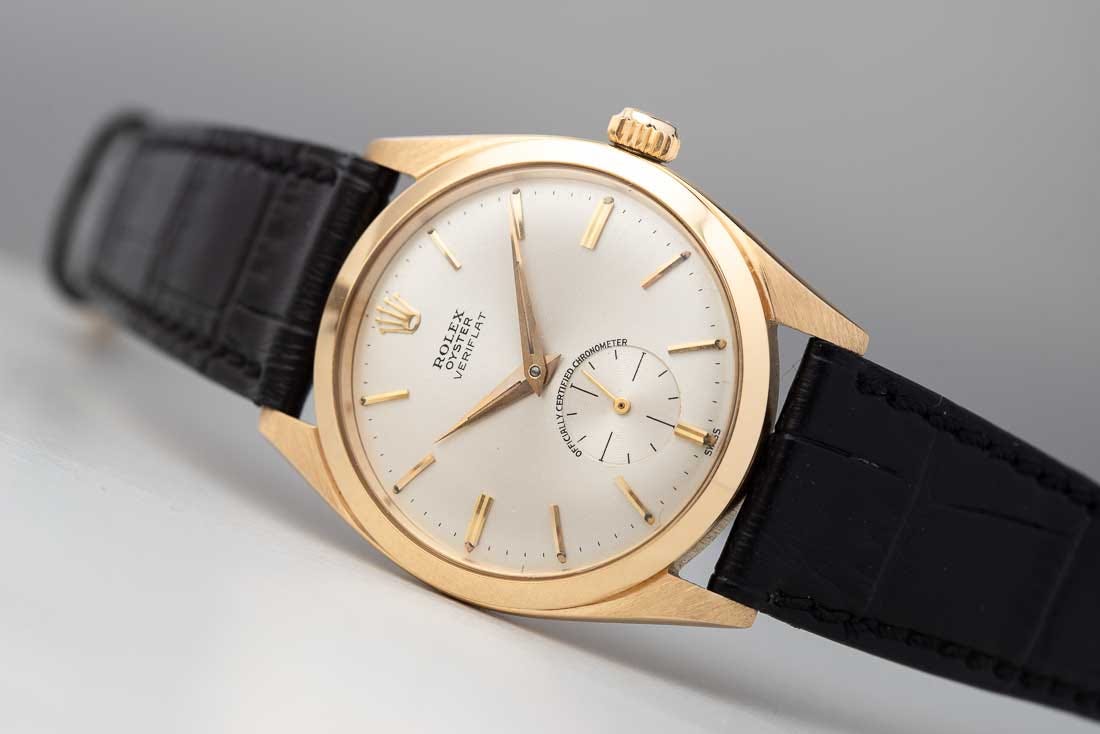 Veriflat dial variants
Now, for the dial. The Veriflat Ref. 6512 features a gorgeous gold-tone sunburst dial with applied gold markers and Rolex crown at 12 o'clock. "Rolex / Oyster / Veriflat" are printed in three lines of text directly beneath the crown. On most versions, the subsidiary seconds itself features crosshairs that start on the outer edge of the sub dial and point towards the small seconds hand. Above the subsidiary seconds at 6 o'clock, there will also be printed text, reading either "Precision" or "Officially Certified Chronometer". The same caliber 1000 movement ticks inside both: "Officially Certified Chronometer" simply indicates that the watch was COSC certified.
As a general point, around the late 1950s and early 1960s, Rolex moved from printing "Officially Certified Chronometer" to printing "Superlative Chronometer / Officially Certified" on its COSC-certified movements. This is a good way to distinguish, for example, a super early gilt dial Explorer 1016 from one that's merely early. In any event, every COSC-certified Veriflat example I've seen reads "Officially Certified Chronometer."
On the Veriflat's dial, "Officially Certified Chronometer" runs in a concentric circle around the small seconds. "Precision" is printed in a serif font that runs in either a straight line or curves around the small seconds subdial.
There are a few dial variations of the Veriflat, though with such limited information and photography available on the internet, I'm reticent to say there aren't more original, correct variants to be found. To read about all of the Veriflat's dial variations, read the full article here (including a library of sold examples).
Veriflat: Very versatile
The Veriflat Ref. 6512 is a vintage Rolex model that, despite its rarity, remains largely under the radar. Sure, it's not a stainless steel sports watch, but let's focus on what it is: a short-production, precious metal Oyster case timepiece with a technically impressive slim movement. The modern collector loves stainless steel watches because they're supposedly practical for modern life, transitioning seamlessly from SoulCycle to suit and tie. But, if tastes shift back towards precious metals, there's a chance the Rolex Veriflat will be one of the first watches from Rolex's vintage catalog to gain appreciation among collectors. It nicely bridges the gap from SoulCycle to suit: a robust Oyster case that can handle anything, but a gold case that's decidedly not any other Rolex sports watch.
And as far as vintage dress watches go, it's one of the most robust and practical, capable of standing up to that SoulCycle sweat in a way other vintage dress watches might not. Sure, at 34mm and just 9mm thick, it wears a little small for many modern tastes, but its aesthetic and appeal remains timeless.
---
Sales Corner
A Rolex reference 6238 pre-Daytona is already a special watch that hardly needs an introduction. Add to the mix that this one was presented to Mickey Mantle, perhaps the best post-season baseball player of all time, and you've got one of the best watch lots you're likely to find with sports provenance. At its sports auction on February 22-23, Heritage Auctions is offering up this Reference 6238, presented to Mantle after the New York Yankees won the 1964 ALCS. The watch is engraved with the Yankees' logo on the back, and the title "American League Champions," and then reads "Presented to Mickey Mantle."
It's a Rolex with serious historical provenance: 1964 was the last time Mantle would appear in the World Series, and marked the World Series when he broke the record for most career home runs in the fall classic (he ended up with 18). Heritage puts the lot's estimate at $40,000 and up.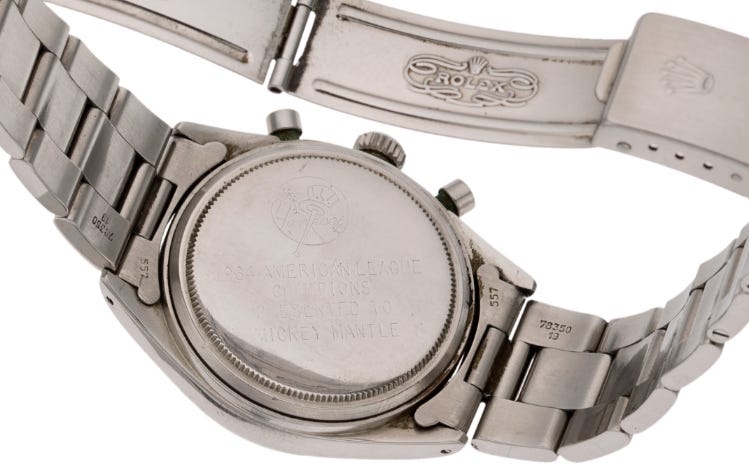 If our guide to the Rolex Veriflat whetted your appetite for a slim dress watch, then this might be the Patek Phillipe for you. This simple two-hand dress watch from the 1960s is about as thin as they come, featuring Patek's manual-wind caliber 175. As mentioned above, Vacheron Constantin introduced its ultra-thin movement in the 1950s, the caliber 1003 (also known as the Audemars Piguet caliber 2003 or JLC caliber 803), thus laying claim to the "flattest watch in the world." Patek's caliber 175 is its answer, a super thin movement based on the Frederic Piguet caliber 21, which itself was the movement that Vacheron's caliber 1003 took the title of "thinnest mechanical movement" from (Vacheron's caliber measured just .1mm thinner than the Piguet 21).
As with many vintage Patek references, white gold can be considerably more difficult to find than yellow gold, and that seems to be the case with this 'ultra thin' reference as well. But, this beautiful white gold example features the original silver dial, in what looks to be remarkably clean condition for a 60-year-old timepiece. Menta Watches is offering this Patek Phillipe 'Ultra Thin' for $6,500.
So much of what makes the Rolex Veriflat special is that it's the thinnest Oyster case the brand ever produced. Well, the reference 3525 is even more special: it's the first time Rolex cased a chronograph in its waterproof Oyster case. On top of that, it was produced for only a few years, from 1939 through about 1946.
The Ref. 3525 is often referred to as the "Prisoner of War" (Italian collectors have also nicknamed it the Monoblocco for its case construction out of a single piece of metal). As the story goes, during World War II, Hans Wilsdorf, by then living in Britain, wanted to show his support to British prisoners of war during WWII. So, he gave them the opportunity to purchase watches from Rolex without requiring payment until they made it home safely. As you might imagine, the offer was a hit with British servicemen, and the popular choice was a Ref. 3525: a practical and robust chronograph.
Many of these Ref. 3525 chronographs have remarkable provenance, and this one is no different: it was originally purchased by a British Special Air Service (SAS) soldier Sergeant Anthony O'Brien in 1946 in Nairobi from local retailer Dobbies Limited, and has the unique stamp to show for it.
O'Brien first enlisted in the Kenyan Army in 1937.  He eventually volunteered as a Sergeant for the newly formed British first SAS Brigade, where he saw active duty again in the North Africa Campaign, predominantly in Libya. He was captured behind enemy lines where he narrowly avoided execution and was instead transported through Italy to the notorious prisoner of war camps. 
However, his most impressive and famous undertaking may have been his active involvement in the "Tally-Ho" escape committee where he was in charge of tunneling operations and camp security at the prison before he was eventually liberated in 1945.  It was these events that went on to inspire the famous Steve McQueen movie, The Great Escape.  
This example was previously auctioned by Sotheby's in April of 2019, and it's on offer from Wind Vintage for $59,000 (if you need more persuading, Andy Warhol's reference 3525 sold for $471k just last year).
---
Ticks & Tocks
🐪 LVMH's first Dubai Watch Week was held this week, which meant a number of releases from its stable of brands. A few highlights:
There's also a new integrated bracelet from Hublot, the Zenith Elite Classic collection, and the Bulgari Diva Dream Minute Repeater. In addition to the previous links, Quill & Pad did a nice round up.
Meanwhile, in chilly Chicago: At least we get Nike x Obama.
Thanks for reading!
-Tony
Questions/comments/tips? Just respond to this email (and please tap the heart above to like it!), and please share Rescapement Weekly: