Discover more from Rescapement
Updates on my Hodinkee writing; b-sides and behind-the-scenes; unpolished personal musings; recs and other unsolicited advice.
The New Seiko 5 Sports: In-Depth
Christie's online auction picks, Baselworld is "postponed", and a deeper look at the new Seiko 5 Sports line.
Christie's online auction picks, Baselworld is "postponed", and a deeper look at the new Seiko 5 Sports line. If you're new, subscribe to get Rescapement Weekly in your inbox every weekend:
The new Seiko 5 Sports Lineup: In-Depth
Much ink has been spilled over the 2019 release of the new Seiko 5 Sports collection. For many (myself included), the Seiko 5 line is like the Playboy Magazine that a young teen finds under dad's bed: it represents an introduction to a vast, often confusing new world. As such, it's important not only for Seiko, but for the entire watch industry, that the Seiko 5 lineup remains strong. Because of the nostalgia many feel towards the entry-level Seiko that got them into watches, there's often hand wringing over any changes to the lineup. But nothing lasts forever, and so Seiko introduced the modern Seiko 5 Sports SPRD line as the next chapter in the Seiko 5's storied history.
Let's take an in-depth look at the history of the Seiko 5 and the latest addition to the line.
From '5' to now
To lay my biases on the table: The first mechanical watch I bought with my own money was a Seiko 5 SNK 807. Discontinued earlier last decade, it's pretty much the entry-level mechanical watch. They used to be cheaper, but can still be found on Amazon for less than $100. I eventually leveled up to the SKX line (the SKX013 in my case, the 37mm little brother to the iconic SKX007), a slightly more robust dive watch with an external bezel and plenty of mod options for those enthusiasts intent on building a Seiko that's distinctly their own. The SKX007 is a legitimate modern icon, a slightly grown up cousin to the traditional Seiko 5 offerings. It's got the DNA of more expensive Seiko dive watches, but pares back some of the bolder design choices and specs to make it broadly accessible to anyone looking for an everyday beater.
Before looking at the modern Seiko 5 Sports line, let's jump back to 1963, when the original Seiko 5 was launched. The "5" is a reference to the attributes that any Seiko 5 watch would offer, i.e., automatic winding, a day and date display, water resistance, a recessed crown at 4 o'clock, and a durable case. Putting forth a set of rules that dictate how a watch should be made is very Seiko, but we should look beyond the set of rules to understand what the brand is actually trying to accomplish. In this case, the rules stand for the principle that anyone should be able to afford a robust, durable sports watch to strap on their wrist for life's adventures.
Over the half century since, Seiko has churned out dozens of beloved models that meet these criteria: true value proposition, everyday, go-anywhere, do-anything watches worthy of the many internet listicle spots you'll certainly see them on.
Fast forward to 2019, when it became clear that Seiko was going to discontinue the latest in this long history of enthusiast-loved models, the remaining watches in its SKX line. While the SKX reference line encompassed a broad range of models, we're mostly talking about the SKX007 here. It's the reliable 42mm dive watch with Seiko's automatic caliber 7S26, a unidirectional rotating bezel and 200 meters of water resistance, ticking all of Seiko's "5" checkboxes.
Why is this important? Well, to understand what the Seiko 5 Sports is, you have to understand the role it plays for Seiko.
While the new line bears the "5" moniker — and, presumably, the philosophy it stands for that anyone should be able to afford a durable, reliable sports watch — its draws heavily from the SKX's aesthetics and specs in how it puts this philosophy to work. To put it simply: the SRPD Seiko 5 Sports line is a collection of robust dive watches that runs between $295 and $350.
The SRPD Seiko 5 lineup: Let's have some fun
Given that the SKX had become all things to all collectors: an infinitely modifiable watch that served not only as an entry-point into collecting, but as a touchstone as to what "having fun" with the hobby even meant, Seiko had its work cut out for it in introducing a new Seiko 5 collection.
With this as a starting point, it's not surprising that Seiko came out of the gate with 27 different models, broken down into "sports", "suits", "specialist", "street" and "sense" sub-collections. If Seiko was going to take our SNKs and SKXs from us, they were going to give us a range of new options to try to ease our angst. Take a look at the lineup, and you'll see it bears more than a passing resemblance to the SKX007.
The 27 models vary mostly in color way, finish and strap options, but all have a few things in common: 42mm stainless steel case (13.5mm thick), the use of Seiko's hacking caliber 4R36, 100m of water resistance, a display case back, and drilled lugs.
The next thing to note is the lack of options in sizing, something that the SKX line (and other Seiko 5 lines) eventually offered, winning over many whose diminutive wrists couldn't hold up to the slightly bulky SKX007's size (he writes in shame, looking down at his petite wrists). But, what it lacks in different case sizes, the Seiko 5 Sports line certainly makes up for in shear variety of offerings. I won't hold the uniform sizing against Seiko, because I do think they'll begin to offer different size options in later iterations of the Seiko 5 Sports lineup.
As anyone who has owned an older Seiko 5 or SKX can attest, the movements were reliable, but not exactly accurate. Where the new SRPD Seiko 5 has most clearly leveled up is in the use of the modern Seiko automatic caliber 4R36. While the price of a new Seiko 5 might be a bit higher than the secondary market price of an older Seiko 5 or SKX, much of this is likely due to this updated movement. It offers hacking seconds, hand winding, a 40-hour power reserve, and better accuracy. (I haven't tested the 4R36, but my Seikos with a 7S26 will often run 35 to 45 seconds fast over the course of 24 hours; I've got to believe the new movement beats that).
With 27 offerings, there's a bit of something for everyone in the lineup: there's the SPRD51 and SPRD55, your standard blue dial and or black dial with matching bezel options, respectively; there's the SPRD53 with a "Pepsi" bezel; even the all-black SPRD65, gold-accented SPRD57, or examples with textured dials.
Sexy Seiko
On the wrist, the Seiko 5 Sports collection wears pretty similar to the SKX007. It's a tall watch with what feels like a high center of gravity, but it sits comfortably on the wrist. However, the lug-to-lug measurement is the same 46mm as that of the SKX007, making it manageable for smaller wrists like mine (for perspective, the 39mm Black Bay 58 has a 47mm lug-to-lug). Like many Seiko 5 models, there's a display case back, something that often wins over first-time mechanical watch buyers.
A big win over the SKX is the addition of drilled lugs: one of the virtues of the Seiko 5 line is its versatility, so the ability to quickly swap straps is a necessity. That said, I can't help but feeling like trading in the old Seiko 5 and SKX lines for the new SRPD Seiko 5 line has left collectors with a little less versatility overall. For example, a few hundred bucks used to get you a Seiko 5, an SKX007 (or SKX013), and even a few straps. Now, the same amount of cash will only get you the off-the-shelf SRPD model with your choice of OEM strap or bracelet. The SRPD Seiko 5 is a great watch, but — for me — it's not quite an everyday watch (I fully recognize that this is a statement of personal preference).
That said, I will grant that pretty much everything about the fit and finish of the new Seiko 5 Sports feels a bit more solid. Strapping on a Seiko 5 SNK model always felt to me like throwing on a sub-$100 watch. Sure, fellow enthusiasts would dap you with respect, but non-watch people always told me it looked a bit like a child's watch. And they're kind of right.
I don't get that feeling with the new SRPD line. It's a professional's watch: the case is solid, the bezel action is smooth with definite clicks (OK, we lost a pip at 12 o'clock, but nbd). The bracelet and strap options are improvements over previous offerings.
The competition (or not)
The best part about the new Seiko 5 Sports collection remains the price. With an MSRP between $295 and $350, it's pretty difficult to beat everything this watch has to offer. In our guide to the Best Mechanical Dive Watches Under $5,000, we highlight the Seiko Prospex SRP777 ("Turtle"), with a list price of $495 as the next level up in Seiko's range of dive watch options. Wait for a Macy's 25% off sale and it's an even lower price. So, if a more robust, cushion-case dive watch is more your style, that's the next place to look.
In that article, we also point to the Halios Seaforth and a bunch of other microbrand options that typically sit in the under $1,000 category. At the higher end, these watches use Swiss-made ETA or Selitta movements; at the lower end they'll often see Citizen-owned Miyota movements. If there's a microbrand choice you relate to and like, go for it. That said, Seiko is a known, reliable quantity, and buying a new SRPD has the added benefit of a manufacturer's warranty should anything go wrong.
With Seiko continuing to move its entry-level offerings to higher price points, Orient is increasingly the brand that enthusiasts have looked to to hit the under-$200 price point. Its Mako II dive watch can typically be found on Amazon and elsewhere for about $130. You'll make some slight sacrifices in quality and feel compared to the SRPD, but at less than half the price, the Orient Mako II is hard to beat.
Final reflections on the 5
Looking around at the competition, it becomes pretty clear that the SRPD Seiko 5 Sports line is well positioned to carry on Seiko's legacy of dominating the entry-level sports watch category. Collectors might bemoan the loss of certain features or the slightly higher price tag, but look around and you'll see that Seiko is still mostly unmatched at this price point.
The SRPD line is less straight-up tool watch than the old SKX line, but it's also a more accessible entry point (in design, I mean) to watches than those models ever were, with more style options for those looking mostly for something that's fashionable but still enthusiast approved.
And, this is likely only the beginning of Seiko retooling its Seiko 5 offerings for a new generation of enthusiasts. That alone is something worth celebrating.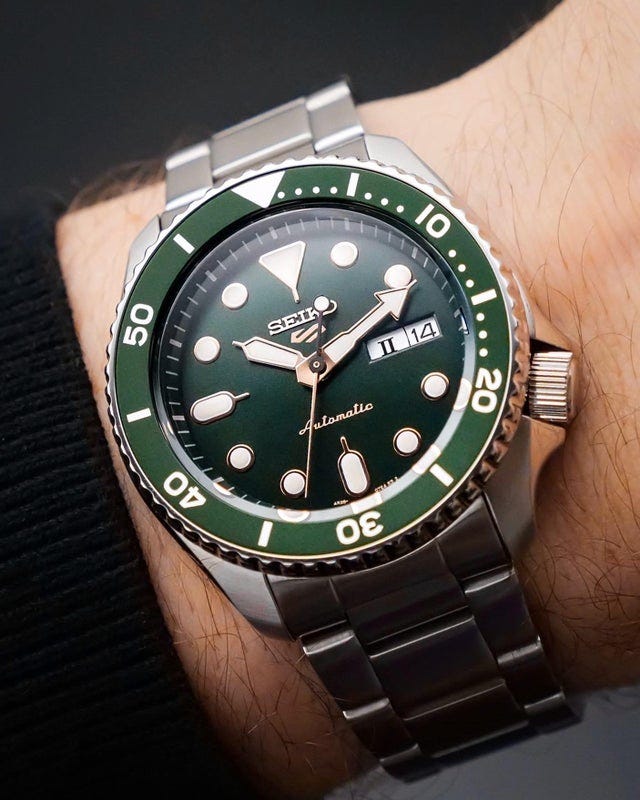 ---
Sales Corner
Christie's Spring Online Auction
Christie's is hosting an online auction until March 10. Here are a few picks, and a few lots to beware of.
Golfers especially will like this one. The Cartier Pasha Golf combines two hobbies — watches and golf — for which I'd bet the overlap in the Venn diagram is about as large as your local country club is white and male, into one cool watch. The Golf has a special '"complication" that allows its wearer to track the strokes of up to four players, up to 99 strokes. Giving the watch this functionality meant including a total of six buttons on the watch, giving the case a quite distinctive profile.
Famed watch designer Gerald Genta (Royal Oak, Nautilus, etc.) is also known for his work with Cartier. In 1985, he took the Cartier Pasha, a model with roots dating back to 1943, and reworked it, eventually making it one of the most popular models in Cartier's collection. His influence is seen in the Pasha Golf too, as you can also find Genta-branded watches with the same golf complication.
Lot 14 estimate: $12,000 to $18,000
We're fans of the vintage Rolex Air-King reference 5500 (see our in-depth article on the reference here), so this lot immediately caught my eye. At 6 o'clock it features the red crest of Bahrain and royal signature, lending it some desirability and provenance.
Forget for a second the fact that the dial features a crest and signature representing Prince Khalifa bin Salman Al Khalifa, a guy who's been prime minister of the tiny Middle Eastern archipelago since 1971 and has been criticized for his human rights abuses — and also happened to marry his cousin. Dials with unique Middle Eastern provenance like this tend to command a premium (if only because egotistical despots make sure this is the case at auction), so this one's worth a look. This particular example dates to 1989, right at the end of the reference 5500's 20-plus year run in the Rolex catalog.
Lot 135 estimate: $4,000 to $8,000
It's perhaps a wise move for Christie's to have this Daytona from the late 1980s "headlining" this smaller online auction; it might get lost below a pile of vintage Paul Newman Daytonas at a bigger live auction. But this is a legitimate collectible piece, and as sure a bet as any watch to rise in value.
The Reference 16520 was Rolex's first automatic chronograph, using a modified Zenith El Primero movement. Of course, the Tiffany & Co. stamp at 12 o'clock steals the show, but note this is also a rare '"inverted 6" variant, only adding to the watch's collectibility.
Lot 165 estimate: $50,000 to $80,000
Buyer beware
As always, there are a few less desirable lots at this online auction too:
Finally, it's always fun to see a Gevril Tribeca "Paul Newman" at auction, and if nothing else we'll see what price the new Rolex GMT-Master II reference 126710BLNR achieves at auction.
---
Ticks & Tocks
But how will we get our new colors?
Baselworld 2020 and Watches & Wonders were both cancelled (excuse me, "postponed") due to concerns over coronavirus and a subsequent Swiss government ban on gatherings of more than 1,000 people. Fear not though, because brands are starting to join forces for what we're apparently calling "Geneva Watch Days" during the week that would have hosted Watches and Wonders. If your biggest concern regarding coronavirus was whether or not we might see a Submariner with a new movement or bezel color, your fears might yet be alleviated.
😱 How John Mayer became the world's most influential watch collector. ⛳️ Brooks Koepka has some issues with golf. 🗓 Watch spotting at Hodinkee's Leap Day Party. 👃 The pungent legacy of Axe body spray and its bygone image of masculinity. 🎤 Collectability interviews @Patekaholic.
In Chicago: Early voting is now open. See who's on your ballot here.
Thanks for reading!
-Tony
Tap the heart above to like this email, comment, and please share Rescapement Weekly: