Discover more from Rescapement
Updates on my Hodinkee writing; b-sides and behind-the-scenes; unpolished personal musings; recs and other unsolicited advice.
The Best American Watches
And what was Tiger wearing as he slipped on the Green Jacket?
Sent early because GoT and typing thru tears because Tiger
Feature
The Best American Watches in 2019
"American made," especially in the context of watches, can be a hard term to pin down; it's part marketing ploy, part statement of origin. And it's not without controversy. In 2016, the Federal Trade Commission (FTC) ruled that Shinola's "Where America Is Made" slogan was misleading, as was the "built in Detroit" designation on its watches. To legally bear a "made in the USA" label, "all or virtually all" of a product must have been made in America. While assembled in Detroit, Shinola's watches use Swiss movements from Ronda (Shinola is partially owned by Ronda). Like makers of other goods, the watch industry was put on notice: to be made in the USA, the product would have to satisfy the stringent "all or virtually all" standard.
In this article, I look at the best American-made watches. I try to define to what extent each brand's watches are "made in America," where the brand is transparent. From true American-made movements to microbrands putting ebauche movements into original designs, this list has a little of everything.
---
In Other News
Drake Wearing a $750k Richard Mille RM 69. Popular YouTube channel The Unknown Vlogs posted one of its biggest videos yet: a new edition of "How Much Is Your Outfit," featuring Drake. The video catches Drake and his OVO crew before he's about to go on stage at O2 in London. But the watch is the highlight.
LVMH Reports Revenue Growth of 16%; Watches Up 9%. LVMH (which owns TAG Heuer, Bulgari, Zenith and others) shares hit record highs towards the end of last week as the luxury conglomerate reported strong revenue growth in Q1 2019. But watches aren't its strongest business.
In other business news: Hodinkee's Joe Thompson on the future of Baselworld. Baselworld has a goal to become more than a classic business-to-business trade show. The stated goal is to become an "experience platform." Buzzwords for now (it even has a built-for-social-media name, "Vision 2020+"), but we'll see if Baselworld can embrace the fundamental change it needs to to stay relevant in the 21st century. In other news, Breitling is out for 2020 (expected).
Why Do I Want This French Field Watch So Bad? I recently stumbled across this perfectly minimal field watch made by 10-year-old French brand named Merci. It's a retailer with one shop in the Marais neighborhood of Paris. As it turns out, they've dipped their toes into watchmaking. And it's great.
Another minimal watch: Hodinkee on the Andorian Model 1.
Worn & Wound takes a first look at the Orient Kano, another value-driven diver from the Japanese brand.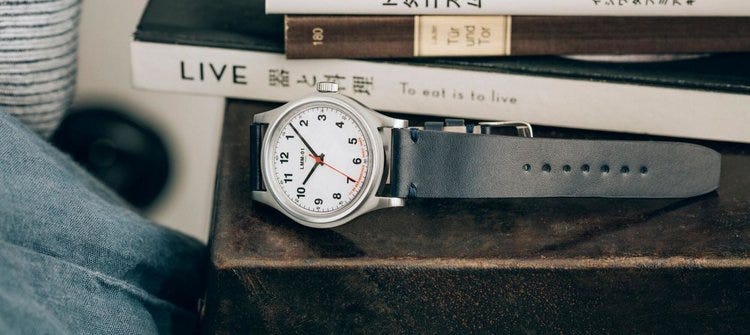 ---
Sales Corner
Auction Season Coming Soon
The spring auction season in Geneva is right around the corner, so I'm looking ahead to some of the lots that will be on offer from Sotheby's, Christie's, and Phillips in the next couple weeks.
In the meantime, something different. Phillips is conducting an online art auction through April 18. Some beautiful pieces below $1,000. Of course, a Barbara Kruger print or Jeff Koons statute will take headlines, but there are a lot of fun pieces on offer if you're trying to level up your wall decor from a Bob Marley or Blues Brothers poster.
Sotheby's is also hosting an auction in London on April 16. There are some usual suspects at the top of the estimate list, including a pink gold rainbow Daytona from 2018, a Ref. 6262 Paul Newman Daytona, and a Ref. 5513 Submariner. There's also a collection of modern Rolexes, but on the low end of estimates, this Patek Phillipe Gondolo with Breguet numerals stood out to me.
---
Ticks and Tocks
Watches of the Masters
Tiger wearing a Rolex Deepsea as he hoists the trophy, and Talking Watches with Jack Nicklaus. Everyone loves blue dials, so here are 15 of the best. Pink gold is all the rage in watches, but one jeweler is claiming it has exclusive rights to "red gold." The best coffee roasters in the US, according to the experts. Wanna feel old? Incoming college freshmen use Instagram class pages to meet each other now. I've really been enjoying Gear Patrol's new "This Week in Gear" video series. Amazon and other online marketplaces are selling tons of counterfeits; Trump wants them to stop. Curbed on 100 years of Bauhaus. This has always bugged me: "Natural" means nothing win it comes to food. The sunglasses you need this summer.
---
Chicago
Finally, a special shout out to all who showed up for our Chicago meetup on Saturday. Great conversation, great watches, and if you missed it, don't worry — hopefully there will be more to come.
Thanks for reading; and remember you can refer people to our newsletter to earn a free Nato strap!
-Tony
Questions/comments/tips? Just respond to this email.
Meme of the Week:
Not watches but who cares. The content today is off the charts and Tiger x GoT is better than any Supreme collab.