Discover more from Rescapement
Updates on my Hodinkee writing; b-sides and behind-the-scenes; unpolished personal musings; recs and other unsolicited advice.
Switzerland's Second Oldest Watch Brand
And are restored watches about to get more valuable?
Favre-Leuba: A Brief History of Switzerland's Second-Oldest Watch Brand
Switzerland's little known, second-oldest watch brand and its fascinating history that intersects with Bovet, Jaeger-LeCoultre, and others
The history of the watch industry is littered with defunct brands, many of which met their demise during the quartz crisis of the 1970s. Others were gobbled up by large conglomerates during this time. And finally, some companies transformed into just a skeleton of the fine watch manufacturers they had been for years, sometimes centuries prior. That's what has happened to Favre-Leuba. It's a Swiss watch manufacturer still in existence to this day, headquartered in Zug, Switzerland (separately referred to as the "Crypto Valley" by some Ethereum nerds, more on that in the article).
Favre-Leuba traces its roots back to 1737, making it the second-oldest watch brand in Switzerland, after Blancpain (1735). It was founded by Abraham Favre in Le Locle, Switzerland, who was eventually appointed the "master watchmaker" of Le Locle, a position that every city should have. A few highlights of Favre-Leuba's storied history:
In 1948, Favre-Leuba purchased the name and production facilities of Bovet. It would go on to produce Bovet watches for two years.

In 1962, Favre-Leuba introduced the Bivouac, the first ever mechanical watch with aneroid barometer to measured altitude without using a liquid, and an air pressure measurement. Explorer Paul-Emile Victor was one of the first to wear this piece during his Antarctica expedition. Additionally, a couple intrepid explorers used the watch while summiting the Grandes Jorasses in the Alps (take that Rolex Explorer).

In 1965, Favre-Leuba joined forces with Jaeger-LeCoultre under the SAPHIR Group.

In 1968, it released the Bathy, the first mechanical watch that indicated dive time as well as dive depth.

In 2016, Favre- Leuba, now owned by Indian conglomerate Tata Group, re-launched with its Raider and Chief collections, the two collections that still make up its modern catalog. Its Baselworld 2017 releases included a new Biovouac (under the Raider collection) that is the only watch with the ability to measure altitude up to 9000m mechanically. The goal was to create a watch that for Mt. Everest, which measures 8848m. If that's not kind of cool and totally unnecessary, then I don't know what is.
P.S. see below for the Valjoux-powered chronograph for sale that inspired me to learn more about Favre-Leuba.
---
Other News
Tom Ford brings a new meaning to "fashion watch", and have we reached peak auction?
Rescapement is on Apple News! Search for and "heart" us to get updates in your feed. Or find us by clicking here (apple.news link to Tom Ford article below) on your Apple device.
Tom Ford releases its first automatic watch. Tom Ford's new 002 collection comes in an automatic version priced at $3,590, and a quartz version, starting at $2,590. It's a high price point for a mechanical movement (it's got Ronda's R150 inside) that's the equivalent of an ETA 2824. For example, if you look at our list of great watches with ETA 2824 movements, you'll find some viable options under $1,000. If you're paying for something from Tom Ford, you're paying for the brand as much as anything, but at this price point, you can walk over to the Cartier boutique and have some great options as well. Hell, you can go with a vintage Rolex Ref. 1600 or Ref. 1603 Datejust for the same price as the automatic 002, and get yourself a watch that won't depreciate in value by 75 percent the minute you strap it on your wrist.
Hodinkee on a restored Rolex Ref. 6062 and what it means for auctions. On the cover of Christie's May auction catalog is a Rolex Ref. 6062 "Pink Stelline." This is the very watch that sold back in November 2015, but now it's been restored with appropriate lume and period-correct radium (p.s. who did the radium work here?). Just four years later, the watch has supposedly increased in value from its previous CHF 315k sale to this year's CHF 1 million to 2 million estimate. Hodinkee goes in depth on this watch, the auction business, and what it all means for the vintage watch market. A great read.
Eric Wind on "Fomo Sapiens" Podcast. I've recommended a podcast featuring an interview with vintage expert Eric Wind before, but this is another good one. And if you've sen Crazy Rich Asians, it's got the story of how Wind helped secure the Paul Newman you may have spotted in the film.
---
Sales Corner
How Much Would You Pay for a Heuer 2447D?
Two Heuer 2447Ds for Fisher (at vastly different prices). The 2447D is the quintessential three-register chronograph. Valjoux 72 movement, 36mm, clean dial. I spotted two Fisher-signed ones this week (Fisher was a science laboratory). And, I'm not passing judgment on anyone here, but Theo & Harris is asking $12,500, while Menta Watches is asking $8,500. No two vintage watches are apples-to-apples (for example, the Theo & Harris one has a period-correct strap and signed buckle, while the Menta one does not), but a 50% price disparity is too big to ignore. Beautiful watches though.
Phillips' Geneva Watches auction was this weekend; check out the results here. Sotheby's and Christie's are the next couple days (I spent my time previewing Christie's, check out that article if you didn't last week). The highest seller at Phillips was this Rolex Ref. 8171, which went for CHF 980k. This and the Ref. 6062 (see above) are the only vintage Rolexes with moon phases, so it's not super surprising people are paying up for them. Meanwhile, this Rolex "Ovettone" blew its estimate out of the water, hammering for CHF 150k, 3x the high end of its estimate. That's like… Daytona-level price. For a gold time-and-date Rolex.
The Favre-Leuba chronograph that inspired this week's feature. Another clean 60s chronograph, this time with a Valjoux 23. I've been thinking about buying this one since I first saw it, but would be happy to see someone steal it from me.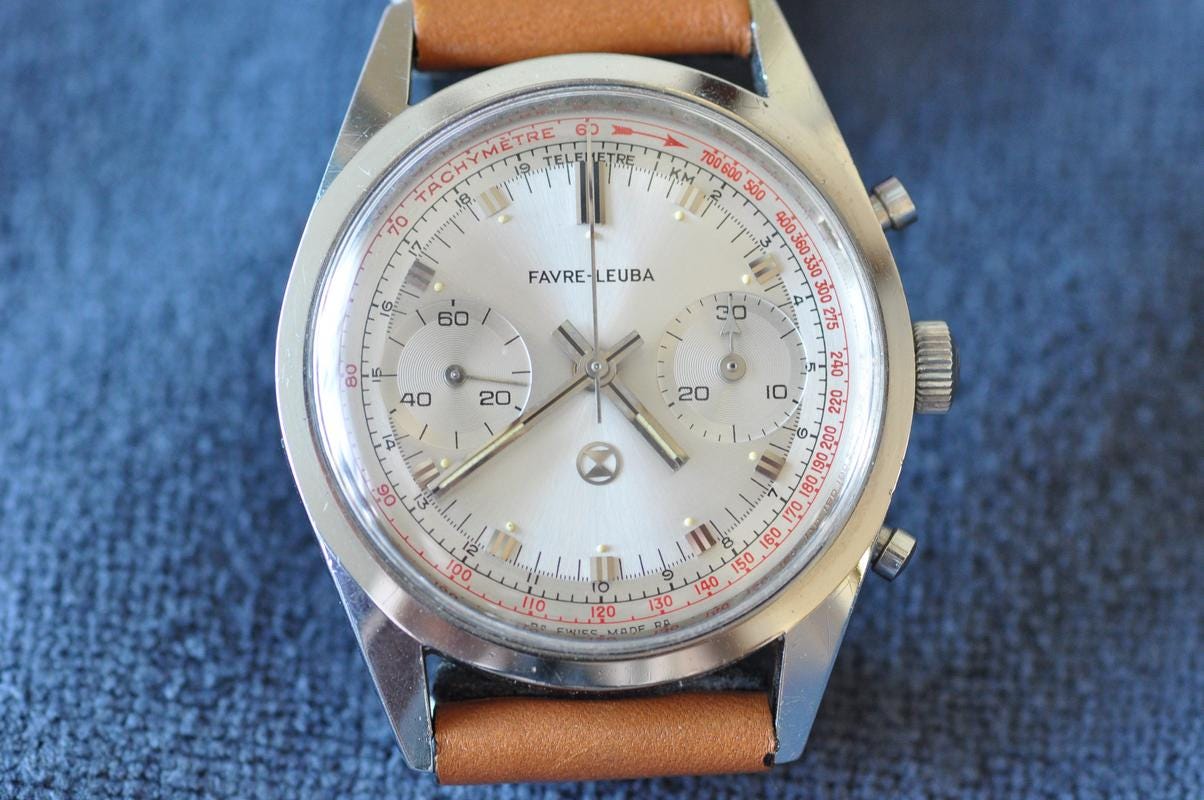 ---
Ticks and Tocks
Quill & Pad on rock 'n roll and watches. Bronze is in this year; Monochrome has 5 of the best from Baselworld 2019. I've had my eye on U.S.-based Collins Watch Company for a bit now, and ablogtowatch did a nice review of their latest offering. You're probably wearing the wrong sneaker size, and Nike is out to fix that. Shaving startup Harry's sold for $1b+. An original Facebook founder on why we should break up Facebook.
Sure, China's and India's economic rise is great for humanity, but is it worth it if I can't cop a stainless Rolex sports watch anymore?!
Thanks for reading; and remember you can refer people to our newsletter to earn a free Nato strap — just forward this email or send them here and tell them to say you sent them in the intro email.
-Tony
Questions/comments/tips? Just respond to this email (and please tap the heart above to like it!).
Meme of the Week:
Not a meme, but when Nomos reposts you, it's worth a brag.