Discover more from Rescapement
Updates on my Hodinkee writing; b-sides and behind-the-scenes; unpolished personal musings; recs and other unsolicited advice.
Swatch Struggles; Scarcity as Strategy
Evil Nina v. Paul Newman: Who Wins?
Feature
Swatch Group Sales Down in First Half of 2019 as It Takes Action Against Grey Market
Last week, Swatch Group reported first half of 2019 are down 3.7% compared to the year previous, with income down 11.3%. It's been a tough first half of the year for Swatch Group and the Swiss watch industry more broadly, especially as the Hong Kong market saw significant declines due to political turmoil.
Additionally, Swatch Group reported that it's been engaged in "uncompromising action against grey market dealers, especially in Europe, the Middle East, Eastern Europe and South America, at the expense of a short-term negative impact on sales in the first half year in the triple-digit millions. In the long term, this will lead to positive effects, especially in the major markets."
Swatch Group is choosing to clamp down on supply, even closing accounts to combat dealers dumping unsold inventory onto the grey market. When Richemont dealt with the same issue recently, it instead decided to buy back inventory (and then destroying that inventory), spending some half a billion euros in the process. Listen, artificially restricting the supply of goods is part of the luxury business that has gotten a ton of press over the last few years (Louis Vuitton burning its bags, etc.) and Swatch Group is figuring out how to address the "problem."
With the rise of secondary markets and resellers, people are more interested than ever in buying things pre-owned and at prices that are significantly discounted from MSRP, and the internet enables consumers to shop around the world for the best price. Depending on who you ask, it's a moral, environmental, or simply an economical issue. No matter who you ask though, it's a problem that's not going anywhere, and brands will have to be honest with themselves about their brand's value (i.e. how much should that Tissot really cost at retail?) if they want to capture consumers buying new products. Sure, you can sue The RealReal, alleging its selling fake Chanel bags, but that's not a business model, that's reactionary. Brands will have to think of interesting, innovative ways to get people to buy new products (e.g. "drop culture", something streetwear brands have mastered), or find ways to partner with these ecommerce companies and marketplaces for long-term sustainability.
Or, Richemont and Swatch Group's stable of brands could look to their largest competitor for ideas. More on that next.
---
Business News
Rescapement subscriber Brendan (in his new blog, Horolonomics) wrote an article about Rolex's scarcity strategy with steel sports watches. His conclusion?
As the pace of innovation increases the luxury watch industry will face growing uncertainty and ever-diminishing practical motivations for buying a watch. Since rationing is a solution to these challenges we can conclude that it is here to stay.
So you might be waiting for that Ref. 116500 (and whatever Daytona comes after) for quite some time. Why? Well, Rolex is involved in rationing, which solves two big problems for them.
First, as Brendan puts it "An $8,000 watch is a huge expense. Buyers need a lot of reasons to pay that much." Those who buy at MSRP are given that reason: shortages mean that $8,000 watch is worth $10,000 on the secondary market. Rolex effectively gives the buyer $2,000 ($10,000 value minus MSRP), an immediate 25% return on their purchase (note these are just Brendan's hypothetical numbers; some real-world markups are even bigger). Earning 25% just by patiently sitting on a waitlist helps to overcome a conservative customer's reluctance to buy a luxury item with no practical use.
Second, Brendan points out that uncertainty is also a significant factor in the luxury watch industry: "Even conservative brands like Rolex experiment with watch designs and features." Some workout well, while others like AP's Code 11.59, flop.
Rationing helps manufacturers and ADs cope with this uncertainty. Would you like a better position on the waitlist? Take some of those undesirable models off the hands of an AD. Rationing is an insurance policy against unpopular designs.
In other words, there are only so many Kevin O'Learys in the world who will blow their money on stupid shit like a Code 11.59 no matter what. Brands have to trick everyone else into buying their "innovative" watches.
In addition, Brendan points out that strict Swiss labor laws that limit the work week to around 40 hours also means Rolex would have trouble expanding production capacity even if it wanted to.
And lest you think Brendan is some clueless forum prognosticator: he's a PhD-trained economics professor. So let us know what you think of his first article, and be sure to stay tuned for more in-depth analysis from him.
---
Sales Corner
Christies Keystone Collection Auction Preview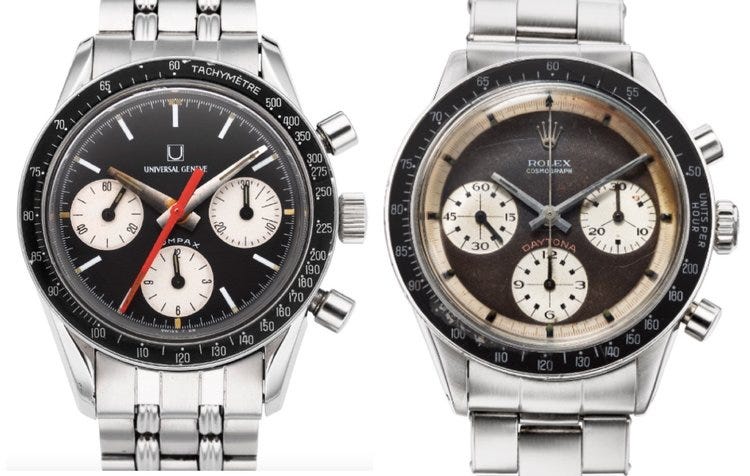 Two great chronographs that are more similar than different: would you pay 10x for the one on the right?
Christie's is collaborating with The Keystone to present "The Keystone Collection", an online auction with over 200 offerings, beginning July 30. The Keystone is a Beverly Hills based dealer focused on rare and vintage watches, typically featuring a nice mix of modern and vintage watches across all price points. The collection offered here exemplifies that, with highlights including a rare Patek Philippe Reference 725 perpetual calendar pocket watch signed Tiffany & Co., a Rolex Reference 16758 GMT-Master 'SARU', and an A. Lange & Sohne, limited edition pink gold Lange 1 tourbillon.
Christie's "The Keystone Collection" Auction runs from July 30 until August 13. Let's take a look at a few of the highlights.
Is it even an auction if there's not a Paul Newman Daytona? The Reference 6241 is what we saw Ellen Degeneres wearing on her Netflix special Relatable last year. The Reference 6241 has pump pushers (as opposed to screw-down pushers), and measures 37mm in diameter with a Valjoux 72 movement beating inside. The 6241 is considered slightly more rare and desirable than its brother, the Reference 6239, which has a steel bezel (not black).
The Reference 6241 fetches prices well into the six figures at auctions. Bob's Watches has a historical chart of the prices of all Paul Newman references at auction, showing a $500,000 hammer price for a 6241 in 2017. That's a bit of an outlier, but prices regularly reach $300,000.
This particular example has clearly been polished, and the condition report says there are three nicks on the case back (signs of being opened), and the original bezel also has a few nicks.
The white outer ring of the dial has discoloration, which appears to be water damage, especially between 2 and 4 o'clock. There's also some spotting on the sub-dials, particularly at 3 o'clock. In general, while the dial has turned a nice tropical color, it's also lost some of its pop; eg., the red 'Daytona' above the 6 o'clock subdial isn't quite as red as it once was.
Finally, this Reference 6241 comes on an Oyster bracelet, and while the bracelet is a correct 7205, one end link is a 361 and the other a 57. This is incorrect according to Rolex researchers.
All in all, it's a nice example of a Reference 6241, but not perfect. That's why it's headlining an online auction in the middle of August and not sitting on the cover of a catalogue during the fall watch season. Nothing wrong with that, just proof that perfect, minty examples are hard to come by nowadays.
Lot 222 estimate: $140,000-$180,000
Different watch, same movement. This Universal Geneve chronograph is clearly of the same era as the Paul Newman Daytona: Same reverse-panda three-register dial, same black tachy bezel, even the same Valjoux 72 movement inside. And like the Daytona, this one's even got a celebrity connection. While almost all vintage Universal Geneve is beloved by collectors right now, no model is more so than than the "Nina Rindt" a classic 1960s era chronograph made famous by racing driver Jochen Rindt's wife, Nina. She was often spotted wearing it on a bund strap — Newman style — and collectors picked up on this over the years, leading to its rise in popularity. Nina's preferred model was a Reference 885103 panda dial chronograph (black subdials on cream dial), with a black tachymeter bezel.
The "Evil Nina" is equally coveted by collectors, and is so named because of its reverse panda dial.
This particular example is in good condition: the twisted lugs are polished but sharp, and the rest of the case and bezel has typical nicks and scratches.
Unfortunately, the case back is incorrect for the watch and displays the wrong reference number. It's possible it was switched at one point. The original dial is in good condition with just some slight discoloring on the white subdials, while the lume plots have darkened to various yellow hues, similar to the hands. While there's some rust on the hands, that red-orange sweep seconds hand still pops off the dial.
This Universal Geneve chronograph comes on a Gay Freres bracelet that's been polished and has some stretch on it.
Lot 112 estimate: $15,000 to $20,000
---
Ticks & Tocks
A Conversation with Chrono24's CEO; Inside Akrivia's Atelier
🚀 The Unimatic Modello Uno 'Space Program,' and Riding the NASA wave. 🎧 Worn & Wound podcast interviews Chrono24's CEO on the secondary watch market. Omega releases some limited edition watches for the 2020 Olympics in Tokyo. 🤔 How to curate your watch collection. 📹 Part 2 of Watchonista's visit to Akrivia. 🛹 GQ gets the real story inside Supreme. 🍽 How to become a regular at a restaurant. 🍺 PBR is selling hard coffee for some reason.
Chicago convenience store startup Foxtrot is expanding to Dallas.
Thanks for reading!
-Tony
Questions/comments/tips? Just respond to this email (and please tap the heart above to like it!).
Meme of the Week:
alt title: Lion King 1994 v. 2019.