Discover more from Rescapement
Updates on my Hodinkee writing; b-sides and behind-the-scenes; unpolished personal musings; recs and other unsolicited advice.
Staying True to Your Vintage Submariner
Conor McGregor's new Irish Patek, vintage Patek chronographs, and serif v. non-serif Submariners
Conor McGregor's new Irish Patek, vintage Patek chronographs, and serif v. non-serif Submariners; If you're new, subscribe to our weekend newsletter now:
When evaluating vintage watches, collectors often look first at a watch's case or dial, with buzz words like sharp, unpolished, patina and tropical dancing through their heads like sugar plum fairies.
But just as important as the case or dial is the watch's crystal. After all, it's the very lens through which the dial is viewed, the gateway to the face of the watch. "Serious" collectors and watchmakers know this too: that's why original Rolex acrylic crystals command prices well into the thousands of dollars. Alternative aftermarket crystals are often cheaply manufactured and bear little resemblance to the original Rolex crystal, distorting the dial and not remaining faithful to the design of the watch as originally conceived by Rolex.
This state of fairs leaves passionate collectors at an impasse, caught between the expensive option and the cheap, inferior alternative. Enter TrueDome.
I had the opportunity to talk to TrueDome's co-founders, Greg Petronzi of True Patina (@true_patina) and Rob Burns (@vintage.robi), on the week of their launching TrueDome's first product, the D19 Super Dome, conceived as the "only alternative to the original" T19 Rolex Super Dome.
---
TrueDome started as the passion project of New York-based watchmaker Greg Petronzi. In fact, Petronzi's watchmaking career was also born out of passion.
"About four years ago, I started to embark on the process of learning the art of watchmaking. It's something I stumbled into as a result of befriending my watchmaker, who is a thirty-five year Rolex servicer. We became friends and he started teaching me little by little what I could do to replace this or clean that," Greg explains. "Before I knew it, I had a significant amount of money in tools and a setup dedicated to doing this. First, I was doing it on my own watches, then I started doing watches for friends. Eventually, I started taking on private projects through referrals and at some point realized this is actually a legitimate side business."
Greg's focus has been on servicing vintage Rolex watches. As a collector, he's always been a particular fan of vintage Rolex and Tudor Submariners.
"One of the quintessential elements of the [Submariner] design is the original T19 'Super Dome,'" Greg explains. "These Super Domes are getting harder to source, and the old acrylic tends to dry up and crack, or it clouds and crazes when you polish it. So I started looking for alternatives. I obtained a handful of alternatives including some aftermarket ones that were labeled as original but I came to realize were not. I began to study what would differentiate the fake crystals from the real ones. I came to find that everything on the aftermarket was really horrible … it would distort the dials and make the luminous plots look like eggs rather than circles, or it would make the hashmarks look really long and distorted."
Co-founder Rob put it a bit more bluntly: "Everything on the market was, frankly, shit."
As a collector, it bugged Greg that the only alternatives to the original Rolex crystal seemed to make the watches look incorrect. On the other hand, the original crystals were very brittle — "I was cracking three out of every five crystals," Greg added — so his wheels started turning on how to manufacture his own crystal.
Initially, Greg conceived of his crystal idea as a passion project, allowing him to have crystals for his own watches, as well as share the crystal with the collectors whose watches he serviced. But eventually, he realized this might be a larger opportunity, so a team started to assemble. First, he reached out to Rob, who had already expressed a passion for Greg's project. Rob became a co-founder, and TrueDome was off and running.
Then, Greg met Jacek Kozubek (@watchand) at Rolliefest 2019. Jacek expressed interest in doing a crystal project, and the two decided to join forces.
"Jacek took the vision and made it bigger, saying 'let's do more than just the T19,'" Greg said.
Developing the Dome
As a team formed around him, Greg had already identified a United States-based manufacturer and began working with them to replicate the original Rolex Super Dome crystal. He gathered a few new old stock (NOS) examples of the Super Dome to measure dimensions for the new crystal. Because no two Rolex crystals were exactly the same, they took aggregate numbers to arrive at the most accurate representation of the original Rolex acrylic.
"Through old watchmakers, I've managed to secure some excellent documentation, books and manuals on the [Rolex] factory. I've become very confident in the research I've done and what the data shows me. Now, it's just a matter of disseminating that to the collector community," Greg said of the product development process.
The newly assembled TrueDome team then went through seven iterations of crystal development for their first product, the D19 Super Dome.
The founders said that the sixth iteration was off by about a tenth of a millimeter compared to what they wanted. Rob admitted that he and Jacek couldn't really tell the difference, so they turned to Greg, the " technical OCD guy," who assured the pair that another iteration would be better. A decision was made.
"We're not going to cut corners, this isn't going to be some bullshit product," Rob said. So the group put their efforts behind a seventh iteration which became the TrueDome D19 that was released to the collecting public this week.
Greg said his ultimate goal was to arrive at a product that allows the Rolex design to be displayed the way its engineers originally intended.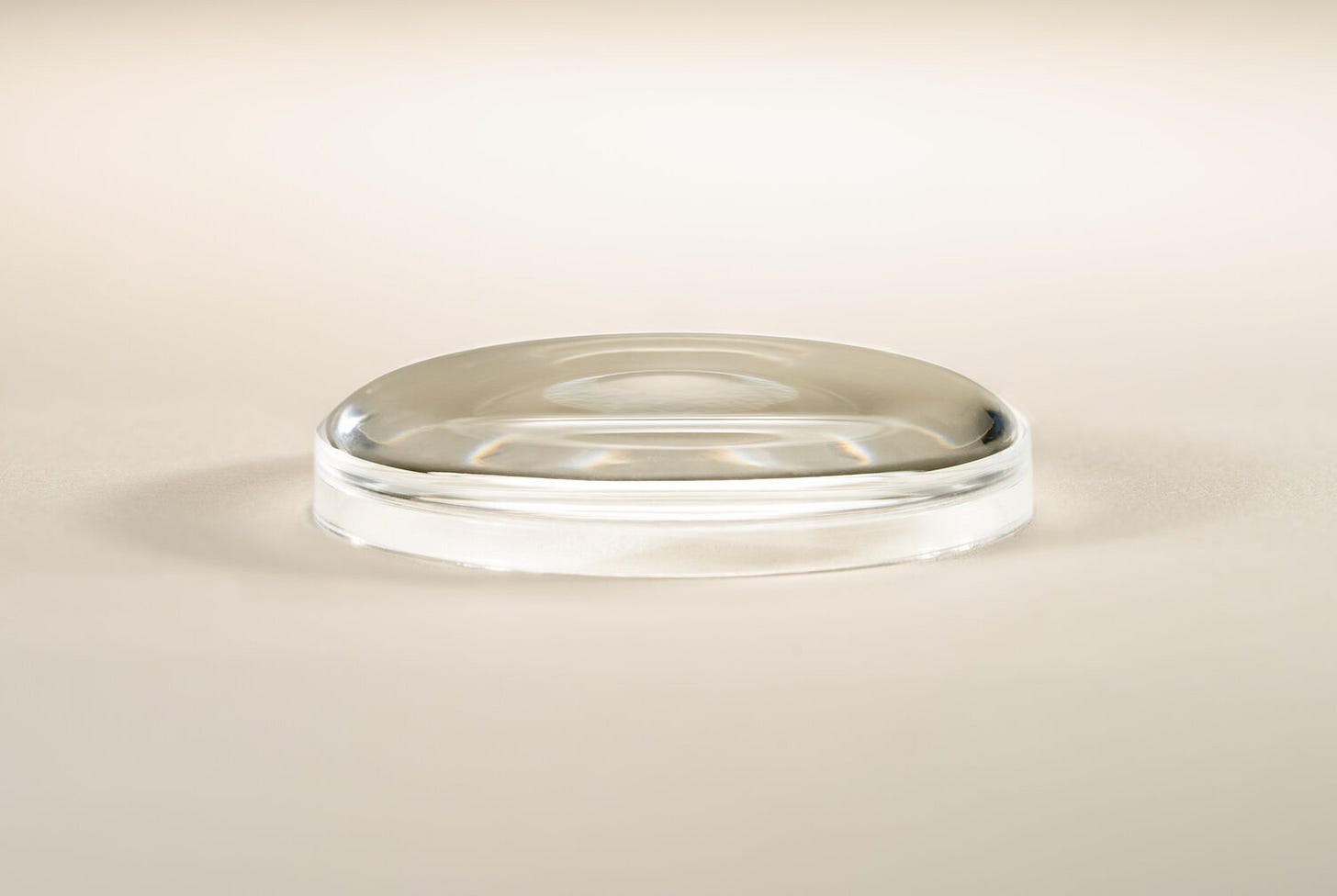 📷TrueDome
To make matters even more frustrating — and exciting — for TrueDome, around the time they were stressing over tenths of a millimeter on their sixth iteration of the first TrueDome product, Rolex officially stopped manufacturing all acrylic crystals for their vintage watches.
"We took it seriously, knowing that it's going to be harder and even more costly for collectors to get their hands on a crystal," Rob said. That's when TrueDome set out to establish itself as the only alternative to original acrylic.
While the move from Rolex tempted TrueDome to move to market more quickly, they decided to bide their time getting their first product exactly as they wanted it.
"We wanted it to be 100 percent made in the United States. We wanted to offer the best option, hands down," Greg said.
Officially launched this past week (May 4), TrueDome's first product, the D19 Super Dome, is designed to fit Rolex Submariner references 5512, 5513, 1680, and Tudor Submariner references 7928, 7016, 7021, 9411, and 9401.
Greg says reception of the product has been overwhelmingly positive; ever since he started teasing the product, collectors have been hounding him for TrueDomes.
"I've even had some collector friends come to my workshop. They just couldn't wait," Greg said.
The founders did caution that mounting a TrueDome on your own watch is very much a "don't try this at home" task, which is why they also offer mounting services. There are so many different variables that go into the structural integrity of a watch, an improper mounting can easily compromise it.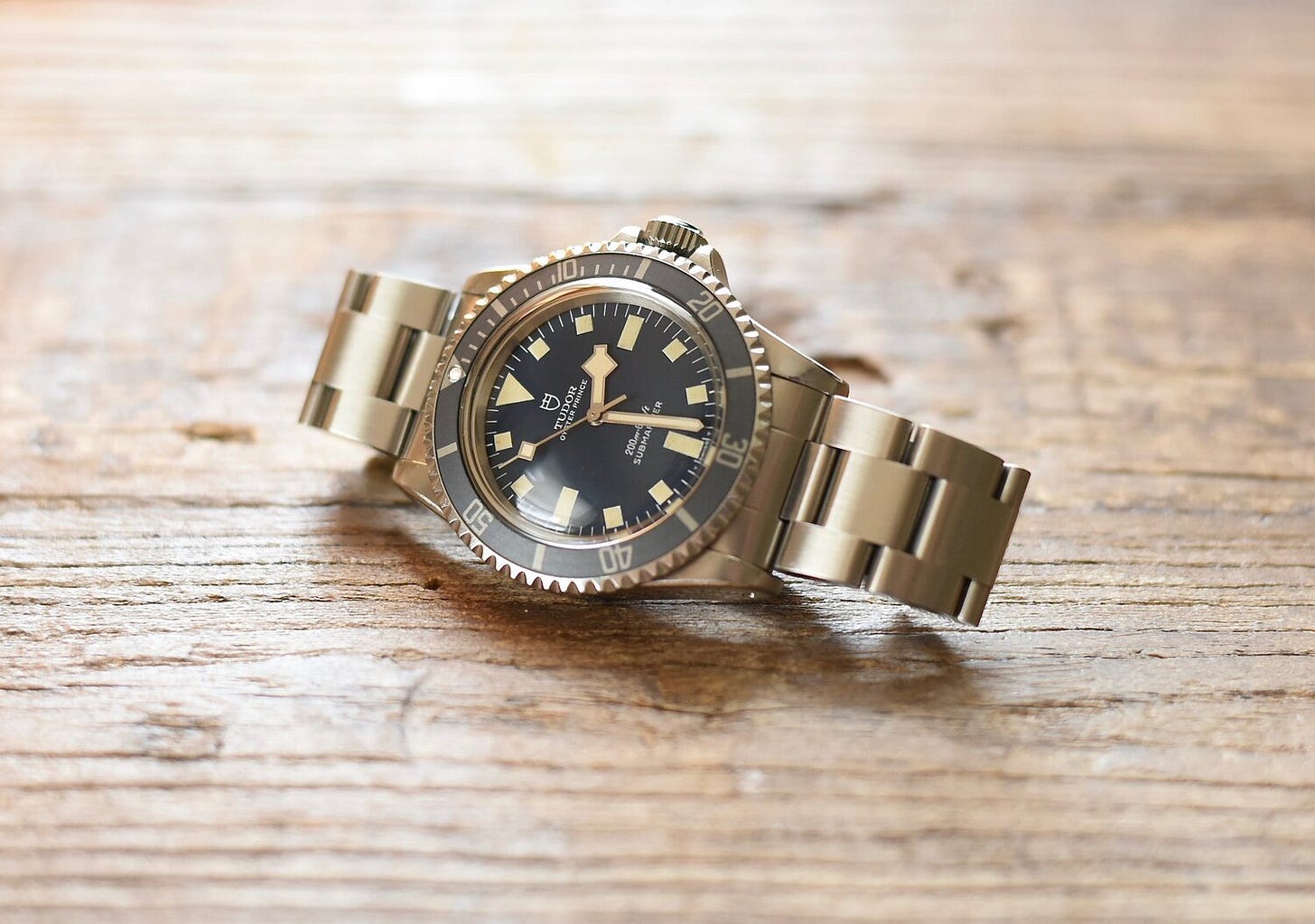 📷TrueDome
What's next for TrueDome
While the initial vision for TrueDome was to replicate only the original T19 Rolex Super Dome, it's since expanded to capture much of Rolex's vintage line.
Under development are replacements for the T38 and T29 crystals. The T38 fits the GMT-Master reference 1675 and 16750. The T29 will fit early Rolex DateJust references: 1600, 1601, and 1603. Further out in the product development cycle are crystals for the Explorer reference 1016 and vintage Daytona models.
For now though, TrueDome is riding the wave of positive collector response from the release of its first D19 Super Dome, confident that the product they've released is the only real alternative to original Rolex crystal.
"It's on all my watches now, so I'm confident," Greg said.
For more, visit TrueDome.com
---
In-Depth
A couple weeks ago, we published a short guide on what to know before buying your first vintage Submariner. I treated the serif/non-serif era of the Submariner 5513 with a bit of a hand wave ("to be honest, this is where my eyes start to glaze over"). Lucky for us, VWC has given this era of the 5513 the in-depth attention it deserves.
In the early 1970s, you either can (Serif) or cannot (Non-Serif) see the paint that's applied underneath the tritium lume plots on the dial. But sometimes the lume covers up this paint, making it difficult to tell serif from non-serif. VWC outlines a few potential ways to identify a non-serif from a serif dial:
In the no-serif dial (those without serifs on the rectangular hour markers), the letter R of Rolex has a terminal T shape and the P of Perpetual is not perfectly aligned with the letter L of Rolex.

In the serif dial, the letter E of Rolex ends in a tapered way and the letter P of Perpetual is almost perfectly aligned with the letter L of Rolex.

The letter "S" of Oyster has a completely different shape in the two dials.
Wei Koh starts this in-depth exploration of vintage Patek Philippe chronographs by explaining his unrequited, unfulfilled love of the Patek reference 1463 "Tasti Tondi", the brand's only water-resistant vintage chronograph:
A watch that is so hallucinatory in its beauty that if you were able to bring back the ghosts of Gérald Genta, Michelangelo, Leonardo da Vinci and Phidias, and lock them in a room for one hundred years, they would not have been able to design a chronograph that could surpass the beauty of the 1463. But what I love most about the Tasti Tondi is that as Patek Philippe's one and only water-resistant vintage chronograph, it was a symbol of modernity and adventure in the context of the 1940s and '50s.
Koh goes on to explore Patek's range of chronographs preceding the Lemania-based Patek caliber CH 27, first introduced in the reference 3970 and later in the reference 5070.
It's a true must read, with Wei weaving words around dozens of images not only from auction houses but also from John Goldberger.
---
Ticks & Tocks
🙀 An Omega Railmaster found at the Goodwill sells for $10k. ☘️ Conor McGregor's new Patek Philippe with an Irish twist. 🦇 This watch is the perfect match for Batman and Bruce Wayne. 🎖 A Jaeger LeCoultre Mark XI. 🙉 In defense of obvious watches. 🛩 The Patek ref. 2597 is just the best timezone watch.
🥃 Tired of watches? How to start a whisky collection.
Thanks for reading!
-Tony
Tap the heart above to like this email, comment, and if you liked it, share it: