Discover more from Rescapement
Updates on my Hodinkee writing; b-sides and behind-the-scenes; unpolished personal musings; recs and other unsolicited advice.
So You're Curious About Enicar?
Getting funky on Saturn; in praise of the Datograph; Paul McCartney, just because
Today, a dispatch from our newest Enicar correspondent, Michael. I've wanted to bring more coverage of Enicar to the newsletter for quite some time, so when Michael reached out I was excited to bring a little Saturn funk to the 'letter.

---
By Michael (@ctwatchguy)
If you're seeing this, that means Tony thinks I'm a halfway decent writer; or at least up to the standards of the Rescapement newsletter, which I hope to henceforth contribute to from time to time. For those of you that don't know me (most of you), my name is Michael aka @ctwatchguy on Instagram. I have been collecting vintage watches for the better part of the last decade. While I'm a total sucker for anything that ticks, the three brands most interesting to me are Rolex, Universal Genève, and Enicar.
---
Introducing Enicar     
For my introductory piece I knew I wanted to write about Enicar, as it's the brand I'm most passionate about; the brand most heavily represented in my collection; and the brand that best embodies me as a collector and person. Enicar is also a brand that's rising in popularity amongst vintage watch collectors for a number of reasons, Martijn van der Ven's (@vandervenus) 2019 book Time for a Change, Discovering Vintage Enicar being a big one. I'll spare you all the Enicar history lesson, as it's covered in a recent Rescapement newsletter about the Enicar Garnix.
For a brand that went defunct during the Quartz Crisis, they sure have a massive, and at times, downright confusing, catalogue. So, for those of you that are Eni-curious, but have absolutely no clue where to begin, I proffer this article highlighting three interesting models (in my humble opinion) to check out that won't break the bank. 
Enicar Sherpa Date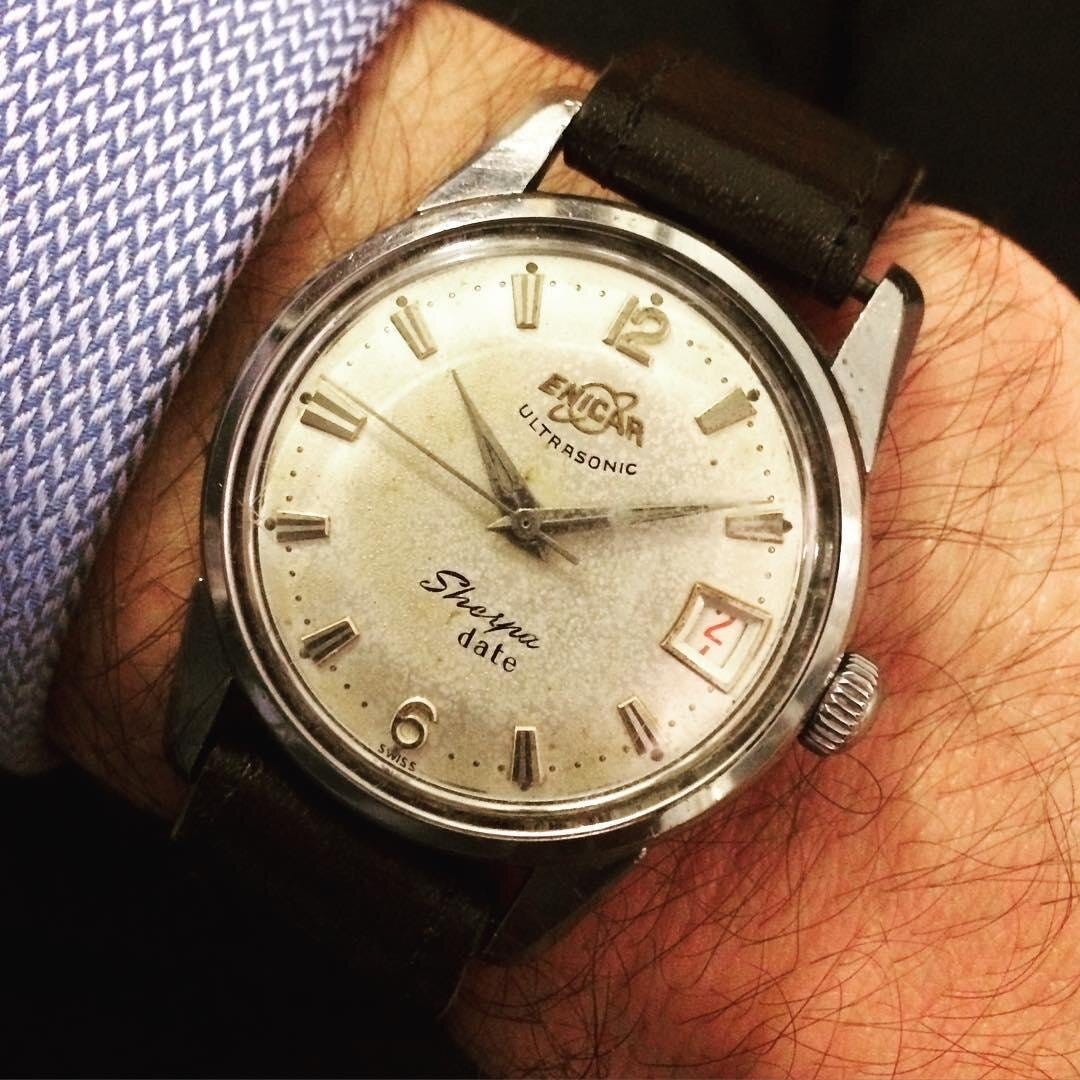 Round Sherpa Date. Photo courtesy of @fldx_clavi.
It's ironic that the first watch on this list, the Sherpa Date, embodies little of the visual design features Enicar is best known for (vibrant colors, general "funk", etc.). However, I think the 34mm Sherpa Date is a rather benign introduction to the brand for those that want to ease in slowly. First and foremost, they are affordable, with nice examples being available for under $1,000. Aesthetically, there is quite a bit of diversity within the Sherpa Date line – dials, handsets, case shape – there's something for everyone. On the technical front, these watches were fitted with Enicar's famous Seapearl case waterproof up to 600 feet, denoted by a number of unique (and pretty darn cool) caseback engravings. They also featured in-house Enicar ultrasonic calibers, both manually-winding and automatic (ultrasonic being the movement cleaning and coating technique used exclusively by Enicar at the time, which guaranteed no required maintenance for at least three years). Lastly, the Sherpa Date boasted one of Enicar's most famous celebrity/sporting ambassadors, eight-time tennis Grand Slam champion Ken Rosewall of Australia. In sum, the Sherpa Date is understated and reasonably priced; can be worn in any setting, casual or formal; offers an array of dials, handsets, and case shapes; utilizes some of Enicar's best technology; and was worn by one of the greatest tennis players ever. You can't go wrong picking one up.
Enicar Sherpa Jet/Sherpa Super Jet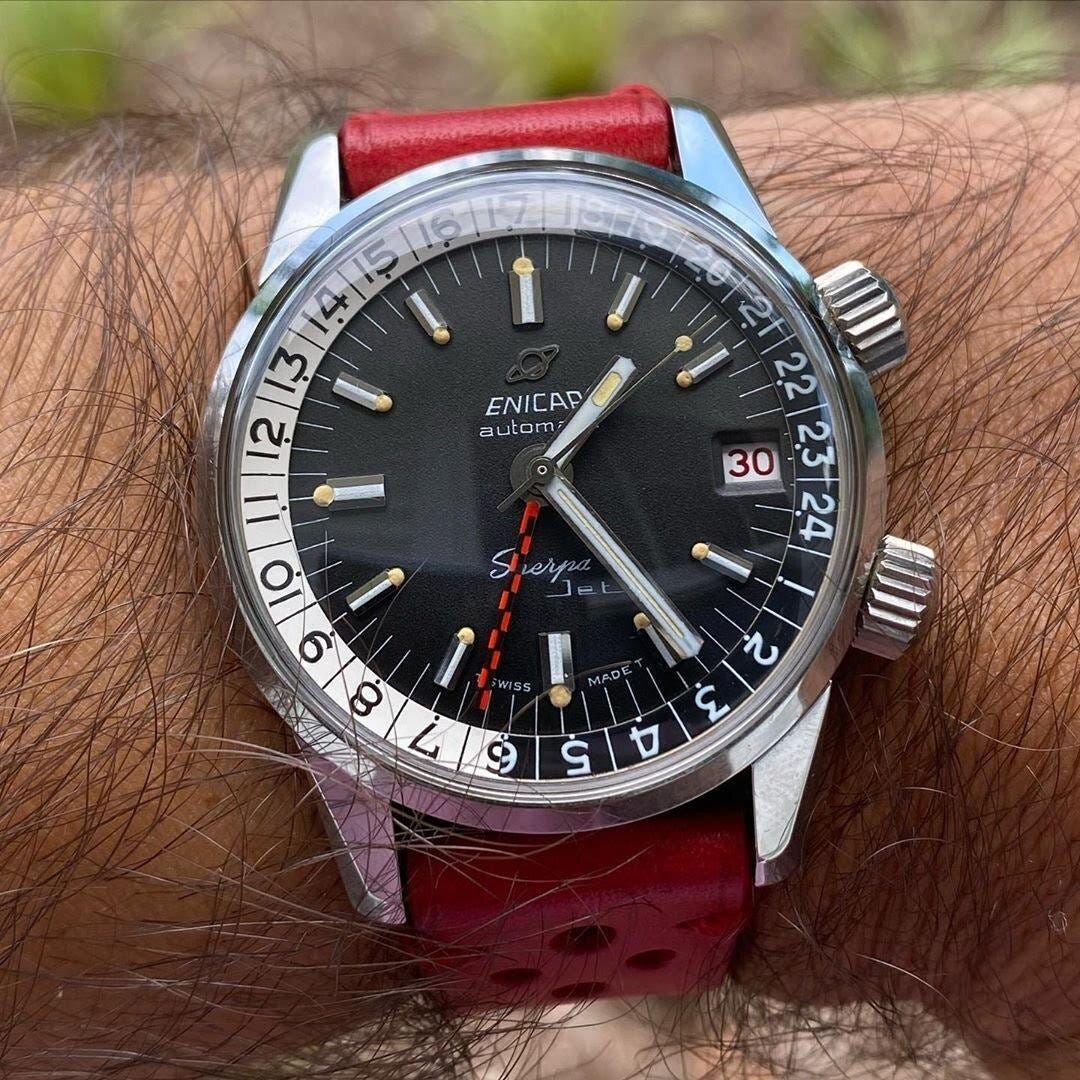 Black dial, black/white bezel Mark II Sherpa Jet. Photo courtesy of @ctwatchguy.
If you want a watch with quintessential Enicar design elements inside and out, the Sherpa Jet (36mm) and its big brother, the Sherpa Super Jet (40mm), may be for you. For purposes of this article, I am going to focus on the "Mark II" variants of both watches (introduced around 1969), as I find them more interesting due to the sportier handset, larger crowns, better lume layout on the dial, etc. However, the "Mark I" variants are certainly worth a look; more information on them can be found here. Price-wise, these watches can be had in good condition for $2,000 to $3,000. The first thing you'll notice with these watches is the Ervin Piquerez S.A. (EPSA) Super Compressor (SC) case, with its two chunky Saturn-stamped crowns and thick lugs. I would be remiss not to touch on the Enicar-EPSA connection for a moment here. While most collectors refer to any watch with two crowns as a SC watch, it was EPSA that actually patented the term, which, to very crudely explain it, is a case that becomes increasingly watertight the deeper underwater the watch goes. At its peak, EPSA was the largest watch case producer in the world with clients like Patek Philippe, Zenith, IWC, Longines, and many others, Enicar of course included, being their largest client. The top crown on the case bi-directionally rotates the 24-hour inner bezel, the bottom crown the hour and minute hands.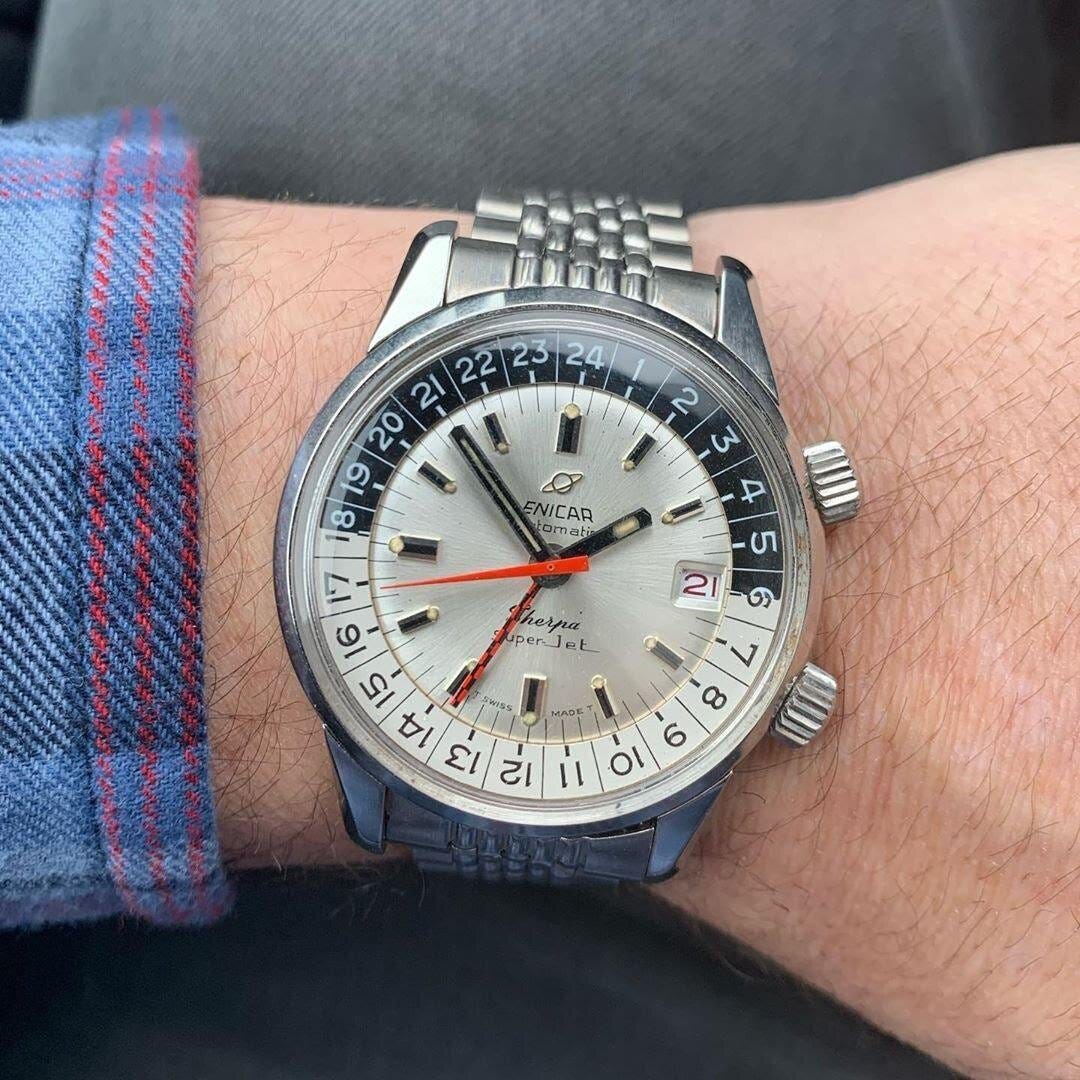 White dial, black/white bezel Mark II Sherpa Super Jet. Photo courtesy of @northshorechrono.
Let's talk about the inner bezel for a moment, as it's one of the archetypal features of these watches. They came in (mostly) either black and white, or black and yellow, the latter being my favorite for the added element of color it brings to the watch. Given the age of these watches now, you'll find many examples where the yellow section of the inner bezel has faded to a custard/cream hue – patination at its finest. To correspond with the 24-hour inner bezel, Enicar introduced a black and red checkered, racing style GMT hand on the Mark II version of these watches. The cool factor of this GMT hand speaks for itself and in my opinion, is the best-looking GMT hand ever made by any watch manufacturer. The Mark II Sherpa Jet/Sherpa Super Jets by and large all featured baton hour and minute hands with thin luminous stripes in the middle; earlier models featured lollipop seconds hands and later models red triangular seconds hands. Dial-wise, the Sherpa Jet/Sherpa Super Jet came in both black and white variants, with the white dial models being a bit rarer and more sought after by collectors nowadays. I didn't touch on every single aesthetic variation of these watches here, as some other case shapes, inner bezel color schemes, handsets, etc. were produced (another rabbit hole for another time), but in much lower numbers. 
These watches all featured tried-and-true Enicar ARXXX/ARXXXX in-house calibers with date complications. To touch on the quality of these movements, I recently purchased a 1970 Mark II Sherpa Jet that had never been serviced. Upon receiving the watch, I took it to my watchmaker for an overhaul. Despite the oil in the movement being dry, amongst other things you'd expect to see in an old, untouched watch movement, it was running to within five seconds per day, with no beat error and an acceptable amplitude. Funk and quality at a reasonable price point, can you beat it?
Enicar Big Eye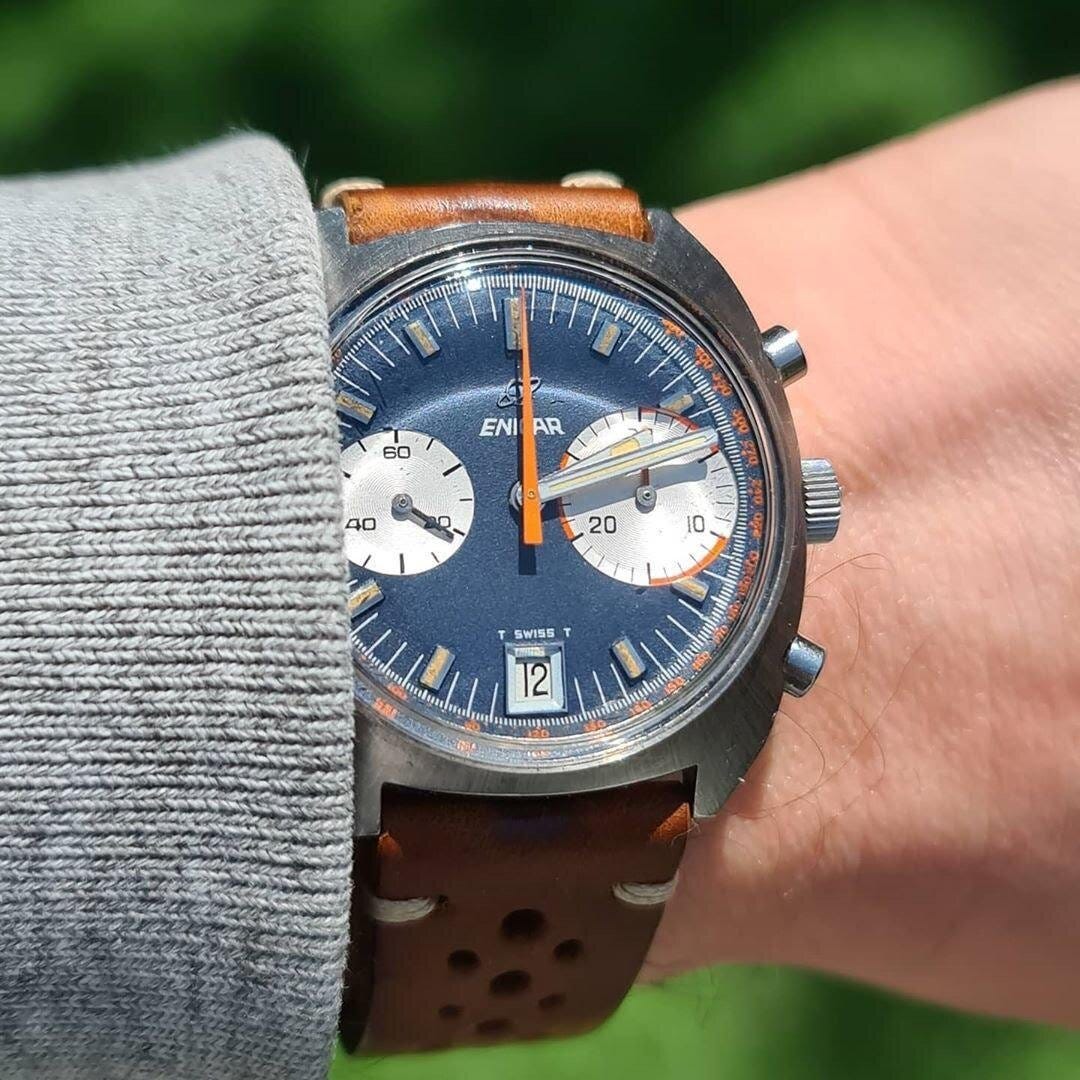 Blue Big Eye with brushed case finish. Photo courtesy of @enicar_forums.
So, we've discussed the Sherpa Date (time and date only watch) and Sherpa Jet/Sherpa Super Jet (GMT and date watch), I think we have to talk about a chronograph, right? My Enicar friends are going to flame me for not picking the Sherpa Guide (this is a shameless plug for it…it's not a chronograph, but it's still awesome…check it out), but let's get into my out-of-the-box choice: the Big Eye. Originally designed for race car drivers, the Big Eye is a two-register chronograph with one of the registers, the minutes counter, being oversized (hence the Big Eye name). This was done so that drivers could more easily track elapsed time during a race. The 38mm watch case is a cushion-style case, but with slight angled notches/edges at the four corner points – it wears beautifully on any wrist size, large or small. The case came in two different factory finishes – brushed and polished. My preference is for the brushed finish, but my personal Big Eye has a polished case and I adore it.      
Dial-wise, two variations were also produced – one in blue and one in white (aka the Albino Big Eye), the latter being a bit more difficult to find. All Big Eye watches have large tritium lume plots marking every hour, and touches of orange on the minutes counter and triangular chronograph hand, with the blue dial variant also having an orange tachymeter (versus black on the Albino). The orange plays well with both the blue and white dial variants creating that Enicar funk I've mentioned a few times in this article. The hour and minute hands are baton style, similar to those on the Mark II Sherpa Jet/Sherpa Super Jet. At six o'clock there is a square date window adding some symmetry to the dial opposite the applied Enicar Saturn logo at the top. Like all Enicar chronographs, the Big Eye is equipped with a Valjoux column wheel movement – in particular the celebrated Valjoux 234. It is the hand-winding, higher-beat replacement for the Valjoux 23. My aforementioned watchmaker just serviced my Big Eye about a month ago; he was raving about the quality and precision of this particular Valjoux movement. In terms of price, Big Eyes are quite findable and can be had at around the $3,000 mark.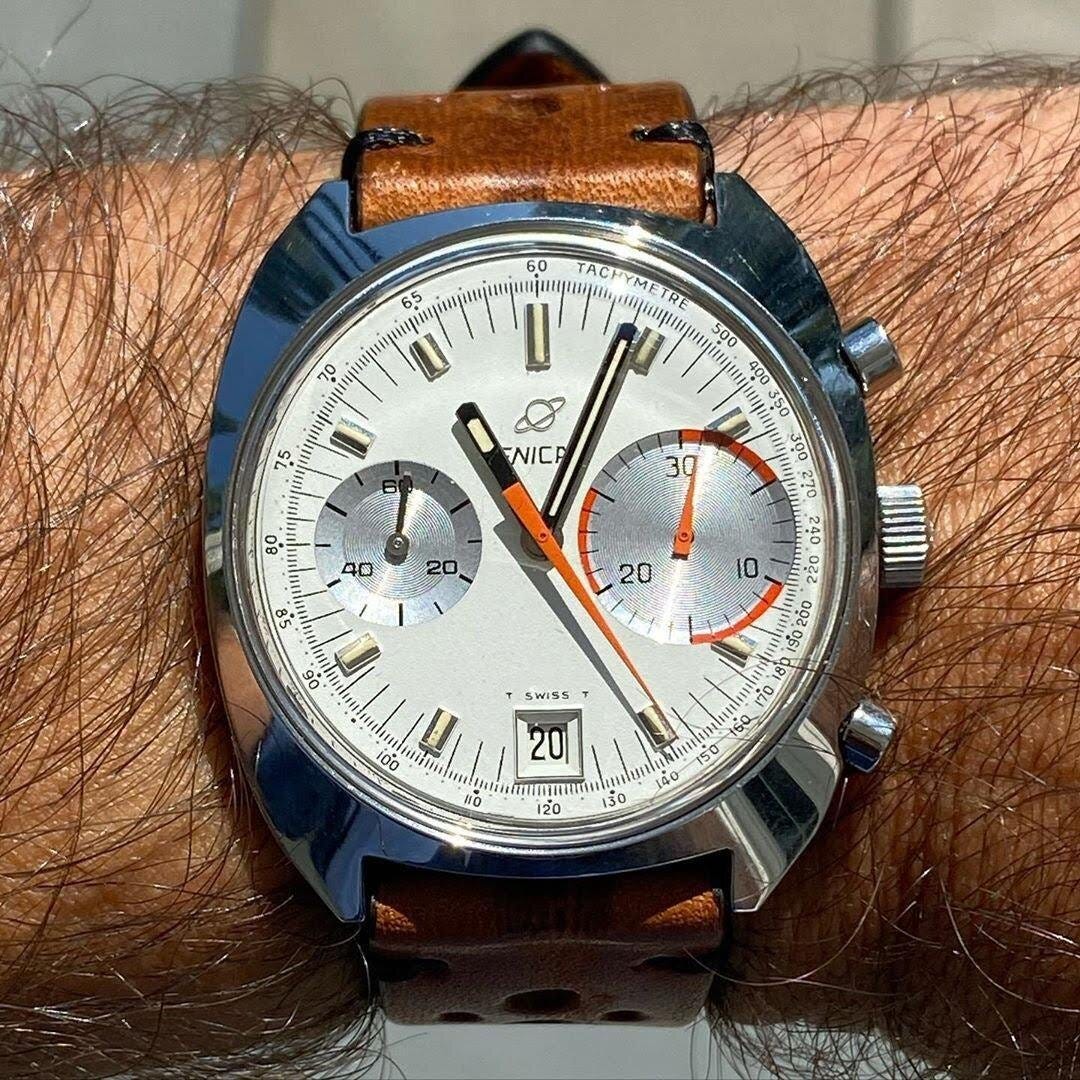 Albino Big Eye with polished case finish. Photo courtesy of @ctwatchguy.
Parting Thoughts
This article is just the tip of a large iceberg in terms of what to explore first if you are Eni-curious. Truthfully, you can't go wrong if you are buying honest examples that fit your personal preferences. While Enicar scholarship is not as developed as say, Rolex, Omega, or other brands, it's rapidly increasing. However, there are unfortunately still bad actors out there piecing together watches, re-painting dials, messing with movements, etc. As the famous saying goes, buy the seller; and if you're still not sure, the Enicar collecting community is as helpful and friendly as they come – reach out and we'll be happy to (Sherpa) guide you as best we can. Until then, as us Enicar nerds say…viva Enicar!
---
From Hodinkee:
One of the biggest before-and-after moments in contemporary horology was the introduction of the A. Lange & Söhne Datograph, which launched in 1999, during a time when there were very few developments taking place in the evolution of chronograph movements. The Datograph instantly raised the bar for in-house, high-end chronograph movements, and while, since then, in-house haute horlogerie chronographs have increased in number, the Datograph is still considered a standard against which other chronographs can be judged.
When writing about a new era of neo-vintage collectibility, I hypothesized that sometimes it takes a generation for tastemakers to recognize the truly important and classic watches from the era prior. Now that we're 20 years out from the turn of the century, it might be time to start looking back at that generation of transitional and neo-vintage watches.
Listen, everyone kind of knew the Dato was a big deal when it came out back in '99 (I think; I was learning how to read and Backstreet Boys' Millenium came out around the same time so I busy and missed Basel that year), but with F.P. Journe and the like sucking up all the attention over the past few months, this is a reminder that A. Lange has been building some pretty damn good — and revolutionary — watches for 20+ years now. The Datograph featured Lange's in-house flyback chronograph caliber L951.1. It was an in-house chronograph caliber when brands like Patek, Audemars Piguet and others were unashamed to use ebauches.
It's fascinating to hear about the development of the caliber L951.1 from its constructor, Annegret Fleischer:
The main problem in creating the L951.1, according to Lange, was that the sub-registers placement had been established in terms of design, which meant the movement had to be organized around their placement. Annegret Fleischer remarked, "It was one of the many challenges we were faced with. The difficulty was that the axes carrying the hands of the small seconds and the minute counter had to be arranged very close to the units disc of the outsize date, which left less room for the chronograph mechanism. The idea to arrange the outsize date and the two sub-dials in a way that they form an equilateral triangle … was developed first before I had to find the solution to fit in the mechanisms."

In a standard chronograph mechanism, the minutes counter will start to move just before a minute elapses, and when it does elapse, snap into place. In the L951.1, however, the chronograph minute hand doesn't move until the exact instant a minute elapses. This is thanks to a snail cam attached to the chronograph minute hand that's activated by a jewel-tipped lever which pushes the minute counter forward at the exact moment it passes zero.
---
Through the Wire
🙆‍♂️ A collector's guide to the Patek Philippe Nautilus 3800. I'm a big proponent of what have come to be called "mid-size" watches: down-sized versions of classics like the Royal Oak, Tudor Submariner, etc. A Collected Man's next in-depth piece features the Patek Nautilus reference 3800, the slightly more diminutive brother to the classic 3700 (37.5mm diameter compared to 42mm).
🌹 Someone buy this Tudor Oyster Ref. 7934. I love little vintage Tudor Oysters, and this is one of the best I've seen in a while: the silver dial has a unique circular brushing, the lume is a delicious pumpkin, and it's even got its original sticker on the case back. On top of that, it's an "underline" dial, which Rolex used to signify the transitioning from radium to tritium luminous material.
🤦‍♀️ WSJ on whether you should wear a watch if there's no one to impress. So The Journal reliably pulls out this tired trope every August or so. Listen, I get it: people are on vacation, and you've still got pages to fill. But this passage is like nails on a chalkboard:
Now is not the time to flaunt your flashy watch. This year, we've had to navigate work-from-home policies and stay-at-home orders, and no matter where you stand in the "to dress up or not while locked in your apartment" debate, it doesn't make sense to don your finest timepiece when there's nobody to wow. It makes typing on a laptop trickier. It doesn't go with your Lululemon shorts. And if you venture outside, people are more likely to notice your mask than what's on your wrist.
See also Your Watch Says More about You Than You Think
💧 Collecting Francois Borgel cases. A dealer is featuring a collection of cases from Francois Borgel this month. The casemaker, best known for making waterproof cases for the likes of Patek Philippe and other giants, supplied cases to dozens of other watchmakers during the middle of the century. This collection focuses on examples from lesser-known brands, and it's cool to see a variety of FB-supplied cases in one location.
🎸 Paul McCartney's interview with GQ UK is a reminder that he's still the biggest rockstar on the planet (well, or Dolly Parton):
You've said in the past that you've occasionally dreamed about John Lennon. When was the last time?

I don't keep count, really, but it was probably about a month ago. The thing is, if you're a performer, or me as a performer, I find that dreams are often related to a gig or getting ready for a gig or being in a recording studio and I think a lot of performers are like that. So, often, John or George will be in there. And the good thing is you don't really think anything of it, it's just normal, like, "Oh, yeah?" and you're just chatting away, talking about what we're going to do, as in making a record or something. So he's often there, I'm glad to say... And it's normally very pleasant, you know? I love those boys.
And the Beatles were "pretty bad at the beginning":
But the idea that all these quite random people in Liverpool should come together and actually be able to make it work? I mean... the thing is, we were pretty bad at the beginning. But with all the time we had in Hamburg, we just got good [through practising]. We became good.
He also mentions the band's legendary rooftop concert on Savile Row, which is still probably the best 22 minutes of video on the entire internet.
In Chicago: "I've been in many demonstrations all across the South, but I can say that I have never seen, even in Mississippi and Alabama, mobs as hostile and as hate-filled as I'm seeing in Chicago." — Martin Luther King Jr. (1966).
—
Rescapement is a weekly newsletter about watches. If you enjoyed this edition, consider forwarding it to a friend. For all the latest, head to rescapement.com.