Discover more from Rescapement
Updates on my Hodinkee writing; b-sides and behind-the-scenes; unpolished personal musings; recs and other unsolicited advice.
Skywalker and Red Submariners: Watches of Knightsbridge Auction
Brando's GMT-Master and the celebrification of everything
Feature
Watches of Knightsbridge Summer Auction Preview
Sure, Watches of Knightsbridge has its monthly online auctions, which often have some nice watches in their own right. But a few times a year, they offer a larger platform, hosting a live auction in their native London. The next live auction is July 20's Fine, Rare, and Collectible Timepieces. There are three Rolex Submariners on the catalog cover, which might hint at the general theme of this auction. Let's take a look at a few of the best watches up for auction.
A Submariner Reference 1680 "Mark I" Dial
Production of Red Submariners dates to 1969, and this example can be dated to 1970. By 1973, Rolex phase out the red "Submariner" writing for white font. The Reference 1680 was the first Submariner to feature a date window, meaning the movement inside was a new Caliber 1575, which was essentially the same as the preceding Caliber 1570, but with the addition of a date function.
Collectors love the Reference 1680 because seven different dial variations can be found, denoted as Marks I to VIII (Marks II and III are classified together because of their similarities). Mark I Red Submariners are the most rare, and that's what Watches of Knightsbridge has here.
A Mark I dial is defined by "Meters First" lettering at 6 o'clock (under the red "Submariner"), elongated and closed 6s, a long and curvy "F" in "ft", and a distinctive condensed font for the "SCOC". IN Mark II and III dials, the 6s will be open, and by Mark IV dials, Rolex switched to "Feet First" (photo in the full preview, link below).
This is one of the "cover watches" for the auction, and with good reason. It's a gateway into vintage Rolex collecting. For slightly more affordable Submariners, there are a number of Reference 5513s up for auction as well (here and here, for example).
Lot 158 estimate £30,000 to £35,000
Tudor Ranger Reference 7996
I've been deep into vintage Tudor Rangers lately (article forthcoming), so was excited to see one in this auction. This one is a rare "Rose Ranger" Reference 7996. The Ranger is Tudor's answer to the Rolex Explorer (specifically Reference 1016), though it's extremely difficult to find correct examples, and eBay is a minefield of fakes, frankens, and of course, "Red Rangers" (just don't).
The serial number dates this example to 1966, a couple years before Tudor started switching over to its modern shield logo. The Reference 7996 is the date version of the 7995, which Tudor used as the inspiration for the modern Heritage Ranger, released in 2014. Inside ticks an ETA caliber 2484, signed "Tudor Auto-Prince" on the rotor. Many fake Tudor Rangers will also have an hour hand with a shorter arrow than this example, which is longer and narrower.
Lot 136 estimate: £2,000 to £2,600
IWC Ingenieur SL 'Jumbo'
With all the Nautilus and Royal Oak hype, the poor IWC Ingenieur Jumbo seems to have been left for dead. Like the former two, the Ingenieur is a Gerald Genta design, integrated bracelet, stainless steel sports watch. This Reference 1832, dating to 1980, is one of only 543 pieces of the reference known to have been produced.
IWC, along with Rolex, Omega, and Patek, saw the need to produce anti-magnetic watches for engineers and scientists in the 1950s. Hence the original birth of the Ingenieur (alongside the Milgauss, Railmaster, and Patek Reference 3417). But the Ingenieur had become pretty staid (and pointless, with the dawn of quartz) by the 1970s, so IWC brought in Genta, the legendary designer, to breath new life into the model. He designed this Ingenieur "SL" (or "Steel Line") for IWC (along with two other SL models which never made it to market). Like Genta's other designs, the Ingenieur had a sandwich case, but this one screwed the bezel and the crystal into place with those screws around the bezel.
The thing measures in at 40mm by 14mm in thickness, apparently aiming to usher in an era of larger watches and inspiring Hublot in every way. The watch pretty much flopped once released, hence why they're now so hard to find.
Lot 48 estimate: £10,000 to £12,000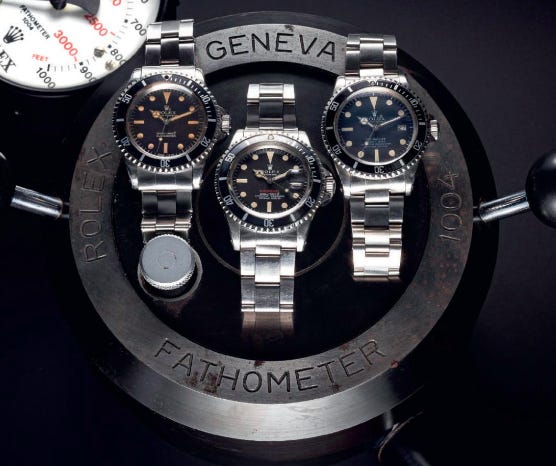 ---
Other News
Marlon Brando, the Moonwatch, and the Celebrification of Everything
🌅 The Marlon Brando GMT-Master from Apocalypse Now.
By now, you may have heard that the bezel-less Rolex GMT-Master that Marlon Brando wore in Apocalypse Now will be offered at Phillips' December 2019 "Game Changers" auction. Brando wore the Reference 1675 in Francis Ford Coppola's cinematic achievement, released in 1979. In a vintage market where condition and provenance are everything, a watch from one of the greatest actors of the 20th Century that's stayed in the family since is about as good as it gets.
As the story goes, Brando wore the watch to the set of Apocalypse Now and was told that he had to remove the bezel during filming because it would stand out, to which the actor responded "If they're looking at my watch, then I'm not doing my job as an actor." He said that the filmmakers let him wear the watch, but he removed the bezel.
Brando kept the watch until 1995, when he gifted it to his daughter Petra before she went to law school (parents, where's my GMT-Master?). Petra gifted the watch to her husband on their wedding night in 2003, who says he's never worn it (wife, where's my GMT-Master?).
In addition to removing the bezel, Brando also engraved the caseback himself, adding even more character to the unique GMT-Master. It's shaping up to be a big December auction for Phillips, as it will also feature Jack Nicklaus's Rolex Day-Date.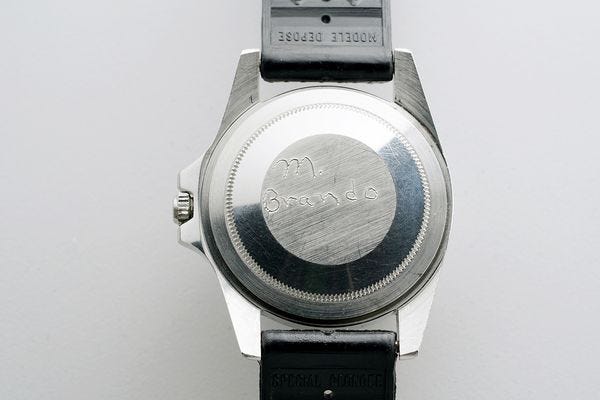 On July 20-21, 2019, three dudes with Omega Speedmasters strapped to their wrist, forever immortalizing it as the "Moonwatch." The only thing better than having a celebrity wearing your watch (see Brando, above) is having a watch that went to the fucking moon. Look, we love watches for their connection to history, culture, whatever. But isn't the glorification of celebrity-worn watches a little tiresome at this point? Like, would it be so bad if you, the collector, had an original thought for once? Remember the unique Reference 6238 Daytona I featured last week, worn by one-time James Bond actor George Lazenby? Sure, it's a cool watch, but should we really care that some shitty Bond actor wore it in one Bond film?
Anyway, Monochrome has a nice history of the Omega Speedmaster starting with the pre-professional days.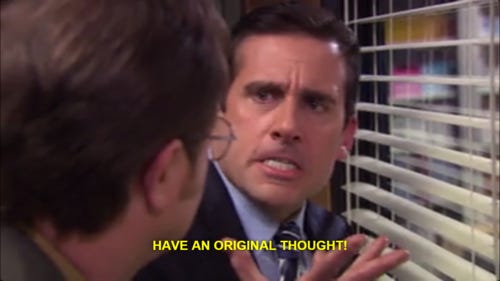 ---
Sales Corner
The Best Watches from Fortuna's No-Reserve Auction
On Tuesday, July 9, Fortuna Auction hosted a "No-Reserve Watches" Auction, featuring 106 lots. Often, we preview auctions, but don't take enough time to survey the results. So let's take a look at some of the watches that found new homes last week.
Patek Phillipe Calatrava Reference 96 in Steel.
First, doesn't the photo above illustrate why we always take photos of watches at 10:10? There's something about this watch being set to 3 o'clock that looks off. Anyway, this is a baby watch from 1944, measuring just 30mm in diameter.
Patek Philippe first introduced the Reference 96 in 1932 and it was in production until the early 1970s. The model was also the first to introduce number references to Patek's collection. Being a child of the 30s, the Reference 96 was inspired by the minimalist Bauhaus aesthetic of the day, though this particular example does add some flourish with Bregeut-style numerals on the dial.
The reference 96 came in many variations throughout its 40-year production. This particular example dates to 1944, and the syringe hands do give it a sportier, military-style feel than some other Reference 96 examples. Inside ticks Patek's manual wind caliber 12-120.
Lot 106 price: $6,875
As I began writing about this Monaco, I almost forgot that Hodinkee's Bring A Loupe featured it a few weeks ago. Being featured there no doubt helped this watch surpass its estimate ($5,000 to $10,000), selling for $11,250. And with everyone going crazy for the 50th anniversary of the Monaco, this watch is having something of a moment right now. As Hodinkee wrote, this particular example is slightly "less loud" than the iconic Steve McQueen colorway, though it's not entirely possible for an architectural behemoth like this to shrink into the background. Nor do I think you'd want it to if this is your wristwatch of choice for the day. Regardless, with all the hype around modern and 50th anniversary editions, it's nice to see a classic example like this get the attention it deserves and sell for a hefty sum.
Lot 30 price: $11,250
---
Ticks & Tocks
🏎 The new Dan Henry 1962 Racing Chronograph ($260!). 🤔 Mounting a balance wheel and bridge (video). 📰 We're at peak newsletter (please don't unsub). 👙 GQ takes a look at how the Rolex Submariner became an icon. ♣️ A blacked-out Daytona from MAD Paris. 🎾 Roger Federer as Religious Experience (David Foster Wallace, 2006 — yes, I know he lost). 📅 When can I reuse this year's calendar? 🤵The startup reinventing how men shop for wedding bands (WSJ). 🐮 Survey says: This is the best fast food chain (CNBC).
In Chicago: Chance the Snapper lives!
Thanks for reading!
-Tony
Questions/comments/tips? Just respond to this email (and please tap the heart above to like it!).
Meme of the Week: