Discover more from Rescapement
Updates on my Hodinkee writing; b-sides and behind-the-scenes; unpolished personal musings; recs and other unsolicited advice.
Shut Up and Seiko
The Texas Timex; pulsation chronographs; Pikachu and watches
Taking it a bit easy this weekend, so an exaltation of the Seiko SARB033 and SARB035. There was a forum thread this week, something to the effect of "is watch collecting still fun?" I assume the answer for you is strongly in the affirmative, otherwise you wouldn't be here. But, spend too much time with anything, and it's easy to feel jaded or burnt out. Watches are meant as an escape, not as trading one exhausting news cycle for another. To me, the SARB is about as pure as it gets. It's not like, "collectible", it's just a watch — if you can appreciate a SARB, you can appreciate anything. And thank god for that.
---
This isn't a review as much as it's an exaltation. The Seiko SARB033 and SARB035 are great watches — modern classics, as they say. Every time an example is posted on the watch exchange subreddit (r/watchexchange), it sells faster than a Hodinkee limited edition with a blue dial.
To be sure, there's nothing particularly special about the Seiko SARB033 or SARB035. Sure, they sell quickly, but a handful of examples come and go every week. And still, while prices have risen since the SARB line was officially discontinued by Seiko, they've not risen terribly so. The Seiko SARB033 (black dial) and SARB035 (white dial) are about as perfect a watch as you can get for a few hundred bucks: reliable Seiko 6R15 automatic caliber, 38mm stainless steel case, 100m of water resistance and subtle applications of lume on the hands and indices. It's a stripped-down, $400 version of a Grand Seiko, Rolex Explorer, Tudor Black Bay 36, IWC Mark XVIII, Rolex Oyster Perpetual 39, or whatever other "luxury" watch you just scrolled past in your Instagram feed.
Of course, the enthusiasm for the SARB series is not without reason. The specs are basically perfect, perhaps the purest expression of a watch. It's parred-down, Japanese minimalism and engineering combined to deliver a perfect product. It's sporty elegance, or elegant sportiness, depending on your mood.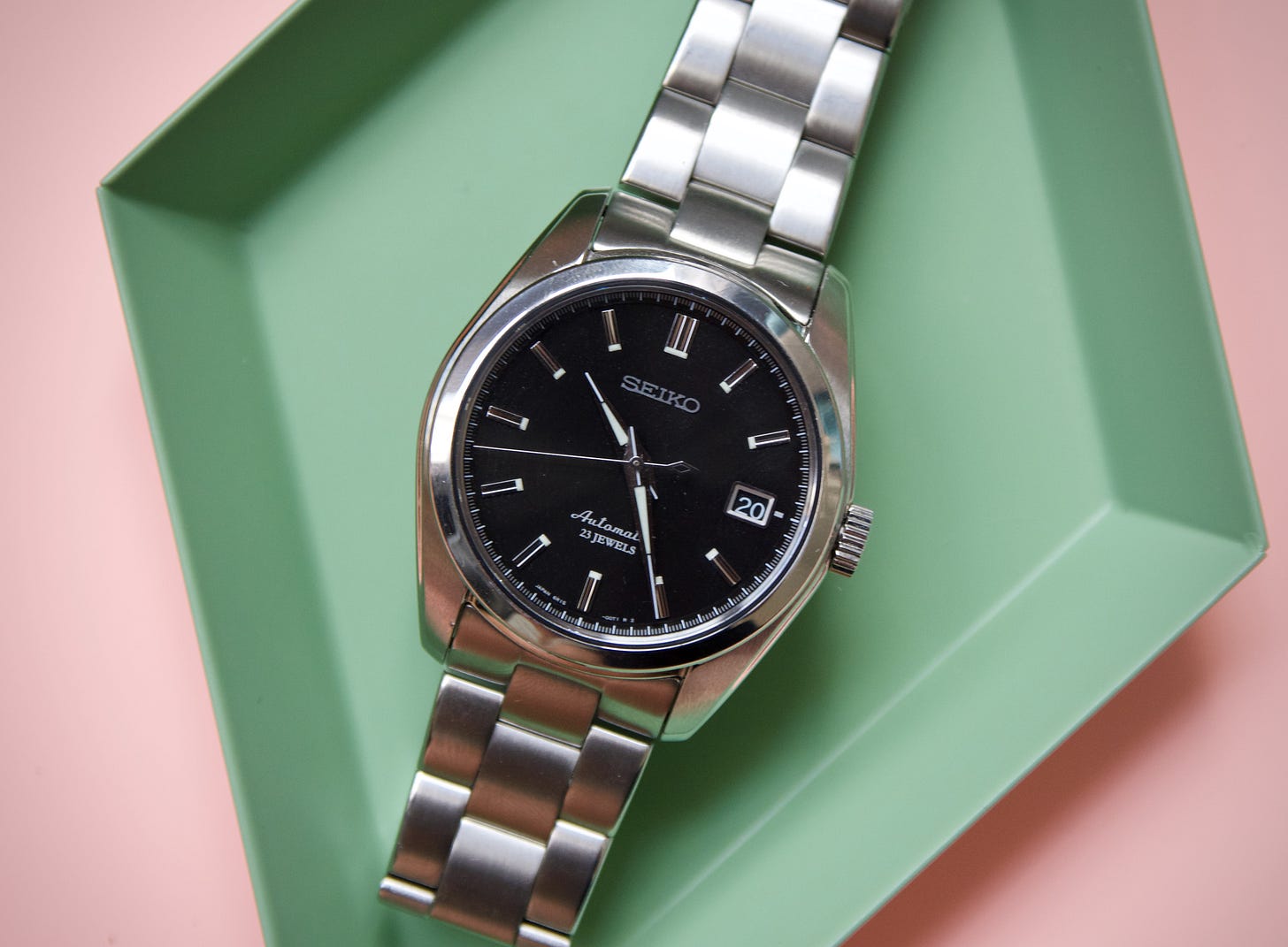 The Toyota Camry of watches
Listen, everyone likes to shit on the Toyota Camry (btfo, Drake). It's kind of like shitting on Cheesecake Factory or Disney World (why you gotta fight with me at Cheesecake?). Honestly, if you can't just sit down, shut up and enjoy 2,160 calories of pasta on a plate, then you can drop the Buffalo Blasts® and leave. Take your pretentiousness and Mille with you. Sure, there's a time and a place for truffle explosions and foam whatever, but let's not forget that cheese whiz is the original foam. Likewise, there's a reason a Camry is a Camry. Just shut up and drive.
The SARB033 and SARB035 are like the Toyota Camry of watches, but in an industry that has supposedly passed them by for smarter, quartz-ier watches. The SARB is an anachronism, from the "Automatic" script on the dial down to the reliably ticking automatic caliber inside. And that's what makes it so fun.
It's a watch you just wear and don't think about — 200,000 miles and a couple oil changes later, it'll still be reliably ticking on your wrist. Bang it around, drive the kids to soccer practice, and don't worry that something might happen to it (by the way, with a rock-solid Seiko caliber inside and a freaking sapphire crystal, nothing will happen to it).
SARB033 and 035: Just wear it
So how do the Seiko SARB033 and 035 wear? Well, like a watch. The SARB is perhaps the ultimate-don't-think-just-do mechanical watch. Clip on the bracelet or throw it on a strap, and you're good to go. There's a date window if you need it, but who's got time to set the date? At about 11mm thick and with a sapphire case back, it sits a bit tall on the wrist, but that's just to remind you it's there, and that hey, you're a badass for wearing a mechanical watch in 2020 A.D. Every example I've had has seemed to tick more reliably than Seiko's reported +25/-15 seconds per day — the spec sheet is just as humble as the watch itself!
There's surprisingly strong lume that gives the watch a certain sportiness; otherwise, it's elegant enough to earn its "Baby Grand Seiko" nickname. The finishing — as much as you can seriously use that word on a Camry — is top-notch: surfaces are polished, the case and bracelet are rock solid. The black dial is as deep a black as I've seen — it seems to suck up all the light in photographs, making it a difficult capture. The white dial is actually more of a cream that gives the watch just a tinge of a warm, vintage feel.
The design is completely unmoored from time: it just as easily could have been conceived in 1980 or 2020 as in 2040. Okay, I don't know what 2040 will be like, but I know — even in the post-apocalyptic scenario we're barreling towards — people will be wearing Seikos.
As always, some will find complaints. They usually center around the bracelet: it's uncomfortable, there are only two micro-adjustments (the horror!), it's trying too hard to be an Oyster bracelet. Nonsense. If you don't like it, swap it out. Like Tiger and a Perkins waitress, the Seiko SARB never met a strap it didn't like.
Space Mountain and a SARB
There's something pure about the enthusiast community enjoying watches that just are. At just a few hundred bucks, there's not a ton of money to be made by dealers trying to flip SARBs, so they largely steer clear. A dealer might come along and try to list one at 2x the going forum price, but they do so at their own peril. The forum mob is quick to attack and slow to forgive.
Instead, enthusiasts take to selling the SARB to other enthusiasts: often, a for sale post on Reddit is accompanied with a note to the effect of "this was my first 'real' watch, and I'm selling to make room for other watches. Not trying to make money, just want it to go to a good home." Is there anything more pure than that? If you wear one to a watch meetup, expect daps and hugs. And if some douche bag in the corner won't swap wrists with you because he's trying to flip his Rolex GMT "Batgirl" in two months and doesn't want you to scratch the clasp — know that he's the asshole, not you.
So shut up, strap on your Seiko SARB033, hop in the Camry and let's take a road trip to Disney World. Because in 2020, we all just need something to rely on.
---
A dispatch from 1984:
In 1965 President Lyndon Johnson had a gallbladder operation and made wristwatch history. In a notorious press conference after his surgery, the president pointed to the scar on his belly, and there on his wrist, turned toward all the cameras, was the watch: an eighteen-karat-gold Rolex. The timepiece had a profound effect on every Texan who had ever dreamed of success. Few could reach the White House, of course, but for $1500 in 1965 many could buy the president's watch. Its official name is the Day-Date Oyster Perpetual Chronometer with the eighteen-karat-gold President bracelet. But it is known here as the Rolex President, the Texas Timex.
The only thing LBJ liked more than his Jumbo was his Rolex Day-Date. Rolex USA ventured into Texas in 1945, first selling through Linz Brothers in Dallas. By 1950, Linz sold more Rolexes than any other dealer in North America. "Let California and New York pass the time with dainty, wafer-thin cocktail watches. Texas wants a ticker with guts—more Rolexes are sold here than in any other state and most European countries."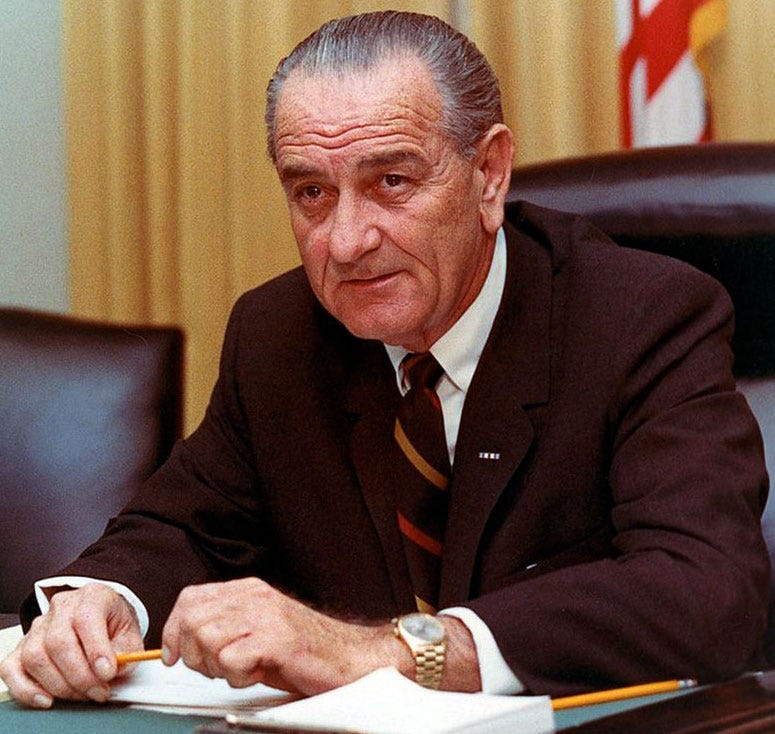 ---
Some pieces of writing are too good to be adequately summarized in a couple hundred words and just need to be enjoyed in full. Such is the case this week with Dr. Andrew Hantel's (aka t_swiss_t) in-depth history of the pulsation-dial chronograph. In 1816, Louis Moinet built the first timepiece that could track elapsed time (what we now think of as a chronograph). Dr. Hantel writes:
After reading Moinet's story, I realised that my own attention had been misplaced. I had focused on the beauty of chronographs and their illustrious history, neglecting the why and the how of the scale built for my profession: the pulsometer. The more I read of its history, the more I came to appreciate how intertwined medicine and timekeeping have been – and continue to be.
Dr. Hantel proceeds to take us on a historical horological journey: from ancient China and Greece, to Gailelo's contributions, to early 20th Century "doctor's watches", up to the golden age of mid-century chronographs and modern smartwatches. It's a truly well-researched piece, and since the author is a medical doctor, has a beautiful personal connection that shines throughout. He concludes:
I actually finished this article in quarantine after having cared for several COVID-positive patients with cancer. Each day working in the hospital, my resident physicians and I became increasingly aware of the importance of the masks, goggles, gowns, and gloves we wore to limit our chances of spreading this devastating infection to ourselves and our other patients. While we'll never know for certain that this mask or that thermometer prevented the spread of an infection, we all recognized that our care was only as good as the tools we had available.

In researching the pulsations chronograph, I've come to look past its vertical clutch and côtes de genève and appreciate that these tools carried as much significance to the bygone physician as my modern-day equipment has just carried for me.
---
"I do think it's important not to be a mile wide and an inch deep, because it really becomes difficult to learn about watches when you're spreading too far," says [Crown & Caliber CEO Hamilton] Powell. Finding an area of interest to pursue is vital to forming a coherent watch collection, because learning will inform the type of pieces you chase. Once you've fallen in love with a certain genre, the watches on your wishlist will grow exponentially. If you love divers, you may find yourself longing for Zodiac's unique and brightly colored Sea Wolf, or entranced by Panerai's partnership with the Royal Italian Navy. Maybe you are treating Submariners like Pokemon—trying to catch 'em all.
Everyone had their Pokemon version: mine was Yellow, the one where Pikachu follows you around like an annoying Instagram ad for the best at-home pottery kit (it was one Google search, okay!). Pikachu is kind of like your first watch — no matter where your collecting goes, you never really forget what got you started in the first place. See SARB, Seiko, supra.
---
Through the Wire
Cancelled: Bonham's Seiko-Only Online Auction. Early this week, Bonhams sent out a press release announcing what purported to be the first "Seiko only" auction. Once the catalog was released, some were quick to notice problems with many of the lots: aftermarket parts, frankenwatches, etc. The Fratello article linked nicely summarizes the situation. After the shit storm, Bonhams cancelled the auction. Listen, Seiko has been so under-represented in auction catalogs, it seems like everyone got a little over their skis when they saw a Seiko-dedicated auction. It would've been great for the community, but selling a bunch of Franken-Seikos would've been equally bad, so at least Bonhams did the right thing by pulling the auction instead of stubbornly moving forward with the sale. If you need some Seiko, Fratello's in-depth video on vintage Seiko divers is a worthwhile watch.
Hello, Goodbye. I've started using Hey, the new email service from Basecamp (and CEO Jason Fried, noted watch collector), and it's a total game-changer. 👋 Gmail. A number of great writers have come to Substack over the past few weeks — A Continuous Lean and David Coggins come to mind — and it's exciting to see the apps (Hey, Feedbin, etc.) that are being developed in parallel to support what really seems like a new era of blogging.
🇬🇧 The daring creations of Cartier London. ⛑ 10 important watches from WWII. 🤑 If Kevin O'Leary makes a watch video and doesn't refer to his collezione, did it even happen? (But seriously, it's cool to see he's got a Ming next to a bunch of more expensive watches from the big brands.)
In the Air Tonight: "I ain't never seen anyone wait 3 minutes to drop a beat!"
Meme of the Week:
The for sale post for a Pottery Barn clock that's the best Hodinkee parody I've ever seen:
What the One-Year Travel Clock means to Pottery Barn

At its core, the Pottery Barn One-Year Travel Clock is a quartz clock with a one-year power reserve and alarm complication. The clock is inconvenient to travel with, and its dimensions (dimensions) allow it to replace your cell phone in your pocket or replace an outfit you wanted to bring with you. While the purpose of these clocks have not changed from being boites de charge (boxes of burden), we think the modern collector can appreciate these pieces and jeu de role (roleplay) to experience the same pains of the early traveler.
—
Rescapement is a weekly newsletter about watches. If you enjoyed this edition, consider forwarding it to a friend. For all the latest, head to rescapement.com.