Discover more from Rescapement
Updates on my Hodinkee writing; b-sides and behind-the-scenes; unpolished personal musings; recs and other unsolicited advice.
Shopping in NYC: Watches of Switzerland and Analog Shift, Get it Together
A new microbrand showcase is coming to Chicago
News
No "feature" this week, just dispatches from the streets of NYC and Chicago.
Based on a watch originally released in 1979, Timex first re-introduced the Q earlier this year to widespread applause. The watch quickly sold out, and enthusiasts had been eagerly awaiting a re-stock to get their hands on the rotating Pepsi-bezel, quartz-powered, $179 watch. Well, the day came and went, as Timex re-stocked the watch on Friday, but quickly sold out again in just a couple hours.
Update: For those who missed it, the Timex Q will be back in stock again on September 17.
---
I sold a watch for you guys
Watches of Switzerland and Analog Shift: Get it Together
I was in New York City this weekend; not for the RedBar International Meetup, but for non-watch reasons. Of course, I still had to get some watch shopping in. I was excited to visit the new Watches of Switzerland locations in both Hudson Yards and in Soho. These locations are unique because Watches of Switzerland has partnered with Analog Shift to present a few of A/S's vintage offerings in stores. It's not often you can just walk into a retail store and see some truly rare and desirable vintage pieces in the metal (and Analog Shift typically has a nice collection of watches on its site).
As a side note, let me take a moment to applaud the Watches of Switzerland retail experience: often, watch boutiques are intimating or have an aura of exclusivity that scares passerby from even walking in the store. Having walked through a few Watches of Switzerland locations in both London and New York over the past month, this is decidedly not the vibe they've created (heck, the two New York locations even have a bar, and people were actually drinking there).
Anyway, when I walked into the Hudson Yards location, I walked straight to the case of vintage watches, excited to talk watches with the sales representative for a few minutes. The case had two Rolex Submariners inside (here and here). Both are in excellent condition — the bezel of the first Submariner has ghosted more than the photos let on, and the gilt dial looks extremely rich in person.
As something of a test, I suppose, I asked the sales rep if she knew the reference numbers of the two Submariners (am I dick for asking a question I knew the answer to? Of course). Nothing but blank stares back.
Listen, I don't expect any sales rep to know the nuances of vintage Rolex, or event vintage Submariners, but it would've been nice for her to have even a little knowledge. Especially here, when the first piece is a Reference 5513 Submariner, which, with its thirty-year production run, is one of the most iconic Submariners of all time. It's a watch with history dripping off every bezel tooth; tell me that James Bond wore this watch. Something! Or, since this example on display was a rare, early production gilt-dial version, tell me how uncommon these are, and why you're charging a handsome multiple of a typical Ref. 5513. Distraught and concerned for the state of vintage watches, I left.
I eventually headed down to the Watches of Switzerland in Soho. I immediately fell in love with an Omega Ranchero on display. This watch is one of my (and other collectors') favorite vintage oddities from Omega. After Omega released its famed trilogy of watches in 1957 — the Railmaster, Seamaster, and Speedmaster — all targeted at specific professionals, it decided it needed an entry-level, sporty, do-it-all watch to appeal to the masses. Enter the Ranchero.
On the success of its trio of professional watches, Omega released the Ranchero in 1958. It's a modest 35mm in diameter, featuring Omega's hand-wound caliber 267 inside, making for a thinner case profile (this caliber is also the reason for the "30mm" on the dial). But, "Ranchero" literally translates to "ranch hand" in Spanish, so, in addition to cultural sensitivities around the use of the term, it turns out customers didn't want their watch to imply they were of a different social class. Omega ended up selling the watch for just two years. So, if you know anything about vintage watch collecting, you know this story sets the stage for a watch that's quite rare and valuable today.
Back to Watches of Switzerland. Not only was I smitten by the Ranchero, but another couple was as well. However, they were curious why the Ranchero cost $9,000, while another Omega Seamster they'd seen was just $1,600. "It's a nice watch," the sales rep simply replied. That's it? I had to interject. I took a moment to explain the story and rarity of the Ranchero, and why this naive sales rep was demanding 5 times the price of some other vintage Seamaster.
The couple enjoyed the brief history; so much in fact, that if you looked at that link to the Ranchero above, you'll notice it's sold. That's right, I sold a watch for you, Watches of Switzerland, and Analog Shift. You're welcome.
In the past, I've wondered where all the vintage watch startups are. My experience at Watches of Switzerland confirms what vintage enthusiasts already know: these watches mean almost nothing without context. The stories that place these watches in history need to be told so that others can appreciate their history, rarity and value. Sure, Analog Shift is invested in selling these watches, but is it invested in telling the stories necessary to truly pass these heirlooms down to another generation? I didn't get that impression this weekend.
By the way, I also saw some young rich kid that looked like he walked straight out of a page of Hypebeast and into the boutique, basically yell at a sales rep, and point at this Audemars Piguet Royal Oak in the case. He proceeded to buy it, almost without trying it on his wrist. If that's not an appreciation for the craft, I don't know what is.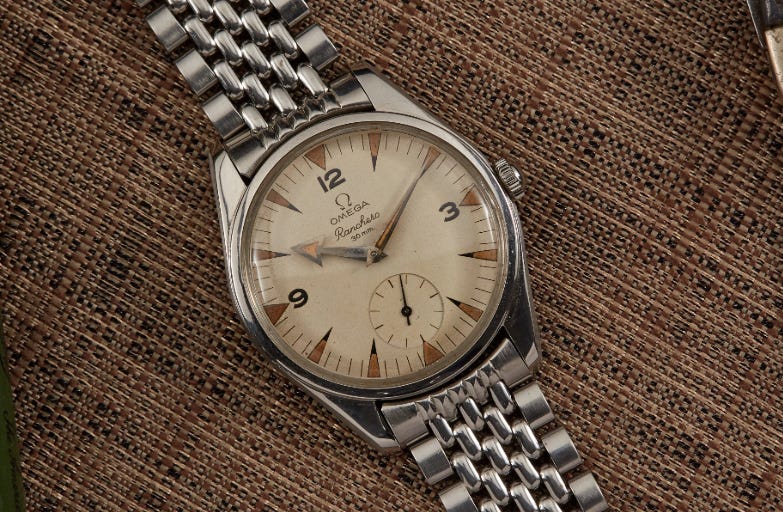 ---
Sales Corner
An 'Evil Nina' and a Previously Auctioned Calatrava from Analog Shift
In an effort to help sell even more pieces for Watches of Switzerland and Analog Shift, here are a few more watches I saw in New York.
Patek Phillipe Calatrava Reference 2431
I immediately fell in love with this funky Calatrava. Don't let the flame lugs scare you, they're much more subtle in person. The gold dauphine hands are sharp and stand nicely in contrast to the aged silver dial.
I'm pretty sure this is the same example that sold at Sotheby's in 2014 for CHF $31,250 (at least, the production date is the exact same — October 13, 1948). The watch is an example of Patek at its avant-garde best, with the manual wind movement inside giving the case a slim profile. Compared to that Sotheby's sale, the price here is a steal. Analog Shift is asking $25,000.
Universal Geneve 'Evil Nina' Compax
Like my experiences above, I was disappointed when the sales rep couldn't tell me more about this famous 'Evil Nina', on display at Watches of Switzerland Hudson Yards. I've told the story of the Nina Rindt and 'Evil Nina' reverse-panda variation before, so I won't bore you with the details. But, I was completely taken by this particular example in the metal. The twisted lugs are sharp, the crown is particularly wide, and it wears surprising small on the wrist (measuring 35.5mm, with a bezel making it feel smaller). Finally, the red sweep seconds really pops (you can see it across the room) and gives for a particularly "evil" feel. Analog Shift is asking $19,500.
Audemars Piguet Royal Oak in 18k Gold
If (when?) I buy a Royal Oak, this will be the one. It's a "Midsize" version, measuring just 35mm, slightly smaller than its "Jumbo" predecessors. The gold-on-gold-on-gold-on-gold (that's bracelet, case, dial, date wheel, respectively) is absolutely striking in person. And, it's probably good this thing isn't the Jumbo, because it's freaking heavy. This particular reference, 14790BA, is from the 1990s, but never goes out of style. What more is there to say about an all-gold watch designed by Gerald Genta? Analog Shift is asking $18,500.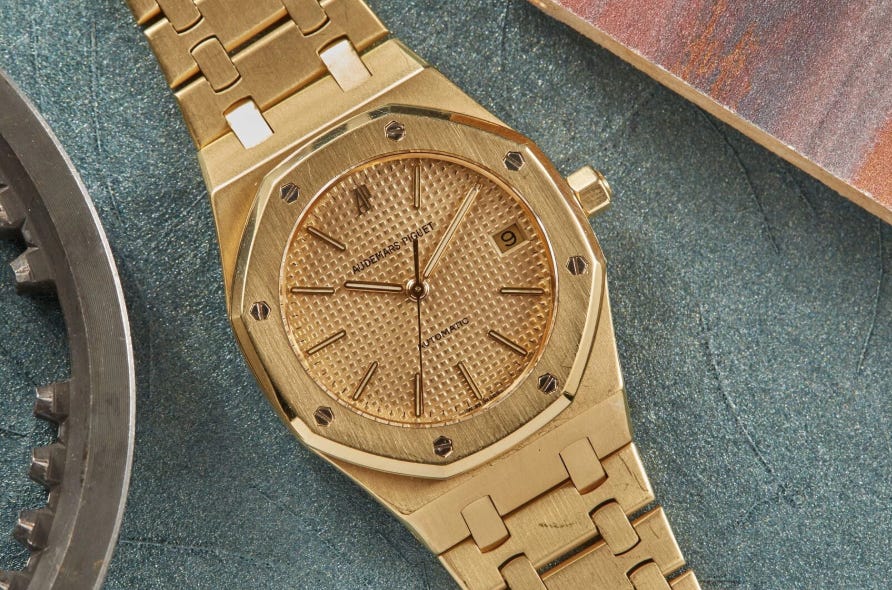 ---
In Chicago
Back in April, watch enthusiast Rich Park (YouTube: whatsonthewrist) hosted a new microbrand-focused event in Los Angeles, LAmicroLux. The event was a resounding success, featuring 24 micro and boutique brands showcasing and selling their watches over a two-day period, in addition to a sold-out, RSVP-only keynote from the founder of aBlogtoWatch.
With demand clearly there, microLux quickly started looking for its follow up act. Looking around the country, they saw an opportunity to bring an event to Chicago — a city with a great watch community but with a noticeable like of an annual watch industry event.
The micrLux team quickly started gearing up for a fall Chicago event, which will be hosted October 18 and 19 at ArtSpace 8, a contemporary art gallery and event space located in the 900 N Michigan Avenue Shops. The event is free to all guests; just pick up free tickets on the website.
So far, about 35 brands (full list here) have been announced as exhibitors at microLux Chicago, but more announcements are on the way as the event approaches. These include larger brands like Oris, Perrelet, and Laco, all the way down to popular microbrands like Monta and Tsao.
In addition to showcasing watches from these brands, Park says that the "educational element is key." That's why, in addition to the exhibition space, microLux will be hosting a day-long AWCI Build a Watch Class, during which participants will be able to assemble a Swiss-made ETA 6497 movement. Like LA, the microLux team is also considering hosting a keynote speaker from the watch industry at the Chicago event.
microLux Chicago will be hosted at ArtSpace 8 at 900 N Michigan Avenue on October 18 and 19. For more information, visit the event's website at lamicrolux.com. You can also check out video from LAmicroLux here.
Thanks for reading!
-Tony
Questions/comments/tips? Just respond to this email (and please tap the heart above to like it!).
Meme of the Week:
Smart move, John. Even GQ and Jonah Hill are picking up on the trend.
from @watchrookieememes