Discover more from Rescapement
Updates on my Hodinkee writing; b-sides and behind-the-scenes; unpolished personal musings; recs and other unsolicited advice.
Shinola and What It Means to Be Made in USA
The best budget GMTs and Tom Ford's watch rules for 2019
I noticed that people were clicking on pictures thinking they were links — now they are, so click away!
Feature
Shinola and What It Means to Be Made in America
I've been heavy on the "Made in America" beat lately, but I wanted to take a step back and ask what it really means to be "Made in the USA," at least according to the U.S government, or more appropriately, the Federal Trade Commission (FTC), the agency tasked with promoting consumer protection.
Thanks to Shinola, we have a pretty clear idea of the threshold a watch must cross for a company to be able to label it "Made in the USA" or something similar. In June 2016, the FTC held that Shinola "overstated the extent to which certain Shinola-branded products … are 'made' or 'built' in the United States." This forced Shinola to change the claims on its watches and other products. Shinola had been using the slogan "Where American is made" on many of its products, and added a "Built in Detroit" designation to its watches for good measure. This wasn't really a surprise, as a year early, the FTC had warned Shinola that its "Built in Detroit" slogan was misleading consumers given that critical watch parts came from overseas.
For apparel or accessories (including watches, as this case taught us) to bear the "Made in USA" designation, the products must originate in the United States or be only "one step removed" in the supply chain. According to the FTC, "Made in USA" means that "all or virtually all" of the product has been made in America. This is an extremely high bar: all significant parts, processing, and labor must be from the U.S — there should be only negligible foreign content.
It's interesting to compare the stringent "Made in USA" standard to the "Swiss Made" standard, which requires only 60% of manufacturing cost to have been generated in Switzerland.
Bringing watchmaking back to the United States is a huge, exciting opportunity, and I applaud each and every company making legitimate steps towards achieving that. American watchmaking has a storied history, highlighted by brands like Elgin, Hamilton, and even Timex, that all fell victim to the quartz crisis, either selling to foreign conglomerates or just winding down.
Initially, I thought that the U.S.'s "all or virtually all" bar was too high a standard to set. For a complex, unique industry like watches, so few brands will ever be able to meet it that the moniker becomes almost meaningless. Why not have a lower bar like the "Swiss Made" standard and give companies a fighting change to achieve a true "made in USA" label, even if at some lowered threshold?
But, the FTC does do this by allowing companies to make qualified statements of origin. It forces companies to be specific about what is going on in the United States. Assembly? Processing? Where is the movement from? If companies are abiding by the actual law, it gives consumers more information. Look just at the dial of the Timex American Documents collection I featured last week and you know exactly where every component of the watch is from. If only some companies would stop trying to play games with the law.
---
Other News
The best GMTs under $5000. It's hard to find a decent GMT at an affordable price. Luckily, Time + Tide has done the work for you and rounds up 5 of the best GMTs under $5000.
Tom Ford on his rules for wearing watches in 2019. Tom and his eponymous brand are releasing an automatic watch soon (by the way, Shinola parent company Bedrock is his manufacturing partner), and he spoke with GQ UK about his rules for wearing watches, including how to use a Tom Ford watch strap as a cock ring.
Worn & Wound hosted its Wind Up Watch Fair in San Francisco this weekend. Check out their site or @windupwatchfair (IG) for photos of some cool new microbrand watches (new Astor and Banks and newish Oak & Oscar for the Chicago people, new Halios for Vancouverites are all highlights).
Is Mr. Porter just Goop for men? Everyone kind of knows Goop: Gwenyth Platrow's pseudoscientific, wellness-meets-astrology brand/company/lifestyle. And it's easy for guys to laugh it off as the province of rich white women, but Put This On has posed the question: Is Mr. Porter Goop for Men? They have the same clean, white-space aesthetic and the entire motif revolves around something like "consumerism is self care, so go ahead and treat yourself." From $1,300 ping pong paddle kits to a $15,000 roulette table (and a few watches for good measure), Mr. Porter, like Goop, is selling more than products. Read it here.
Kroger CEO wearing an A. Lange. Kind of an interesting read if you like deep dives into the whole retail/grocery apocalypse, but check out the watch the Kroger CEO is wearing in the first photo. It looks like a beautiful Lange 1 in yellow gold, one of the most iconic and easy-to-recognize modern timepieces — the guy's come a long way since starting as a grocery bagger with the supermarket giant.
Watchbox, one of the big players in the pre-owned market, has struck a partnership with Les Ambassadeurs, a big multi-store watch retailer in Switzerland. An interesting move by both companies: a way for Watchbox to move from online into bricks and mortar, offering better service, and a way for Les Ambassadeurs to get a piece of the pre-owned market that is just as juicy as the new watch market.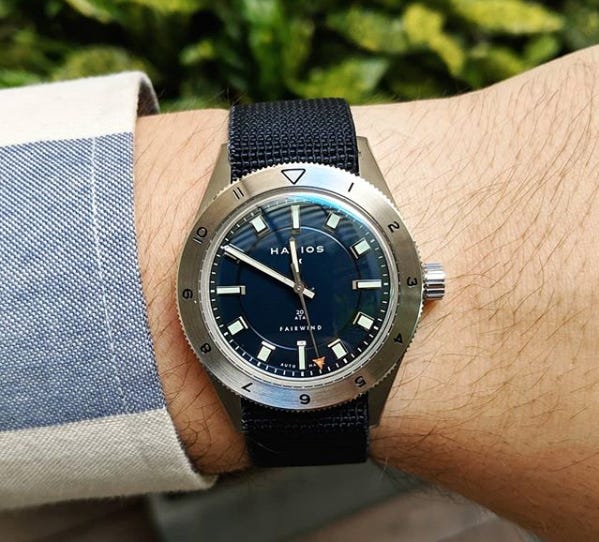 ---
Sales Corner
First up is an oversized Timex from the 1970s. It measures 37mm in diameter, not easy to find from that era, and has an automatic movement powering it. It's a great alternative if you're not into the modern Timex Marlin. It's on offer by Those Watch Guys for $280. See more here.
I love a black dial Rolex, and it's especially bad ass with a gold case/bracelet. Fog City Vintage has a Ref. 18038 black dial Day-Date from 1979 (with a sticker on the case back!). I love it so much I had to put the picture below. It's 36mm of 18k gold, with a calibre 3055 movement inside. Check it out here, priced at $13,900.
I could probably post an Explorer 1016 (grail) every week, but this gilt dial example from 1964 is pretty tasty. See it on Chronotrader.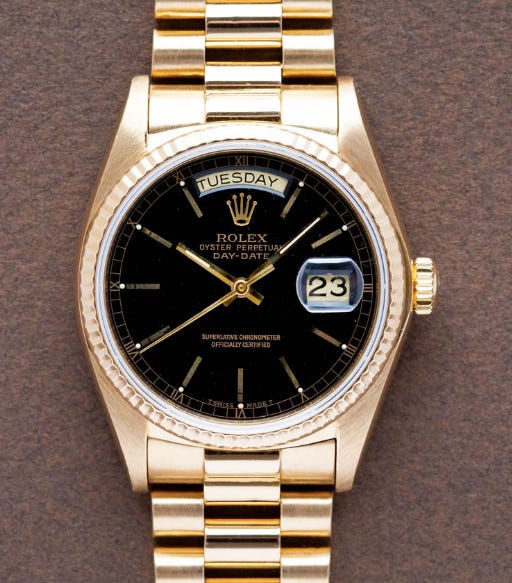 ---
Ticks and Tocks
Gear Patrol says this Casio is the cheapest watch worth buying (I'll argue for my Ironman, but hey). LVMH is sticking around for Baselworld 2020. The Atlantic calls time on the Instagram aesthetic — go forth, take ugly pictures. Can the Birkin Bag survive the secondary market (big parallels to the hottest Rolexes with years-long waitlists)? I don't like that Google tells me what to search now. Scrolling Instagram, we're basically monkeys. How green took over interior design.
Thanks for reading; and remember you can refer people to our newsletter to earn a free Nato strap — just send them here and tell them to say you sent them in the intro email.
-Tony
Questions/comments/tips? Just respond to this email.
Meme of the Week: