Discover more from Rescapement
Updates on my Hodinkee writing; b-sides and behind-the-scenes; unpolished personal musings; recs and other unsolicited advice.
Seiko 5 Sports: The most important watch of 2020
Menswear (and Watches 2.0)?
🚨 Please take 60 seconds to complete the Rescapement Reader Survey to tell me how I can make a better newsletter for you. Thank you!
---
Nowadays, much of the complaining in the watch industry points to Instagram feeds that feature the same few watches that all look vaguely like a lug nut, consumers who pay ridiculous markups for those lug nuts, and stodgy brands content making lug nuts. In other words, the algorithm has won.
Last year when Seiko released its new Seiko 5 Sports line, I practically begged it to release a smaller version with no diving bezel. Meanwhile, SKX devotees were enraged that Seiko had taken their dive watches away, swapping them out for some poor excuse with a display case back, no screw-down crown, and a mere 100 meters of water resistance.
For us at home playing armchair corporate strategist, it all seemed to make sense: take away the budget SKX and force us to pony up for something from the more expensive Prospex line if we wanted a true diver.
I surmised that Seiko would continue to move its new Seiko 5 Sports line more towards sports watch and away from traditional dive watch (it's in the very name, after all!) — more Rolex Explorer and less Submariner. As a guy with a professed love affair with both the Tudor Black Bay 36 and Rolex Explorer reference 14270, I'd be the first to welcome a true entry-level Seiko sports watch.
Naturally, I was thrilled when Seiko announced the newest additions to the Seiko 5 Sports line, sans rotating bezel. Let's just get the specs out of the way, since they're pretty much perfect:
Dimensions: 40mm diameter x 20mm lug width x 11.5mm thickness (44mm lug-to-lug)

Movement: Seiko 4R36 automatic | 24 jewels, 40-hour power reserve

Water resistance: 100m

Crystal: Hardlex

Crown: push/ pull

Display case back

Price: $275 on bracelet
The stainless steel case is solidly built, with a mixture of brushed and polished surfaces that add interest and depth. The prominent polished bezel steps down to lightly brushed lugs; flowing from the bottom right lug is a highly polished bottom crown guard, adding a certain elegance to a feature that's otherwise pure tool watch.
Think different
At first glance, the new Seiko 5 Sports is perfect: The dimensions are right in a goldilocks range; the dial is austere but exquisitely executed; the smooth bezel is attractive without being garish. Especially important: It pops on Instagram, with the look of a watch multiple times its $275 price tag. Sure, there are some details to quibble with: The oyster-style bracelet, with just two micro-adjustments, seems like an afterthought. But, these complaints largely miss the point: This is a watch for the masses, with features newcomers need and details enthusiasts will love.
For the watch industry, the most important watch in the entire game is the Seiko 5. It's how so many discover watches and mutate to full-on watch-idiot-savant status. If you're a newcomer to watches, wondering if this Seiko 5 should be your first mechanical or "real" watch, let me answer with fervor: Yes.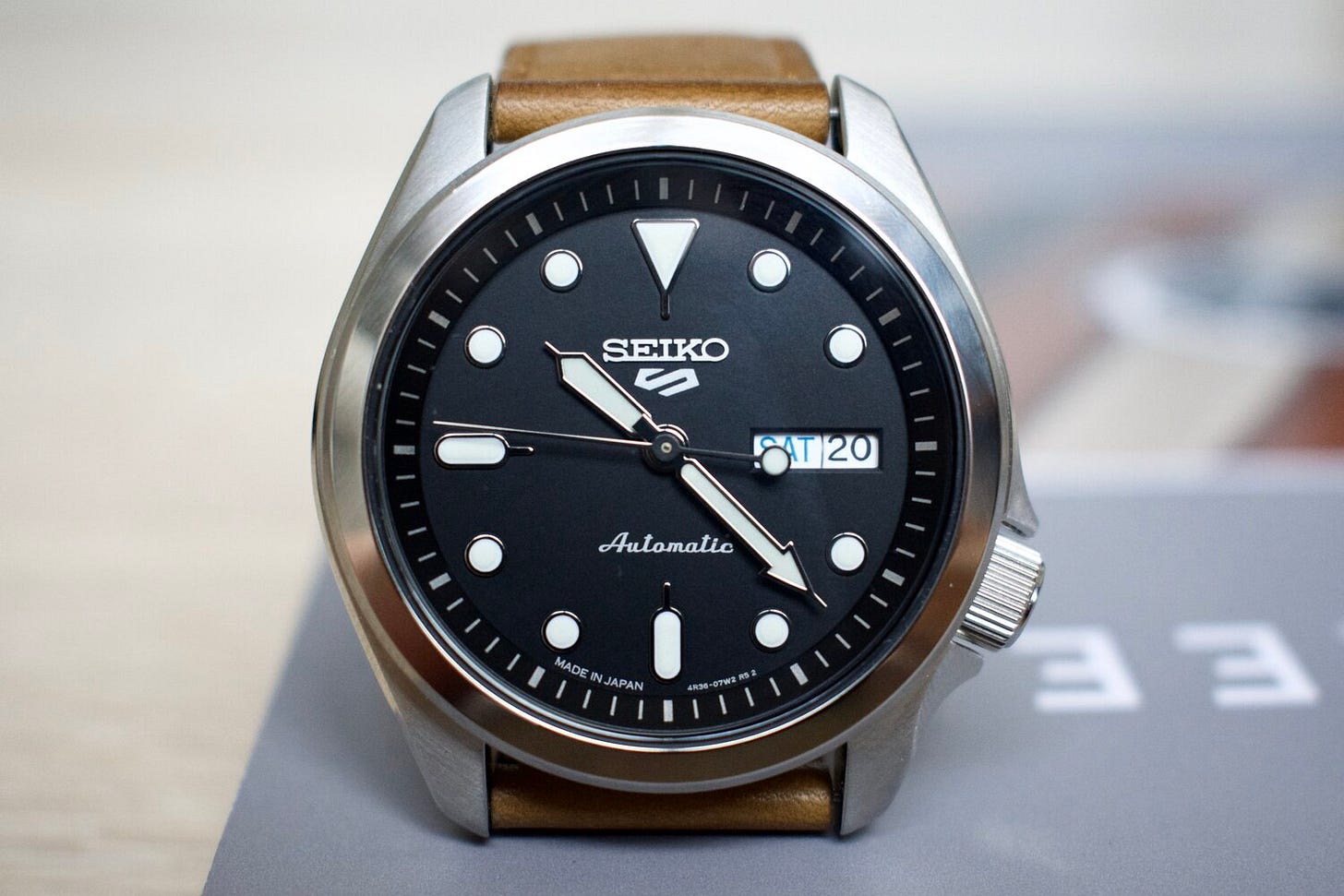 The new Seiko 5 Sport has something for everyone. For newcomers, there's a display case back and a date window. For Seiko diehards, it's clear the case is still inspired by the SKX's voluptuous design, and the bold crown guards and dial layout remain familiar. A polished bezel, applied markers, and slimmed-down case make it a watch worthy of the DressKX moniker it's been given.
While the most natural comparison is to the extinct SKX line, another comparison must also be made: To the Seiko SARB033 and 035. Like the SKX line, the SARB line was recently discontinued by Seiko. If the SKX lends the new DressKX its sporty DNA, the "dress" comes from the SARB's lineage (SarbKX, anyone?). The minimalist approach, smooth bezel, even the "Automatic" script at 6 o'clock all evoke the SARB's elegance.
A Seiko a day
Here's where the earlier criticisms of the watch industry come in: When viewed like this, the Seiko 5 starts to seem like an amalgamation of Seiko's greatest hits. Like someone fed data to an algorithm (or, just a large corporation), and out popped this watch, perfectly designed to be inoffensive and have broad appeal.
Some have already pointed out that the Seiko 5 Sports bears a striking resemblance to the Tudor Black Bay 36 and 41, watches that, in turn, are some funky fusion of a Submariner and Explorer designed to have the most appeal to the most people. What's worse, the resemblance is probably unintentional. When Tudor and Seiko, two of the largest watch companies in the world, endeavor to make a watch they can sell a ton of, something like this might just be the natural result. If you squint, these all become derivative of those lug nuts that seemingly drive most of the demand and discussion about watches right now: The Audemars Piguet Royal Oak, Patek Philippe Nautilus and their many imitators.
Upsetting the Apple cart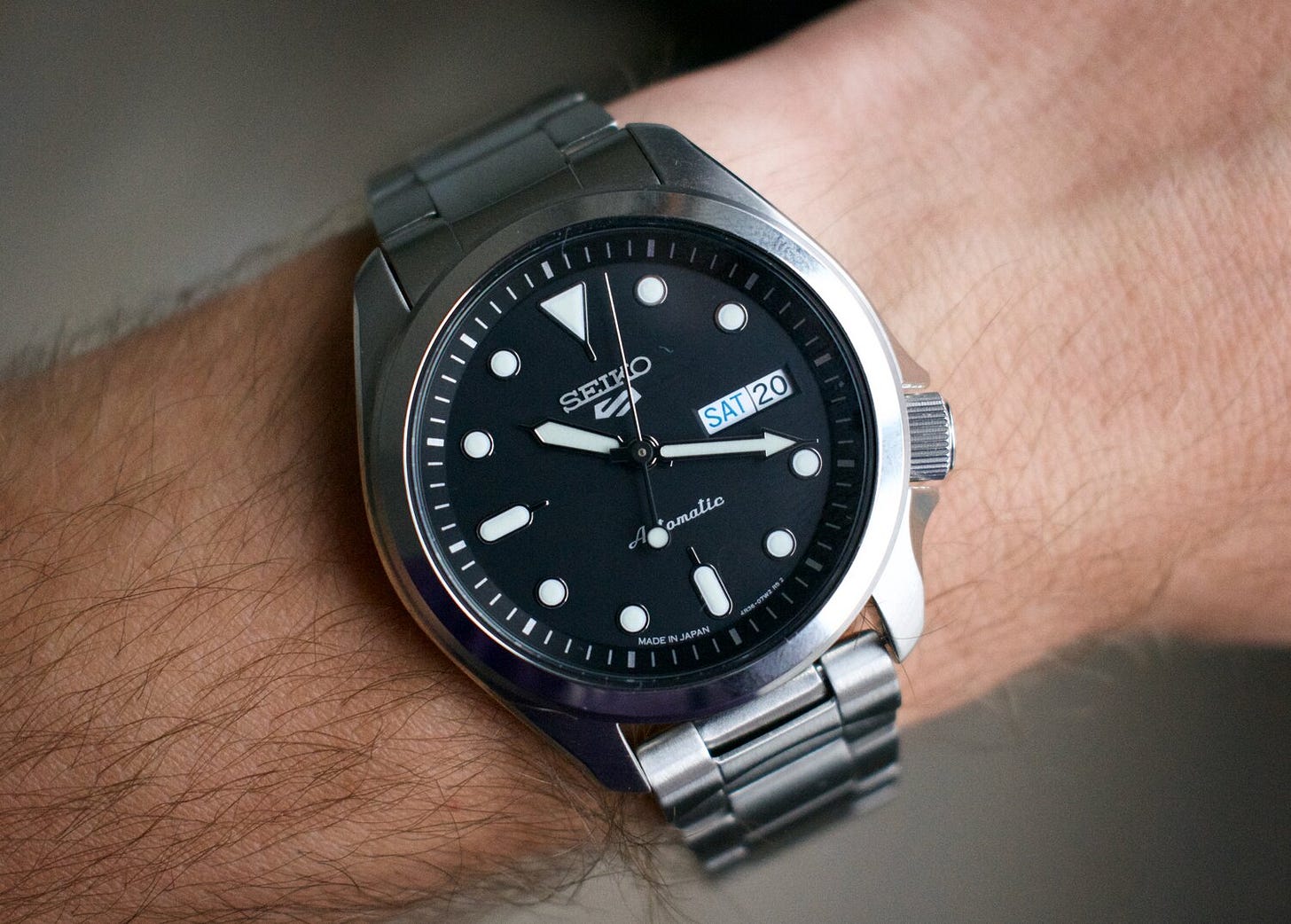 But, while the steel sports watch craze has seemed like the story in watches over the last couple of years for us close enough to care, that is, of course, not the case. The larger story is the existential threat to the watch industry that comes in the form of a sleek glass squircle.
After being initially smitten by the new Seiko 5 Sport, I went through a brief period where I felt conflicted: How could I lust after a watch that seemed so simple, and worse yet, already had legions of lookalikes?
Eventually though, I came to my senses. Stop thinking, and just enjoy a damn good watch. More important than the fact that this watch might look like some other watches is the fact that it offers a viable alternative to the Apple Watch for the mechanical-watch curious. When people ask "what should I buy instead of an Apple Watch (or MVMT)?" I can finally give an answer I'm pretty sure they'll immediately get. Because let's be honest: The old Seiko SNKs looked like children's toys, and the SKX was never made to appeal to your friend Chad who's just looking to drop a few hundred bucks on one decent watch.
As I said, an attractive Seiko 5 line with mass appeal but chops that enthusiasts can get behind is essential for the future of the watch industry. If this is Seiko's answer — at half the price of a squircle, no less — perhaps there is a future for mechanical watches after all.
---
How to avoid getting kicked in the crotch
"Some people know the price of everything and the value of nothing." — art collector Stefan Edlis in the documentary The Price of Everything.
In a recent episode of the Business of Fashion Podcast NYU professor Scott Galloway had this to say about the watch industry:
"The Apple Watch is a shitty watch. It's mostly about signaling that you're part of the Apple brand. It's sucked the oxygen out of the entire watch industry because it occupies 30-40% of all PR around watches. It's now a bigger business than Rolex. The only place that luxury has been kicked in the crotch is in watches with the Apple Watch."
Undoubtedly, the Apple Watch has been the story in the watch business since its release in 2015. Those of us closer to it delude ourselves into thinking that Baselworld bickering or Paul Newman's Daytona might be bigger, but those are comparative footnotes.
Looking at the numbers, Galloway's statement is true, but the story is a bit more hopeful than an outright "kick in the crotch". Swiss watch exports had their best year ever in 2014 (the year before the Apple Watch's release). Since nose-diving in 2015 and 2016, exports have slowly climbed back, nearly reaching that 2014 peak again in 2019.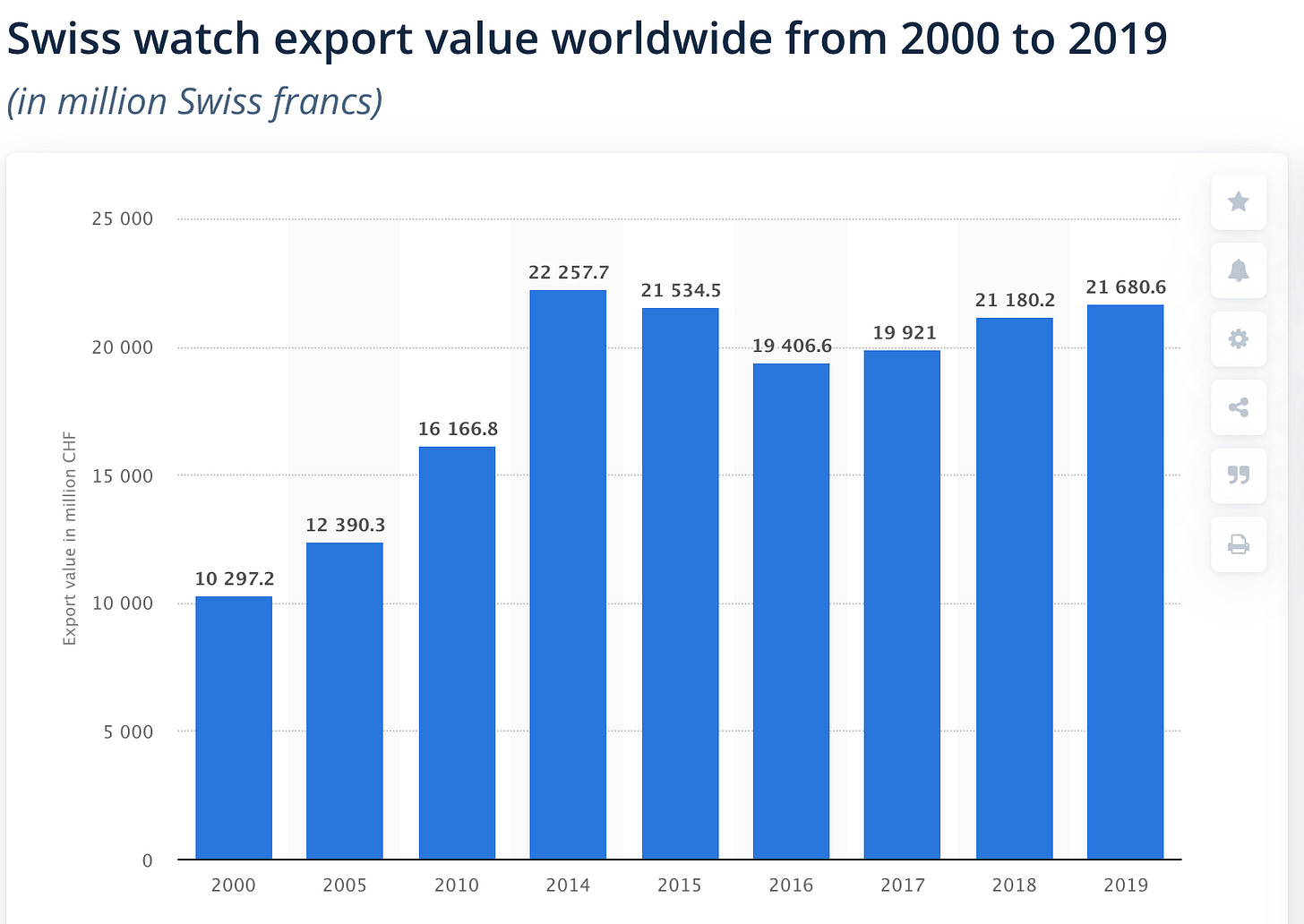 To me, there is an obvious parallel to the music industry: Industry revenues peaked in 1999, but have been rapidly growing over the past few years with the growth of streaming. Soon, music revenues will exceed those of the peak CD era. For years, the music industry saw the oncoming digital disruption, but did nothing about it, continuing to sell compact discs that would soon be obsolete. Eventually, the industry was forced to adapt, and it's been slow to recover since. The watch industry similarly stayed stagnant, knowing that disruption was coming for its industry but largely sitting around and eating sausages.
The baron of the Big Bang J.C. Biver said it best: everyone in the Swiss watch industry should pay a dollar to Apple for every watch it sells. The (optimistic) interpretation is that the Apple Watch is getting new people interested in watches, consumers that haven't otherwise been interested in wearing anything on their wrist in this millennia. So, the short term might be difficult — especially with COVID's total destruction of retail — but I remain hopeful for the long-term health of the industry.
Menswear (and Watches) 2.0?
But what does a successful future for the watch industry mean? There's been much discussion about the potential for a "Menswear 2.0" in a post-COVID world. GQ summarized the hypothesis best, saying: "The garish, maximalist designs of the past couple years that emphasized status through logos or obvious brand symbol…will likely no longer fly. They might even be thought to be in bad taste."
The logic of this hypothesis points to the first #menswear movement, when men turned to classic clothing in the wake of the 2008 financial collapse. Over at A Continuous Lean, Michael Williams began articulating this idea back in March in a very real way, amidst reports of decimated supply chains and PPE shortages:
I see a clear connection between what it means to make jeans in America and what it means to make the critical PPE and medical equipment when we need it. It's not just about the cost of goods, it's about the loss of important capabilities when they are most important. It's about self-sufficiency and having the power to create things when we need it.
This is the logical underpinning of a potential #menswear 2.0. But Derek Guy points out that taste is often not logical:
We commonly think of taste as being stable, personal, and rational. We like things because they're good or because they're a reflection of our true selves. Similarly, when people suggest that hard economic times will push men back into classic, dependable clothing, they assume people are driven by a rational calculation.

[But] to understand what comes next will require a fuller view of culture, not just what's happening in the economy. One of the important lessons from the heritage menswear movement is how popular culture is not binary. Instead, borders are porous, and influences are fluid. Fashion is a result not just of economic changes, but everything happening around us: music, movies, TV shows, politics, and food….

I imagine vintage will gain in importance and outdoor aesthetics will continue to be popular.
Does an appreciation for watches fit into this framework? I'm hopeful that it can, but it's up to brands to tell that story. It's up to enthusiasts to seek out these stories and appreciate them when told. To me, the hashtag-menswear movement was successful because of its ability to move beyond price tags and frame itself as an appreciation for artisanry, craftsmanship and heritage. Sure, there's some of that with watches, but there must be more if it's to avoid a complete "kick in the crotch."
---
News
Eric Wind looks to modestly-priced Speedmasters; Ben Clymer points to Vacheron Constantin and Grand Seiko; other experts offer their favorite independents.
The "Throwing Fits" guys went off to focus on their mini-podcast empire full time right before a pandemic and protests has made them recognize the limits of the hype economy and question their role in it:
Both men recognize that at bottom, their need for jawnz stems from deep, unshakable insecurities that they've grappled with throughout their lives. [Throwing Fits host James] Harris wondered aloud whether buying clothes had become a kind of coping mechanism that didn't make sense in our current moment.
---
Ticks & Tocks
📜 Springs + Gears: Letterpress prints as thoughtful as the movements they illustrate. ⁇ A considered Q&A with Chase H. Winfrey. ⛳️ How can golf increase diversity? 💀 The art of writing an obituary. 💯 Five watchmakers on their favorite movements. 👋Patek introduces the Reference 6007 Calatrava. 🏗 How the coronavirus will reshape architecture.
Reader's Survey: Please take the reader's survey!
Meme of the Week:
[@brodinkee]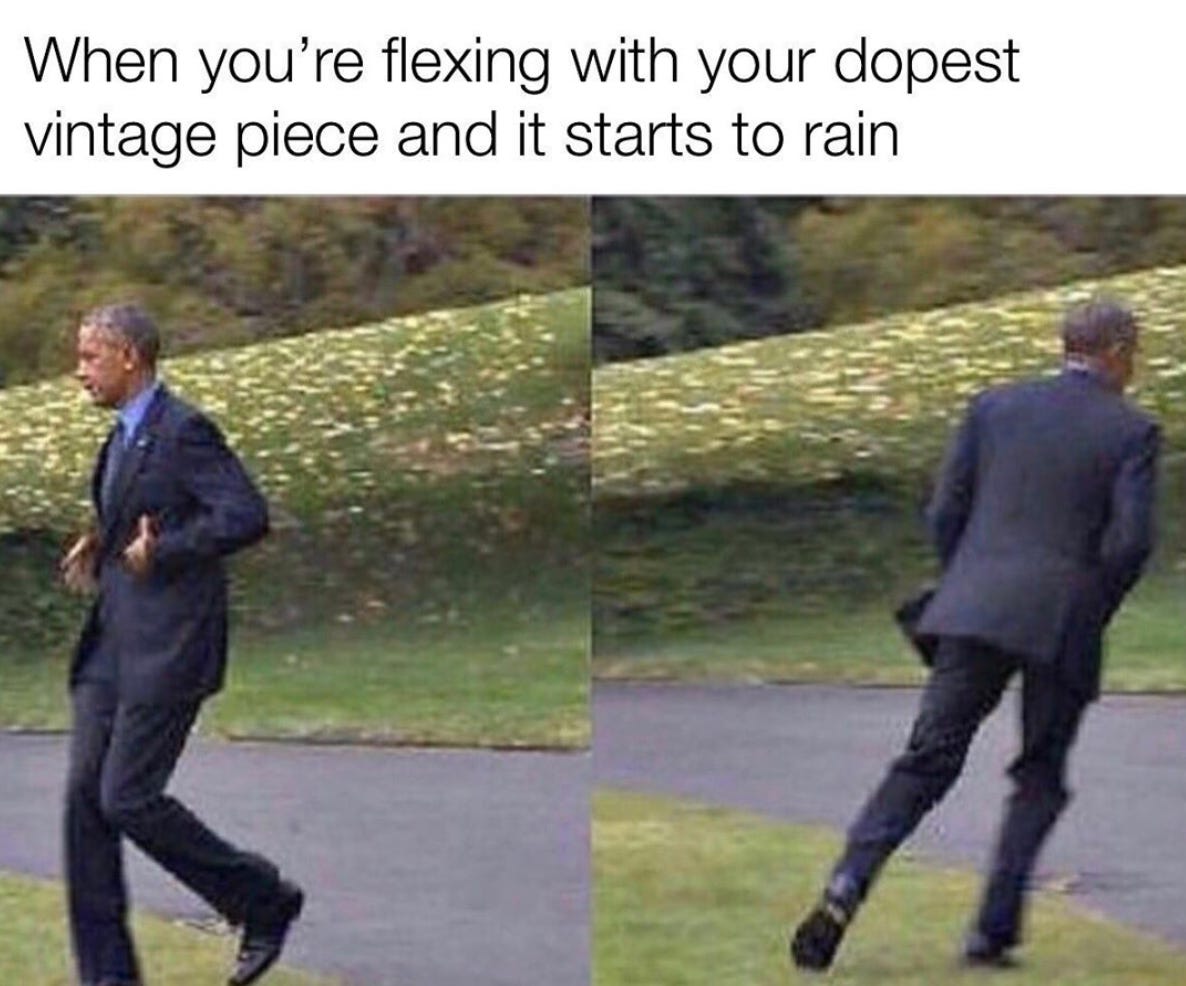 —
Rescapement is a weekly newsletter about watches. If you enjoyed this edition, consider forwarding it to a friend. For all the latest, head to rescapement.com.