Discover more from Rescapement
Updates on my Hodinkee writing; b-sides and behind-the-scenes; unpolished personal musings; recs and other unsolicited advice.
RSVP to Chicago Event + Open to Win that Seiko 5
Debuting vintage watches for sale
The Micro-Brands You Need to Know
Have you read our microbrand guide, featuring 10 of our favorite "microbrands" (including one from Chicago)? It remains interesting to me that while companies have leveraged the internet to got direct-to-consumer in a number of product segments and industries, this model has had limited success in the watch industry. If it works for my favorite cashmere sweater, fresh pair of white sneakers, and other wardrobe staples, why not watches? For some reason, it's cool to find a dope band, t-shirt, or restaurant that no one has ever heard of, but this doesn't apply to watches. People lust after Rolexes and Pateks as much now as they did 75 years ago. Or maybe that's some of the answer: sure, we lust after Pateks, but we want a low-key reference from the 50s that no one else knows about. Still, while distribution channels for major brands like Rolex or Patek Phillipe are often difficult for consumers to navigate (and the waitlists infamous), microbrands have leveraged the internet to cultivate consumer relationships and brand loyalty.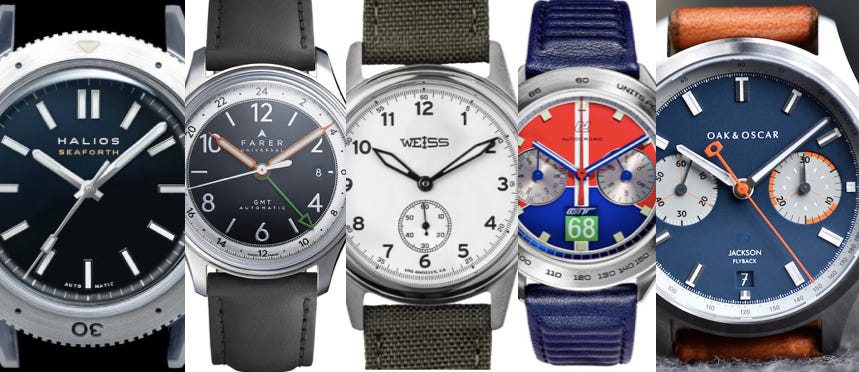 ---
Chicago April 13 Meetup RSVP
We've gotten great responses for our meetup on Saturday, April 13! We'll start with drinks at 4pm, followed by a casual dinner (for those who can stay). Location is still TBD, but will likely be somewhere in the Loop/West Loop, close to the train stations so it is accessible to both city and suburban travelers. I'll do my best to find a private, secluded location so that our precious mechanicals are safe.
If you can make it,

RSVP here

(and feel free to share this link or forward!)
---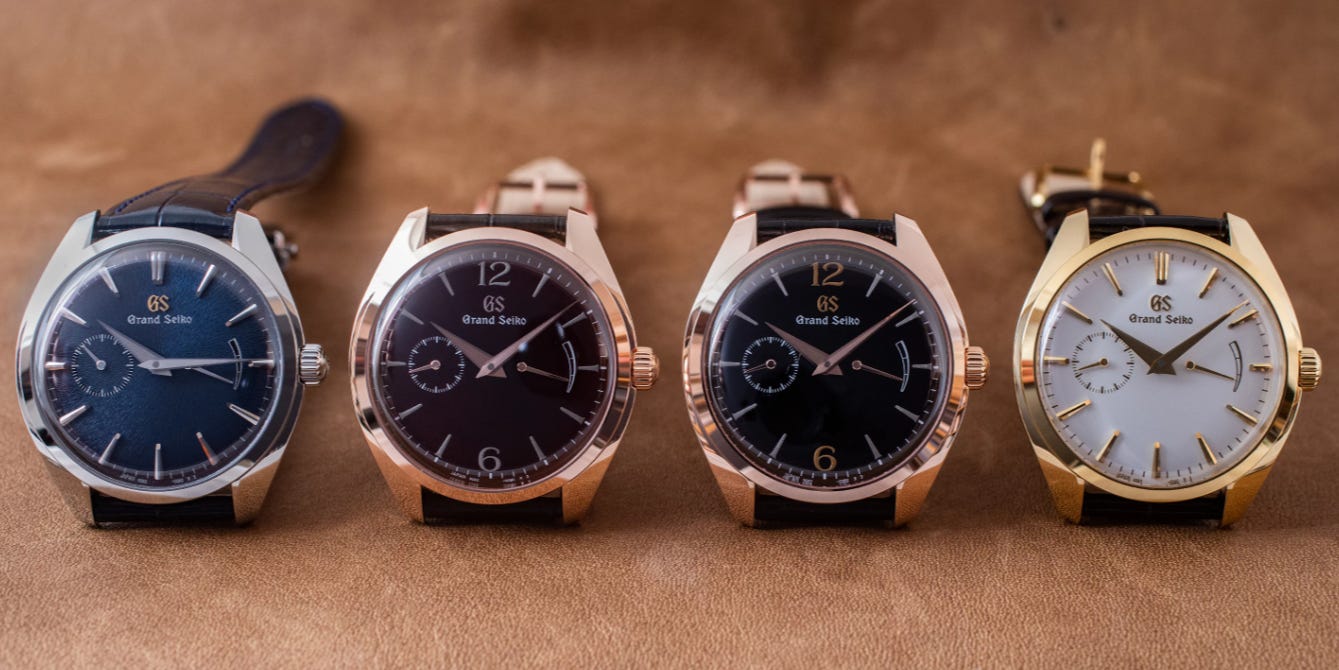 Baselworld is here. Baselworld is this week, and all the blog boys are excited. To make things even more titillating, Rolex teased this video, which seems to suggest a couple new watch releases. The forums are abuzz with guesses (Submariner? of course. Stainless steel Yachtmaster? Probs). I've also enjoyed Monochrome's Tudor predictions and Photoshop fanboying.
Grand Seiko finally makes a slim watch. It's hard to argue with anything Grand Seiko does, but they do make some thicc watches. So I was super excited to see them release this line of manual winds, with all the beautiful nature-inspired dials and superior finishings you'd expect from a GS. The watches all measure 39mm x 11.6mm, and still look to wear pretty large as dress watches, but hey — glad to see GS making smaller watches. Hodinkee goes hands-on.
New releases: Apparently Garmin is a luxury brand now. Monta's new field watch has a little something for everyone. And everyone has an opinion on the new Omega Speedmaster, but one thing is for sure: it's gold. Very, very gold. Meanwhile, Panerai is going all stainless steel.
---
Vintage Watches For Sale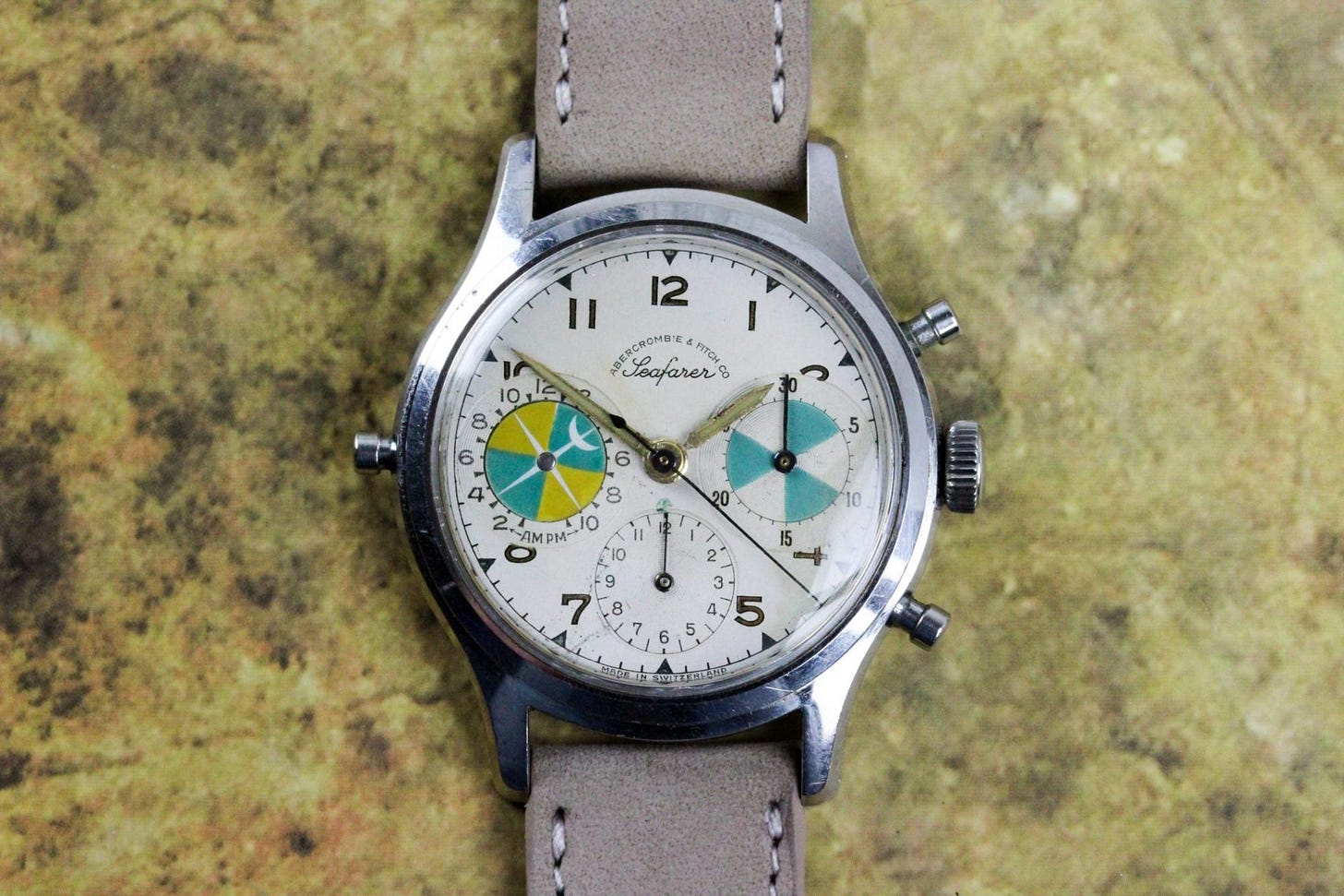 I love Abercrombie & Fitch Seafarers, and there's a great A&F Seafarer from Menta Watches up right now. Made in collaboration with Heuer, A&F had more of an outdoor-adventure vibe back in the day, and less of that put-nearly-naked-teens-on-shopping-bags vibe. Their collabs with Heuer resulted in some truly special watches, like this one. Further, the movement used in these watches is the renowned Valjoux 72, the same movement used in the Rolex Daytona, Heuer Autavia, amongst others ($22,000).
A Lemania Chronograph with a tricolor triple scale dial and a 27 CHRO 12 movement under the hood, an ancestor to the famed Omega 321 movement (ask €6,800).
You don't find vintage Longines in modern sizes much, but this jumbo Longines — 38mm — from the 1950s is quite the exception (est. $5,500-$8,250).
A gorgeous Patek Phillipe Perpetual Calendar Ref. 3488 is up for auction. The watch, up for sale from an Auction Gallery in Atlanta, features an 18k white gold case, and while the dial has some wear-and-tear, the case is super clean (est. $120k-175k).
A Birks Chronograph, made for the Royal Canadian Air force, from Wind Vintage (Birks is sometimes referred to as the "Tiffanys of Canada") ($4,900).
---
Ticks and Tocks
The existential question: why does everyone hate the Seiko 5 badge? Personally, I'll have none of it. The Seiko 5 is utter class. Okay ciao.
For your auditory pleasure: Listen to Hodinkee Managing Editor Stephen Pulvirent on Blamo! Podcast. For something funnier: Barstool's Big Cat on Failing Upwards.
Every wonder what Apple's patent for its quick strap change system looks like?
Watches of Switzerland was all in the news this week: Watchonista went inside their Hudson Yards boutique (GQ has more from Hudson Yards, the "mall of the future"), and we also recommended GQ's visit to their Soho location. WSJ on the new rules of airplane dressing: chic, but comfortable. Not Even Grails Are Safe from the Marie Kondo Effect — is your watch?
How to launch a beauty brand for $1.5m. Bad Blood the HBO documentary comes out on Monday, and if it's anything like the book, it's a must catch.
Thanks for reading, and look for more Chicago get together information soon and remember to RSVP here!
Tony
Questions/comments/tips? Reply to this email, or:
rescapement@gmail.com, or DM @rescapement
Meme of the Week:
(I linked to Jack Forster's review of the new Grand Seikos above, and was shocked it came in at less than 1k words.)