Discover more from Rescapement
Updates on my Hodinkee writing; b-sides and behind-the-scenes; unpolished personal musings; recs and other unsolicited advice.
Rolex, Patek, and a new era of neo-vintage collectibility
A call to millennial collectors, highlighting the first GMT-Master II "Coke" and Patek Perpetual Calendar reference 3940
A call to millennial collectors; highlighting the first GMT-Master II "Coke" and Patek Perpetual Calendar reference 3940
With one of the watch industry's largest shows, Watches & Wonders, going virtual this year, much of the initial reporting on brands' new releases is pretty rote: vague attempt at framing new watch in a brand's history ➡ introduction to new watch, followed by a few stock images ➡ conclusion that the watch looks pretty cool and you can't wait to see it in the metal, but alas, corona.
No doubt, I enjoy seeing new releases, but it's all a bit of which brand can shout the loudest, followed by which blog can cover it the fastest. Nothing my well-trained cat couldn't do aided by a few espressos to wake him up by sunrise Geneva Standard Time.
My cat, Charleston, yelling about the new thinnest whatever from Watches & Wonders.
Sure, I love making my yearly pilgrimage to Cartier, Tudor, Grand Seiko, and a couple ADs to see the new watches, but most of these models will be quickly forgotten to history.
This week, I wanted to take a step back — 20ish years back — and look at some emerging classics from an era that's often overlooked by "serious" collectors.
Sometimes, we forget. A watch is a watch. As collectors, we often get obsessed with superlatives: first this, best that, thinnest whatever. But sometimes, a great watch is just a great watch — nothing more, nothing less. And often, that's all it takes for a watch to be deserving of a spot in your collection.
By the 1980s, brands like Rolex and Patek Philippe were transitioning towards computers and automated processes to wring efficiencies out of their manufacturing lines and scale up repeatable processes. To many purists, this modernization spelled the death of true "vintage" watches, which is why you'll see watches from the 80s and 90s referred to as "transitional" or "neo-vintage."
No less than John Goldberger has taken time to bash watches of this era, saying in a recent interview:
For me, true horology … ended around 1985 or 1986, because that's when the computer had really taken-over a large part of the manufacturing process. Patek Philippe stopped manufacturing their most important reference 2499 and the 3450. Rolex had also changed the movement from Valjoux to the automatic Zenith movement … they are just not rare.
Listen, I get it — if I were an Italian gentleman that spends his days hunting down unique Longines chronographs and other unspeakably rare horological Horcruxes, a mass-produced GMT "Fat Lady" might not excite me much either. But I'm not, and I don't, so here I am instead set to convince you that the 1980s was more than just the time of Rubik's cubes, Swatches, and Morning in America.
To me, Rolex's first GMT-Master II reference 16760 and the Patek Philippe perpetual calendar reference 3940 perfectly illustrate the horological importance of the 1980s as well as the quality watchmaking brands undertook during the decade. Together, they epitomize the classics from this era waiting to be discovered by new collectors and the collections that can be built.
Why the 1980s mattered in horology
After the first quartz watches were introduced in the 1960s, the 1970s was simultaneously a decade of adaption and continuity for large brands. Of course, it was defined by the introduction of stainless steel sports watches: your Royal Oak, Nautilus, even the Rolex Oysterquartz. But it was also a decade of continuity, as Rolex (for example) continued to churn out classic four-digit Submariner, Explorer, and Daytona references first introduced in the 50s and 60s.
The 80s and 90s though, were defined by progress: classic references were retired, movements modernized, and designs updated. It represented a decade in which brands looked within themselves instead of responding to external trends and said "let's do what we do best: make great watches and fuck the rest." (I think Macklemore wrote that sentence).
On a personal level, the transitional Rolex Explorer reference 14270 was my first Rolex (Ben Clymer has said the same of his Rolex journey — not that I'm comparing myself to Clymer. He owns much more cashmere), so perhaps there's something to be said for neo-vintage watches as the gateway to full-on obsession. For me, picking up this Explorer represented the realization that you can have a solid, built-to-last Rolex for a few thousand dollars. It was an accessible entry point, and I loved learning more about the watch: the mechanics, the whole Hillary-Norgay lore, etc. The reference 14270 was produced throughout the 1990s, sandwiched — temporally and aesthetically — right between the iconic reference 1016 and the more modern six-digit Explorers to come.
Of GMTs and Masters
Putting aside the transitional Explorer, let's take Rolex's GMT-Master as an example of why the 1980s mattered. The iconic GMT-Master reference 1675 ran from 1960 through 1980, when Rolex retired it for the GMT-Master reference 16750.
This new GMT-Master featured an updated caliber 3075, beating at a faster frequency of 28,800 vph (compared to 19,600), and (finally) introduced a quick-set date to the GMT-Master line, allowing the date to be set independent of the hour hand. The GMT-Master reference 16750 also bumped water resistance to 100 meters, double that of the previous 1675.
The first generation of the reference 16750 had a matte black dial similar to that used in the reference 1675, but Rolex soon updated to a glossy dial with lume that had white gold surrounds, making the first generation of matte dials relatively difficult to come by.
GMT-Master II: New Coke
That's all fine, but let's get real: Rolex had introduced the quickset date a few years earlier in its Datejust lineup, so it was only a matter of time until it slapped a 24-hour hand onto this new quickset date caliber and introduced an updated GMT-Master.
The real innovation came in 1983, when Rolex introduced the GMT-Master II reference 16760. This is the first model that allowed for the independent setting of the 24-hour hand, thanks to the new caliber 3085. The original GMT was a true tool watch for pilots, designed simply for the 24-hour hand to track GMT time, allowing pilots to use that as their reference point to set the 12-hour hand when landing in a new time zone. Meanwhile, the new GMT-Master II was straight up modern luxury.
Additionally, Rolex mixed up the color way on the 24-hour bezel, making the first red-black "Coke" bezel. The crimson and black is a bit more subdued than the saturated red-blue bezel, giving the watch a sleek, modern feel. The GMT-Master II also features some of the modern updates that would become typical of transitional Rolexes of the time like a sapphire crystal and white gold luminous surrounds.
Because of the updated caliber 3085, the GMT-Master II's case is larger than the GMT-Master, earning it the moniker "Fat Lady." In addition to this thicker case, the curving Oyster case and crown guards of the reference 16760 also led collectors to nickname it the "Sophia Loren". She was before my time, but apparently Loren had the curves of a Kardashian but the acting chops of a Streep — to me, the first GMT-Master II lives up to such a lofty nickname.
Rolex produced the reference 16760 for just five years; oddly enough, it also continued to produce the GMT-Master for years after introducing the GMT-Master II. Perhaps the cheaper GMT-Master appealed to a different audience, warranting continued production. (Not dissimilar to the modern Tudor-Rolex GMT lineup: back in 2018, both brands introduced new steel Pepsi GMTs, proceeding to essentially own the GMT category from $4,000 to $10,000.)
Of course, you'd expect a modern watch to be technically superior to a vintage one — and the reference 16760 is — but when you can get that technical superiority in a package that's still got some vintage charm, it's hard to argue with. Add to that the fact that a reference 16760 sets you back about half as much as your typical matte dial reference 1675 and is easier to pickup than a modern GMT-Master II, and it becomes one of the best value GMT watches this side of that modern Tudor Black Bay GMT.
This first iteration of the GMT-Master II isn't the most important GMT-Master, nor is it the most collectible. it's just a great watch that birthed the next generation of the GMT-Master, arguably the hottest watch on the planet, buoyed by Rolex's technical mastery of a true GMT movement.
Patek 3940: Perpetual change
The first GMT-Master II was Rolex developing perhaps its best in-house movement of the time to master a complicated sports watch — pure Rolex. Meanwhile, in the same decade, Patek took its ultra-slim micro rotor caliber 240 and built a perpetual calendar module on top of it, similarly illustrating mastery in a way only Patek can.
At a time when Patek retired importance timepieces like the reference 2499, its perpetual calendar underwent a total revamp with the introduction of the reference 3940, powered by the slim caliber 240Q. Recently, A Collected Man published a must-read on Understanding the Patek Philippe reference 3940. This quote perhaps best captures the importance of the updated perpetual calendar:
Looking back, it is interesting to consider what else was going on at Patek Philippe during this period. Many choose to focus on the Nautilus 3700, in production during this time, as the embodiment of contrarian thinking from Patek Philippe. It certainly was in many ways, but the manufacture was also following a change of direction in consumer tastes, established by the Royal Oak a few years prior. The pair of complicated references – the 3970 and 3940 – were arguably equally, if not more, against the grain. Born from the same thinking, they share an extremely similar story.
The reference 3940 essentially ushered in the serial production of complicated Patek Philippe watches. In 1985, it was bold for Patek to release a svelte, 36mm perpetual calendar only in precious metals (yellow, rose, and white gold, and platinum), but it was Patek staying true to itself: a producer of complicated watches transcendent of generational trends.
While less than 600 examples of the 3448 (the predecessor of the 3940) were manufactured, there are thousands of 3940s to be found. But, between three production runs, an initial set of pieces delivered to Beyer, and other distinct variations, there are plenty of deviations for even the most obsessive of collectors.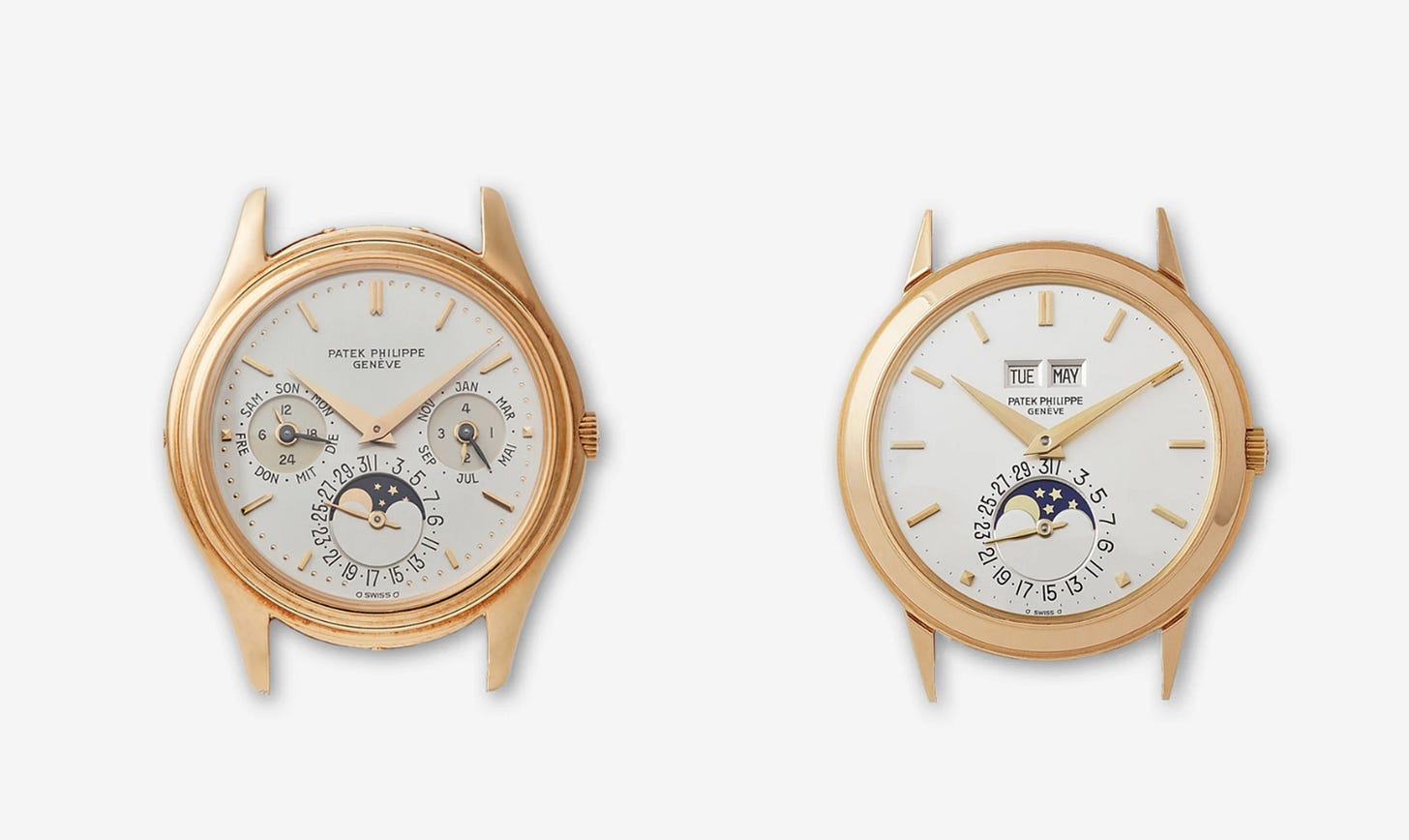 As the story goes, the reference 3940 is also the watch of choice for Philippe Stern, father to current Patek CEO Thierry Stern. 
The softer lines and thin, curved case profile of the reference 3940 are a modern vehicle perfectly suited to deliver Patek's new caliber 240Q. Additionally, the updated dial layout — three sub dials instead of a sub dial and apertures — has a modern appeal reminiscent of popular chronographs, but leaves no doubt that it's pure Patek. 
Transitioning to a new era of collecting
Listen, sometimes it takes a generation for tastemakers (i.e. "the Italians"), to recognize the truly important and classic watches from the era prior. Those four-digit Daytonas? They started scooping those up in the 1980s and haven't looked back since. Now that we're 20 years out from the turn of the century, it might be time to start looking back at this generation of transitional and neo-vintage watches too. 
Recently, Jean-Claude Biver commented that, as far as the watch industry is concerned, the 21st century "has not truly started yet … when millennials take command, that is when the new century will really start."
In the collecting world, it's also time for millennial collectors to usher in a new era of collecting: part of this means looking at under-appreciated periods like the 80s and 90s to identify the next generation of classics. 
Will either the Rolex reference 16760 or the Patek reference 3940 ever be highly sought-after collectibles with exponentially increasing value? Maybe not, but it's important to recognize them for what they are: Two great watches from a transitional era that is too often overlooked by serious collectors. Both watches are pure distillations of their manufacturers' history and approach to the modern era. 
As an added bonus, together they make a pretty bad ass two-watch collection: a refined dress watch and a complicated sports watch that are simply great at what they do.
---
Ticks & Tocks
🛑 The unsung Audemars of Gerald Genta. 👌 Speaking of modern classics: Wei Koh on the incredible 6 years of the Bulgari Octo Finnisimo. 🙏 The new Audemars Piguet RO self-winding 34mm. Should Neiman Marcus Exist? 😱 Phillips takes a look at Jean-Claude Biver's private collection. 🎨 MovadoVintage on the collaboration between Zenith and Movado. 1️⃣ TheCartierArchives on Cartier monopusher chronographs. 🌈 Breitling's rainbow watch is sold out.
🤭 "If you're efficient, you're doing it the wrong way. The right way is the hard way. The show was successful because I micromanaged it—every word, every line, every take, every edit, every casting. That's my way of life." — Jerry Seinfeld on writing Seinfeld.
Thanks for reading!
-Tony
Tap the heart above to like this email, comment, and if you liked it, share it: