Discover more from Rescapement
Updates on my Hodinkee writing; b-sides and behind-the-scenes; unpolished personal musings; recs and other unsolicited advice.
Rolex is suing laCalifornienne for colorful 'counterfeits'
Plus, the must underrated vintage Rolex?
A longer newsletter this week, with a bit of everything: business news, a vintage reference you need to know, and some celebrity watch spotting. If you're new, subscribe here.
Custom watch maker laCalifornienne has built a dedicated following, including the requisite social media buzz, with its colorful, custom Rolex and Cartier watches. The watches are sold on the brand's own ecommerce site, as well as with retailers like Farfetch, Goop, and a number of other boutiques around the world.
It's kind of like Bamford, but targeted at the millennial female set. The brand was founded by a husband-and-wife duo in 2016, and has quickly gained something of a cult following. As laCalifornienne says on its website:
laCalifornienne draws inspiration from the pink and blue magic hour skies of California. From our Los Angeles workshop, we restore vintage timepieces and reimagine them in bold color.

Each watch is given the utmost attention to detail including servicing the movement and refinishing the case to the original specifications in which the watch left the factory. While all of our watches pay homage to their original concept, we find our process to be part of a new beginning. Each dial and strap is hand-painted to produce a unique timepiece.

We guarantee our timepieces to be 100% authentic and as described.
Taking a look at laCalifornienne's products on Goop, you'll see modified Rolex watches selling for anywhere between $6,500 and $10,000.
Now, Rolex is filing suit against the colorful brand in California federal court, alleging both counterfeiting and infringement of Rolex's trademarks in connection with the advertising, promotion, and service and sale of watches that are "not genuine products of Rolex."
As watch enthusiasts will know, Rolex is notorious for maintaining strict control on its watches, including all their constituent parts. Watches that are modified or altered to contain non-Rolex parts render the Rolex warranty null and void, as Rolex can no longer assure the quality or performance of such watches. Additionally, Rolex will refuse to service such watches because it can't guarantee they'll perform up to Rolex standards.
As Rolex tells it, laCalifornienne's process goes something like this: They buy an old Rolex (usually a Datejust, by the looks of their Instagram), then strip the original dial surface, removing the Rolex trademarks (e.g. the Rolex name, crown, and model name), paint the watch in some colorful, millennial-favored hue, and then re-apply the Rolex trademarks removed from the original dial while also painting "laCalifornienne" on the dial, also replacing components like the crystal and band. Rolex points to a couple specific watches — one obtained by a private investigator, and one that had been sent to its servicing facility — where, in addition to those other issues, the bezel was not properly fitted back on, making water more likely to leak into the watch.
In the United States, trademark cases turn on the "likelihood of consumer confusion" standard. In non-lawyer speak, the question is this: do laCalifornienne's acts give consumers a reason to believe that its products actually come from Rolex, thus confusing the consumer? That's exactly what Rolex is claiming in its lawsuit, going so far as to say that laCalifornienne's acts are "deliberately calculated to confuse and deceive the public."
As mentioned, since laCalifornienne is re-applying the Rolex trademarks to its products, Rolex is first raising a claim of counterfeiting, i.e. that laCalifornienne is using Rolex trademarks on the watches it's selling, which is causing consumer confusion, mistake, or deception. A counterfeit is defined in trademark law as a "spurious mark which is identical with, or substantially indistinguishable from, a registered trademark".
Additionally, Rolex claims trademark infringement because of laCalifornienne's use of Rolex trademarks in its advertising and promotion of its products. Finally, in light of the facts, Rolex also sets forth a claim of false designation of origin, false descriptions and representations, and unfair competition. Rolex is asking for an immediate injunction prohibiting laCalifornienne from selling its watches (as well as destruction of any inventory), and a bunch of monetary damages.
The Analysis
When Rolex takes a watch in for servicing from a customer, it's notorious for dressing it down and giving it the full treatment to ensure it's up to Rolex snuff. This might mean replacing a dial, bezel, hands, or movement parts as needed to get it running to Rolex specs. To every vintage enthusiast's horror, it also means polishing the case to get it that factory shine.
Rolex also uses this internal servicing and warranty policy to its own advantage. It's keen to point out that if any third party fiddles with a Rolex, that voids the warranty (and Rolex will therefore refuse any servicing), because Rolex can no longer ensure the watch will live up to the brand's superlative standards. Third parties getting under the hood of a Rolex compromises the very quality the brand has come to stand for. Of course, much of this is Rolex fluffing its own reputation. But if anyone says they're buying a Rolex for its accuracy as a timekeeping device in 2019, they're lying. This is even more so the case with a customized and colorful Rolex from laCalifornienne. No one is buying a watch with the "pink and blue magic hour skies of California" and then adjusting it in five places to make sure it meets COSC specifications. They're fashion pieces. In the complaint, Rolex is touting its own branding in an attempt to make a point about counterfeiting and trademark infringement. And, it might just work.
However, Rolex has spent 115 years building a reputation as not only the world's preeminent timekeeping name, but perhaps the most valuable and recognizable luxury brand full stop. Trademark law is designed to protect brands from others that may attempt to use their branding to create "confusion" in the marketplace in attempts to profit off another's hard work and investment. As a matter of law, it seems pretty clear that laCalifornienne is creating customer confusion. As Rolex's complaint states, one laCalifornienne customer even sent one of its watches to Rolex for servicing, thinking it might have been covered by the Rolex warranty.
But if the law is on Rolex's side, should it be? As mentioned, no one is buying a laCalifornienne piece because it's great at telling time. They buy it because it just looks cool. For the industry as a whole, it's the get-em-while-they're-young argument: sure, consumers are buying these colorful laCalifornienne pieces now, but eventually they'll level up to a legit Rolex. And, it's not like laCalifornienne isn't adding some value: three years and 30,000 Instagram followers tell the story of a brand that, while not Rolex, has amassed some loyal following. Isn't that good for the watch industry as a whole (not to mentioned the fact that laCalifornienne is buying these vintage Rolexes from somewhere)? If brands like Steinhart or Invicta are allowed to exist, is what laCalifornienne is doing an order of magnitude worse such that they should be ordered to destroy their remaining inventory? Further, if there's a demand in the market that Rolex isn't meeting, shouldn't other companies be allowed to satisfy it?
The purist in me wants to say that a vintage Rolex should remain untouched and in as original condition as possible. The fashionista in me wants to say that some of these laCalifornienne pieces are actually pretty damn cool, and I wouldn't mind having one for the weekends.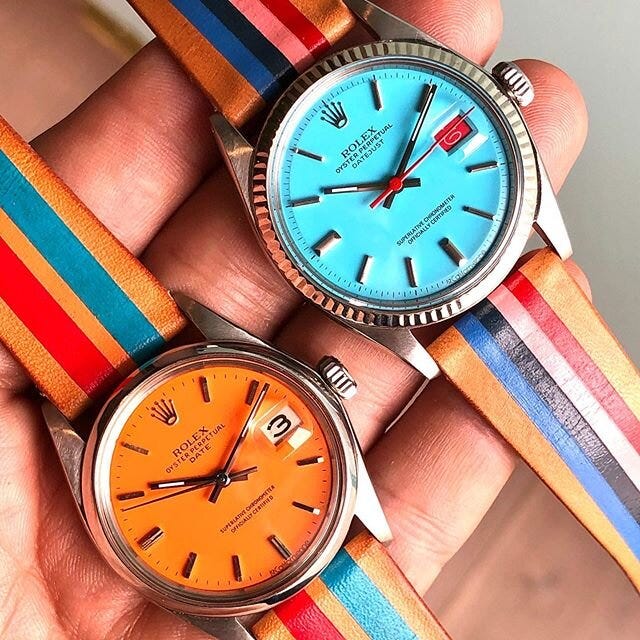 ---
Other News
Now, for a story about real Rolexes.
I often tell people that, if you're just getting into watches, there's no better option than a vintage stainless steel Rolex Oyster Perpetual. Generally, I'm talking about Oyster Perpetuals from the 1960s and 1970s, with reference numbers in the 10xx range (1002, 1008 and others; or, perhaps, an Oysterdate like Reference 6694). They look great on the Rolex Oyster bracelet or swapped out with any number of straps, providing a versatile watch for someone who's looking for their first "nice" watch and this might be the only watch in their collection.
Oyster Perpetuals are typically found with gorgeous, clean silver dials, baton indices (topped with small tritium lume plots) and chronometer-certified movements. The Reference 1002, for example, is powered by a caliber 1560 or 1570 movement. This caliber also powers more popular Rolex sports models of the same era, as well as serving as the base for more complicated Rolex calibers. For many years, it served as the base for much of Rolex's timekeeping prowess.
But, there's one problem with these vintage Oyster Perpetuals: They typically measure just 34mm in diameter, a bit small by most modern standards. Enter the Reference 1018.
Reference 1018: Living Large
While searching "Rolex 1002" on eBay, Chronext, or WatchRecon might yield hundreds of returns at any point in time, a search for "Rolex 1018" will yield only a few. By all accounts, the Rolex Oyster Perpetual Reference 1018 is an extremely rare watch, produced for just a few years of Rolex's history. What at first glance might look like a simple Oyster Perpetual is in fact an under-the-radar collectible Rolex available in extremely limited quantities.
For example, I've seen just two examples of the 1018 pass through sales forum this year, (here and here, listed at $3,099 and $3,950, respectively. You'll see them listed for much higher prices from dealers).
What makes the Reference 1018 different? In a word: size.
To wit, the specs of the 1018: 36mm case diameter, 20mm lug width, and 11.5mm thick. The 1018 has about the same specs as its cousin, the Explorer Reference 1016, though the case has a slightly slimmer profile.
There isn't a lot of information about the Reference 1018 on the internet, but it looks as though it was produced for just a few years in the mid to late 1960s. Every example I've seen has a serial number dating it to this range. Our best guess is that the watch just wasn't very popular: If you wanted a 36mm watch, you'd go with an Explorer or Datejust and the extra 2mm didn't differentiate it enough from the Oyster Perpetual collection to warrant it staying in the Rolex catalog. Of course, this is contrary to today's catalog, where Rolex has an Oyster Perpetual at 26mm, 31mm, 34mm, 36mm, and 39mm.
Whatever the case, for today's collector it's sufficient to know that this is a chronometer-certified, 36mm Rolex made for just a few years. This makes it extremely rare and collectible by any standards.
The Reference 1018 can be found with both the caliber 1560 and the 1570. The 1560 was an in-house movement introduced by Rolex in 1959 and remained in use until 1965, when Rolex transitioned to the caliber 1570. The main improvements of the 1570 were a slightly faster beat rate (19,800 bph, as compared to the 1560's 18,000), and hacking seconds. The caliber 1570 would go on to power Explorers, Submariners, and Oyster Perpetuals until the 1980s.
Like the more common 34mm Oyster Perpetual, you'll mostly find the Reference 1018 with a silver dial and baton hands, though there are also earlier versions (c. 1963-64), that feature sword hands with a line of lume down the middle. Additionally, you'll also find the rare variant with a black dial. If you're lucky, it might be an early, glossy gilt black dial (for example, here). Some later examples can also be found with a slate grey dial (ignore the service hands/lume on that example). I've also seen a couple Tiffany & Co. stamped Reference 1018 examples; these seem to be extremely rare.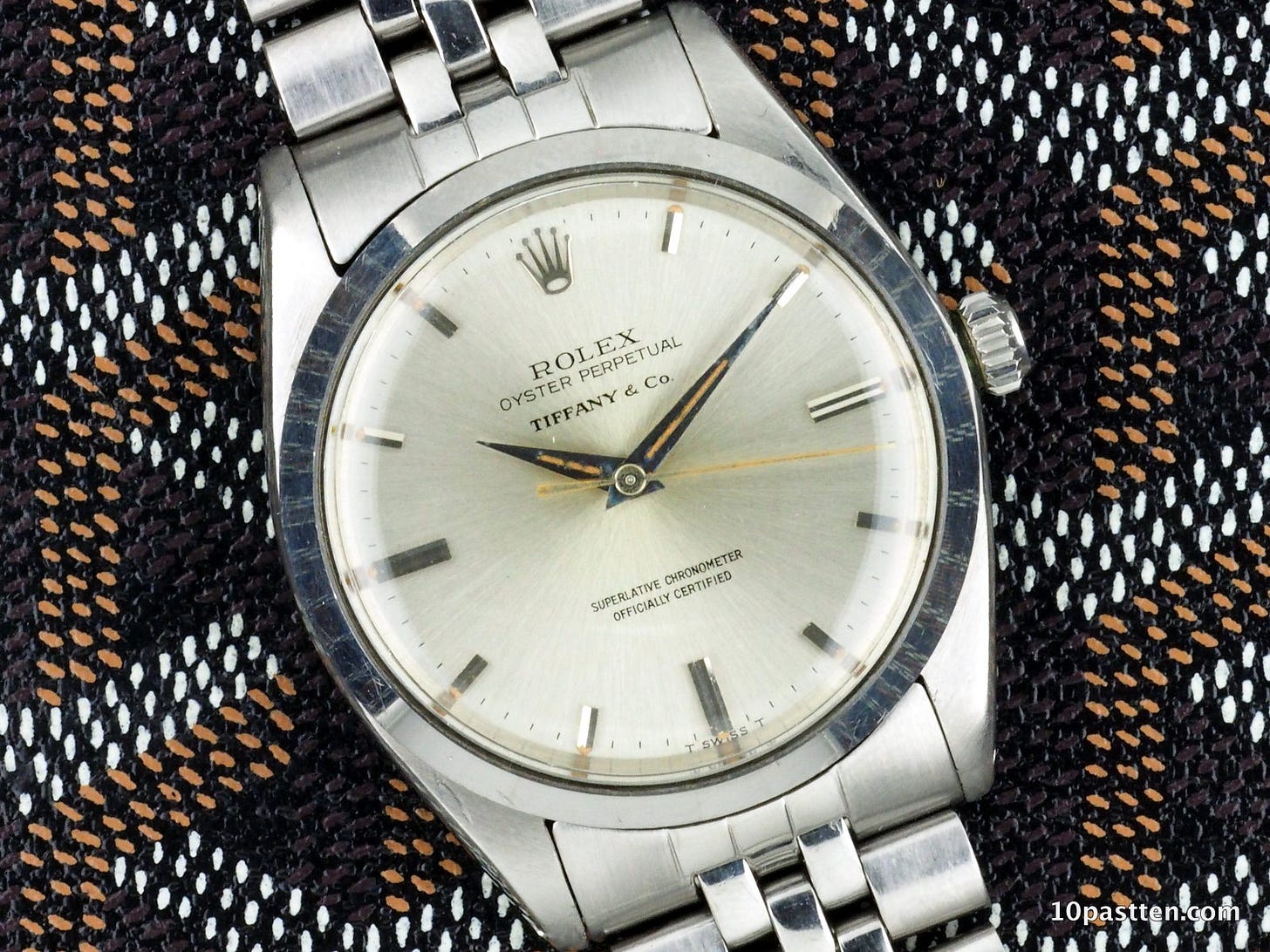 In other words, if you want a chronometer-certified movement in a 36mm case, the reference 1018 might be your best (i.e., most affordable) bet. But, they continue to fly mostly under the radar in most collecting circles. It's a classic case of "if you know, you know."
At Rescapement, a theme I consistently come back to is that, as vintage Rolex sports watches continue to inflate in price, collectors are turning (and will continue to turn) to alternative brands and models for bargain opportunities. We've seen Universal Geneve, Gallet, Movado, Tudor, and other brands all experience surges in popularity over the past few years. But I also think collectors will look further down Rolex's catalog to find the next hot model.
To me, none is a better candidate than the Rolex Reference 1018.
As I've written here before, John Mayer's weekly IGTV show, "Current Mood" is a goofy and casual 45-minute way for Mayer to hang out with friends and stream it to a few thousands fans every Sunday night. After taking a break to go on his world tour, Mayer's back for season 3. His first guest of the year was pop star Shawn Mendes.
For the season opener, it looks like Mayer's got the new Patek Phillipe Aquanaut 5186G on his wrist. The watch is most known because, well, John says he inspired it. When Patek released the watch at Baselworld this year, John wrote on Hodinkee's Instagram, accompanied by a picture of his Aquanaut Travel Time with a khaki green rubber strap: "The watch/strap combo that inspired @patekphilippe to release the 5168g 'khaki.' The satin-like dial finish, along with the travel time feature, means this configuration still stands on its own two feet. We love to see it."
It's cool to see the product cycle come full circle: John inspires Patek Phillipe, Patek creates a new product, then John embraces the product and wears it on a casual Sunday evening.
While I knew I'd spot something nice on John's wrist, I didn't expect to see anything on Shawn Mendes' wrist. But, there he was on IGTV wearing a modern Audemars Piguet Royal Oak. Shawn chose the blue dial, a classic look that'll never go out of style. It's a solid choice for what might be his first nice timepiece, perhaps informed by his friend, John Mayer?
---
Ticks & Tocks
The largest Rolex AD in Dubai and Watchbox opened a boutique together, and Rolex isn't mad about it. Monochrome's best chronographs of 2019. 💎 LVMH is buying Tiffany & Co. for 16+ billion. 🎁 Gift ideas for the watch nerd from Fratello, Part 1 and Part 2. 🌊 Dan Henry x Worn Wound limited edition. ♣️ Introducing: The Vacheron Overseas Back to Black. 💩 The entrepreneur who made an empire out of Poo-Pourri. 👯‍♂️ Al Pacino & Robert De Niro: The Godfathers of 2019. 📺 Watch Very Ralph on HBO, the Ralph Lauren documentary (mixed reviews so far). What is luxury now?
In Chicago: Timeout Market Chicago in Fulton Market is officially open.
Cheers,
Tony
Questions/comments/tips? Just respond to this email (and please tap the heart above to like it!).