Discover more from Rescapement
Updates on my Hodinkee writing; b-sides and behind-the-scenes; unpolished personal musings; recs and other unsolicited advice.
Rolex in Aviation and Space
Tiffany dials and a giveaway 🎁!
We're giving away a copy of The Vintage Rolex Field Guide! Head to this Instagram post to enter by Sunday night.
This week, I'm thrilled to be able to publish an (exclusive!) excerpt from the excellent book The Vintage Rolex Field Guide by Colin White. A problem I've always had with watch books is that sometimes they throw you straight to the wolves, overloading you with watches and photographs without much context. VRFG is not that.
Colin is able to provide a comprehensive framework for evaluating and collecting vintage Rolex watches. But VRFG doesn't stop there. In addition to a general framework for evaluating authenticity, correctness, condition and overall collectibility, VRFG provides in-depth reference knowledge for every Rolex imaginable — from early Rolex pocket watches through to mid-century sports watches — it's all there. There are reference tables on everything from models to end links and bracelets, all in one place.
On top of that, VRFG provides historical context for it all. In addition to providing a historical overview of the brand, there are chapters on Rolex's place in aviation and the military; a thorough survey of Rolex calibers; and much more.
The book also gave me a newfound appreciation for Rolex's role in some of the most important human achievements of the 20th century. Not least of which is its role (I know, I know, Speedmaster stans) in aviation and spaceflight.
---
By: Colin A. White (excerpt from The Vintage Rolex Field Guide)
Rolex in Aviation and Space Flight
If you're interested in acquiring a vintage tool Rolex, you will quickly learn about the nautical, aviation, and mountaineering history. The role played by Rolex in early spaceflight is often overshadowed by Omega and the iconic Speedmaster. From early supersonic test flights to the last of the NASA space shuttles, a Rolex wristwatch has been present. Favored by Soviet cosmonauts too, Rolex watches have served time on the Internation Space Station and other orbital missions.
The story begins on October 14th, 1947, a white cream dial Rolex Oyster literally skyrocketed on the wrist of Charles "Chuck" Yeager as he became the first pilot to break the sound barrier in level flight. During the rest of his career, Yeager turned out to be a die-hard fan of Rolex watches as he wore consecutive models such as a Submariner 6538 (1958), a GMT-Master 6542 (1962), and a GMT-Master 1675 (1971).
By 1950, Rolex had perfected some game-changing firsts in the world of horology, such as a reliable automatic movement with a date complication. Rolex watches were appearing on the wrists of world leaders such as Sir Winston Churchill and US President Dwight Eisenhower. [Hans] Wilsdorf's strategy of pairing top-quality product development with rugged use by joint military services and scientific expeditions burnished an increasingly prestigious reputation. The accuracy and durability of Rolex led to the tool watch concept aimed at specific professions like engineers, divers, explorers, pilots, and astronauts.
In 1953, as commercial jet aviation matured, Rolex was asked by several airlines to design a wristwatch to fit the needs of aircrew and world travelers. Pan American Airlines and Rolex teamed up to develop a suitable timepiece that could simultaneously display time in two different time zones.
In 1954, Rolex launched the GMT-Master wristwatch. It featured a red and blue 24-hour bezel, a black dial, a date function, and a fourth 24-hour hand. This was differentiated by a distinctive luminous triangle at its tip. This Greenwich Mean Time (GMT) hand enabled flight crews to set the watch to another time zone by using the rotatable 24-hour bezel and setting it to the correct offset.
The Rolex GMT-Master was quickly adopted by many airlines as the GMT standard was required for all aviation planning and navigation. The 1960s Rolex catalog heavily publicized the fact that both pilots and navigators considered the watch an important professional aid.
That same year the GMT-Master 1675 model became available, featuring protective crown guards. it was built for the purpose of timekeeping for the cockpit crew. This popular red and blue Pepsi-bezel watch remained available through 2007, and caught the eye of both American astronauts and Russian cosmonauts along the way.
In 1959, the United States Air Force started operations of the X-15 rocket-powered aircraft in NASA's hypersonic research program. The goal was to acquire research data to guide aircraft and spacecraft design.
In 1963, as NASA started recruitment for the Group III astronauts, Mercury astronaut John Glenn's goodwill tour brought him to Japan. He was met with good public enthusiasm and the event was noticed by Rolex. The company had wanted to release a watch in tribute to the brave spacefarers of the time, as it had done to commemorate expeditions to the summit of Mount Everest and the Arctic.
In response to the Japanese fascination with astronauts and space-related science fiction, Rolex launched a small production run of the "Space Dweller", which was a modified version of the Explorer model. This model remained a Japan-only special edition and was not released to Rolex's world market.
On June 1, 1964, after four months of rigorously testing three watch brands, NASA's Gemini & Flight Support Procurement Office adopted the Omega Speedmaster as its official flight-qualified timepiece. This model was to be christened "the Moonwatch" in July 1969. Although Rolex missed out on a historic advertising opportunity, their watches were to make it into both American and Soviet-Russian space programs.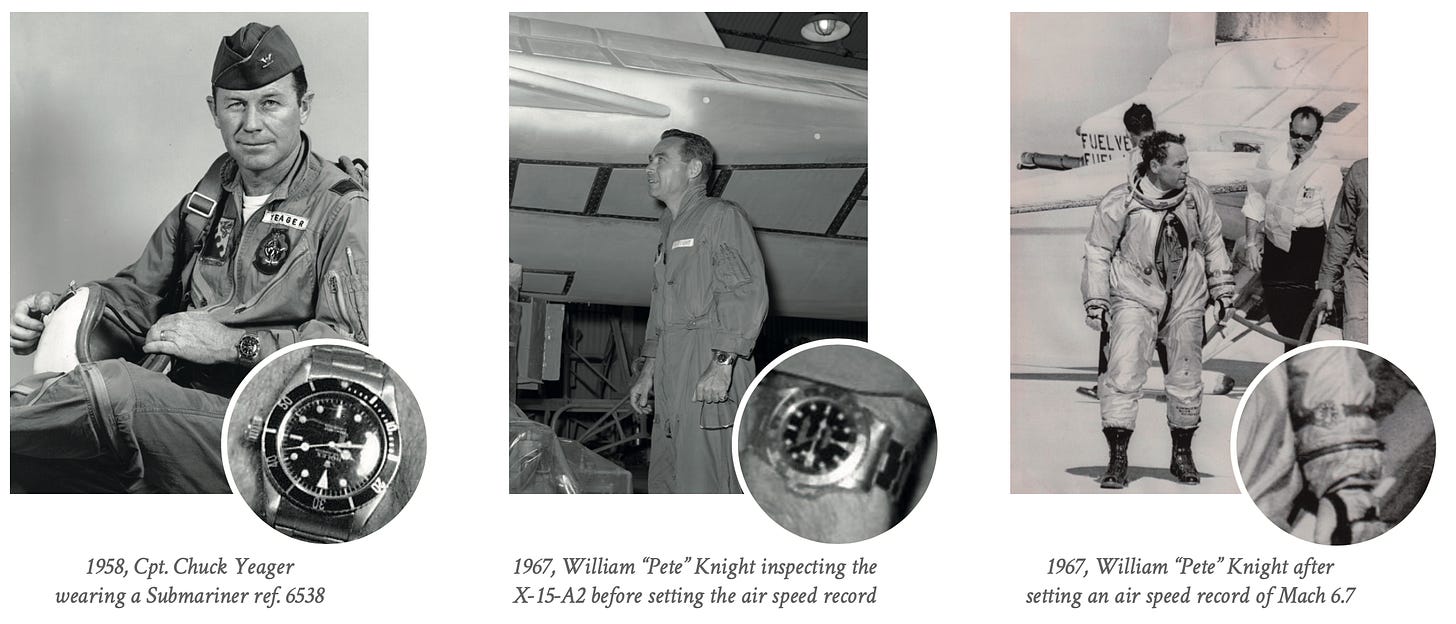 Astronauts and test pilots privately purchased Rolex wristwatches, demonstrating a strong preference for the GMT-Master reference 1675. By 1965, Mercury astronaut Scott Carpenter became an aquanaut, joining the US Navy Sealab II project to test underwater habitats and advance the science of deep-sea exploration. During this time, he wore a Rolex Submariner and later, a Rolex Sea-Dweller, the first wristwatch designed for saturation diving.
In June 1967, test pilot William "Pete" Knight was pictured wearing a Rolex GMT-Master while inspecting the ablative white coating on the X-15-A2 rocket-powered research aircraft. On October 3, 1967, Knight piloted this particular aircraft at a speed of Mach 6.7, a record that remains unchallenged today. Pete Knight's next X-15 flight on October 17, 1967 brought him to an altitude of 85.5km, high enough to be awarded the USAF astronaut wings. Post-flight photos revealed that he was wearing his Rolex GMT-Master on both of these X-15 flights.
Rolex and the Apollo Moon Program
In 1968 and 1969, several Apollo program astronauts were seen wearing Rolex wristwatches during training activities. These included Walter Schirra, Frank Borman, James Lovell and Michael Collins. However, the first Rolex flown aboard an Apollo was worn by Apollo 13 Command Module Pilot John "Jack" Swigert.
Apollo 13
Just 72 hours prior to the Apollo 13 launch, Swigert replaced Ken Mattingly and was photographed wearing his personal rolex GMT-Master while discussing details with Deke Slayton. April 11, 1971 Apollo 13 suit-up photos show Swigert wearing his personal Rolex with a bracelet on his left wrist underneath his spacesuit.
On April 13, 1970, Swigert spoke the now famous words, "Houston we've had a problem." Three days later on April 16, he used his Speedmaster to time the lunar module DPS (descent propulsion system) engine burn at 04:31:28 to :42. Upon their return to Earth, Swigert gifted his space-flown Rolex to Rolex Public Relations Direct, Rene-Paul Jeanneret, who offered Swigert a golf black bezel GMT-Master on a jubilee bracelet. In December 1971, Jack Swigert finally posed for his official white spacesuit portrait wearing this gold watch.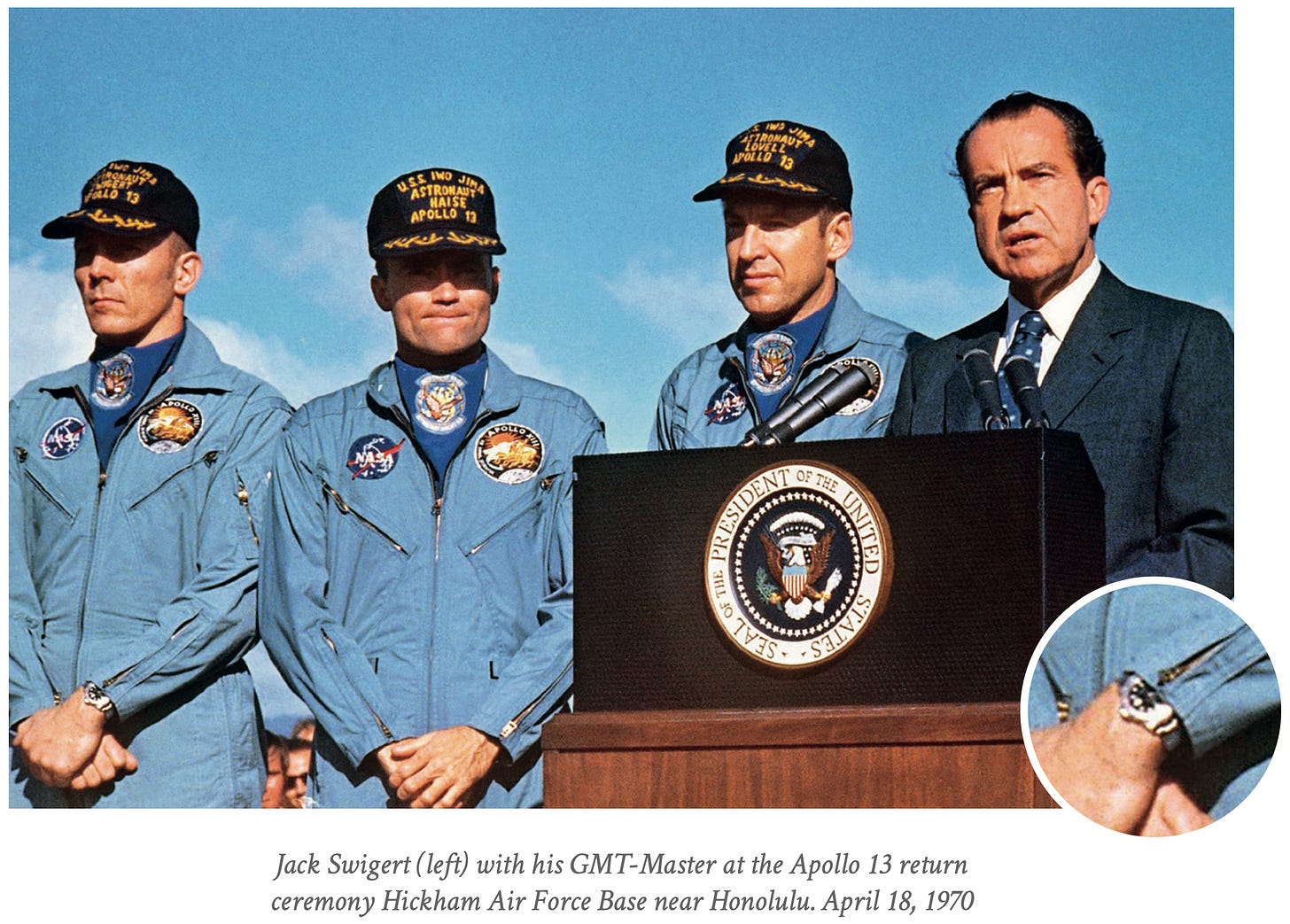 Apollo 14
Between August 1969 and November 1970, the Apollo 14 crewmembers were pictured wearing Rolex GMT-Master watches during geology training as they prepared to bring moon rocks to Earth. NASA astronauts were allowed to carry private items in their personal preference kit (PPK), along with other small personal effects including wristwatches. Some of these fireproof-PPK bags were stored in the Command & Service Module (CSM), while others hung in the Lunar Module (LM). The latter descended to the lunar surface, rendering the items LM-flown.
During the suit-up procedures on January 31, 1971, both Command Module Pilot Stuart Roosa, and Lunar Module Pilot Edgar Mitchell, were seen wearing Rolex GMT-Master watches. Moreover, Ed Mitchell had a pair of Rolex GMT-Master 1675 watches, tucking one on each wrist under the inner cuff of his A7L spacesuit. Although both Roosa and Mithcell clearly wore the Rolex in the CSM "Kitty Hawk", there's no footage showing Mitchell wearing the watches aboard the lunar module "Antares", not on the lunar surface.
Apollo 17
In 1972 during the November 21 lunar EVA-training at Cape Canaveral, Apollo 17 Commander Eugene Cernan was pictured wearing a Rolex GMT-Master strapped over the left forearm of his A7LB space suit. A few months later in December, Apollo 17 Command Module Pilot Ronald Evans was the last to account for a space-flown Rolex watch during the Apollo program. During the mission, Evans asked his moonwalking colleagues, Gene Cernan and Harrison Schmitt, to take his PPK-bag containing a private Rolex GMT-Master, aboard LM "Challenger" down to the Taurus Littrow region, while he orbited the moon aboard CSM "America".
This Rolex timepiece remained on the moon for about 75 hours before humankind left the moon for good. Evans' personal Rolex GMT-Master 1675 wristwatch was auctioned during the October 2009 Heritage Auction sale in Dallas, Texas, selling for $131,000.
Rolex On Board the Shuttle and ISS
With the almost routine planning of regular space shuttle flights, the rules for the types of personal items astronauts could carry aboard were relaxed.
Shuttle pilots recruited from military services always had an interest in watches. A good example is naval aviator Michael McCulley, who wore his personal Rolex Daytona 6263 aboard space shuttle Atlantis on STS-34 in October 1989.
Pilot astronauts Sonny Carter and Blaine Hammond wore, respectively, a personal Rolex Datejust on STS-33 in November 1989 and a Rolex GMT-Master "Pepsi" aboard STS-39 in May 1991. These were both classified Department of Defense missions aboard space shuttle Discovery.
Naval aviator Scott Altman wore four different Rolex watches in space. Rolex Submariners on Columbia STS-90 (April 1998) and Atlantis STS-106 (September 2000) and GMT-Master watches on Columbia STS-109 (March 2002) and Atlantis STS-125 (May 2009).
In the latter half of the Space Shuttle era, one astronaut stood out by wearing his personal Rolex GMT-Master during each of his missions. NASA mission specialist, Dr. Leroy Chiao wore his Rolex on three different space shuttle orbiters: Columbia (STS-65 in July 1994), Endeavour (STS-72 January 1996) and Discovery (STS-92 in October 2000).
In 2004, Chiao was also assigned as commander of the ISS Expedition-10 and was launched aboard Soyuz TMA-5 to the space station, wearing his trusted Rolex timepiece. During the 192-day mission, he became the first American citizen to vote in a Presidential election while in space. Leroy Chiao accumulated a total of 229 days and 8 hours in space, bestowing upon his personal GMT-Master the claim of having the most flight time in space.
In April 1998, Canadian physician Dafydd "Dave" Williams wore a 1960s Rolex Submariner during the Columbia STS-90 mission. Being a keen scuba diver and NEEMO project aquanaut, he wore the same Submariner, a Rolex model with an epic diving history and pedigree, for several saturation dives on the Aquarius undersea research habitat.
In August 2007, Williams wore a Rolex Sea-Dweller during the STS-118 mission aboard the space shuttle Endeavour. The mission marked the 150th manned U.S. space launch and Dr. Williams became the Canadian with the most spacewalks.
In October 2007, Malaysian surgeon Sheikh Muszaphar Shukor took some of his personal watches, among them a Rolex Submariner, aboard Soyuz TMA-11 to the ISS. That same year Rolex had just released the certified chronometer version of the Submariner 14060M. This is still considered the last classic Submariner thanks to its clean dial, aluminum bezel insert, domed crystal, and case with drilled lugs.
Half a century after the release of Rolex aviation and dive watches, the GMT-Master, Submariner and Sea-Dweller have earned the Rolex Professional Collection a rich heritage and global reputation. This was earned at a time when mechanical watches were the pinnacle of advanced design and technology.
Rolex's commitment to the continuous improvement of its products took the form of a sustained focus on design for the harshest environments and the most rugged use by the most active customers. Rolex Professional watches have become synonymous with accuracy, durability, and amazing human achievement.
If you enjoyed reading this post, please share it with friends! 👇
You can buy The Vintage Rolex Field Guide on Amazon:
Copyright © The Vintage Rolex Field Guide. All Rights Reserved. This post may not be reproduced without the permission of the author.
---
Wei Koh is at it again, this time with a comprehensive history of the Audemars Piguet Perpetual Calendar. AP historian Michael Friedman best provides the historical context for AP's super thin reference 5548 perpetual calendar:
"Think about it in the context of 1978. No one was making complicated watches, let alone perpetual calendars. In fact the only other brand that has made a serially produced perpetual calendar wristwatch up until this point was Patek Philippe.

Their watch at the time is the reference 3448 (launched in 1961), a round 'disco volante' shaped watch that is 37mm in diameter and 11mm in thickness. Then we unveiled the reference 5548, that is so significantly thinner at 7mm.

It is such an audacious watch. Because it was saying to the world that's being swept up by the quartz craze, 'Hang on, look what we are capable of with mechanical watchmaking.' In the size of a quartz watch, we've placed a mechanical supercomputer. And because of the lean elegant dimensions of the 5548, it becomes a symbol of modernity like the Royal Oak before it."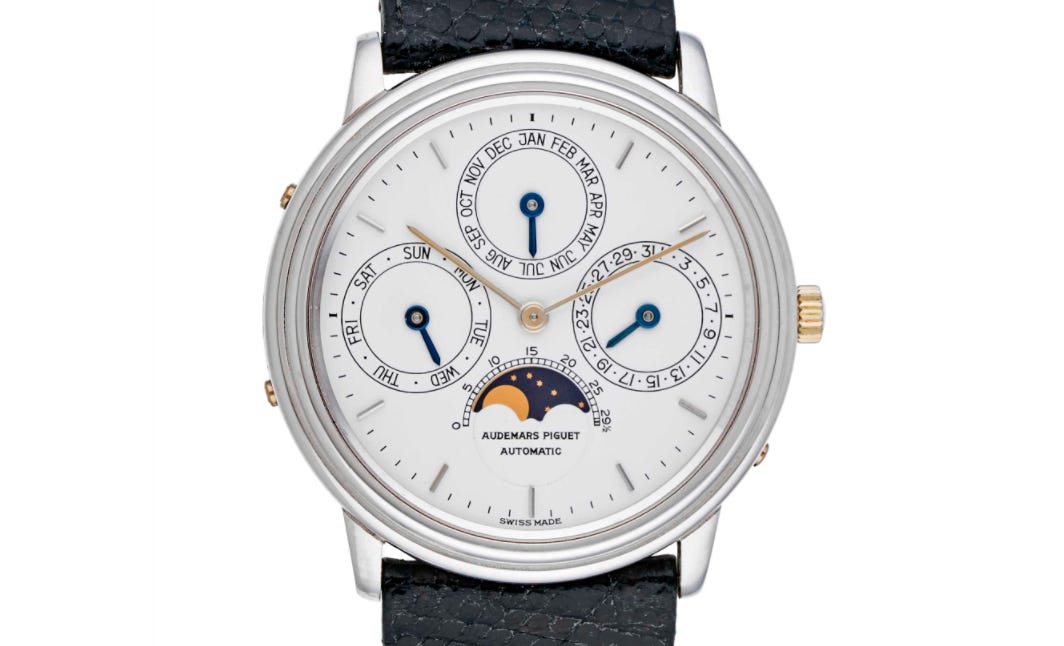 I've been saying it for awhile, but the future (nowadays, more like the present) of journalism (watches or not) is newsletters. It allows for a personal, authentic connection with readers — independent, unfiltered. Long-time freelancer Jason Heaton came to Substack last week, and he's already proving that future is bright:
For me, the real beauty of a dive watch is simply that you CAN take it diving. To go under the ice, inside a deep wreck or fight a stiff current with a little steel capsule of gears and springs on your wrist still thrills me. My Garmin is a great tool, but when I get back on shore, it comes right off. There's no romance to it, no nostalgia for adventures past. Sure, it stores a log of past dives but not in the same way a dinged-up Submariner or Seiko beckons you to get back out there when you see it on your wrist come Monday morning. And that's impossible to capture in a review. With or without gloves on.
---
Through the Wire
🥐 Tiffany and Teamwork. I find the historic relationship between manufacturers and retailers fascinating: the way they'd partner with each other to bring worthy luxury products to consumers. In fact, this ethos of collaboration extended all the way back to the watchmakers in the Vallée de Joux. As Koh explains in his article about the AP Perpetual Calendar (above):
"This is the way watchmaking worked at the time with maisons collaborating with many specialists' business in the Vallée de Joux. AP had a long-standing and excellent relationship with Dubois Dépraz so it was natural to work with them in this project."
Perhaps it's my (dwindling) sense of American exceptionalism, but on the retail side, Tiffany remains one of the most intriguing to me: I enjoy imagining the type of consumer that might have strolled into Tiffany & Co. on 5th Ave. to pick up a particular watch. A few double signatures from around the web:
Bob's Watches has this Day-Date Ref. 1803 with a Tiffany dial for sale — smooth bezel Day-Dates are just some of the most elegant vintage watches around.

If Hodinkee can sell a Tiffany-signed Datejust Ref. 16223 in a few minutes, you'd think this Ref. 16013 from Menta Watches with full box and papers for about the same price would go just as quickly.

Finally, a Cartier-signed two-tone GMT-Master Ref. 1675 sold at Christie's for CHF 68,750 last month. Compared to that, this more modern, Tiffany-signed two-tone Submariner Ref. 16613 almost feels like a steal. Almost.
🌍 The Jewish roots of Swiss watchmaking. "When [the French region of] Alsace was annexed by Germany in 1871, Alsatians of all confessions were obliged to choose German nationality or leave the country. Numerous Alsatian Jews and, later, Jews from eastern Europe, left for the Jura region around Neuchâtel and Bern, or Geneva and Avenches." How this migration changed Swiss watchmaking and led to Vulcain, Tavannes, Movado, and a number of other historic Swiss brands. (h/t Charlie)
🧮 The Rodania Geometer is one of the most fascinating vintage chronographs. It's nearly a dead ringer for early Omega Speedmasters, but very little else is known about the Geometer — or Rodania (/Rodana), for that matter.
⚙️ Gearing Up: Saga's new watch folios made from Horween leather look sweet, as do Analog Shift x Wolf's watch boxes. Bookmark these for gift-giving season.
👀 Joe Biden wore his Omega Speedmaster at the Democratic National Convention.
Thank you for supporting the newsletter. Any comments or questions, feel free to reply to this email. -Tony
—
Rescapement is a weekly newsletter about watches. If you enjoyed this edition, consider forwarding it to a friend. For all the latest, head to rescapement.com.