Discover more from Rescapement
Updates on my Hodinkee writing; b-sides and behind-the-scenes; unpolished personal musings; recs and other unsolicited advice.
Richemont and Where Are the Vintage Watch Startups?
A messed up Air-King and some awesome vintage chronographs
After Rolex and Swatch Group, Richemont is the third largest seller of watches in the world (fourth, if you include Apple). With brands like Cartier, A Lange & Sohne, Jaeger-LeCoultre, IWC, and Vacheron Constantin, Richemont's portfolio has offerings for every segment of the luxury market.
Last week, Richemont announced its fiscal year (ended March 31, 2019) earnings. It caps a fiscal year that saw Richemont acquire both Net-a-Porter (which owns Mr. Porter) and its nascent online watch sales business, and Watchfinder, the UK-based online retailer of pre-owned luxury watches. Overall, watch sales at Richemont grew 13% to reach almost $5 billion. Just 3% of this revenue, or $118 million, was attributable to the acquisitions of the online retailers. So, people still aren't buying many watches — at least the new or pre-owned luxury kind — online. Richemont even called out specifically that Watchfinder saw just single digit growth. Perhaps all those YouTube videos (see below for a good one) aren't paying off?
That Watchfinder's not really growing should be concerning for a number of startups and emerging companies looking to upend the traditional watch sales business. Many of them — think StockX, Crown & Caliber, Chronext, and others — have set their sites on the pre-owned space (which I generally think of as modern-era watches made in the past 25-30 years), making it extremely competitive. The assumption had been that the pre-owned market is both growing and lucrative. Watchfinder's single-digit growth is the first indication I've seen that this may not be true.
Most of the growth in the watch industry has been centered around vintage watches and modern, hard-to-get watches (basically, stainless steel Rolex sport watches). Pre-owned watches are in this awkward middle ground now. Mass-produced, and not old or rare enough to really be vintage, but without all the hallmarks of a true luxury modern watch that many buying a brand new Submariner Ref. 114060 would want. Don't get me wrong, 90s Explorers or Explorer IIs are great watches (and appreciating in value pretty quickly), but can you build a high-growth startup flipping these watches? They're selling for a few thousands dollars, which doesn't leave a whole lot of margin for a middleman to facilitate flipping. Sure, these marketplaces offer shipping guarantees and limited warranties, but the premiums they charge often aren't commiserate with the value they add to a transaction.
While a pre-owned, modern era watch is probably still ticking nicely (which is a testament to the craftsmanship), buying a vintage watch online is fraught with risk and uncertainty. But, there are only a handful of dealers and experts in the world who can help a buyer or client navigate these risks and find a watch that's "correct" in all material respects and of quality provenance. Unfortunately, this isn't a scalable business, so most of us are stuck navigating the treacherous seas alone like Arya sailing west out of Westeros.
---
Other News
A messed up Air-King and 10 Watches for Summer
A modern Rolex with a major defect. You don't see this much from modern Rolex: a modern Air-King with a pretty noticeable defect. Would you pay a premium for it?
Comparing Richemont to Swatch. Richemont sold $5 billion of watches last year; Swatch sold $8.5 billion. Richemont's operating margin improved dramatically to 12.7%; Swatch's was 13.6%. Richemont grew 10% organically last year; Swatch grew 6%. Both are looking to China for continued growth as European sales slow. Swatch says that it is focused on growing ecommerce in the "middle and basic" range (Swatch, Tissot), while Richemont is taking a more holistic approach. Ecommerce is a conundrum because online may be ill-suited to high-end watch sales, but that's the only segment of the market that is actually growing. See Swatch's year-end earnings report.
Worn & Wound recommends ten watches for the summer.
---
Sales Corner
The Swatch "Summit" and Some Vintage Chronographs
Speaking of Swatch, they announced a bunch of new watches at a summit thing. One of which is this "limited edition" Omega Speedmaster they'll make about 7,000 of. Not going to make any limited edition jokes…
Swatch also introduced the Glashutte Original SeaQ and the Blancpain Air Command Flyback Chronograph. Re-issuing or re-framing vintage favorites is the easy thing to do, and Swatch has nailed it with all three releases mentioned here.
Timex Q Reissue. Last week, Timex reissued the Timex Q — a retro 1970s watch with a Pepsi-style bezel. 38mm, quartz movement, era-appropriate stainless steel woven bracelet, priced at $179 — it hit all the right notes, and it showed — the watch sold out in just a few days. Another re-issue!
Now for some vintage…
A gorgeous 18k rose gold Movado chronograph. Featuring Movado's in-house M90 movement, you can pretty much only say positive things about this mid-century chronoraph in gorgeous condition. The seller is asking $3600.
Vintage Seiko Chronograph. This is a 1975 Seiko chronograph with a "petrol blue" dial in a "jumbo" 40mm size. 1970s Seiko chronographs are often fun, funky, and futuristic, and this one is no exception Find it at Shucktheoyster.com for EUR 790.
A fun blue mosaic dial Rolex OP. Yes, you see 1960s and 1970s Rolex Oyster Perpetuals up for sale all the time. But I really liked this 1973 Ref. 1002 no-date OP with a "shantung" dial. Inside is Rolex's caliber 1570, which it also used on its time-only sports watches of the era. Seller is asking $3200.
Or instead of that Blancpain re-issue above, how about a 1960s Blancpain diver?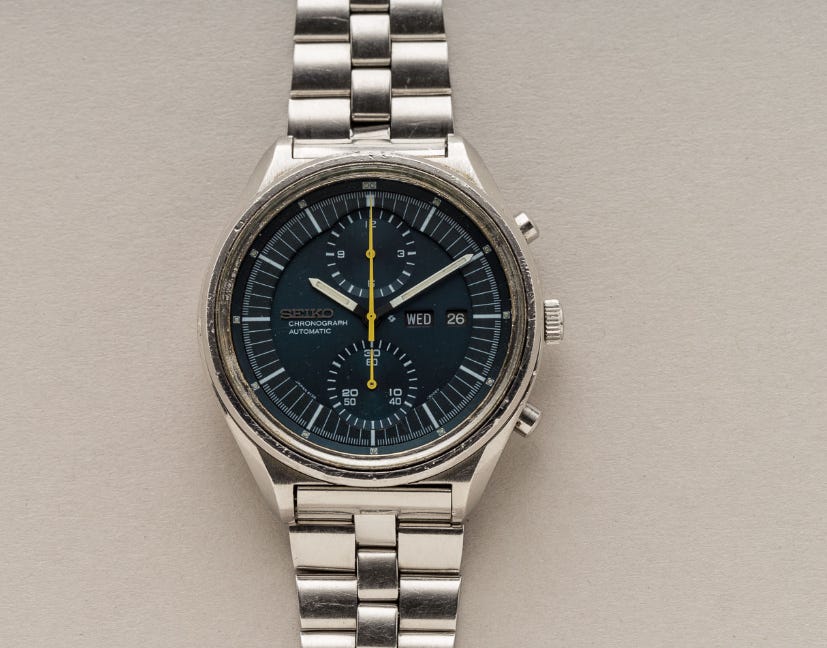 ---
Ticks and Tocks
👑Can the watch industry exist without Rolex?📱The iPhone is the most successful product of all time (1.6bn sold). 👸 Was last night's GoT finale the last show we'll watch together? 📚 How do you write 179 books? ✈️ Ablogtowatch reviews Bremont's U-2/51-Jet. 🍹 Why is the NYT shading the Aperol Spritz? 🌑 Bringing a badly abused Speedy back from the dead.
Thanks for reading; and remember you can refer people to our newsletter to earn a free Nato strap — just forward this email or send them here and tell them to say you sent them in the intro email.
-Tony
Questions/comments/tips? Just respond to this email (and please tap the heart above to like it!).
Meme of the Week:
(PURE CLASS)