Discover more from Rescapement
Updates on my Hodinkee writing; b-sides and behind-the-scenes; unpolished personal musings; recs and other unsolicited advice.
Q1 Report: Watches & Wonders, & The Coolest Watches I've Seen This Year
Plus my favorites from W&W and weekend long reads
I attended my first Watches & Wonders a couple weeks ago. I've written a lot of articles:
For the most part though (and besides Rolex), it felt like a bit of a wait-and-see year. While there was a lot of optimism in and around the show, brands large and small also talked constantly about supply chain issues and watches that wouldn't be delivered for another year or two. At least a few brands – Lange and IWC come to mind – showed just a single watch. And there's nothing wrong with that: Watches should be different from fashion and trends where there's pressure to release something new, and to release something new 2x a year. Luckily for Lange and IWC, the watches they bet their show on were hits. I think the way I concluded my Daytona review applies to the watch industry more broadly:
"Once you get past what's new, the new Daytona is pretty similar to the old ceramic Daytona. It's still a steel chronograph that will be impossible to get at retail. There's the watch, and then there's the owning of the watch; discussion of the latter has totally consumed the former over the past few years, and that's not going to change now just because the subdials look a little bit bigger.

Still, Rolex has made a Daytona that's slightly better than the old Daytona, the same thing it's done for each previous generation. It's like that software update your iPhone does while you're asleep at night. As soon as we get past what's new, we find it's mostly about what's old."
In other news. Substack, the platform that I used to start Rescapement and now use to publish this infrequent personal newsletter, introduced a Twitter alternative called Substack Notes this week. I'll try it out a bit as a social media alternative to post thoughts, links to my Hodinkee writing, and photos. We'll see if it works. Check out Notes here.
Subscribe to get regular updates on my writing at Hodinkee, unpolished personal musings; recs and other unsolicited advice.
---
Kicking It Old School
Enough new watches. Since I haven't hit your inbox in 2023, here are a few other highlights from the first quarter of the year. I've been hitting the neo-vintage beat hard (we now publish a Vintage Watches column every Wednesday):
Perhaps these were all an attempt at self-fulfilling prophecy – in my predictions article at the beginning of the year, I said that "the 90s are in," among other predictions that, by now, are surely proven wrong, even if I think this overarching prediction has been directionally correct:
"For most watches, prices aren't going to rise this year like they did the last few years. With that, people won't feel the need to "chase trends" – there's time to slow down, take a breath, and consider what watches are actually interesting to you, not what's interesting to me or that guy at the meetup you kind of want to make jealous but don't want to admit it."
If true vintage is more your thing and not this so-called neo-vintage, I went to the Miami Beach Antique Show in January and captured it all in a Photo Report. I also wrote an in-depth article about the Blancpain Fifty Fathoms (a surprising amount of Blancpain love from me!). One more article I was proud of was this feature on British watchmaker Rebecca Struthers.
---
Oak & Oscar's The Watch Table
Chase was kind enough to invite me on The Watch Table to let me ramble on about my so-called collection of watches. We taped at about 10 a.m. but of course he still made me sip some whiskey:
Thanks for having me on, Chase and team! By the way, Oak & Oscar just added a no-date Olmsted to their lineup. 👀
---
That's it from me. I'll update you again in another month or so, perhaps after spring auction coverage has landed. Until then, here are five of the coolest watches I've seen so far this year: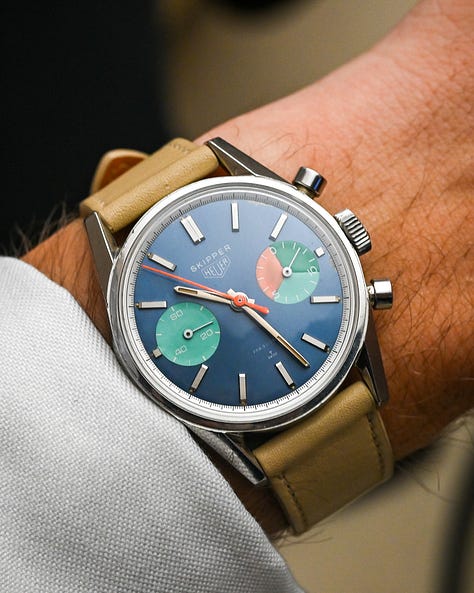 From top: A Heuer Skipperera; A unique Franck Muller pocket watch made for Prince Jefri for Les Mans (google him!); a Rolex Commando; Andy Warhol's Patek 2526; Peterman Bedat 2491 Split Seconds.
As always, thanks for reading.
-Tony