Discover more from Rescapement
Updates on my Hodinkee writing; b-sides and behind-the-scenes; unpolished personal musings; recs and other unsolicited advice.
Previewing the Fall 2019 Auctions
I dressed up as a watch blogger for Halloween
Previewing the Fall 2019 Geneva Auctions
With the fall 2019 Geneva auctions fast approaching, it's time we give a preview of what's to come over the auctions from Christie's, Phillips and Sotheby's from November 10-12. There are roughly 200 lots per auction, meaning there's quite a bit to get through. As such, we'll divide this preview into three categories:
Top Lots

Next Up (pieces with estimates under $100,000)

Under the Radar (estimates under $10,000 or so).
We've already created our "Vintage Daytona Database" highlighting all vintage Rolex Daytona (and pre-Daytona chronographs) up for auction this fall, so we'll largely eschew discussing those in this preview, though some are too good not too highlight.
While most previews start at the top lots and move down, we'll do the opposite, starting with watches that are flying under the radar. Unlike in past previews, I'm giving quick hits on 30+ watches instead of going in-depth on a smaller subset of watches, in hopes of highlighting as many cool pieces as possible for you to dig deeper on.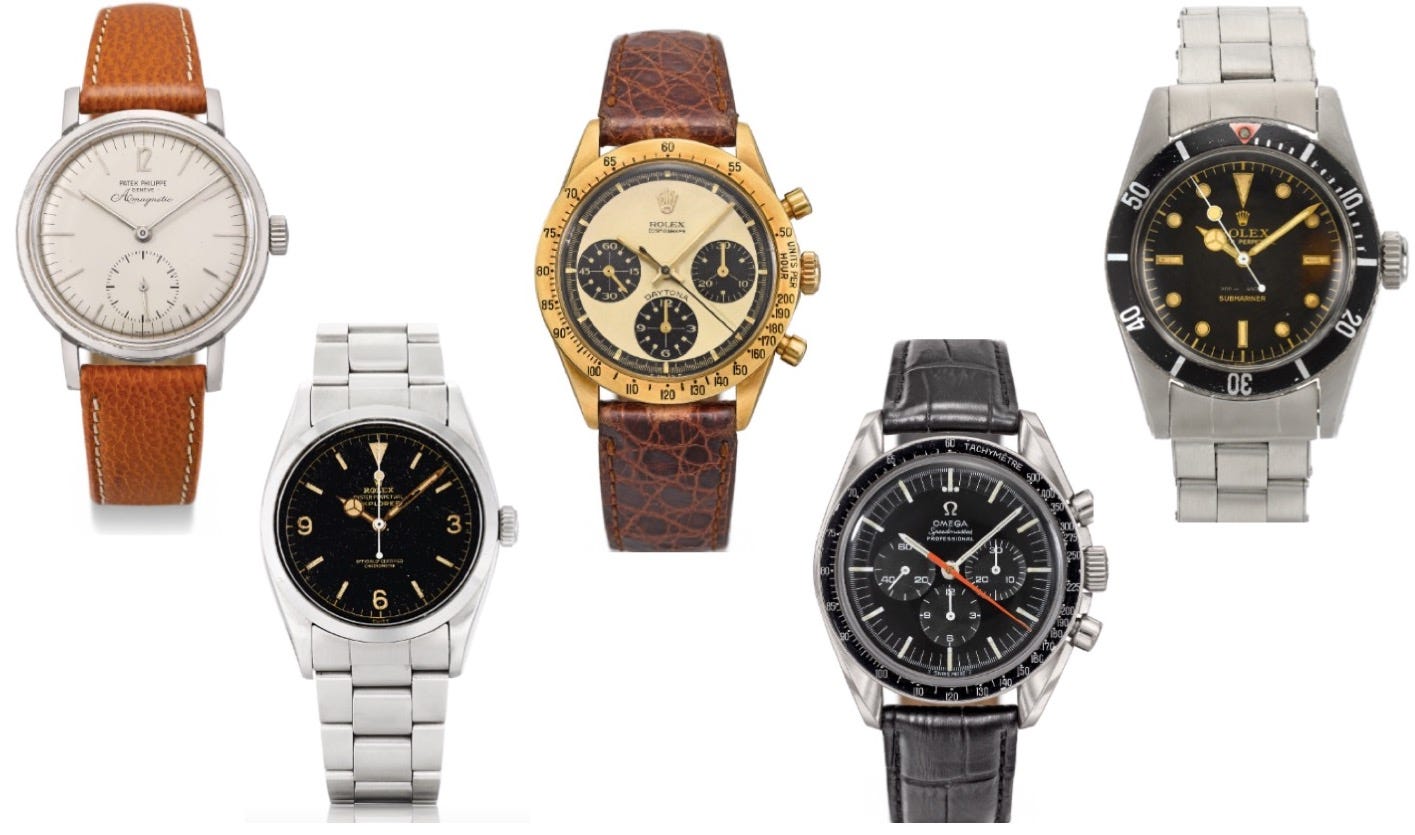 ---
Under the Radar (under $10,000 or so)
Universal Geneve Polerouter Sub (Christie's)
A second-series Polerouter Sub from 1965, offered on a Gay Freres bracelet.
Estimate $3,000 to $5,000 (no reserve).

Zenith El Primeo A386 (Phillips)
With the 50th anniversary of the El Primero this year, what better way to celebrate than by picking up the original El Primero reference? First released in 1969, the A386 was the first automatic caliber chronograph (we'll spare the drama of which brand was first to what achievement, and summarize by saying this watch is historically important). Here it is in steel, with the classic tri-color subregisters.
Estimate: $5,000 to $8,000
Movado 95M 18k pink gold chronograph (Phillips)
With the sharp stepped bezel and sculpted lugs, you can tell this example is in amazing condition. Add to that the legendary 95M chronograph movement and classic three-register layout featuring Movado's signature serpentine hands, and it's a wonder this thing isn't estimated to hammer at twice this price. For more on Movado 95M chronographs, read Rich Fordon's For Your Reference on the model.
Estimate: $4,000 to $8,000 (no reserve)

Universal Geneve Compur Chronograph (Phillips)
A large 38mm two-register chronograph from the 1940s. It's got a beautifully preserved black dial, luminous hands, and extracts showing it was delivered to the German Aviation Ministry.
Estimate: $6,000 to $8,000

Lemania Stainless Steel Chronograph from 1945 (Christie's)
A stainless steel 37mm Lemania chronograph featuring an interesting anthracite gray dial, two-register chronograph, and red pulsation scale. Snagging an attractive chronograph from the company that was supplying base movements for some of the most legendary chronographs of the last century is a huge value proposition. The next lot in Christie's auction is a similarly-styled Omega chronograph with a slightly higher estimate.
Estimate $8,000 to $12,000

Grana Split Seconds Chronograph (Christie's)
A glossy black dial, stainless steel, split seconds chronograph at this price? Seems like a steal. Grana made "Dirty Dozen" watches during World War II and later became part of Certina.
Estimate: $10,000 to $15,000

Omega Seamaster 300 Ref. 2913-8 (Sotheby's)
A classic. The original Omega Seamaster 300, released alongside the Speedmaster and Railmaster in 1957. This example dates to 1958.
Estimate: $10,000 to $15,000
Rolex Explorer Ref. 6610 (Sotheby's)
The Explorer Ref. 1016 only gets more popular, so investing in this even earlier model is probably a wise move. Produced beginning in 1959, and then only for a few years until the Ref. 1016 took over, the Ref. 6610 is actually quite rare. The white seconds hand on this example is especially striking.
Estimate: $10,000 to $15,000
Next Up (under $100,000)
Omega Ultraman (Christie's)
An example of the rare Speedmaster Professional with an orange running chronograph seconds hand, thought to have first appeared in the sci-fi "Return of Ultraman" series. While an unknown number were made, we know it's not a lot. A rare, grail-worthy Speedmaster indeed.
Estimate $30,000 to $50,000
Another Ultraman is on offer from Phillips, with a slightly lower estimate of $20,000 to $30,000.

Omega Speedmaster 105.012 for APC (Phillips)
The 105.012 is already one of the more rare Speedmaster references. Throw in that this one was delivered specifically to the Automovil Club Peruano — one of 50 like this — and is stamped "A.P.C." at 12 o'clock to signify it, and you've got one of the best Speedmasters up for auction this season.
Estimate: $30,00 to $50,000

Two Patek Phillipe Amagnetics (Lot 108 and Lot 109) (Christie's)
Soon after competitors Rolex and Omega jumped into the anti-magnetic watch game, Patek Phillipe offered up its answer, the Reference 3417, its first serially produced anti-magnetic wristwatch. Even more rare is the Ref. 2509 (lot 109, linked above), a Calatrava reference, here fitted with an anti-magnetic movement. Christie's says only two examples like this have been discovered to date. It's rare to find vintage Patek in stainless steel, and even more so with a movement like this one. Don't care about the anti-magnetic features? Check out this traditional Ref. 2509 in pink gold, on offer from Sotheby's for a fraction of the price.
Estimates:
Lot 108: $25,000 to $45,000

Lot 109: $30,000 to $50,000

Rolex Submariner Ref. 5508 'Small Crown' (Sotheby's)
The 'Small Crown' James Bond Submariner (see below for a Big Crown on offer from Sotheby's). This reference appeared in multiple James Bond movies over the years, and remains extremely desired among collectors. What's especially striking about this example from the 1950s is the small profile of the Submariner, much more discreet than the later versions of the iconic watch.
Estimate: $30,000 to $50,000

Patek Nautilus Ref. 3800 (multiple)
This is a complete personal bias, but I much prefer this smaller reference 3800 to the original reference 3700 "Jumbo". It's slightly smaller (measuring 37mm), features a sweeping center seconds hand, and comes in at a much more reasonably price than the hyped vintage reference 3700 or modern reference 5711. Sure, the sky-high price of the reference 3700 and reference 5711 are generated primarily by hype, but if one thinks the trend has any staying power, sinking some money into slightly less expensive stainless steel Pateks might not be a bad idea. To that end, I think the reference 3800 represents a value proposition (dare I say, an investment?).
Audemars Piguet Royal Oak Ref. 5402 (Phillips)
This is an original A Series Royal Oak from the early 1970s, in amazingly sharp condition. A grail to many, this is as good an example as you'll find for offer nowadays. Sotheby's also has an A Series on offer this season.
Estimate: $40,000 to $80,000

Patek Phillipe Calatrava Ref. 2526 (Christie's)
Just one of the most handsome dress watches ever made, featuring Patek's first automatic movement, in 18k pink gold. Most reference 2526s were made in yellow gold, with less made in pink gold, and a very select few made in platinum and white gold.
Estimate: $50,000 to $100,000

Cartier Tank Etanche (with provenance) (Phillips)
This beautiful yellow gold Cartier Tank originally comes from the prolific collection of American socialite Barbara Hutton (also known for being married to Cary Grant at one point, one of her seven marriages). This watch ended up in the hands of another of her husbands, Count Haugwitz-Reventlow. This Tank is especially notable for having a waterproof rectangular case, a particularly challenging design feat.
Estimate: $70,000 to $140,000

Top Lots
Rolex Submariner Ref. 6538 'Big Crown' (Sotheby's)
We highlighted the Small Crown Submariner above, but that watch often falls in the shadow of this reference, perhaps the most iconic of Submariners. Sean Connery wore it in classic Bond films "Dr. No", "From Russia with Love", "Goldfinger" and "Thunderball". In addition, this reference was only produced from 1956 to 1959. Of course, the watch is most noted for its large, 8mm Brevet crown.
Estimate: $150,000 to $300,000

Phillipe Dufour Simplicity (Phillips)
Perhaps the perfect modern dress watch, this white gold example bears movement number 23, and was finished in 2002, making it one of the earlier examples from Dufour, perhaps the preeminent independent modern watcher.
Estimate: $150,000 to $300,000

Rolex Submariner Ref. 6200 (Christie's)
A Submariner from 1954 featuring a 3-6-9 Explorer dial. Only 300 reference 6200s were manufactured to begin with, and this is the first to be discovered with a dial featuring both the white printed model name ("Submariner") and the depth rating ("200m = 600ft"). It's also one of the few with a chronometer-certified movement.
Estimate: $250,000 to $350,000

Rolex Daytona Ref. 6241 18k Gold 'Paul Newman" (Christie's)
Not much to say here except, "damn." A Ref 6241 pump pusher example, 18k gold case and champagne dial. It's one of the top lots in Christie's auction, and for good reason.
Estimate $300,000 to $500,000

Rolex Daytona Ref 6262 18k Gold (Christie's)
The Ref. 6262 Daytona was made for only a year, so it's already the rarest of Daytona references. Only 35 6262s were made in gold, making this the rarest of gold Daytonas. This particular example was even featured prominently in a reference book and is now coming to auction for the first time. A rare Daytona with historic provenance is a sure fire way to arrive at one of the top lots of the fall.
Estimate $340,000 to $540,000.

Patek Phillipe Ref. 1463 Stainless Steel (Phillips)
This 1940s chronograph from Patek Phillipe has come to be known as the "Tasti Tondi" for its distinctive round pushers. There are 67 known examples of the Ref. 1463 in stainless steel, and only 17 are known to have the silvered, two-tone dial that this one features. Phillips also has an 18k yellow gold Tasti Tondi up for auction at a much lower estimate.
Estimate: $300,000 to $600,000

Two Rolex Moonphases: Ref. 6062 and Ref. 8171 (Phillips)
A set of rare and complicated Rolexes from Phillips. The Ref. 6062 "Stelline" is a moonphase in an Oyster case. In a recent article for Hodinkee Magazine, Ben Clymer estimates that 1,400 Ref. 6062s were made between 1950 and 1952. The sale of the black-dial Bao Dai reference 6062 in 2017 for $5 million in 2017 has shot this reference to prominence in the collecting community.
Meanwhile, the Reference 8171 is even more of an oddity. It was manufactured during the same period as the Ref. 6062, but features a snap-on case back. Clymer estimates that only 1,200 Ref. 8171s were made. He points out the oddity of the Ref. 6062 commanding a bit of a premium on the market compared to the Ref. 8171 — that fact is further illustrated by these two lots, sitting side by side, but with the Ref. 6062's estimate seemingly knowing no limit. Surely, the Ref. 6062 has been aided by high-profile sales like the Bao Dai, but the Ref. 8171 is worthy of attention in its own right. Considering the way people go crazy for stainless steel, don't be surprised if the Ref. 8171 does well next month.
Estimates:
Ref. 6062 (pink gold): $1 million +

Ref. 8171 (stainless steel): $500,000 to $1 million
Rolex Ref. 4113 Split Seconds Chronograph (Phillips)
A rare complication from Rolex, this is a split seconds chronograph from Rolex circa 1942; only 12 are thought to have been manufactured. On top of that, it comes in a beautifully preserved stainless steel case, measuring a whopping 44mm in diameter.
Estimate: $1.5 million +

Henry Graves Minute Repeater (Christie's)
Perhaps the watch of the season (until we get to the Marlon Brando GMT in December). It's one of the earliest recorded examples of Patek making a minute repeater, and Henry Graves Jr. even went to Patek in Geneva himself to pick this one up; usually, Tiffany would deliver his watches in New York. It's an 18k gold tonneau-shaped case, and pretty understated for the complicated, historically important Patek that it is.
Estimate: $3 mil to $ 5 mil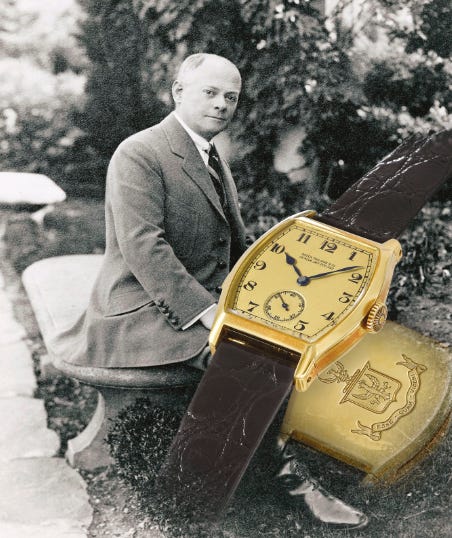 And if all else fails, shamelessly auction off a modern Rolex for 2x retail, or one of the hottest modern (non-steel) Daytonas of the year.
---
Other News
Hodinkee Photo Report form Rolliefest 2019. Tiffany stamps, Rainbows, and even some none Rolex from the flex fest.
Christie's on 10 Rolex references to die for, from a Ref. 6263 Daytona to a unique Ref. 1803 Day-Date.
A. Lange released a stainless steel watch. Everyone had opinions. Take a look and form your own.
---
Ticks & Tocks
⛄️ My own private Iceland (why tourism has never been "authentic") (Vox). 👕 With fall around the corner, a reminder on the tragedy of common cashmere (or, why that $100 cashmere sweater is too good to be true) (Die Workwear). 🎓 Schon Horology on camera (YouTube). 😬 Are watches just an insecure guy thing (Time + Tide)? 🛌 How to tell if it's a grail, or if you just need to take a nap (Put This On). 😂 Emojis we use the most, ranked.
In Chicago: A telltale sign of gentrification
Thanks for reading!
-Tony
Questions/comments/tips? Just respond to this email (and please tap the heart above to like it!).
Meme of the Week:
from: @watchumor