Previewing Spring Auctions (from $1,000 to $1 million)
Plus Virgil Abloh and Tom Ford on Watches
Previewing Christie's Spring 2019 Auctions
May means the spring auction season in Geneva. Christie's, Phillips, and Sotheby's are all hosting equally exciting watch auctions between May 12-14. Today, I'm taking a look at the lots coming up at the Christie's sale, both in their Geneva and online auctions. They've got a bunch of exciting watches on the high end: Daytonas and Pateks of course, but also a watch owned by Andy Warhol, as well as an online-only auction (until May 7) with a bunch of accessibly-priced vintage timepieces. I'm going to highlight a few of my favorites from each auction. So let's dig through all the "fine and rare" superlatives these auction houses love to shower upon their lots and see what's actually worth a look. Among the favorites are:
Tudor Ref. 79180 Chronograph with Pink Subdials. A prototype Tudor with pink subdial — why not?

Patek Phillipe Ref. 2526 in Pink Gold, featuring Patek's first automatic movement, available in the online auction. Perhaps the best time-only watch ever. There are said to be less than 400 Ref. 2526s in pink gold out there.

Omega Chronograph for the Royal Canadian Navy, an affordable watch with military provenance and a Lemania movement in Christie's online auction.

Rolex Ref. 6202 Turnograph, the first Rolex with a rotating bezel, it's got vintage Submariner DNA in a svelte 36mm case, for those who might not want to splurge on a Submariner.
Plus, Rolex Daytonas, pre-Daytonas and more.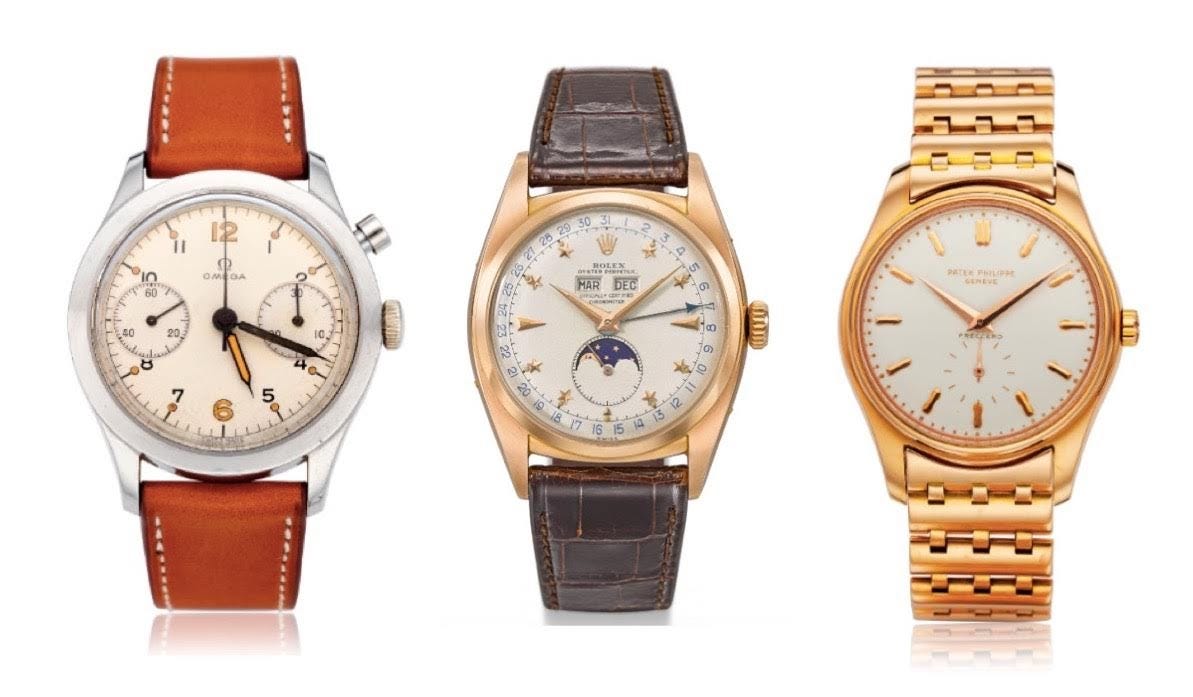 ---
More Sales Corner
Antiquorum's Spring Auction
Like the other big auction houses, Antiquorum is also hosting an auction in May, and with 700+ lots, there's a lot to get through. Register online and bid to your heart's content. Here are just a few picks:
1940s IWC Portuguese. A 1940s stainless steel IWC that measures 42mm? Hard to argue with for guys who like modern dimensions and vintage aesthetics. Estimate: $15,000-$15,000.
IWC Mark XII. Sure, not really rare (it's from the 1990s), but almost every watch from IWC's Mark line (highlighted by the famous XI) is a perfect go-anywhere-do-anything (GADA)/everyday watch. Est. $1,500-$2,500.
Patek Ref. 2452 in pink gold. A gorgeous manual-wind Calatrava from the 1950s that's potentially undervalued in my opinion. Est. $5,000-$7,000.
For the Black Bay 58 fans: A Tudor Ref. 7922 Submariner (est. $20,000-$30,000) and a Ref. 7928 Submariner (est. $60,000-$80,000). Both look to be in just excellent condition, and make me feel some time of way that I haven't felt since Tiger walked down 18 at Augusta. The Ref. 7922 is the original Tudor Submariner, released in 1954 just after Rolex released its first dive watch. I prefer it to the Ref 7928: Ilove the no-crown look and domed crystal (by the way, the modern Black Bay 58 executes this extremely well too, if you're looking for a cheaper but vintage-inspired diver). Both the Ref. 7922 and Ref. 7928 are expensive, but damn if they're not just lovely. If you're looking to save your francs, how about a Ref. 7021 Tudor Submariner (est. $7,500-$9,5000) with a nicely faded bezel? By the way, if you're looking for a guide through all these Tudor Submariner references, we've got an article that might help.
---
Other News
Virgil and Tom Ford on Watches
Of course Virgil Abloh Wears a custom all-black Nautilus. The story of Louis Vuitton's/Off-White's Virgil Abloh is one of taking something well-known and remixing it into something different and more expensive. Seems he's done the same with his personal Patek Phillipe Nautilus, taking it to watch customizer Mad Paris to make it all black. Of course my gut reaction is to scream at him for ruining a perfectly fine Nautilus (that many would wait years for just the option to buy), but damn if it doesn't look pretty cool. GQ has the story.
Tom Ford on Watches. Speaking of influential fashion guys, Tom Ford might be the most influential this side of Abloh. Last year his eponymous brand released a Tank-style quartz watch, and he's primed to release round watches this season, now with automatic and quartz options. He partners with Bedrock Manufacturing (which owns Shinola) to make his watches, so I'm skeptical, but at least he doesn't play marketing games like my favorite "Detroit" brand. Oh, and he says his $600 watch straps can be used as cock rings too. Read more about Tom Ford's rules for wearing watches.
Hamilton Khaki Field in new colors. The fan-favorite $500 pick gets a few new colorways, and they're all great.
Timex X Mr. Porter MK1. A watch with the same feel as the Hamilton Khaki Field, but with a quartz movement and a $100 price tag to match (one version already sold out).
The global smartwatch market grew 51% year-over-year, as of Q1 2019. Between the smartwatch boom and vintage watch boom (and the Seiko 5, which is always booming), everyone's got something on their wrist.
Retailer Watches of Switzerland is going public on the London Stock Exchange.
---
Ticks and Tocks
Mother's Day Watches and the Magic of the Estate Sale
Watchonista has fun making Mother's Day watch gift recommendations for some famous mothers. An oral history of the making of Amazon Prime. The magic of estate sales, something watch enthusiasts know well. Getting technical: The Rolex regulator and making those superlative chronometers. A Hodinkee classic I stumbled on: how to spot a re-dial. GQ's celebrity watches wrap, featuring James Bond and Sly Stallone. Why celebrities are trademarking their names. Instagram has a counterfeit fashion problem (20% of luxury goods are fake on the IG!). And Brooks Brothers is offering $25 free for every $150 in egiftcards you buy. Nothing says happy Mother's day like the suspended sheep, I guess.
Thanks for reading; and remember you can refer people to our newsletter to earn a free Nato strap — just forward this email or send them here and tell them to say you sent them in the intro email.
-Tony
Questions/comments/tips? Just respond to this email (and please tap the heart above to like it!).
Meme of the Week: