Discover more from Rescapement
Updates on my Hodinkee writing; b-sides and behind-the-scenes; unpolished personal musings; recs and other unsolicited advice.
Pony up: A look at all 5 Tiffany & Co. Patek reference 1436 split seconds chronographs
And all 3 steel ref. 1436s

Let's keep this short: it doesn't get much better than a split-seconds chronograph from Patek Philippe, signed by Tiffany & Co. So, it's not a stretch to say that one of the best lots up for auction this season is a Patek Philippe reference 1436 split-seconds chronograph retailed by Tiffany & Co. and signed on the dial, offered at Sotheby's October 9 Important Watches Auction in Hong Kong. As evidence, the lot sold for about $680k, more than double that example's first sale back in 2011. According to Sotheby's catalog entry, there are just five known examples of the reference 1436 retailed by Tiffany.
First, a brief bit about the reference 1436: This split seconds chronograph reference was first introduced by Patek in 1938 and continuously produced until 1971. Patek was the first to put a split seconds complication into a wristwatch (accomplishing that in 1923), so the reference 1436 is something of a follow-on to those early efforts. But don't mistake this longer production run for abundance: only about 140 examples were made, in yellow gold, pink gold, and stainless steel. The reference 1436 is equipped with the Patek caliber 13-130 CCR.
While some swoon over oversized split seconds chronographs from the likes of Eberhard or Universal Geneve, it's the diminutive reference 1436 — measuring just 33mm — that makes my heart skip a beat. As with any Patek, a Tiffany & Co. stamp makes the reference all that much more desirable. It all harkens back to a time when any number of companies worked together to deliver the best possible luxury products to their customers, and when customers would walk into a boutique on Fifth Avenue expecting to find that one product they could expect to last a lifetime.
To take a brief step back: the split-seconds chronograph complication, or rattrapante for those who took a few years of high school French, is quite simply the king of chronograph complications. It has two (instead of one) sweeping seconds hands, which allows the operator to pause one hand to time intermediate events (e.g., racing laps) while still keeping track of overall time. For more on the complication, check out this in-depth article by PH Zhou.
With introductions out of the way, let's take a look at the five known examples of the reference 1436 split seconds chronograph retailed by Tiffany & Co. All feature the same silvered dial in an 18k yellow gold case, but variations within the dial mean each has its own character.
---
1. Reference 1436 manufactured in 1960 (condition, condition)
Case No. 2,616,386; Movement No. 868,994
Sold by Sotheby's in 2020 for HKD 5.2m
Sold by Antiquorum in 2011 for $284,500
First up, let's take a look at the example sold by Sotheby's the other day (above), since it might exhibit the most exemplary condition of the bunch. It was originally brought to the market by Antiquorum back in 2011. At that time, it was found in all original, barely worn condition: the original crown, crystal, strap, Patek buckle, and even Tiffany & Co. presentation box were all there. The dial had little signs of patina, and the case is unpolished. There are even numbers on the backs of the lugs, hand-engraved by Tiffany, which would have likely been polished away at the first sight of a polishing wheel. Fast-forward to 2020, and it looks to be offered in much the same condition. Sotheby's says that the collector who purchased the watch in 2011 never slipped it on their wrist.
For more, check out this YouTube video from Antiquorum's 2011 sale. As a testament to the watch's condition, Antiquorum's Charles Tearle described it as in "absolutely pristine, exceptional condition. Never polished, never serviced, never molested in any way."
2. Reference 1436 manufactured in 1950 (horseracing heritage)
This rare and fine ref.1436 18k gold split-seconds chronograph retailed by Tiffany is worth your trip to NYC. Available from our
#NewYork
Important Watches auction on June 17.
#Patek
#ChristiesWatches
Case No. 663,041; Movement No. 867,851
Sold by Christie's in 2015 for $341,000
This particular example was manufactured in 1950 and subsequently sold in 1959. It was offered fresh to the market by Christie's in 2015 in excellent condition: the original dial had developed a slight, warm patina.
The provenance of this example tied it to Webb and Marjorie Everett, notable leaders in the American horse-racing industry throughout the 20th century. This reference 1436 was given to Webb from his wife Marjorie in 1959 with an engraving A.M.L for All My Love. In addition, the Tiffany & Co. dial signature and HOX engraving on the movement (for the Henri Stern Agency, Patek's U.S. agency) make this a true All-American watch. The ownership of a reference 1436 by two horse-racing legends actually speaks to the original intent of a split seconds chronograph. Since the split seconds hand allows you to clock intermediate events like laps of a horse race, they were designed with this very use in mind.
Over the course of the reference 1436's production run, Patek used two different constructions for how the splits seconds hand is actually split. On the first generation — seen here — the crown served as a button to split and reunite the two chronograph seconds hands. The later, second generation added a second, smaller push button within the crown (see above, for example) to operate the split seconds function.
To me, this is perhaps the most romantic of the known Tiffany & Co. reference 1436 examples: a gift from a wife to her husband, both horse-racing legends, using the watch for its intended, functional purpose. With a footprint in Los Angeles, the Everetts had quite a social network: Elizabeth Taylor, Ronald Reagan, Jimmy Stewart, etc. The subtle elegance of wearing an understated, 33mm complicated Patek on one's wrist while chatting horses with these big name celebrities hints at a couple who truly loved what they did, and didn't do it for fame, fortune or recognition. To them, the watch was more about the functionality it offered than any statement it made. In this way, the Everetts may have been a bit like the reference 1436 itself: Patek threw a split seconds chronograph into a 33mm case in the 1940s — it's not like dozens of brands could even make a split seconds complication — and didn't really care who noticed or who bought it.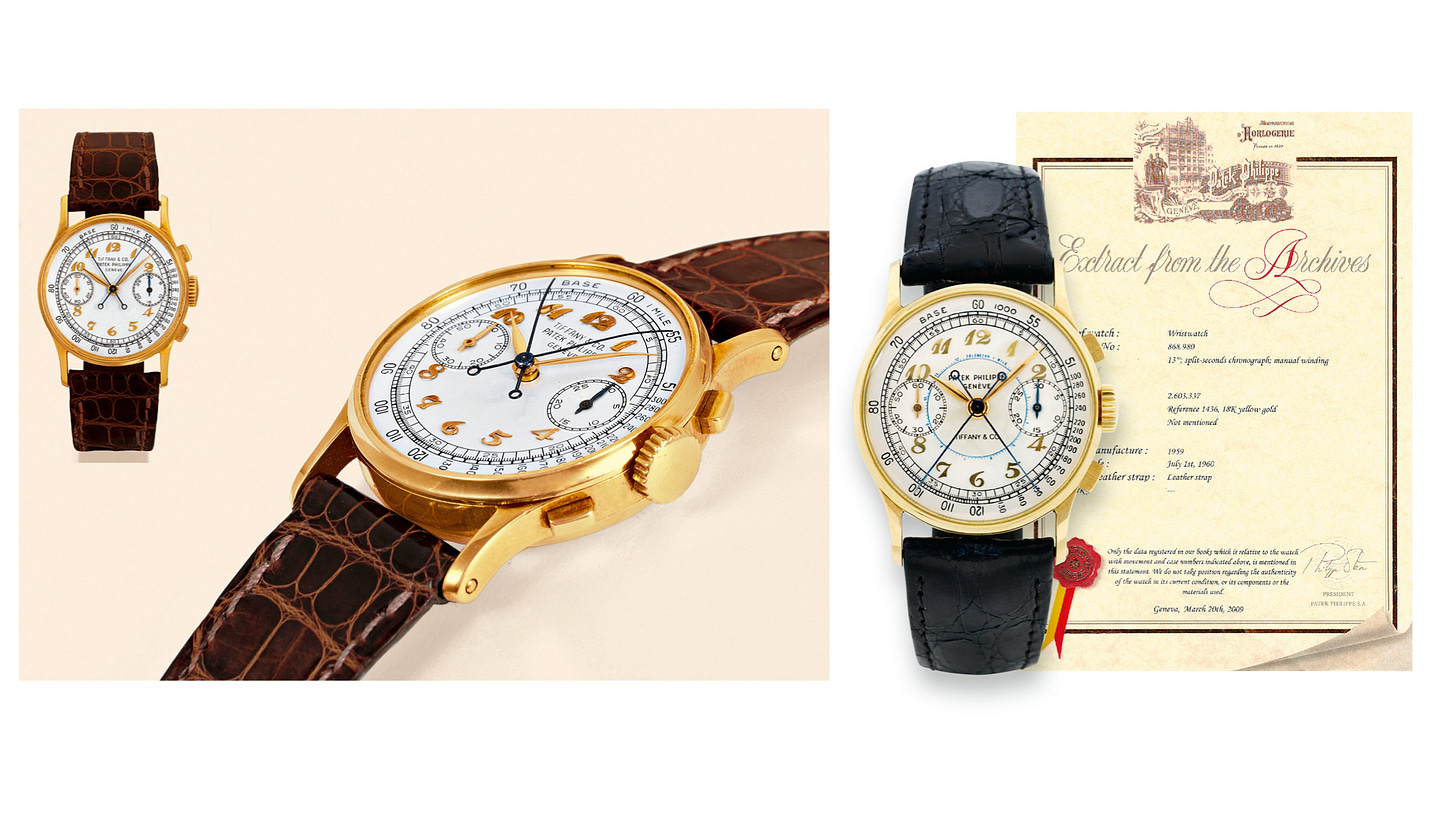 (3) and (4), both Antiquorum
3. Reference 1436, manufactured in 1955 (Breguet numerals)
Case No. 676,624; Movement No. 868,326
Sold by Antiquorum in 2005 for CHF 391,250
Sold by Antiquorum in 1997 for CHF 185,000
Next, we have a reference 1436 with Breguet numerals and the Tiffany signature above Patek at 12 o'clock. This particular example was manufactured and sold in 1955, making it another of the first generation.
This reference 1436 looks like an exercise in classic watchmaking: Breguet numerals, feuille hands, open rings on both sweeping seconds hands. It has commanded auction results commiserate with its beauty: CHF391k in 2005 is nothing to neigh at, and it'd be fascinating to see what this piece would command were it to come up again.
4. Reference 1436, manufactured in 1959 (telemeter scale)
Case No.2,603,337; Movement No. 868,980
Offered by Antiquorum for est. $200,000-$250,000
Sold by Antiquorum in 1992 for CHF 182,250
This particular example of the reference 1436 was manufactured in 1959 and sold a year later. It's somewhat similar to the previous example, but it features a blue telemeter scale on the inside of the dial. Again, the Breguet numerals make it stand apart from other examples. Add in the large tachymeter scale on the outer ring, and it's a testament to Patek's brilliance of design that the dial remains balanced and doesn't feel busy or bloated. This example is another from the first generation of the reference 1436, as evidenced by the lack of an internal pusher in the crown.
5. Reference 1436, manufactured in 1969 (baton indices)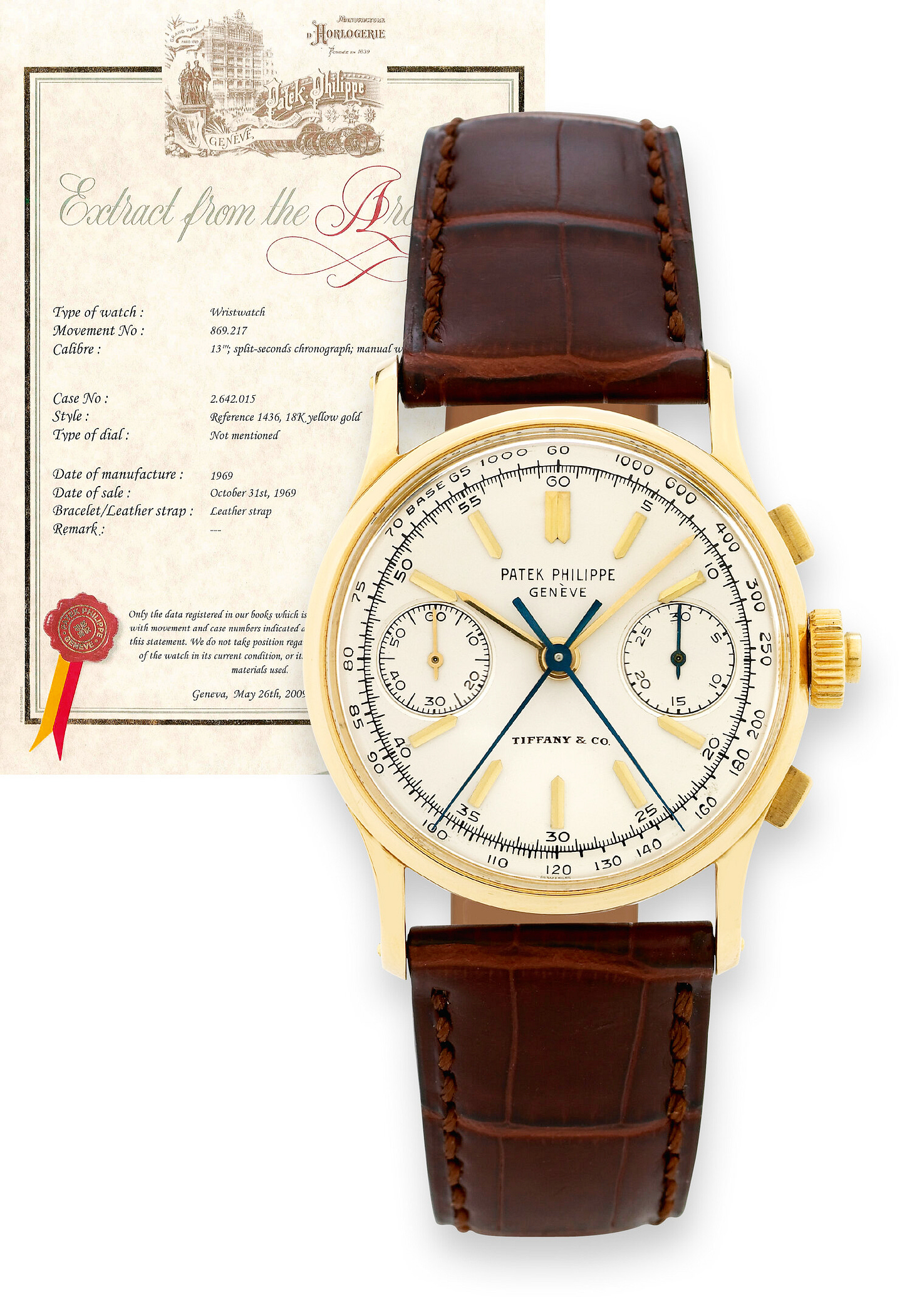 Case No. 2,642,015; Movement No. 869,217
Sold by Antiquorum in 2009 for CHF 216,000
Offered by Antiquorum in 1994 for est. CHF 140,000-150,000
This example was manufactured and sold in 1969, making it the last chronologically of the Tiffany-signed reference 1436 examples. Its design is proof of this, as it looks the most modern of the five: the font used for the Patek and Tiffany signatures is similar to what one might expect on a modern wristwatch featuring such venerated names. With only baton indices and an outer tachy scale, the dial looks austere and minimal, especially as compared to the more opulent, classic Breguet numerals found on earlier examples. The simple baton hands also indicate a more modern watch. Taken as a whole, it's almost hard to believe that this watch was made only a decade after the previous example. It demonstrates Patek's ability to slowly evolve a reference — in this case, over 30+ years — to reflect prevailing tastes, while at the same time staying true to its identity as a manufacturer.
---
What's rarer than a Tiffany split seconds? Steel a guess.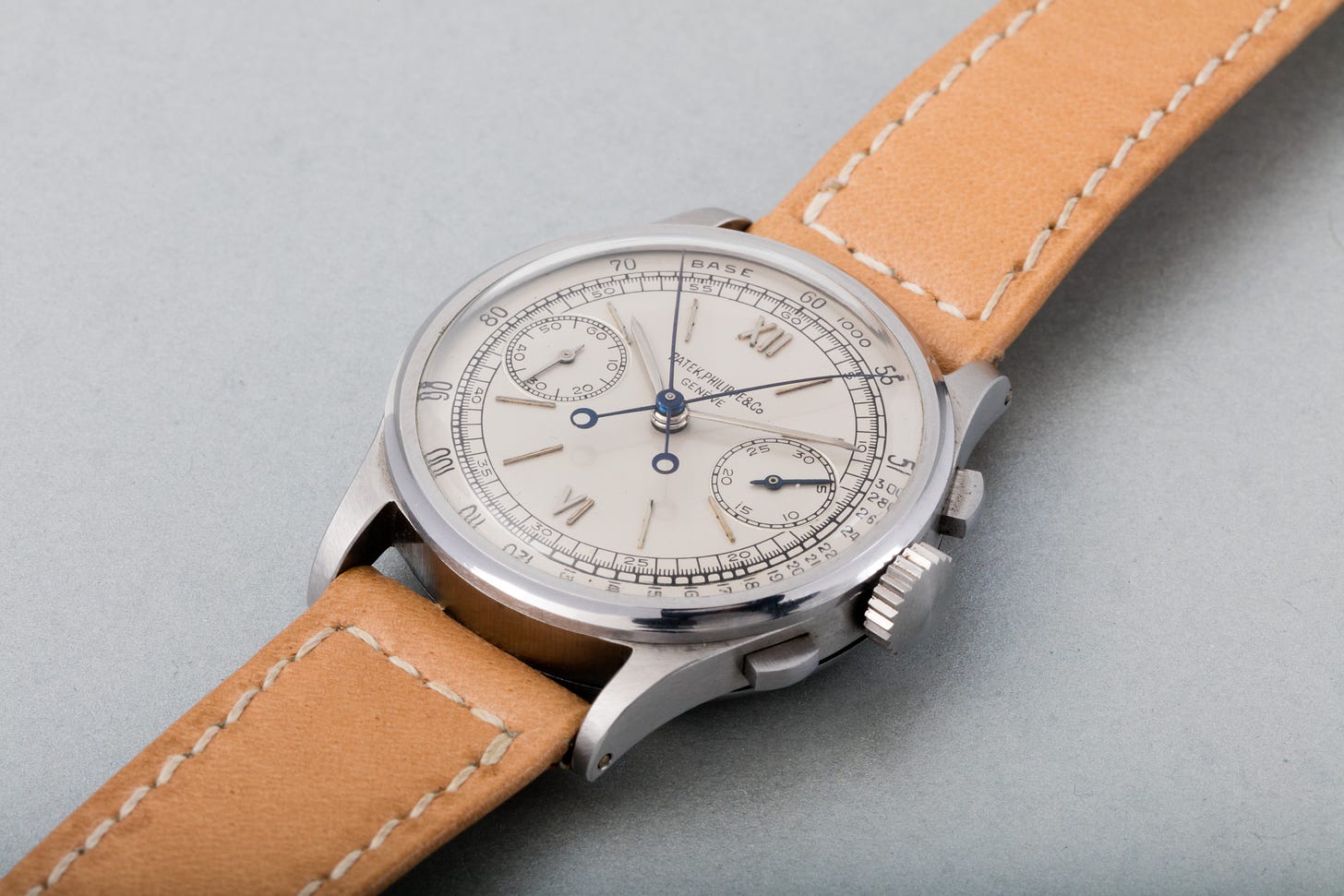 Phillips
Perhaps the only thing rarer than a Tiffany reference 1436 is a stainless steel one. Only 3 stainless steel Patek ref. 1436s are known to the modern market, and they appear in public appear rarely. The last example sold at auction in 2015, having previously sold in 2009. Another known example was last seen in 1994, and the final example is documented in the pages of John Goldberger's tome, Patek Philippe Steel Watches (the example sold in 2015 is also documented in that book).
Above is the first example, sold by Phillips in 2015 for CHF 3.3m. Antiquorum previously sold this example in 2009 for CHF 1.25m. You can also find photos of it in Goldberger's Patek Philippe Steel Watches. Actually, that book was first published in 2010, after it seems that the author had purchased this particular 1436 at auction, so it's fun to think that, perhaps, this particular watch was one of the final pieces of the puzzle before publishing Steel Watches.
Also documented in Steel Watches is a ref. 1436 featuring a pulsation scale on the dial. Interestingly, its case number is only five away from the Phillips example.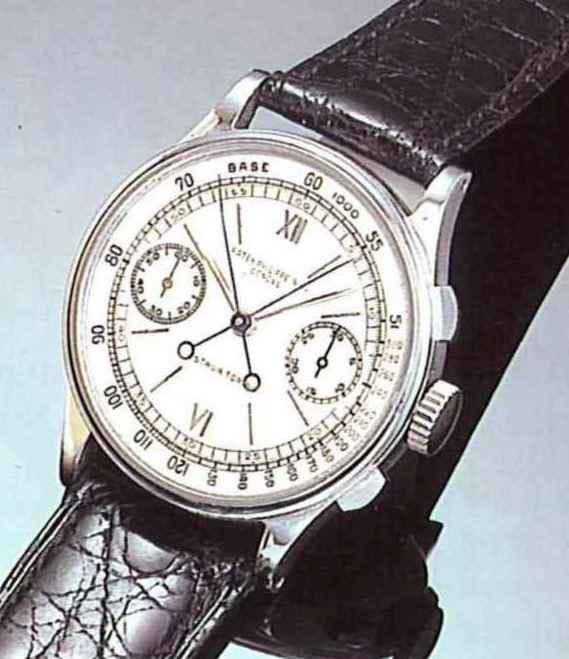 Antiquorum
Finally, the third split seconds is an example that was retailed by Astrua (see the signature at 6 o'clock) and sold by Antiquorum in 1994 that hasn't been seen since. "It is understood that the watch is in the private ownership of one of the world's most important collectors, with a very small chance of becoming available for purchase," Phillips explained in its 2015 catalog entry. The mind races as to who that "collector" might be.
Formely of Antiquorum, Charles Tearle briefly tells the story of discovering the Phillips-sold example of the steel ref. 1436 (he also originally found the Tiffany ref. 1436 sold by Sotheby's featured above):
---
Books on Time
Another installment of what we're now calling "Weekly Read" (working title), from Charlie (@books_on_time):
Marine Nationale is the second self-published book by Watchistry. Released in October of last year, the book covers the author's personal journey into vintage military timepieces issued by the French Navy:
"Why was this so irresistible to me? All watches have a story, but it's rare to know what those stories actually are once they leave the original wearer's wrist. Further, when it comes to vintage military watches, those unknown stories seem even more tantalizing… And yet there are so many questions yearning to be answered: when and where was it issued, which unit/boat/base, where did it live out its military life, when was it serviced and what was done to it, when did it leave the military?"
-Excerpt from Marine Nationale
Marine Nationale dives into an uncharted theme within a curation of 34 watches. Rather than narrowing into a specific brand or period, the subject matter is a diverse collection spanning from the early 1940s to the late 1990s. Each timepiece served a purpose, an essential instrument for French servicemen. While we often interpret provenance as being associated with a public figure, the author directs the conversation into a place of anonymity. The individuals to whom these timepieces were issued to do not take center stage. There is no need for an embellished story, in fact the stories behind the watches are obscure. Only with small context clues, such as engravings, case/movement numbers or other documentation, are we able to uncover their history. Scratches, dents, a replaced part or two, are embraced, as their purpose was not to remain in pristine condition for the next generation, but rather to serve in the most honest manner. In some sense, their stories have been illustrated in the purest fashion.
The book is available via Watchistry.com. Additionally, the author creates YouTube videos that provide a glance at MN watches, as well as his broader watch interests.
You can follow the author on Instagram @Watchistry
---
Through the Wire
🔪 FS: Excelsior Park Chronograph. I'll just leave this post here, the watch's condition pretty much speaks for itself:
🎙 Bacs' ballad to the Datejust. In about a month's time, Phillips will be putting on a show, auctioning off unbelievably rare watches for untold sums. So, it was nice to see this post from the maestro of that madness, Aurel Bacs. He sings the praises of your run-of-the-mill Rolex Datejust, both vintage and modern. Nothing fancy, nothing rare. And sometimes there's beauty in that too.
Clymer in GQ. Ben Clymer is writing a watch column for GQ now, and his first effort is an ode to independents: "I get why the watch world is obsessed with hyped-up hallmark designs. Most people, if they're going to invest tens of thousands of dollars in a timekeeping instrument, will go for a classic that is sure to retain its value and attract lots of attention. But watches made by small artisanal brands give you something else entirely: an opportunity to appreciate individual ingenuity, artistry, and hard work. And in purchasing a timepiece from a small watchmaker, you're supporting the people who represent the absolute purest concept of what fine watchmaking is. And that's worth more than any amount of Instagram likes."
Thanks for reading! - Tony