Discover more from Rescapement
Updates on my Hodinkee writing; b-sides and behind-the-scenes; unpolished personal musings; recs and other unsolicited advice.
Patek and General Motors: Leading the way
The story of 20 watches Patek made for GM in the post-War years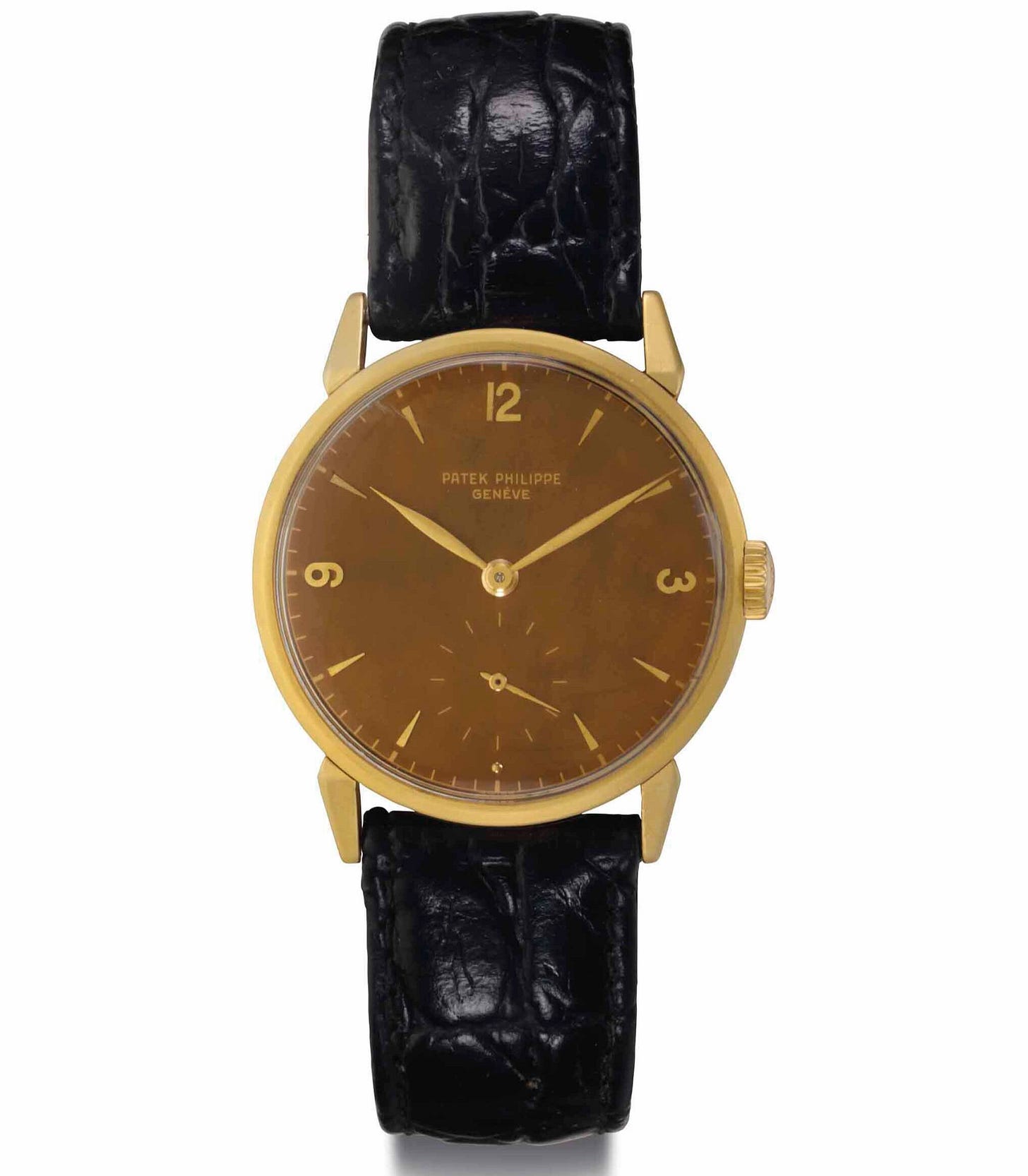 Credit: Christie's
Imagine you work at General Motors in the 1950s. Better yet, imagine you're an executive at General Motors. And not just any executive, but the kind with the confidence — even arrogance — to say, as GM CEO Charlie Wilson once (kind of) said to Congress, that "what's good for General Motors is good for America."
You sell over half the cars in America, you make decisions for one of the most powerful industrial corporations in the world, hell, you helped the Allies win World War II. What else could you possibly need?
Perhaps, a Patek Philippe. And, not just any Patek Philippe, but one that's made especially for GM, with "GM" in the very reference number to signify the company's importance.
Enter the Patek Philippe Reference 1578GM. With only about 20 examples manufactured, the 1578GM was reserved for the most senior of GM executives. On the back, each example is engraved GMC-GMOO or GMOO, for General Motors Overseas Operations (GMC for General Motors Corporation), along with the recipient's name. As indicated with years engraved on the case back, the watch was typically gifted to a GMOO executive on their 25th anniversary (sometimes 30th anniversary).
Viva
General Motors
Let's look at just one recipient's story: one example of the Patek 1578GM is engraved P.W. Copelin on the case back. Records indicate this watch was given to Philip W. Copelin, who, as Charles Platt, the son of a colleague of Copelin's helped to document, was a long-time General Motors Overseas Operations executive, eventually becoming the CEO of Vauxhall, then a British subsidiary of GM.
Platt helps tell the story of Copelin brokering the deal to bring the Vauxhall Viva to Britain in 1963 to fuel the company's expansion. Opel, the German subsidiary of GM, had already been working on a small vehicle to compete with the popular Volkswagen. "I have a feeling that Copelin was the one who encouraged his British colleagues to think the unthinkable: collaborate with Opel," Platt's father (Copelin's colleague) wrote in his autobiography.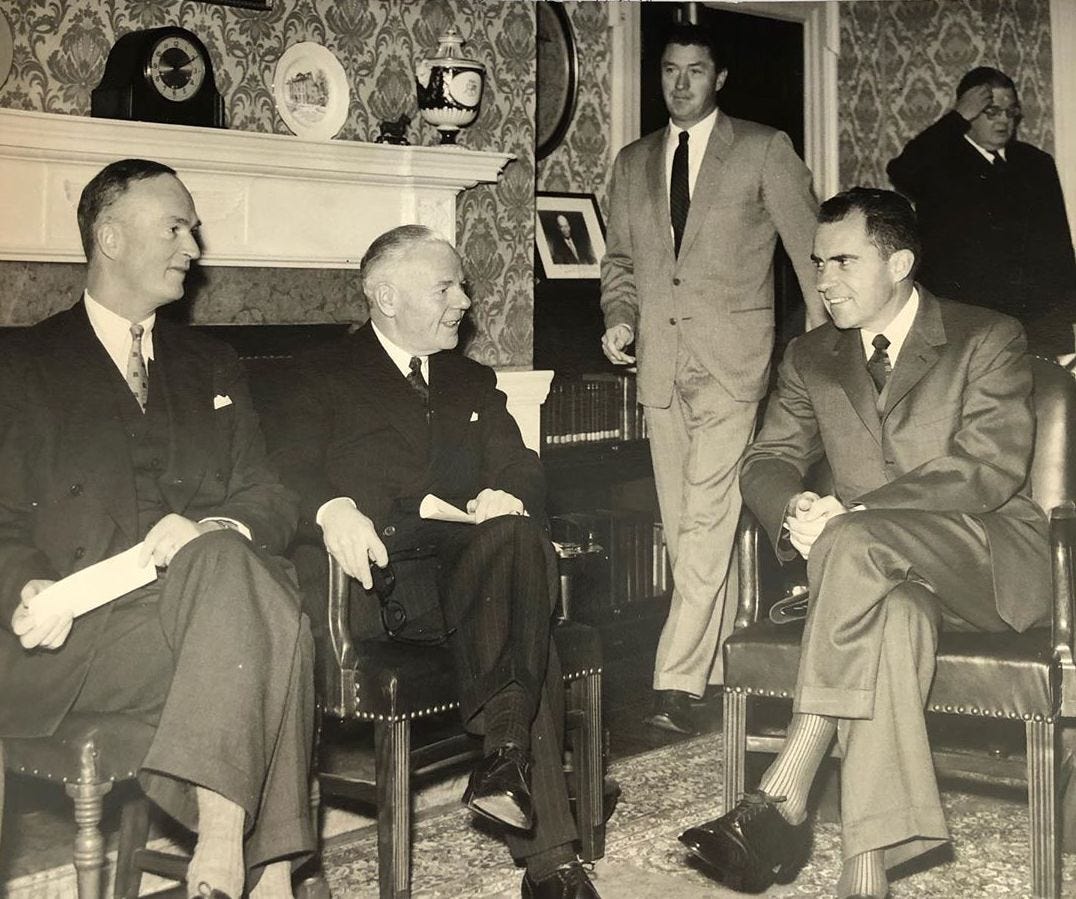 Copelin meeting with President Richard Nixon | Photo courtesy of @p.s.khinda
I mean, can you imagine being a British executive tasked with collaborating with your German counterparts in the aftermath of World War II? Vauxhall ended up importing the German designs of the Viva, but everything else about the first Viva was thoroughly British; the second model was all British. But, as Platt wrote:
The Viva was very successful, but as [GM] was forced to become more financially prudent in the 1970s, it revisited the idea of "commonality" between its two European subsidiaries. Why should GM bankroll them to create different designs for cars that were of equivalent size and were appealing to similar markets? In 1980–the year when my father's autobiography was published–Vauxhall ceased to originate cars. Henceforth, its badge would be applied to vehicles that were styled and engineered in Russelsheim, Germany.

So it was that the company which had built the Churchill tank to defeat Hitler became a mere conduit for German engineering. To my father's chagrin, he even found himself driving an Opel, because this was the only way he could take advantage of the substantial discount that he was still allowed as a former Vauxhall executive.
Sure, these executives were bold, especially during the War, but they also often had the humility — like Copelin — to do what they knew was best for their company. Want to have some fun? Plug a couple more of the engraved names below into Google and see what you can find.
The watch was gifted to executives at GM throughout the 1950s and 1960s, but Mr. Copelin may be the most decorated of the recipients. He worked his way up through GMOO, with stints in France, Belgium, and finally, rising to the top spot in London where he led Vauxhall. In addition, for his efforts supporting the Allied forces in World War II, Copelin was inducted as a Knight into the French Legion of Honor for his work while at GM.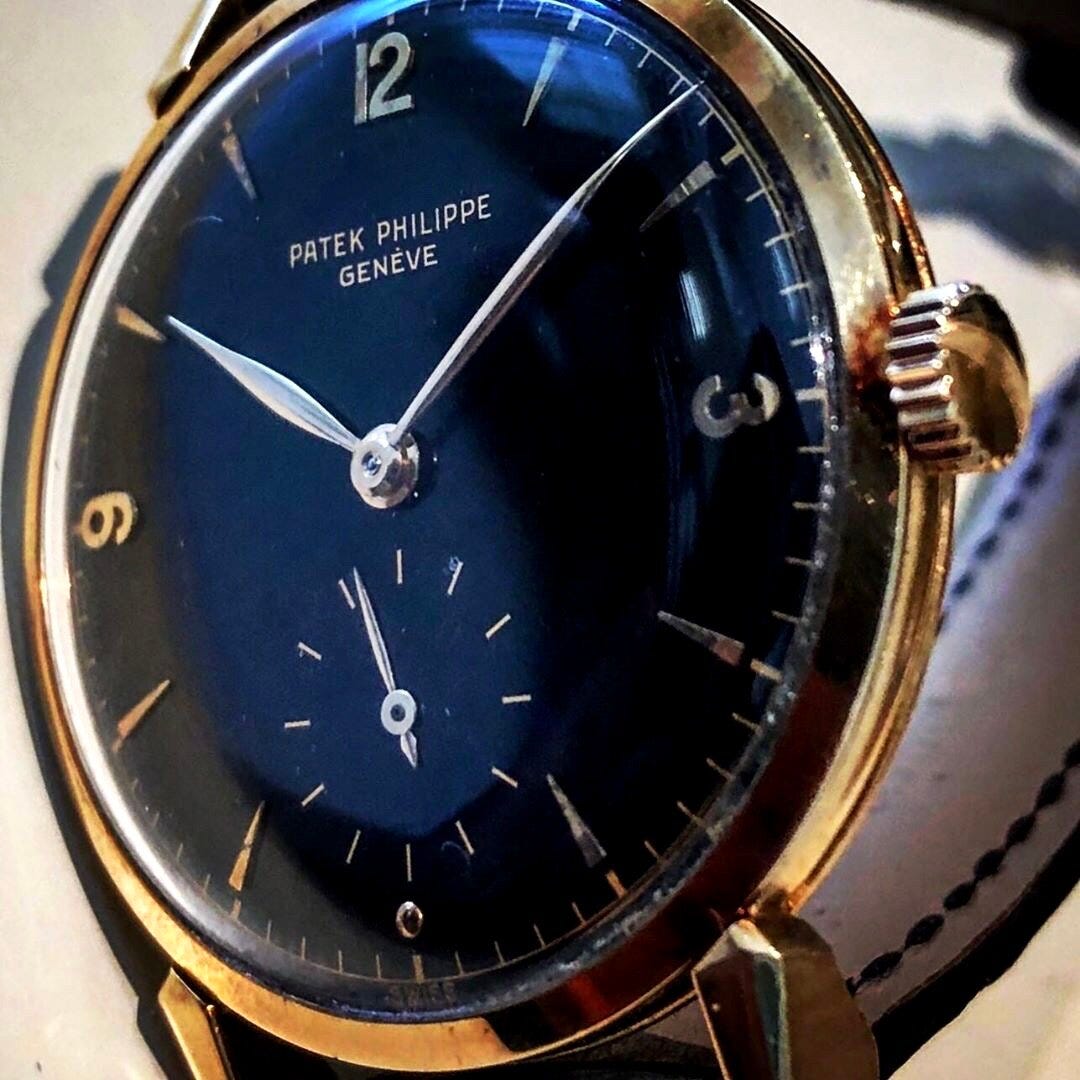 Photo courtesy of p.s.khinda
Patek 1578GM: Executive presence
The 1578GM is a watch befitting of a high-powered international GM executive from the middle of the century. It features a black dial to set it apart from the standard Patek 1578, with gold applied Arabic numerals radially arranged at 3, 9 and 12. The gold leaf hands and sub-seconds dial complete an elegant dress watch that demands to be on the wrist of someone making very important decisions in very important meetings. The 18k yellow gold case measures 35mm — large, but not flashy. These were for executives of GM after all, not Ferrari. Insides ticks the manual wind Patek caliber 12-400, a stalwart in the brand's stable of movements. It can be found in any number of Patek references from the 20th century, even serving as the base for more complicated endeavors like the caliber 12-400AM ("AM" for anti-magnetic, used in early examples of the Patek reference 3417). The downturned, flared lugs on the case made by Wegner give the watch's profile just a bit of flair to set it apart from other Calatrava-style references.
General Motors
leads the way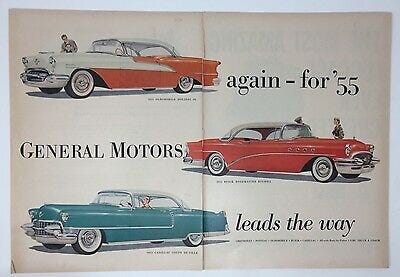 Not only is the Reference 1578GM the only example of Patek specifically adding a company's name to a reference number, it's the only example I've found of the manufacturer agreeing to so specially commission a watch for another company.
Put simply, the Patek Reference 1578GM represents one of the great industrial behemoths at the height of its power in the middle of the 20th century. It's the story of a corporation that had the standing to ask for a specially commissioned watch from the most prestigious watchmaker of all time (with their own name in the reference number, no less), along with the influence and executional fortitude to actually pull it off. But, it also feels very comme il faut — of course one of the great industrial powers of the last century would celebrate its highest executives with a specially commissioned timepiece. It could never be any other way.
As the story of Vauxhall alludes to, GM began more consciously running its business by the 1970s, cutting costs and realizing operational efficiencies. The 1578GM is of a prior generation, when larger than life executives still trolled the hallways of Detroit and Fifth Avenue, built things, dreamed up memorable ad campaigns to sell those things, and wore beautiful watches.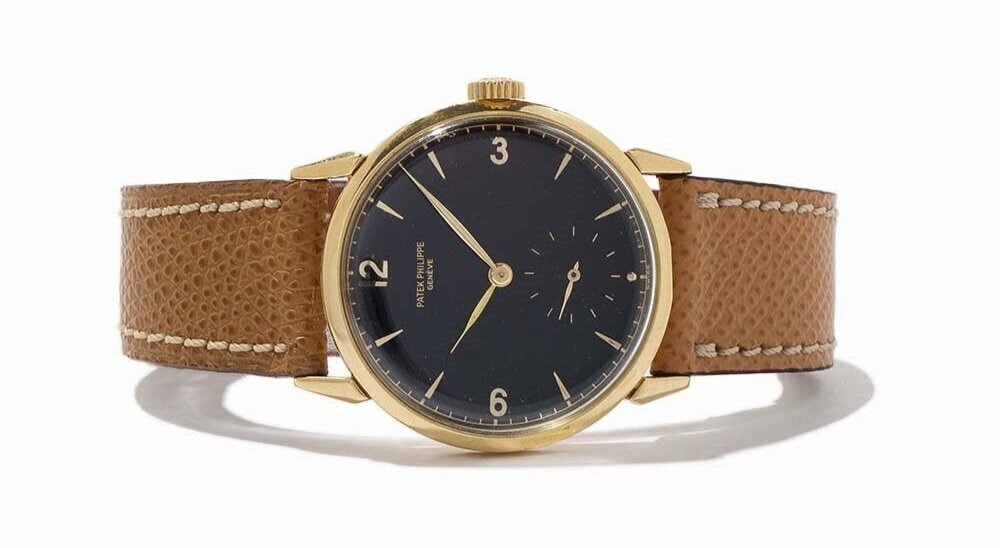 Credit: Auctionata
Abbreviated list of examples of the Patek Philippe Reference 1578GM and the name engraved on the case back:
S.W. Brooks (Rolex Forums); F.C. Forsberg (Matthew Bain); M.J. Gaffney (Robert Maron); W.D. McCauliffe (Hodinkee/Wind, via Matthew Bain, also sold by Auctionata); A.E. Mayer (Alessandro Ciani); G.R. McNab (Sotheby's); K.P. Smith (Christie's); G.L. Terpenning (Robert Maron); W.L. Westmann (Collectability); Unknown (Antiquorum)
Thank you to p.s.khinda for sharing his knowledge and photographs for this article.
---
Sponsor
This weekend's newsletter is sponsored by eBay. With eBay's new Authenticity Guarantee, most watches sold above $2,000 will be automatically authenticated. After purchasing a watch that is covered by eBay's Authenticity Guarantee, it will be shipped directly to eBay's third-party authenticator. There, the expert authenticator will perform a meticulous inspection on the timepiece, verifying each part of the watch, also checking it against the original listing and description. Then, the authenticator will safely ship it off to the buyer via expedited and insured shipping.
The best part? Authenticity Guarantee is included in your watch purchase or sale. That's right, peace of mind for free, whether you're the buyer or seller. 

---
Through the Wire
A few weeks ago, I wrote an article for European Watch Co. about the "Polar" Rolex Explorer II Ref. 16550:
In the world of vintage Rolex collecting, all the fun is in the details: fat fonts, frog feet, and other such seeming nonsense. Often, these "details" are actually defects: paint that flakes or cracks, bezels that fade abnormally, and other manufacturing techniques with distinctively human elements. By the 1980s, Rolex has begun to mechanize and automate more of its processes, meaning more watches were being pumped out, and those watches had less variation between examples. The small dial details and other variations that vintage Rolex collectors obsess over are not as present in these "transitional" references. This is decidedly not the case with the Rolex Explorer II Reference 16550, introduced in 1985. It was offered in both a glossy black dial and white dial version, but the white dial ("Polar") is particularly sought after by collectors. 

Perhaps owing to what Rolex viewed as a defect, the Reference 16550 was produced for just a few years, supplanted by the Explorer II Reference 16570 in 1989. This defect has led the dial to take on a delectable custard patina, the type one might otherwise spend ages searching for.

It almost feels like an anomaly: though a thoroughly modern watch in fit and finish, it maintains the details and charm of a watch twice its age, beckoning collectors to look closer. But, it's still a tool watch at heart. It's a watch that, while it begs you to look closer at the details, also demands to just be worn.
---
Books on Time
New Book: Accutron: From the Space Age to the Digital Age
A dispatch from Charlie (@books_on_time) on the new Accutron book
The Accutron has been reborn just in time for its 60 year anniversary. After 8 years of research and development, the iconic wristwatch was originally released on October 25, 1960 at the Baselworld Watch Fair.
Now, the recent release of two new Accutron models has accompanied a new social media account, podcast, and most importantly, a book! Okay, so perhaps the book is just one piece of the puzzle. However, it is an integral part of the equation for watch brands that understand the impact they left on the world (not just watch world) to document their story within a print format.  
"Accutron: From the Space Age to the Digital Age. Written by Hodinkee Editor-in-Chief Jack Forster, coauthored and edited by Aaron Sigmond and with a foreword by renowned industrial designer Carl Gustav Magnusson, the book is a collector's item that delves into not only the history of the Accutron brand and its technology but also the Accutron lifestyle and its new generation of precision timekeeping." — From publisher Assouline.
Currently, Accutron is giving away 3 free copies of the book and will be contacting the winners on October 12th. You can enter to win a free copy here. To learn more about the Accutron and the new book, you can listen to Jack Forster's interview about the book via the official Accutron Watch podcast. 
---
Through the Wire
🏷 Surging auction prices as millennials hit virtual auctions for a luxury fix
"In general, prices all over are strong – but watches in particular," says Sotheby's Geneva head of watches Mikael Wallhagen. "We have reached a lot of new clients with our smaller online sales and made our sales more accessible. And to be honest, bidding in auctions can be an addiction."
+ Sotheby's reports that 30% of all bidders across categories are now under 40. Rich and bored, what a life.
🔩 Your watch needs service, now what? [NY Times] You heard it here first: Hodinkee's next "big" move (after the insurance play) will probably be in figuring out an easier way to get your watch serviced.
⚓️ All aboard. Summer's over, but after this Seaboard-Yacht chronograph sold earlier this week, I've been diving deep into yachting chronographs again. Yachting watches bring some of the best colors to watch dials — of course, Heuers like the 2447 Yachting or Seafarer are some of the most collectible examples, but models from Gallet, Yema, Breitling, Seiko and others are equally attractive. HeuerChrono provides the most helpful overview of the Seaboard-Yacht and its four executions if you're absolutely taken by the above example like I was.
🗽 Analog acquisition. Watches of Switzerland, the publicly-listed UK-based watch retailer, acquired Analog Shift this week. It's great to see a successful exit for A/S, launched 8 years ago. I wrote about my experience at Watches of Switzerland and Analog Shift's co-branded efforts in Manhattan about a year ago. Shopping experience aside, it's important to note this fact: often, the only (desirable) stainless steel sports watches you'll see at Watches of Switzerland are courtesy of A/S. "Soho" is mentioned no less than 9 times in the announcement press release, which makes it pretty clear that part of the strategy will be selling watches to the bankers and hypebeasts that troll the neighborhood's cobblestoned streets. And that alone might be worth the acquisition.
Thanks for reading! -Tony
—
For all the latest, head to rescapement.com and follow us on Instagram.