Discover more from Rescapement
Updates on my Hodinkee writing; b-sides and behind-the-scenes; unpolished personal musings; recs and other unsolicited advice.
OBJ, Mario Andretti, and Solid Gold from Tiffany
I can't stop watching Kevin O'Leary videos
Feature
It's nearly fall auction season time, when the big auction houses will trot out their Daytonas, Pateks, and other expensive lots one last time. It's set to be a big season: Phillips is leading the way with a thematic auction featuring Jack Nicklaus' Rolex Day-Date and Marlon Brando's GMT-Master. Phillips also recently opened its new boutique store, Phillips Perpetual in London. On opening day, Phillips said it had 40 timepieces and over £3 million worth of inventory. Big news for the biggest watch auctioneer.
But, before the bigger auctions of the season, Sotheby's is hosting an online auction with bidding ending on September 10. There are over 100 lots on offer, mostly in the mid-priced to downright affordable range, so it's an opportunity to pick up a new fall watch. New season, new watch, I always say. Let's take a look at some of the most exciting lots.
Heuer Autavia Reference 3646 'Mario Andretti'
Being from Indianapolis, I love any watch with a connection to the city. And since we don't have much going on in Naptown, that usually means a watch with a connection to the Indy 500. That's exactly what this Heuer Autavia has, with a legit connection to legendary race car driver Mario Andretti.
This Heuer Autavia Reference 3646 has been nicknamed the 'Mario Andretti' by collectors because Andretti won two watches of this reference for being the fastest qualifier for the Indianapolis 500 in 1966 and 1967. He's been seen wearing them since, notably on his Talking Watches episode.
This is a particularly notable example, as Sotheby's says it was sourced directly from a veteran of the Argentinian Air Force. According to the consignor, the watch was worn during operations by an Argentinian fighter pilot in the late 60s, with the logo of the Fuerza Aérea Argentina engraved on the back still visible.
It's an earlier Autavia, so it's got a round case instead of the later tonneau cases, which I think makes it an easier and more subtle wear. The watch is by no means in pristine condition, but to me, that just lends credence to the fact that a legit Argentinian fighter pilot was putting this thing through its paces on a daily basis.
The dial looks to be mostly de-lumed, as Sotheby's says the hands only react in small sections when subject to UV light. The top of the chronograph hand is also missing. Lot 10 estimate: CHF 10,000 to 15,000
We know the superlatives of a Daytona Reference 6239 by now. It's the first Daytona reference from Rolex, debuting in 1963. Valjoux 72 movement. The case Paul Newman wore! Since it was the early years of the Daytona, Rolex was still experimenting with dial variations: this example features the "Daytona" at 12 o'clock. It wasn't until a few years later that Rolex started printing the "Daytona" in the more familiar position above the 6 o'clock subdial.
The case of this example is in good overall condition and the Oyster bracelet is also matching and original. There's an almost-gone lume plot at 3 o'clock, but otherwise the dial is in good overall condition.
The big problem with this watch is the hour and second hands. The condition report says nothing of the hands, except that the "subsidiary hands appear to be original." Not exactly a ringing endorsement of the more important hands anchored to the central pinion. Without better photos, it's hard to tell if these are replacement hands, or if the lume has simply been stripped away. Either way, it's worth a pause.
That said, this lot has a lower estimate to match the replacement hands. Lot 5 estimate: CHF 30,000 to 50,000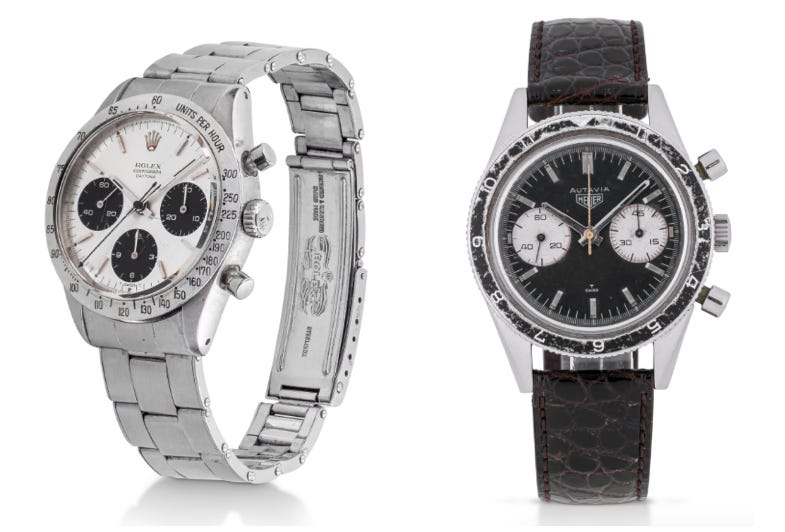 ---
Other News
OBJ, and Oris Goes Skeletonized
💦 Private-Label Bathyscapes, an Affordable Alternative to a Fifty Fathoms.
Private-label watches are the best (see Sales Corner for one example). They're watches made for one brand, by another brand. Some of the most famous and available are the plethora of "Poor Man's Heuers", watches produced by Heuer for brands from Clebar, Hamilton, Baylor, and Abercrombie and Fitch (okay, the last isn't exactly for a "poor man"). Private label watches were everywhere during the middle of the century, as pretty much every brand wanted to sell watches, but didn't have the know-how or manufacturing capabilities to actually do so.
Blancpain introduced the Fifty Fathoms model in 1953. It's kind of the first dive watch, beating the Rolex Submariner to the market by one year. Measuring at least 40mm, the Blancpain Fifty Fathoms was a commercial success, and remains in high demand by collectors today.
But, the Fifty Fathoms was a serious, professional dive watch, worn by the likes of Jacquest Cousteau. So, in 1956, Blancpain introduced a smaller version for the masses, the Bathyscape. The original Bathyscape measured just 34mm. Its production run was much shorter than the Fifty Fathoms, meaning the Bathyscape is actually quite rare.
In addition to making Bathyscapes for itself, Blancpain also made private label Bathyscapes for brands like Waltham and Hamilton. Waltham went out of business in 1957, so the partnership was short lived but fruitful. They're cool watches that meld the history of a legendary Swiss watch manufacturer and American manufacturing icons. And, they can be had at a fraction of the price of a Blancpain Bathyscape or Fifty Fathoms.
🧡 Odell Beckham Jr. Wore an RM in Week 1.
If you didn't hear, Odell Beckham Jr. wore Richard Mille RM 11-03 McLaren in the Cleveland Browns' week 1 loss to the Titans. It was a big day for Richard Mille, as Rafael Nadal was also sporting his signature timepiece during his U.S Open win, his 19th grand slam title. Unlike Beckham, Nadal is an official Richard Mille ambassador.
Oris teased and then released the Big Crown Pro Pilot X, a 44mm model with a skeletonized movement and ten day power reserve. Super modern, technologically sophisticated, and priced at $7,000, it's something different from Oris. While it's received mixed reviews overall, I for one give the brand props for expanding beyond the already loved Diver 65 and traditional Big Crown.
---
Sales Corner
Vintage Gold from Tiffany & Co.
Tiffany & Co by Movado Annual Calendar 14k Solid Gold.
This is a beautiful annual calendar for Tiffany & Co. from the 1950s, powered by a Movado movement. It's small but mighty, measuring just 33mm. Movado made all kinds of watches for this historic retailer through the middle of the century, and picking one of these up is an affordable way to add a watch from the legendary retailer to your collection. As of this writing, the bidding sits at $820. Expect it to continue rise before the auction expires on Monday evening.
Mercury Flying Officer by Gallet.
Let me start by saying this: This watch isn't perfect, but it's a deal. It's a Flying Officer with Mercury on the dial, but built by Gallet, the brand which made the Flying Officer famous in the 1950s and 1960s. The Flying Officer was Gallet's continuation of its Clamshell line, the first series of waterproof chronographs, first introduced in 1936. The cities listed around the outer ring of the dial and the rotating bezel allow the wearer to track multiple time zones. A black dial stainless steel Gallet Flying Officer is a true grail worthy piece — Harry Truman, for example, wore one.
The example here isn't necessarily grail worthy, but it's fun nonetheless. The case is gold-plated steel (meh), and the dial is stamped with the name "Mercury," which means pretty much nothing (remember the private label watches discussion above? Mercury was basically a made up private label. Like Amazon's private label brands). So you're paying for the form factor and the movement here. If you really love the history of the Flying Officer but only want to spend a quarter the money, this is the watch for you. Price: $1,200.
---
Ticks & Tocks
📦 Not just watches: The joys of collecting other horological ephemera. 🤾‍♂️ Like the new Oris, a lot of people had opinions about the new Bell & Ross BR-05, or Bell & Ross going "sports luxe". 😆 Kevin O'Leary and Teddy Baldassarre talking about their colleciones (it's like a car crash, I just can't look away). 🍚 6 minimalist watch recommendations. 👩‍💻 5 of the most innovative dive watches introduced this year.
In New York: Saks is opening "The Vault", a new watch and jewelry experience.
-Tony
Questions/comments/tips? Just respond to this email (and please tap the heart above to like it!).