Discover more from Rescapement
Updates on my Hodinkee writing; b-sides and behind-the-scenes; unpolished personal musings; recs and other unsolicited advice.
Nomos Tangente Sport for Hodinkee: Hype or horology?
Jonah Hill's collection, the perfect watch portfolio, and what to do if someone's trying to rob you of your Rolex.
Jonah Hill's collection, the perfect watch portfolio, and what to do if someone's trying to rob you of your Rolex. With no sports left, it feels like hobbies are our only refuge from the madness around us. With that, let's talk watches. If you're new, subscribe to get Rescapement Weekly in your inbox every weekend:
When the Nomos Tangente Sport Limited Edition for Hodinkee dropped in December 2019, I was naturally thrilled. After all, the Glashutte, Germany-based watchmaker is the brand that got me into watches. I immediately dropped the limited edition into my cart, finally hitting "Buy" a couple hours later to land number 200-something of a limited run of 300 watches. The watch eventually sold out, taking about three hours.
Why the Nomos Tangente Sport, and why now?
As you're reading this, you might be thinking "why is he writing an article about a watch that was released like three months ago?". Well, dear reader, that is exactly the problem with this watch (as much as there is a problem with it). Many of Hodinkee's limited edition models are driven more by hype and the fear of missing out (hencetoforth, "FOMO") than by actual horological interest. But, this isn't another article to lament the ways in which Hodinkee has changed the watch industry — I think you'd be hard pressed to argue the publication is anything but a net positive for collectors and for the industry.
Instead, the problem I felt when strapping the Nomos Tangent Sport on my wrist for the first time was one of my own creation. The Nomos Tangente Sport for Hodinkee is an objectively cool watch that I should love, and in fact, hate myself for not being satisfied with upon its arrival. Sure, Hodinkee creates the conditions for such disappointment: limited edition releases sure to sell out in hours — if not minutes — inducing customers to make impulse purchases they might later regret. But I'm still the one who bought the watch, cajoled by a few nicely composed Instagram posts, a well-written blog post, and, of course, the seemingly legions of other collectors who had made their purchases before me. When you're in the hype cycle it's hard to tell: am I the victim, the natural end point of the vicious cycle, or the perpetrator, contributing to the victimhood of others?
If I can't just buy whatever Hodinkee or others deem "cool," then I have to do the work to develop my own tastes, to buy based on what I like, and that's terrifying. Developing your own style and taste is a long, research-laden process, fraught with false starts, dead ends, and expensive mistakes. But that's also exactly what makes it so fun. Because there's nothing like identifying a taste that's distinctly yours, uninfluenced by, well, influencers, and pursuing and enjoying it for its own sake.
Impulse purchase, postponed arrival
I knew I was falling victim to the Hodinkee hype when I thought to myself "if you don't click 'buy' now, it'll be gone forever." But, I let the hype wash over me — the Tangente Sport just looked so elegant in photos. It was everything I'd ever asked for from Nomos: small, 36.5mm sporty case, dark dial, lume, even a chronometer-certified in-house movement.
Immediately after smashing the "Buy" button, the first feeling of buyer's remorse set in upon reading the final sentence of the launch post: "most watches will ship immediately via expedited service, with a small number shipping by February 2020."
As it turns out, I was assigned a watch that wouldn't arrive until a few weeks after my early-December purchase. I experienced my first bit of FOMO as I saw other buyers from around the world post about the arrivals of their watches over the next few days while I impatiently awaited the arrival of mine. A couple weeks isn't even that long to wait for a watch — all good things are worth waiting for, as the saying goes — but in the world of hype, time is a virtual death knell.
"Hype is a big excitement that has a deep emptiness at its core," comedian Hasan Minhaj quips in his Patriot Actepisode about streetwear brand Supreme. If I didn't have the hot watch everyone else seemed to have, who even was I? That's a question I'm not willing to grapple with on even the best of days, much less in a blog post about a $2,500 watch I have lukewarm feelings about.
For a few weeks, I suffered through a privileged kind of purgatory, watching others unbox and enjoy their new Nomos. Eventually, mine did arrive, packed in Nomos' signature slim box with a few special touches to make the "full set": a small Nomos-branded notebook with hand writing and drawings detailing the design and making of the watch, a hand-written note from the Hodinkee Shop, and chronometer measurements. Nice touches, tossed to the side as I dug deeper to the main event.
As I laid eyes on the limited-edition Tangente Sport the first time, I immediately had that empty, sinking feeling. You might know it too: I first remember having this feeling when I finally bought my first Element Skateboard as a young shredder, having dutifully saved up my allowance money for some time to make a certifiably "cool kid" purchase. Upon taking it home, I remembered I didn't even like skateboarding that much (nor were my Ollies popping more than before). I was the same person, just with a new board.
Things don't change you. Damn, did that realization suck, and it hits the same whether you're 12, 62, or somewhere in between. Sure, I thought the limited edition Tangente Sport looked nice (as did the skateboard), but if I'm being honest, that's not what drove the purchase. A lot of watches look nice. I wanted this particular one because of the hype. And with mine arriving three weeks after the launch and first deliveries of the limited edition Tangente Sport, that hype had largely died by the time one arrived at my doorstep.
The Tangente Sport's specs
On paper, the Nomos Tangente Sport Limited Edition for Hodinkee measures up. It's a follow on to Nomos' original Tangente Sport, which was produced from 2003 to 2013 — not to be confused with the current Sport Neomatik line, its 42mm sports models released in 2019. In fact, Hodinkee even mentions it used Tangente Sport cases leftover after the model's discontinuation in the development of this limited edition model. The Tangente Sport case is a slightly beefed-up version of the traditional Tangente case, measuring 36.5mm by 7.5mm in thickness with a slightly thicker smooth bezel. The design also adds some lume to the blue steel hands and the hour markers, adding a bit of practical legibility to the design.
Hodinkee's limited edition version features a lacquer-coated grey dial, giving it a warm, textured feel. The even-numbered Arabic numerals are printed on with a staid black, still legible, if a bit awkward looking, against the grey dial.
Inside ticks Nomos' in-house, manually-wound Alpha caliber movement with a 43-hour power reserve. The Alpha caliber was first announced in 2005 as Nomos' first in-house movement, and while it doesn't feature Nomos' in-house swing system — the brand's own escapement mechanism, first announced in 2014 — it is "in-house" in all other respects. On top of that, the Alpha caliber inside each Tangente Sport Limited Edition was tested at the Wempe Observatory in Glashütte, Germany, the country's only chronometer testing center. To earn the chronometer certification, the average rate variation of each watch must fall between +6/-4 seconds per day. In fact, it's not the first chronometer-certified Nomos limited edition from Hodinkee.
Together, it all makes for a handsome, accurate watch. With the more robust case and Nomos' typically long lugs, it had a bigger wrist presence than I expected. A plus to those looking for a typical sports watch profile, a potential negative for those more comfortable with Nomos' characteristic low profile. Some might grumble that 100m of water resistance is on the low end for a sports watch, but it's still enough to satisfy accepted "dive watch" standards.
Hodinkee shipped the Tangente Sport with a blue canvas strap and a Nomos bracelet — not the deployant-clasp bracelet that comes with its new Sport Neomatik line, but a cheaper, Milanese-style bracelet — to me, the strap looked and felt best, but the watch also did well with a bunch of my own leather straps.
FOMO and the competition
If FOMO is what got me to buy the limited edition Tangente Sport, it's also what got me to sell the watch. It was reasonably priced at $2,450 (and, while flippers tried to push prices higher, you can now find examples for less than this on the secondary market), but the under-$3,000 price point has become a competitive one (and this coming from someone who consistently argues that Nomos offers some of the best value in the business). For example, in our guide to the Best Dive Watches under $5,000, we highlight a number of competitive offerings from Tudor, Longines, and a number of microbrands.
Of course, offerings from Nomos' main line also present competition: its Ahoi dive watches come in a variety of dial colors, sizes, and even 200m of water resistance, double that of the Tangente Sport. The Tudor Black Bay 36 is another modern sports watch with a smooth bezel that'll set you back about $2,000, and its technical specs and automatic movement top that of the Tangente Sport in many respects.
If you're up for it, I'd also advocate for a simple, vintage Rolex Oyster Perpetual, perhaps the reference 1018 if you're looking for a 36mm case. Robust movement, waterproof Oyster case, and the brand everyone knows, plus a watch that's a stable investment, unlike the hype-driven Hodinkee limited edition.
There are just so many fun ways to spend a few thousand bucks on a simple, stainless steel sports watch, if I don't love a piece, it's not staying around for long. And so it was with the Nomos Tangente Sport Limited Edition for Hodinkee.
So long to the Sport
If you're honest with yourself about why you've bought something, and it's outside one of two reasons: (1) it's a genuine need, or (2) it brings you genuine, personal joy, then there's likely been some amount of that empty, sinking feeling hovering over any purchase you've made.
I try to be disciplined about buying watches that I'm truly buying for me and no one else, but it's either naive or dishonest to say that my purchasing habits are uninfluenced by others. And with thousands of dollars often on the line, that's OK. You should buy watches that you like and that are likely to retain value. When I start to buy watches (or skateboards) not because I like them, but because it I think it might make the "cool kids" like me, that's when that empty, sinking really feeling emerges.
The problem is, this feeling really isn't that different from the at once euphoric-but-horrifying feeling of dropping too much money on something that's completely reflective of your tastes, your authentic, unadulterated preferences. There's something more pure about that feeling, seemingly triggering a bigger dopamine rush to drown out any feelings of anxiety.
It's something like that "getting kicked in the crotch" or "oof" feeling that John Mayer describes when dropping big bucks on a watch. It's hard to know until you strap the watch on your wrist which feeling you'll have. Sometimes it's more emptiness than "oof" (the good "oof", that is), but by then it's too late, and so sometimes it's onto the next watch.
And so it was with me and my Nomos Tangente Sport Limited Edition for Hodinkee. On to the next one.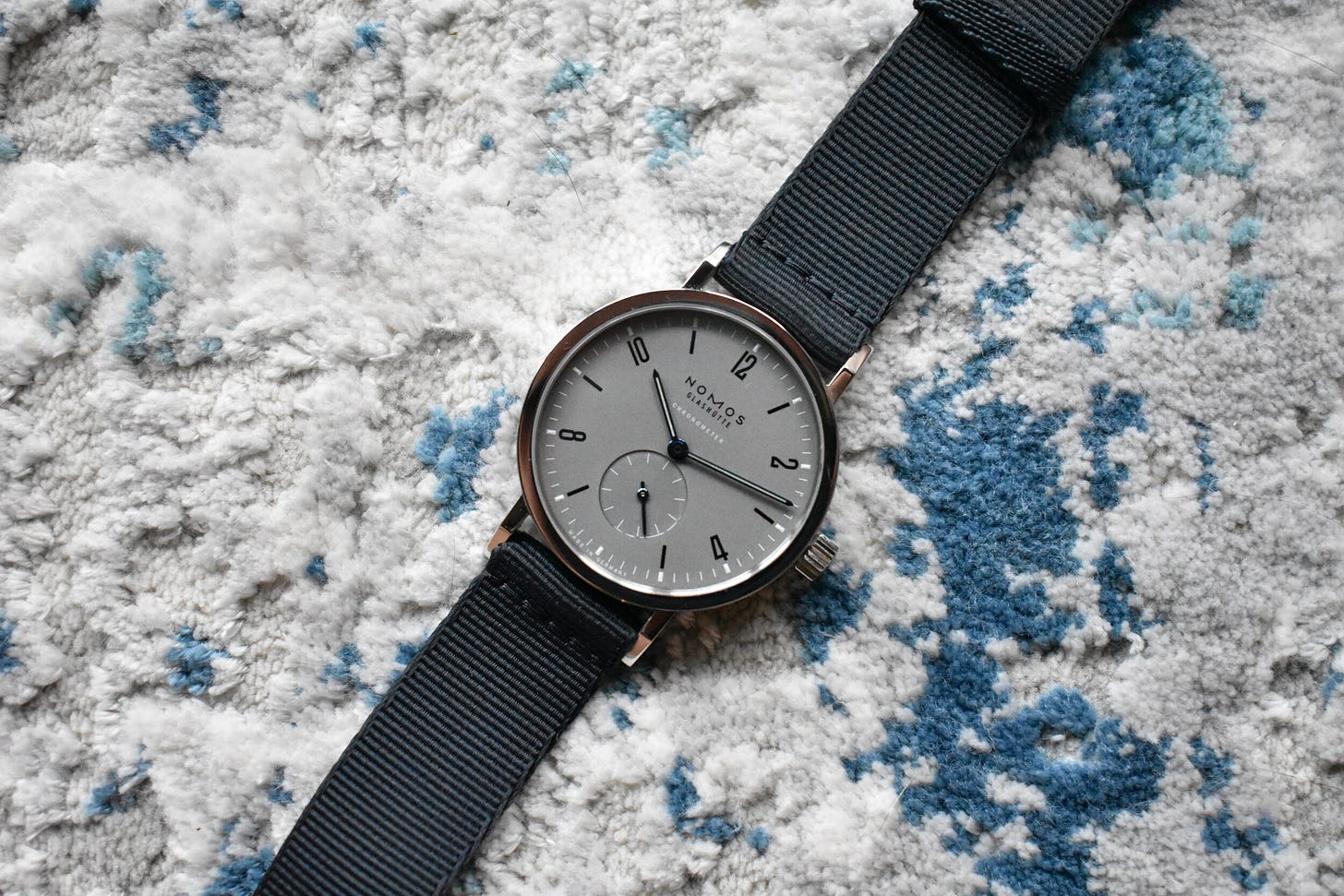 ---
More News
An excellent article from the latest print issue of GQ on how to buy your next watch finally hit the interweb. Contributions from a number of heavy hitters including dealer Jacek Kozubek, Seiko boi Jeremy Kirkland, and other jewelers and dealers.
My favorite insights — which look quite perceptive nowadays — come from dealer Eric Wind, who says he serves a few clients "who are quite concerned about global apocalyptic scenarios. They will buy watches and place them in safe-deposit boxes around the world in case they need to flee a given country." According to GQ, the formula for successfully investing in watches goes something like this:
Put half your investment into one can't-miss piece, like a Royal Oak, which Wind calls a "blue-chip S&P 500 stock."

Iconic watches with great backstories—and perfectly faded dials—make excellent midrange bets.

With the rest, go exotic: a watch from under-the-radar Enicar or a Rolex just below grail status, like the Explorer (I also like GQ's further advice to check out some looked-over dress watch options).
The New York Times features 6 women who are serious about collecting watches. One thing they've all got in common? I particularly love the story from Dr. Iris Ko, an anesthesiologist, who spotted a Vacheron Constantin with a pulsation scale on a patient in the middle of an operation and instantly knew she had to have it. Meanwhile, GQ featured Pamela Adlon's watch collection.
---
Ticks & Tocks
😏 Jonah Hill's sneaky watch collection. 🕵️‍♀️How to avoid buying a fake vintage watch. 🇲🇽 For sale: A GMT-Master reference 1675 with presidential provenance and a Bakelite bezel reference 6542. 🔪 What would you do if a guy with a knife tried to steal your Rolex? Artisan de Geneve's tribute to the Daytona reference 6263 'albino'. 💰WSJ on what makes a watch so expensive.
In Chicago: Well, I was excited to visit the new Chicago Board Game Cafe.
Thanks for reading!
-Tony
Tap the heart above to like this email, reply to comment, and please share Rescapement Weekly:
Meme of the Week: