Movado François Borgel 95M Chronographs
Our first guest post, and it's a banger
Sometimes, the automated email spam filters decide Rescapement is spam. I need your help to ensure our little newsletter makes it to your inbox.
You need to do three things:
Drag this from promotions or updates into your inbox;

Reply to this email—just with a nice hello, even if your email is arriving in your inbox;

Add me to your contacts list.
If you do one or all of these, you'll tell those machines that yes, we actually do love each other.
---
Feature
For Your Reference: The Movado François Borgel 95M
Our feature this week comes from guest author Rich Fordon. It's an amazingly in-depth study of Movado 95M chronographs, particularly those housed in François Borgel manufactured, water-resistant, 35.5mm cases. Much of the article derives from a library of examples, compiled thanks to many collectors and sales across the web (But mostly, Rich's painstaking research). Due to Rich's extensive research, he arrives at a number of independent conclusions about production run periods, production numbers, and more.
Movado, in a previous era, offered a catalog more on par with Longines and Universal Genéve, than Michael Kors and Hugo Boss. The brand boasted a horological pedigree dating back to 1881 with innovations such as the ingeniously curved calibre Polyplan, and over six decades of in-house movements. Mid-century Movados are remarkable watches, none more the case than François Borgel 95M's.
Most notably encasing Patek Philippe's reference 1463, Swiss casemaker François Borgel distributed their products to a few Swiss brands. Borgel led the charge throughout the first half of the 20th century when it came to designing, building, and distributing water-resistant cases. The first Movado and FB collaboration wristwatch came in 1935, per Fritz von Osterhausen's The Movado History, and by 1939 the brands were producing a 90M very similar to Patek's renowned 1463. Meanwhile, in 1939, Movado introduced the 95M, a new three-register version chronograph movement.
While FB and Movado offered a waterproof two register in 1939, the first hard evidence of a FB case 95M comes from a catalog from 1946. Though Movado produced three reference number generations of the 95M, each distinct in varying aspects, consistencies remain throughout the production run. On cases, all 95M FB watches have the similar pump style pushers and patented Borgel decagonal screw down casebacks. The crown is nearly consistent across the range, there is a single design but earlier examples are unsigned and most later examples sport an 'M' logo.
Turning attention to dials and hands, unfortunately, produces few uniformities. Unlike the Speedmaster or the Autavia, these FB cases were the entirety of Movado's sport chronograph offering. Dials and hands are extremely diverse as this calibre and waterproof case were implemented in varying executions to fulfill the demand of all chronograph consumers. A few observations to note— luminous hour/minute hands should be matched with luminous dials and vice versa, chronograph hour and minute subregister hands should directly match each other, and dial designs are generational. Generational meaning that some dials are exclusive or nearly exclusive to generations. For example, an 'Arrowhead' dial should only very rarely be seen in a third-generation case and a 'Panda' dial should never be seen in a first-generation case.
One significant aspect of Movado chronographs from this period is, of course, 'kris' or 'snake' sub-register hands. Strikingly dissimilar to any other chronographs, these hands add quite the intrigue; nothing was or is the same.
Rich's article goes onto dive into the three generations of Movado 95Ms, analyzing the hallmarks of all three.
Movado FB 95Ms were offered from 1946 to 1969 in three generations. Rich's best guess at a total production number from this run of at least 23 years, estimating and rounding on the high side, is about 14,200. Conducting a similar analysis of the Heuer Carrera, one astute OnTheDash forum user estimated just under 40,000 first execution Carreras were manufactured between 1963 and 1969. Important to note, this 40k refers to all Carreras offered during the period, not just the three-register variant; (no one can offer specific breakdowns by variant).
"Every watch Instagram account can post a 2447n but few share FB 95Ms; maybe because not everyone can get their hands on a great example," Rich ends. And now, you'll have a greater appreciate for the next 95M you scroll past.
By the way, Rich also includes a ton of great reference photos throughout the article, not least of which is his own 95M (case number 5!):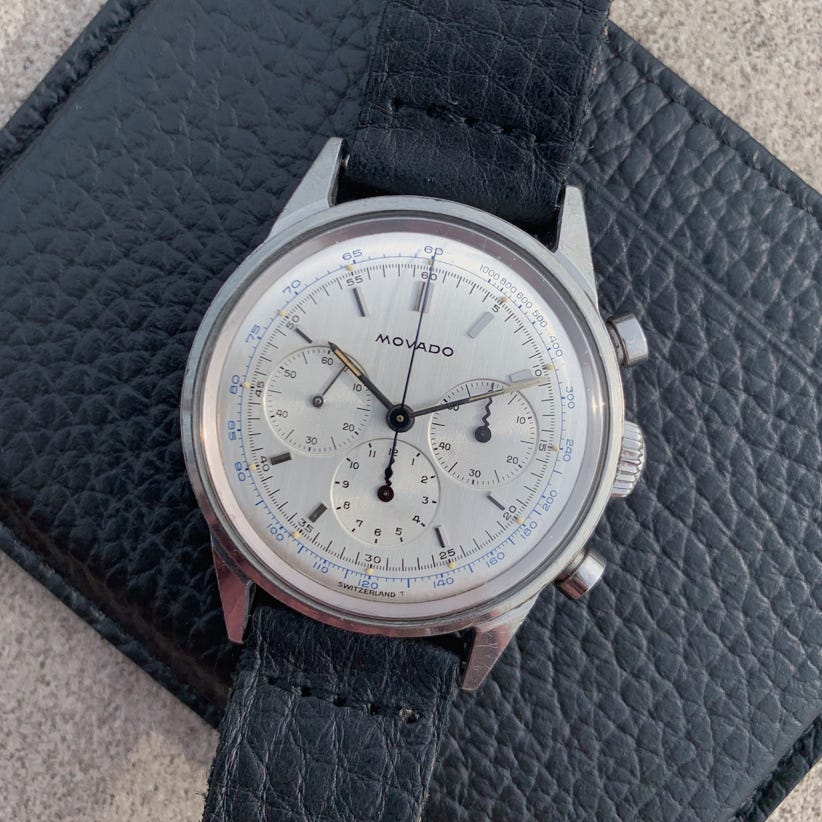 ---
Other News
Jack Nicklaus' Rolex up for auction, and Amazon's smartwatch can read your emotions
Phillips to Sell Jack Nicklaus' Yellow Gold Rolex Day-Date. Jack Nicklaus is truly one of the good guys. He wore the same Rolex Day-Date Ref. 1803, gifted to him by the Crown in 1967, practically every day, and for 12 of his 18 major wins. Always a class act, all proceeds from the sale will go Nicklaus Children's Healthcare Foundation. See Hodinkee's report here.
The Complete List of Bond Watches. They're some of the most iconic watches out there. Time + Tide takes us through the entire list of watches worn by the various James Bonds through the years: Roger Moore up through Daniel Craig, and more than 15 watches featured on the big screen. See the list here.
A Look Inside Sellita. Since ETA clamped down on the availability of its movements to third parties, we've begun to see more Sellita movements, especially in mid-priced and micro-brand watches. But I didn't know a ton about the company, until I read this feature.
Watchdreamer is an online company, launched in November of 2018, that allows you to buy a watch by making payment in monthly installments, paying the watch off in 12-48 months. They say they sold over 100 watches in April. Look, I wouldn't necessarily recommend buying a watch and then paying for it over 4 years (like what if you lose your job or something?) but I see the market for it. Brands especially seem to like it because Watchdreamer maintains true retail prices (not grey market). There are already some fintech startups (Affirm the most prevalent) that allow all types of retailers to easily offer credit financing for purchases, but some of these watch brands are so behind the times that they don't even have an ecommerce distribution channel, so Watchdreamer solves both of those problems. By the way, getting a steady revenue stream of monthly payments is also a good value proposition for an industry built on high-value sales that's also cyclical (oh, and the economy is good now, so let's get those overconfident consumers to buy watches now and they'll keep paying for them through the next economic downturn). Watchonista goes deeper.
Amazon is developing a wrist-worn voice-activated device that can detect human emotions (Bloomberg).
---
Sales Corner
Scratch that new Movado itch
Like this week's Movado feature? It might be time to pick up a mid-century chronograph of your own. Try these ones on for size:
Movado 95M in Steel. Fortuna Auction is hosting an exclusive watches auction through June, and there's a nice -38 Movado 95M with Arabic numerals in steel.
Tiffany & Co. 14k Movado Chronograph. Don't like that Movado name on the dial for some reason? Here's a 14k gold Tiffany chronograph, powered by Movado's calibre 95M, this week's featured movement.
Tired of Movado? Here's a 1970s Seiko Chronograph "Monaco". I said it last week: something about 70s Seikos is perfectly retro-futuristic.
---
Ticks and Tocks
😎 How to wear a watch like nobody is watching (Time + Tide). 🏎 I'm not a big Monaco fan, but if you are, I suppose the new limited edition one is cool (Watchonista). 🤹‍♀️ There is too much stuff (The Atlantic). 🍔 How Impossible Foods became a meatless-burger-as-a-platform company (Engadget); or, get the affluent to vouch for your product first. 🏅Baby Future got a 31mm gold Day-Date for his birthday (GQ). 💰How luxury brands can beat counterfeiters (HBR). 👨‍👨‍👦‍👦 Gear Patrol has all kinds of Father's Day gift recommendations. 🌲 A Kickstarter co-founder says the internet is becoming a space of dark forests, where real conversation is in private groups — Slack, DMs and group chats, podcasts, and yes, newsletters.
Thanks for reading; and remember you can refer people to our newsletter to earn a free Nato strap — just forward this email or send them here and tell them to say you sent them in the intro email.
-Tony
Questions/comments/tips? Just respond to this email (and please tap the heart above to like it!).