Discover more from Rescapement
Updates on my Hodinkee writing; b-sides and behind-the-scenes; unpolished personal musings; recs and other unsolicited advice.
laCalifornienne Responds to Rolex Suit, Raising 'Fair Use' Defense of Its Colorful Watches
Tissot Antimagnetique: An introduction to the 'first' anti-magnetic wristwatch
A longer newsletter today, with two in-depth pieces: (1) a legal analysis of the Rolex v. laCalifornienne lawsuit and (2) an intro to the vintage Tissot Antimagnetique. If you're new, subscribe now to get Rescapement in your inbox every weekend:
Since Rolex filed a lawsuit against laCalifornienne for the upstart brand's colorful, custom Rolex offerings back in November, we've been waiting for a response from the Los Angeles-based company. Launched three years ago, laCalifornienne has made a name for itself with its brightly-colored Rolex and Cartier watches, which are sold by high-end retailers like Farfetch and Goop. It seems the success finally caught the eye of Rolex, who brought a suit alleging these watches are counterfeit and infringe on Rolex's trademarks.
On January 15, laCalifornienne submitted an answer to Rolex's complaint filed in the Central District of California. As expected, laCalifornienne has denied the claims brought by Rolex. These denials, include, among others claims, that:
laCalifornienne operated to "advertise, promote, and offer for sale merchandise bearing counterfeit copies" of Rolex's registered trademarks;

laCalifornienne's actions included "replacing the original watch crystals; refashioning bezels; and altering the dials by 'stripping the paint and finish from the original watch face dials and repainting and refinishing them in vibrant colors'";

laCalifornienne's watches no longer attained the aesthetic, performance, or function to the same quality standards of original Rolex watches; and

laCalifornienne's use of Rolex's trademarks creates the impression that its products and services emanate from Rolex or are authorized or approved by Rolex, causing confusion among consumers and irreparable harm to Rolex.
Stating these facts in its original complaint, Rolex brought three causes of action: counterfeiting, trademark infringement, and false designation of origin and unfair competition, all in connection with watches that are "not genuine products of Rolex."
What is a 'counterfeit' Rolex?
Rolex makes every attempt to articulate its unusually broad definition of what qualifies as a "counterfeit" Rolex. For example, when Rolex takes a watch in for servicing from a customer, it's notorious for dressing it down and giving it the full treatment to ensure it's up to Rolex snuff. This might mean polishing, replacing a dial, bezel, hands, or movement parts as needed to get it running to Rolex specs.
Rolex also uses this internal servicing and warranty policy to its own (legal) advantage. It's keen to point out that if any third party fiddles with a Rolex, that voids the warranty (and Rolex will therefore refuse any servicing), because Rolex can no longer ensure the watch will live up to the brand's superlative standards. Third parties getting under the hood of a Rolex compromises the very quality the brand has come to stand for.
Of course, much of this is Rolex fluffing its own reputation. If anyone says they're buying a Rolex for its accuracy as a timekeeping device in 2019, they're likely lying. This is even more so the case with a customized and colorful Rolex from laCalifornienne. No one is buying a watch with the "pink and blue magic hour skies of California" and then adjusting it in five places to make sure it meets COSC specifications. They're fashion pieces. In its complaint, Rolex touted its own branding in an attempt to make a point about counterfeiting and trademark infringement. And, it might just work.
A introduction to nominative fair use
In addition to denying the claims brought against it, laCalifornienne raised six affirmative defenses (essentially, saying "yes, maybe we did this, but it's OK because…"). While some of these affirmative defenses are more legalese than substantive, there is one potentially interesting defense they've raised, called "nominative fair use".
The nominative fair use doctrine provides an affirmative defense to trademark infringement, allowing someone to use the trademark of another as a reference to describe the other (trademarked) product and compare it to their own. Lucky for laCalifornienne, California's Ninth Circuit — whose legal interpretations control in this case and would ultimately hear any appeal — has long been "enamored of nominative fair use". The Ninth Circuit originally articulated the nominative fair use doctrine in 1992 in New Kids on the Block v. News America Publishing. In that case, two newspapers were running a poll asking readers to vote on their favorite "New Kid" from the eponymous band. The Ninth Circuit found the use permissible, crafting the novel "nominative fair use" doctrine that applies in instances where the defendant is using the plaintiff's trademark merely to refer to the plaintiff's product. In these limited instances, the court stated that the traditional likelihood of confusion test for trademark infringement makes way for a special three-pronged test.
However, the Ninth Circuit has since overruled this position, now saying that a nominative fair use defense "need only show that it used the mark to refer to the trademarked good," at which point the "burden then reverts to the plaintiff to show a likelihood of confusion." In other words, in this case, the nominative fair use defense works to shift the burden from laCalifornienne back to Rolex to disprove laCalifornienne's defense.
The nominative fair use doctrine has long been a legal hot potato, with different jurisdictions devising different tests and scenarios. As such, a circuit split has developed among the various U.S. Appeals Courts, with some adopting an approach similar to California's Ninth Circuit and some taking other approaches. As recently as 2017, the Supreme Court declined to hear a case regarding nominative fair use, which would have been the court's first on the issue.
What's next?
Essentially, by invoking the nominative fair use defense, laCalifornienne is trying to say that it was allowed to use Rolex's trademarks because it's merely using them to reference Rolex's products. Rolex's retort will be that laCalifornienne was doing much more than that, attempting to trade on and profit from Rolex's trademarks.
Meanwhile, it's not clear laCalifornienne is totally confident in its own defense. Since Rolex filed its suit back in November, you'd be hard pressed to find laCalifornienne publicizing its Rolexes: they haven't posted a Rolex photo on their Instagram since, limiting themselves to colorful Cartier Tanks instead.
Read my full analysis of the case

here

(including proper Bluebook case citations for the attorney subscribers!)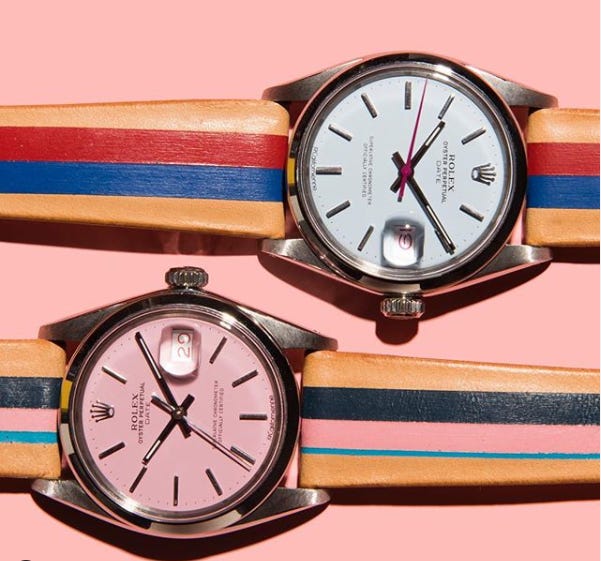 ---
When collectors think of anti-magnetic watches, they're often drawn to watches of the 1950s. After all, it was a decade of firsts for some of the largest brands:
In 1955, IWC introduced the first Ingenieur, Reference 666, its first robust anti-magnetic wristwatch

In 1956, Rolex introduced the first Milgauss, Reference 6541, capable of withstanding magnetic fields up to 1000 Gauss

In 1957, Omega introduced the first Railmaster, Reference CK 2914, also capable of withstanding magnetic fields up to 1000 Gauss

In 1958, Patek Phillipe introduced the Amagnetic, Reference 3417, its first anti-magnetic wristwatch
In recognition of their historical importance, many of these watches now command hefty prices on the vintage market. But, the "first" anti-magnetic wristwatch was actually created a generation earlier, by a brand often thought of as a budget option: Tissot.
In 1929-1930, Tissot introduced the first anti-magnetic wristwatch, which came to be known as the Tissot Antimagnetique. With the world around it quickly electrifying, Tissot pounced on the opportunity to develop a practical watch for the modern world.
Vacheron Constantin had long been experimenting with anti-magnetic watchmaking, but only in its pocket watches until then. Tissot produced the Antimagnetique from 1930 through the 1950s, meaning that, unlike its anti-magnetic brethren from the 1950s, the Tissot Antimagnetique is considerably less rare. Collectible examples can thus be found for hundreds (not hundreds of thousands) of dollars. But, when you consider you can obtain a historically important wristwatch for that price, it might just be one of the best vintage values around.
What even is an anti-magnetic watch?
We largely take anti-magnetism for granted nowadays (for example, today even dive watches must possess magnetic resistance), but how is anti-magnetism even defined? Well, the international standard ISO 764 "Horology—Magnetic resistant watches" defines the resistance of watches to magnetic fields. According to this standard, a watch must resist exposure to a direct magnetic field of about 60 Gauss. The watch must keep its accuracy to ±30 seconds/day in order to be acknowledged as a magnetic-resistant watch.
As far as manufacturers are concerned, there are two ways of creating an anti-magnetic watch:
Option 1 is to make the moving parts from alloys that are insensitive to magnetic fields. These alloys include Invar, Elinvar, Nivarox and others. The creation or discovery of some of these alloys had impacts far beyond the watch industry. For instance, the man responsible for Invar and Elinvar won a Nobel Prize in Physics in 1920 for the discoveries, due to the vast improvements these alloys allowed in the manufacturing of scientific instruments. As for Nivarox, this is also now the name of a Swatch Group subsidiary most known for its manufacturing of Nivarox hairsprings.

Option 2 is to house the entire movement inside a case made of a highly permeable (magnetically conductive) material. The movement is then covered by an additional soft-iron clasp to prevent the forming of magnetic fields inside the watch itself.
From Art Deco to everywhere
Since being given the heritage treatment back in 2018, appreciation for the simple time-only Antimagnetique has only increased. The modern heritage model is based on the common round examples made by Tissot from the 1930s through the 1950s. But, some of the first Antimagnetique examples were tank or tonneau shaped, emblematic of the Art Deco style of the era. These models featured the Tissot caliber 20, a manual wind movement with a small subsidiary seconds.
The first round-cased versions of the Antimagnetique featured the Tissot caliber 21.7. This was soon replaced by the caliber 27, which Tissot produced until the late 1940s, when it began to produce different variations of the movement.
Case sizes for the Antimagnetique line ranged from 30mm all the way up to "jumbo" examples approaching 40mm. But watch out for examples much above 40mm — they might be re-cased pocket watches. In any case, because of the bezel-less look, they tend to wear larger than the size might indicate. You'll also find Tissot models from this era stamped "Non Magnetic", generally made for English-speaking markets.
Since this was a watch mass produced for the general public, many Antimagnetique examples feature brass cases plated in chrome. While collectors seem to report that the chrome plating is rather durable, these plated cases will not have withstood the abuse of decades of wear in the same way a stainless steel case would. Gold-plated examples can also be found en masse, with the same caveats accompanying the chrome-plated variants.
Tissot also made examples in stainless steel and in gold, which are somewhat more difficult to find, but worth the extra effort. For the best, potentially collectible, examples, focus on these stainless steel and gold variations. Chrome-plated versions may look good now, but that plating will continue to degrade. Even if an example is being advertised as stainless steel, look for any gold spotting: that's degradation to the chrome plating showing that it's not actually a stainless steel case. The stainless steel cases also generally seem to have screw-in case backs, with the back carved "Waterproof" (along with "Non Magnetic" and "Shock Absorber") to indicate the watch's water resistance.
There are almost countless variations of Antimagnetique dials: white, silver, black, two-tone, the list goes on. None is believed to be particularly more rare than the other, so choosing comes down mainly to a matter of personal taste. This is great for the collector because, while a vintage watch with, for example, a black dial and Arabic numerals might typically command a premium, with the Antimagnetique, it'll be roughly as expensive as any other example.
Many examples do feature Arabic numerals at multiple or all hour markers, and the most common variants of Tissot's anti-magnetic caliber powered a subsidiary seconds hand (though central sweeping seconds hands can also be found). Many feature syringe hands, but I've also seen alpha hands, leaf (feuille) hands, and sword hands. Leaf hands with no lume tend to lend the watch a slightly more sophisticated look, while syringe or sword hands with substantial lume give the watch a sportier feel.
On collecting the Antimagnetique
The Tissot Antimagnetique is a fun watch to collect because it came in countless dial, case size, material, and movement variations. Just when you think you've seen it all, a new example pops up. Early examples feature rectangular, Art Deco-style cases, though Tissot eventually settled into making dozens of varieties in the round cases that became more popular in the middle of the 20th century.
This is only meant to serve as an introduction to the world of the Tissot Antimagnetique. A few more general observations about collecting the vintage Antimagnetique:
Example should not cost more than a few hundred dollars, and if someone is trying to sell you a Tissot Antimagnetique for much more than that, it might be time to look elsewhere.

As always, look out for redials. Though I haven't seen too many in researching this article, they surely exist. Remember that most of these watches are at least 70 years old, so if the dial looks too good to be true, it likely is. Start by making sure the Tissot logo is correct: it used the same Tissot logo featuring a "T" with a long top during the Antimagnetique's entire production run. Tissot transitioned to its "T" logo in the 1960s and 70s.

Tissot merged with Omega in 1930; in 1932, they merged with Lemania to form the SSIH Group. You'll find Tissot-Omega Watch Co. co-branded watches from this era, though I've not seen an "Antimagnetique" branded with Omega. However, examples of both the Tissot caliber 21.7 and caliber 27 being used in co-branded watches can be found. According to Boettcher (citing Omega — A Journey Through Time), these may have been specifically made for the Latin American market. Rather than cutting prices of Omega watches after a 1935 economic crash in Brazil, the newly merged company instead co-branded watches "Tissot — Omega Watch Co." at lower prices.

Watches stamped with "Tissot / Antimagnetique" that feature a pointer date complication are also relatively available. It's a fun complication, and the outer date track is often printed in a different color, adding interest to the dial's design.
Fratello Watches has obtained and generously linked this artifact from the Tissot museum, featuring multiple ads and images of some of the first Antimagnetique examples. They've also obtained a vintage Tissot catalog from the 1930s, featuring a number of Antimagnetique examples. These are both excellent resources from the Tissot archives that illustrate numerous original examples of the Antimagnetique.
It should also be noted that the moniker of the "world's first anti-magnetic wristwatch" may be a bit dubious. There's evidence that Tavannes was producing non-magnetic wristwatches and Perret was producing non-magnetic balance springs a decade prior.
The Tissot Antimagnetique is an ideal candidate to start a vintage collecting journey: affordable, variety for all tastes, while still offering a historically important watch from a Swiss brand that's long been associated with some of the most important milestones in horology.
---
Sales Corner
🏬 Feeling nostalgic? A Sears-branded alarm watch on eBay.
⛵️ A Heuer Carrera 2447Y 'Yachting'. €35,00 from Shuck the Oyster.
📌 An Explorer Reference 6610 with Red Depth. $27,850 from HQMilton.
---
Ticks and Tocks
🗻 Watch spotting in Davos. 👨‍⚖️ Is Chief Justice John Roberts a watch guy? 🇯🇵 Rolex Japan's policy on hard-to-get models. 🐮 Audemars Piguet and Rolex are moving into the Meatpacking District. 🤓 Antiques Roadshow discovers an unworn Paul Newman. 🥰 A walk through of Akrivia's workshop. 😱 The allure of double-signed dials.
In Chicago: There are still some tickets available for HSNY's watchmaking classes in Chicago February 8-9.
Thanks for reading!
-Tony
Tap the heart above to like this email, and please share Rescapement Weekly: