Discover more from Rescapement
Updates on my Hodinkee writing; b-sides and behind-the-scenes; unpolished personal musings; recs and other unsolicited advice.
Kanye West: Bonafide watch collector
And a call to action
I don't know. It feels trivial, even disrespectful, to spend time writing about watches right now. But, this is a watch newsletter, and my sense is that most of you read this newsletter to escape from the realities of day-to-day life (indeed, it's no coincidence I chose a word with "escape" in it for the site's name). However, I'd challenge you not to escape during this time. This moment needs you — it needs all of us. If you're into watches, chances are you have the privilege to be able to speak up and act. So do it, for those who don't have that same privilege. Donate time and money to an organization advancing the Black Lives Matter cause. But know that's the beginning, not the end.
---
Now, for an awkward segue to an article about one of America's most controversial figures. Listen, I thought about shelving this article. But if Kanye West can grace the cover of GQ just one month ago, I think we'll be okay writing one newsletter about a guy who stood side-by-side with Chicago protestors earlier this week.
[Follow the link for more images of Kanye and his watches]
"Man I promise, I'm so self conscious

That's why you always see me with at least one of my watches

Rollies and Pashas done drove me crazy."
With these first lines from "All Falls Down", one of Kanye West's early singles, he ushered in a new, self-reflective era of rap. Not only that, he also introduced us to his relationship with watches.
I've long wanted to write about Kanye's relationship with watches, but it couldn't be another "here are five watches this celebrity is wearing, isn't that cool?" story. Kanye, both with his music and fashion, not only participates in culture, he shapes it. His understanding of culture and objects runs deep — in short, he's a "collector." First obsessed with watches as symbols of status and luxury, Kanye has come to chart his path as a collector.
While big brother Jay-Z might drop a watch couplet for braggadocio's sake ("new watch alert — Hublots / or the big face Rollie, I got two of those"), Kanye's musical mentions of watches have been more sparse and nuanced.
Kanye's music is popular and critically acclaimed, but the narrative voices, structure, and downright sarcasm he employees in his verses are still overlooked. His references to watches are an illustration of this: In "All Falls Down" we hear an honest, introspective Kanye, admitting he's a victim of the materialism he also helped create. In most of the subsequent lyrical references to watches, Kanye plays a character: A materialistic, self-confessed douchebag who cares only about watches, despite the monetary or personal cost. To Kanye, luxury watches represent the worst of the materialism that he battles personally — objects he's aspired to since he was a child, but, now that he has any watch he could ever want, realizes are empty.
Kanye's career (both in music and fashion) has been defined by distinct eras:
College Dropout and Late Registration: Prep and pink polos (2004-06)

Graduation: Rockstar status (2007)

808s & Heartbreak: traditional and tailored (2008-09)

MBDTF: Reluctant rockstar (2010)

WTT: Pure luxury (2011-12)

Yeezus: Luxury punk (2013-15)

The Life of Pablo: Streetwear (2016-17)

Yeezy: Visionary designer (2018-present) (termed "Yeezy" era after his fashion label, because this is when it becomes clear Kanye is just as focused on fashion as he is music)
His watch choices during each era exemplify the aesthetic he also achieves in his fashion and music. His interests oscillate from traditional luxury to new-wave status symbols and back again, charting his own course in pop culture all the while.
Prep and Pashas
In the early years, Kanye stood out by opting for preppy clothes and polos instead of the hardcore-rap aesthetic that had defined 1990s hip hop. His watch choices reflected this: while other rappers were icing out watches with after-market diamonds and gems, Kanye kept things relatively simple. Sure, he's a man who likes a solid gold watch as much as the next guy, but his choices also exhibited a deeper interest in horology. His reference to the Cartier Pasha in "All Falls Down" shows a man who understood the importance of the Pasha, growing up in the 1980s and idolizing those wearing the bold round watch from the maison.
Even before catapulting into fame, Kanye the producer was aware of how to stand out with his fashion choices. "It's ironic and whatnot how I put no ice on the Bulgari watch / just to make it hot," Kanye rapped in a 2002 mixtape. Before he even hit it big as a rapper, Kanye was dropping references to traditional brands Bulgari that many musicians wouldn't be bothered by.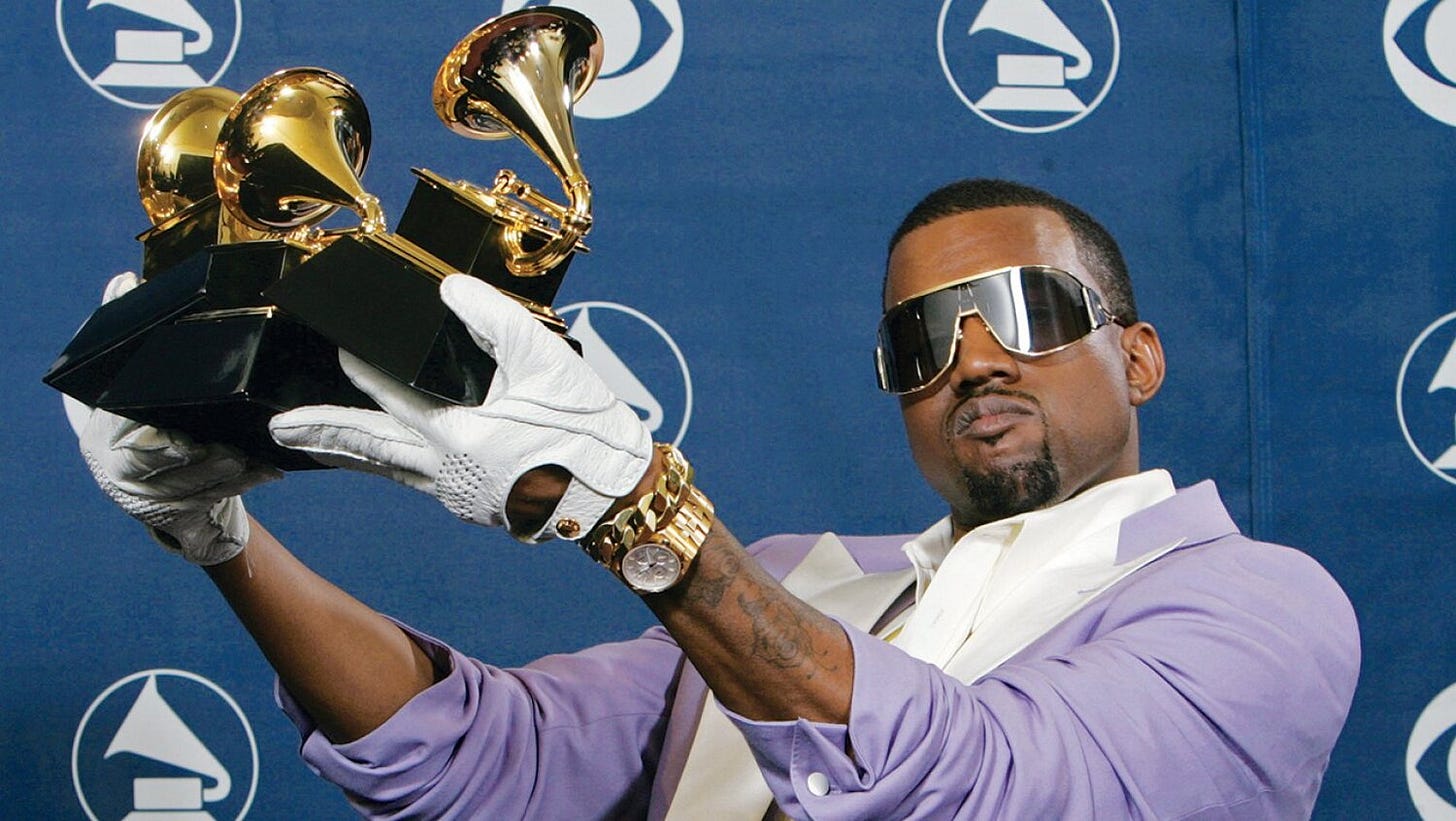 At the 2006 Grammys, when Kanye's sophomore album Late Registration took home three Grammys, Kanye wore a gold Vacheron Constantin Overseas to go with his purple tuxedo ("at the Grammys, I went ultra Travolta"). Compared to other musicians on the red carpet, it's a traditional, subtle choice: the least popular of the sports watches from the "holy trinity" of watchmakers. As Kanye knew, many musicians at the time were more interested in diamonds than a watch that was compelling on its own merits. As Kanye late moved into the fashion industry, he would become obsessed with design, so it's telling to see him, even in these early years, drawn to such an iconic design.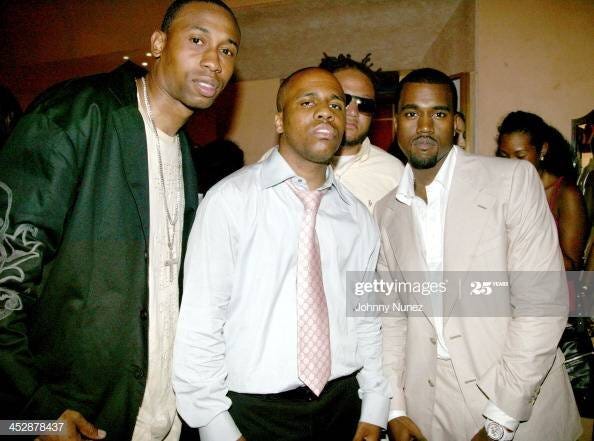 But, a Vacheron Constantin Overseas was still a bit subdued, even for Kanye's relatively tame tastes. At his 28th birthday, we see him wearing what looks like a Chanel J12 Chronograph with diamonds in the bezel. Traditionally thought of as a woman's watch, it's proof that Kanye was challenging conventional thought not only regarding what artists in his genre could wear, but also what either gender could wear.
The end of the pink-polo-backpack-wearing era also gave us one of the most enjoyable and under-appreciated YouTube videos of all time: Two minutes of Kanye West and John Mayer interacting in the studio. Mayer brags about his $40,000 platinum IWC Big Pilot, and Kanye holds up his Jesus piece that set him back a mere $25k. Mayer's flex leaves Kanye smiling and speechless, but also seems to cause a moment of introspection on how to tastefully flex.
During these early years of Kanye's career, we see him wearing watches that can be thought of as traditional symbols of luxury and wealth, focusing on brands like Cartier, Vacheron, and Chanel — watches that look just as comfortable at a country club as they do on Kanye's wrist. Part of Kanye's genius was taking these elements of traditional prep and adopting them to his lifestyle.
In his music, we hear Kanye admit that he's self-conscious, but ultimately we see him succumbing to the consumerism and traditional symbols of luxury that he's battling against.
G-Shocks and
Graduation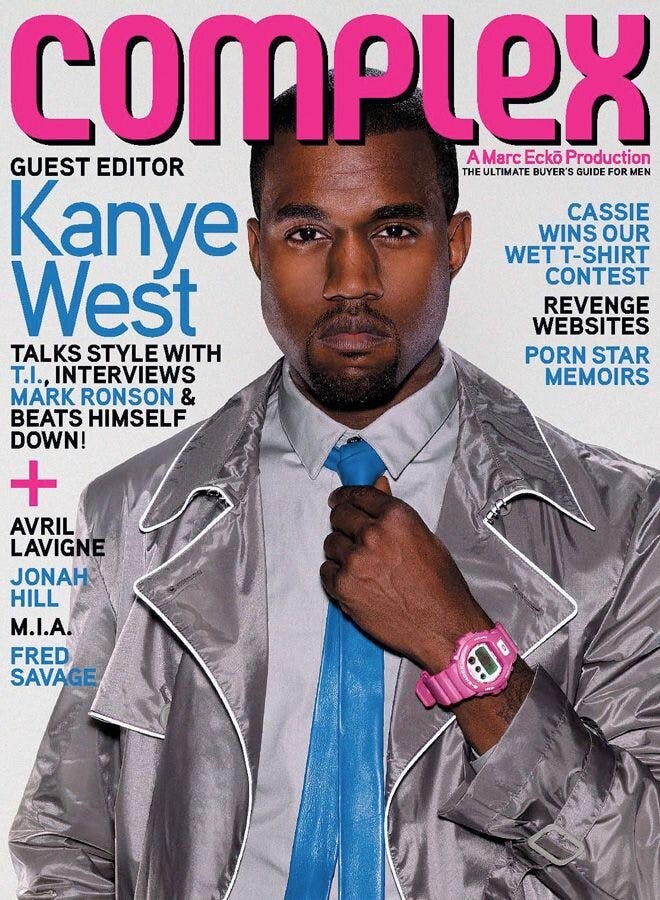 Kanye wearing a pink G-Shock on the cover of Complex (side note: shoutouts to watch guy Fred Savage on the cover too)
After releasing two best-selling albums, Kanye became a certifiable rockstar. He proceeded to tour with U2, and this experience inspired him to create "stadium rap" in his next album, Graduation. His style and watches also evolved in this era, from symbols of traditional luxury to rockstar-ready pieces.
Like any good collector, this led him through an intense G-Shock phase, and it seems he still keeps a few in his nightstand for bumming around Calabasas today. Around this time, he even headlined a show to celebrate G-Shock's 25th anniversary. Ever meticulous about his fashion choices, you can find Kanye wearing an almost infinite number of colored G-Shocks during this era, always matching his outfit.
808s & Heartbreak
; and Audemars Piguet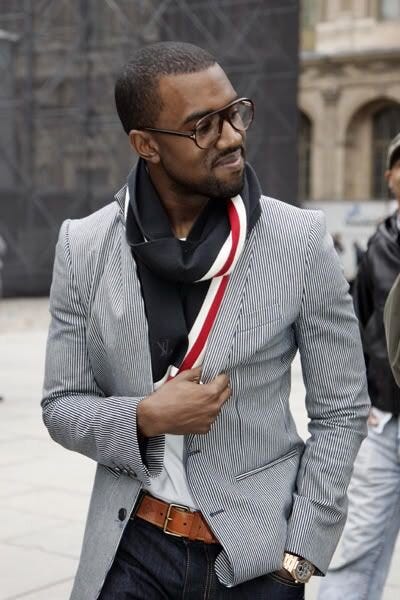 The rockstar years of Graduation abruptly ended when Kanye's mom died just months after the release of the bestselling album. The shocking death put Kanye in a somber tailspin, exemplified by his transition from a bold, rockstar-inspired aesthetic to a more traditional, tailored look. On his wrist, this meant a return to traditional pieces from the likes of Rolex and Audemars Piguet, often in yellow gold. During the 808s & Heartbreak era, he can often be seen wearing an Audemars Piguet Royal Oak Skeleton Perpetual Calendar in yellow gold with a tailored suit or jacket.
Musically, 808s spawned an entire generation of rappers and imitators ("I look and look around and there's so many Kanyes"), from Drake to Frank Ocean. Often accompanying the more intimate, introspective sound of these artists is a fashion sense inspired by this era of Kanye: traditional suiting, classic watches, and "a lot of Murakami in the hallway" (Drake's 2019 brag is Kanye's 2007 album artwork).
Runaway and Rolex
While 808s was a deeply introspective album, it was soon followed by an unpredictable, unabashed Kanye, angry over the death of his mother and the loss of a fiancé in quick succession. He lashed out at friends, reporters, and of course, Taylor Swift. Much like the 808s era, Kanye could still be seen wearing yellow gold timepieces from traditional brands during this time, but the effect is much more jarring when the watch is paired with a leather top and designer jeans.
On the night of Kanye's infamous "I'mma let you finish" interruption, he can be seen wearing a gold Rolex Day-Date Presidential, a watch he's seen wearing across different eras.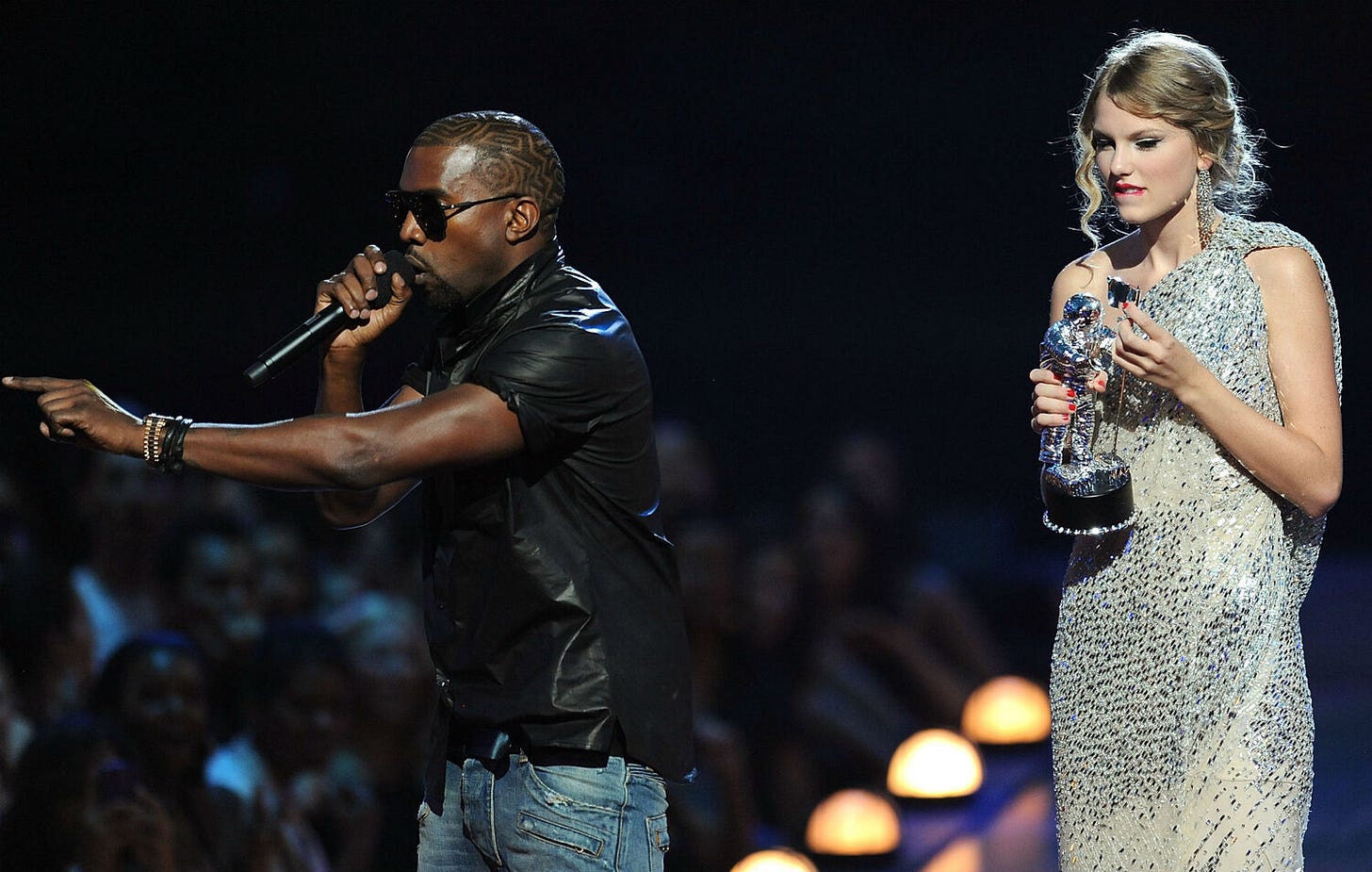 After Kanye's VMA downfall, he retreated from the spotlight, holing up in Hawaii to create what became My Beautiful Dark Twisted Fantasy, deftly exploring the downsides of fame and fortune.
By the time we reach "Runaway", the emotional crescendo of the album, Kanye has fully realized the emptiness of those "Rollies and Pashas" promised way back in "All Falls Down." Kanye hands over the mic to Pusha-T for the final verse of douchebaggery. Pusha, arguing with a woman he's just cheated on, tells the woman to leave if she can't accept it, bragging that he's got plenty of others, before rapping:
Invisibly set, the Rolex is faceless

I'm just young, rich and tasteless.
It's the ultimate brag — buying a functionally worthless diamond-studded watch that's as faceless and emotionless as he's become, followed by a recognition that he's definitely being a shallow scumbag. For Pusha and Kanye, diamond-studded Rolexes have become the ultimate symbol of the "baller matrix" they find themselves caught up in, unable to escape.
Hermes of verses
After MBDTF's critical and commercial success, Kanye went on a victory lap of sorts with Jay-Z, releasing Watch the Throne. WTT-era Kanye represents the apex of luxury rap ("the Hermes of verses"). The album is out-sized and outlandish, with expensive samples and guest appearances that are outweighed only by the name drops of brands you hadn't even heard of at the time. Kanye and Jay-Z even gifted Rolex GMT-Master IIs to some of those who helped on the album, engraving them "From Kanye and Jay-Z" on the back.
One of the most boastful tracks from the ablum is "Otis". In the accompanying music video, Kanye can be seen wearing a yellow gold Rolex Daytona, a watch he's often seen wearing out and about over the next few years. In fact, Kanye seemed to develop a penchant for the Daytona around this time, as he's also often seen wearing an Everose gold Daytona on a rubber strap.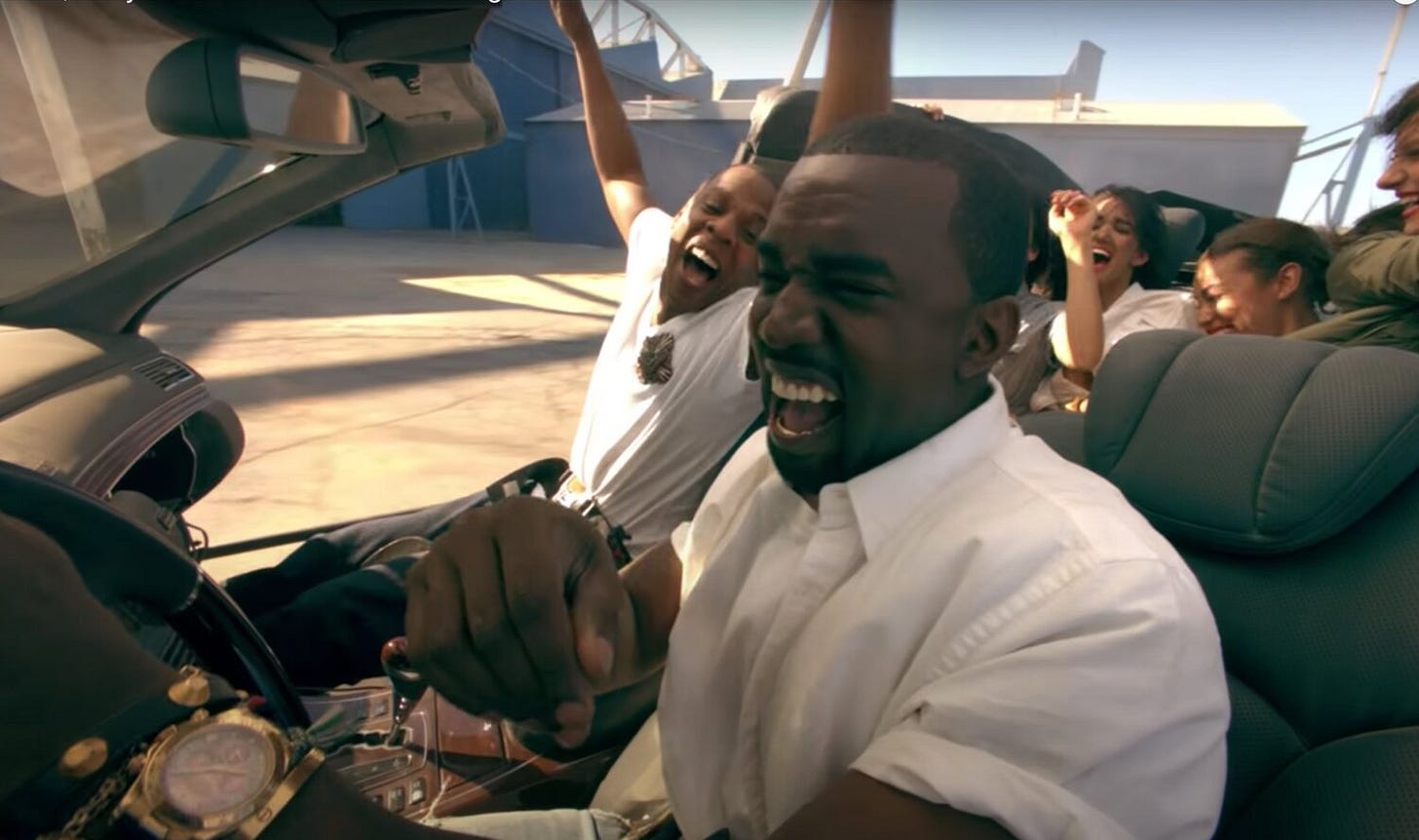 Around this time, Apple attempted to make its push into the luxury watch segment with the Apple Watch Edition — a luxurious all gold version of the smartwatch. The effort included putting the watch in the hands of high-profile, fashionable celebrities. Of course, Kanye was on this list, and he can be seen wearing the exclusive watch a few times (along with the likes of Beyonce and Karl Lagerfeld).
'He Instagram his watch like #MadRichAlert'
After MBDTF, Kanye set out to re-invent himself again, releasing Yeezus in 2013. Thought of as his punk album, its sound is a stripped-down minimalism, especially when compared to the maximalist approach of previous albums. Fittingly, Kanye also starts to pare back his fashion choices. Comfortable in the fact that he's succeeded by all conventional measures of success, Kanye comes into his own, defining a completely new musical sound and fashion aesthetic. In fashion, this is also the time when he left Nike to sign a deal with Adidas, giving him the creative freedom to build the Yeezy empire.
Not unlike Runaway on MBDTF, "Blood on the Leaves" serves as the emotional pinnacle of Yeezus. Kanye again drops a reference to watches while rapping in the character of a sarcastic douchebag. Kanye raps that "he Instagram his watch like #MadRichAlert". During an intense fight between the couple, all the man can be bothered to do is snap a photo of his watch.
During this "punk" era, we often see Kanye without a watch, with perhaps only a gold chain and bracelet as accouterment. However, as he's transitioning to becoming a defining voice in streetwear, he can still be seen wearing luxury watches: the gold Rolexes and Audemars he's accumulated over the years, or perhaps a new Richard Mille.
Depression and discovery
In 2018, Kanye released Ye, the lead up to which saw Kanye stir up a number of controversies. The album itself left these controversies largely unaddressed, instead exploring Kanye's relationship with mental health.
"Hospital band a hundred bands, fuck a watch" he raps on "Yikes", clearly more interested in his own mental health than in Rollies and Pashas.
Kanye the designer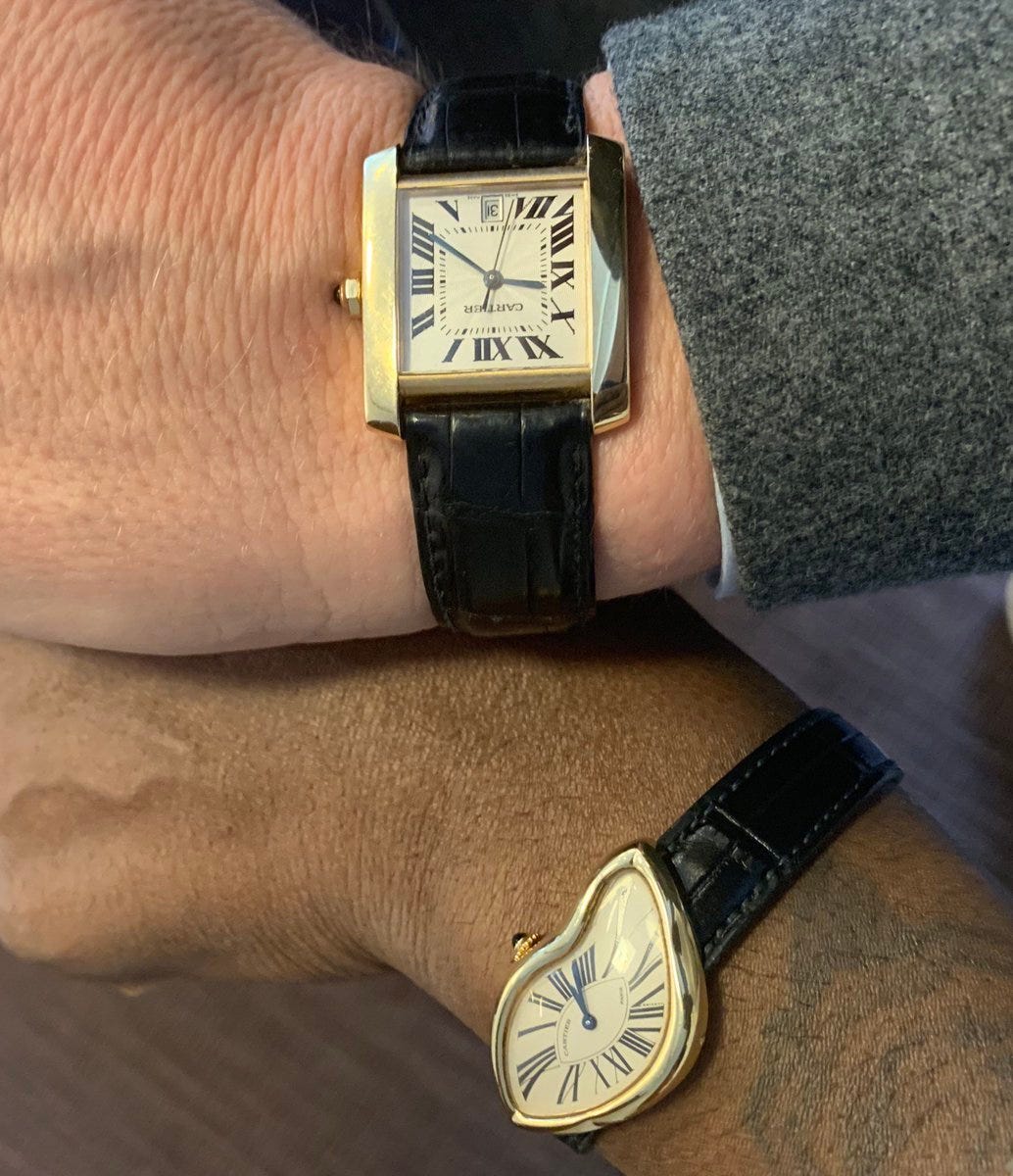 As Kanye began to reclaim his mental health, he came into his own as a designer. With this came an appreciation for iconically-designed timepieces, often out of the mainstream; most notably, we start to see him regularly wearing a Cartier Crash.
The Crash dates back to 1967, when a watch was supposedly damaged in a car accident. Cartier designers were so taken by the watch's shape that they began producing a watch based on the misshapen figure. The Crash is also reminiscent of the dripping pocket watches in Dali paintings, so perhaps it's unsurprising that a man who once rapped "now the whole party is dripping like Dali" might take to it.
More to the point, much like the Cartier Crash, Kanye's rap career took off after he was involved in a near-fatal car accident himself in 2002. Kanye's jaw was left shattered and wired shut, but he made it to the studio and laid down "Through the Wire" just weeks later, what would become a single for his first album.
Given Kanye's personal history and deep appreciation for design, I can't think of a more fitting watch for him.
Kanye's favorite watch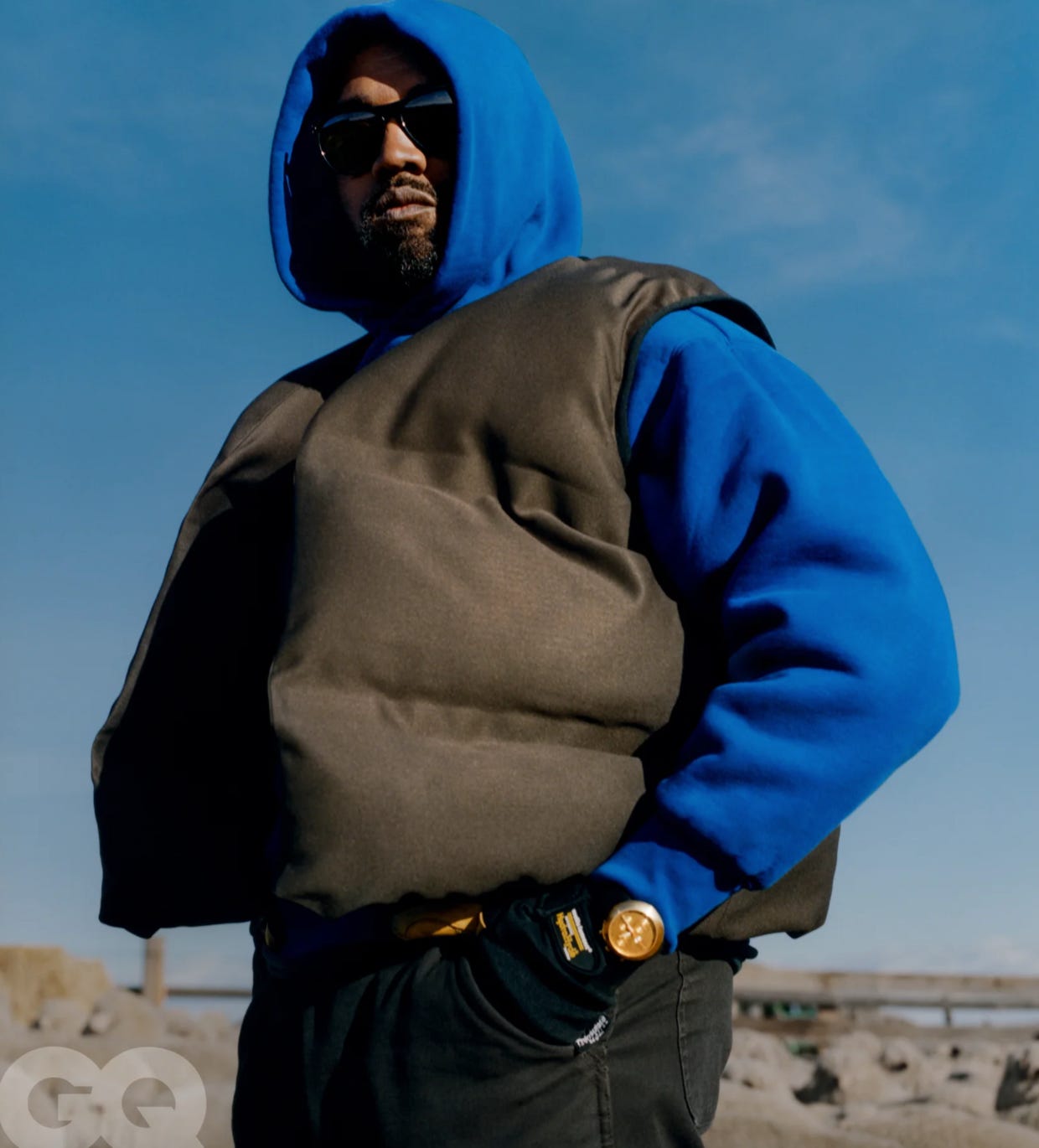 In May 2020, Kanye was featured on the cover of GQ. On his wrist, he's proudly wearing a Gold Ikepod Hemipode Grande Date Chronograph. It's a watch he's previously described as his "favorite watch", and like the Cartier Crash, a cult favorite among design aficionados. Ikepod watches were designed by famed industrial designer Marc Newsom, perhaps best known for his association with the Apple Watch. The Ikepod Hemipode features the brand's instantly recognizable and large hemisphere-shaped case, and is fitted with a strap that became the inspiration for the Apple Watch's sport bands. It's another fitting choice for Kanye the designer.
Kim Kardashian West: Kennedy's Cartier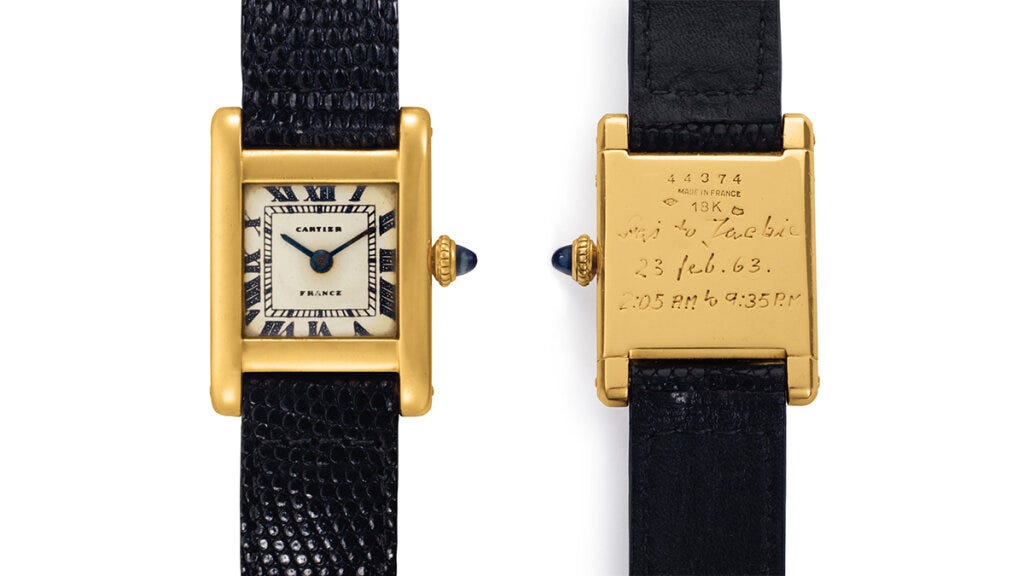 Kanye can't have all the fun. It's no secret that Kanye has become obsessed with Cartier: of course, there's the Cartier Crash, but he's also been seen going on shopping sprees at Cartier boutiques around the world, including for his and wife Kim Kardashian West's wedding jewelry.
In 2017, Jacqueline Kennedy's Cartier Tank came up for auction, hammering for $379,500. TMZ later revealed that the auction was won by Kardashian West, a lot that Christie's had originally put an estimate of $120,000 on.
Skate on the paradigm
Kanye's watch-collecting journey is fascinating because of how closely it has tracked the eras of his musical and fashion career over the past two decades. He's evolved from a collector obsessed with symbols of traditional luxury to one completely freed of the expectations of others.
Now, with watches like the Crash and Ikepod, he's become more comfortable in his relationship with consumerism, society, and even religion. But, he's still battling the consumerism and mental health issues that have plagued his entire career: "lookin' at the Gram, and I don't even like likes," he rapped in 2019. Still, it's encouraging to see a collector so at ease with his personal taste, and that's something we can all aspire to, in watches and in life.
Afterword: Goyard so hard
Goyard so hard man I'm Hugo's boss

Why I gotta ask what that Tudor cost?

House on the hill

Two doors from Tracee Ross
Okay, I don't think these lyrics from "The Glory" are a reference to Tudor the watch company (like Genius claims), but if they are, that just makes me love what's already one of my favorite flows from Kanye. The amount of humor and word play packed into these bars is obscene, and if he's using "Tudor" as a triple-entendre (Tudor as in the house style, "two-door" car, and Tudor watch) some five years before Tudor even re-entered the U.S. market, well, Kanye deserves another 21 Grammys.
---
Ticks & Tocks
😵 Five great watches with Sellita SW200 movements: from divers to dress watches. 🐑 Where your wool comes from. 👋 Who doesn't love a good Hodinkee-advertising controversy in the comments? 😍 The new Seiko 5 Sports, sans bezel. 🏷 Rent a Submariner for $299/mo: will renting watches ever really work? 🇮🇳 Watch collecting in India: present and future. 🙀 Moser x MB&F.
🖤 In Chicago: Black-owned restaurants and bookstores; organizations to donate to
Thanks for reading!
Tap the heart above to like this email, or leave a comment: