Discover more from Rescapement
Updates on my Hodinkee writing; b-sides and behind-the-scenes; unpolished personal musings; recs and other unsolicited advice.
John Mayer's Vintage Rolex Picks
The RealReal (aka the TJ Maxx of Watches) Goes Public, and Bonhams Has an Auction
I think this week's newsletter does a pretty good job of encapsulating everything I want Rescapement to be at its best: highlighting some cool vintage watches and stories from around the web as well as providing business analysis of what's happening in the industry. It's a bit longer than usual, but hopefully worth it (and does anyone actually work July 4th week? Just take a few extra minutes to scroll to the end for this week's meme — it's a video!).
John Mayer's Vintage Rolex Buys for under $8,000: Where Are They Now?
Way back in 2012, John Mayer wrote an article for a young Hodinkee titled "The Five Best Buys in Vintage Rolex for $8,000 or Less". It was a fine article with a lovely premise: you don't need to be rich like John Mayer to own a desirable vintage watch from the Crown.
Well, 2012 was a much simpler time. John Mayer's collection has grown up, as has the vintage watch industry as a whole. Let's take a look back at John's list: if you had invested in his portfolio of five vintage Rolexes, how would you have made out over the ensuing seven years?
First, let's take a look at what he recommended and the price range he cited for those watches:
1. Rolex Explorer Reference 1016. John's price: $6,000 to $7,000
2. Rolex Datejust Reference 1601 in 18k gold. John's price: $7,500 to $8,000
3. Rolex Submariner Reference 5513. John's price: $5,500 to $7,000
4. Rolex GMT Master Reference 1675. John's price: $5,500 to $6,500
5. Rolex Explorer II Reference 16550 (Black Dial). John's price: $4,500 to $5,500
Well, it turns out a stainless steel Rolex sports watch (see e.g. the Explorer Reference 1016 ) has been a much better investment over the ensuing seven years than has a gold Rolex like the Datejust Reference 1601 Mayer suggests. Call it the Paul Newman halo if you want.
Mayer also highlighted the black dial Reference 16550 as an alternative to the popular white dial version of the same reference. While the white dial version had taken off in popularity and price because of the beautiful, creamy patina it takes on (by the way, is the Reference 16570 Explorer II the next iteration of the 'Polar' hype?), the black version had seen no such appreciation in 2012. Well, it turns out seven years hasn't made much of a difference. Mayer cited a price of about $5,000 in 2012; nowadays, the black dial Reference 16550 can still be had for about $6,000.
So if you had followed Mayer's advice, you would have benefited from the boom in stainless steel prices with the Explorer, Submariner, and GMT-Master all experiencing nice returns.
All in, you would have experienced returns of about 95% over the seven-year period had you invested in each of Mayer's five recommended watches. It sounds pretty good, until you learn that the S&P 500 was up 114% over the same seven-year period. So yes, vintage Rolex has been a nice investment over the past few years, but so has the market.
Sure, buy because watches might be a decent store of value, or because John Mayer told you too, but those shouldn't be your primary motivations.
---
Other News
A Look at The RealReal's IPO, How It's Becoming the TJ Maxx of High-End Watches, and Why It's So Hard to 'Disrupt' Vintage Watches
👜 The RealReal Goes Public: What Does It Mean for Watches?
Luxury online consigner The RealReal (TRR) has gone public on the Nasdaq, raising $300 million in an IPO valuing the company at $1.6 billion. The company, founded in 2011, seeks to separate itself by authenticating every item that it consigns on its site. To consign goods on the site, you schedule an appointment with one of their authenticators, who checks out your goods and makes sure they're legit.
So what is The RealReal doing in the watch industry? Well, not much. If you go to the watches tab on their site, it's a shit show. Rolex! Cartier! Burberry! There's no cohesion, no story, no anything. Just a website with a bunch of brand names trying to sell the consumer some idea of luxury.
It kind of reminds me of an Onion article from a few years ago: "T.J. Maxx Recreates In-Store Shopping Experience With New Website That Randomly Scatters Products All Over The Place". Is TRR actually offering anything different? While TJ Maxx tries to offload goods that retailers decided they don't want anymore, TRR serves the same function for consumers. Sure, they slap the word "luxury" on it to make it feel exclusive, but is it really that different?
But then again, that's what watches are about too. A Rolex isn't a watch, it's a feeling.
🦖 Gear Patrol on the Rise of Patina. (with an assist from Eric Wind)
30 years ago, the condition of your vintage watch may not have mattered as much: "buy what you love," or so the advice went. You'll still get that advice today, but now that there's real money sloshing around, it's more important to also collect with a broader understanding of the whys/hows/and whats, and not just buy something because you like it.
At some point the collecting community decided to prefer original, untouched, unrestored pieces compared to those made to look "new." "Correctness" and "honesty" have become the buzzwords du jour (I'm as guilty as anyone of using them) to describe a watch that looks how it did when it left the factory way back when. As such, collectors look for, patina, tropical dials, faded and ghosted bezels, and whatever other signs of aging; it leads to intense scrutiny of every single detail of a watch to ensure its "honesty". By the way, this focus on scholarship is what makes it so difficult for upstarts like The RealReal to actuall disrupt the way vintage watches are bought and sold.
🏗 A brief history of watch bracelets (with another assist from Eric Wind)
In an era where even your boss is dressing like your yoga instructor, watches on bracelets are in. They're casual, easy to dress up or down, and you just feel like a badass when you wear one — like a poor Bobby Axelrod.
So GQ gave a brief history of watch bracelets, from the development of Rolex's Oyster in the 1940s to the sporty, integrated bracelets of the Royal Oak and Nautilus of the 1970s. Much of the story can be told by tracing the story of bracelet manufacturer Gay Frères, which traces its Swiss roots to 1835. often, you'll find people selling just mid-century Gay Feres bracelets on forums, and these things can be worth more than whatever head came with that bracelet. That changed in 1998 though, when Rolex bought Gay Frères, pulling bracelet production in-house. The article
---
Sales Corner
Bonhams Online Auction and the Seamaster 300 Everyone Is Talking About
Bonhams is hosting an online auction until July 3, and it's a bit "soft" compared to most auctions I take the time to write up. It's a bunch of vintage watches from a private collection, none with estimates over $5,000. And from the looks of it, the collector here really liked gold watches.
Movado Astronic HS360 Super Sub Sea. Bonhams also sold one of these for $3,500 back in 2014, but you don't see these come up that often. This is a rare Movado Astronic HS360 in stainless steel, featuring a triple calendar, moonphase, and chronograph function. It's powered by Zenith's caliber 3019, a movement that was developed jointly by Zenith and Movado in the 1960s (Zenith and Movado were owned by the same holding company around this time). This particular watch dates to 1975, and the vibe is all out 70s. Even the name — "Astronic" sounds like a ride you need a FastPass for at Disney World's Tomorrowland. Estimate: $3,800 to $5,100.
Universal Geneve Tri-Compax. Pretty much everything is right about this Reference 22297 Tri-Compax from Universal Geneve. And with the way collectors have flocked to UG, I have to think Bonhams' estimate (around $3,000) is low here. It's a classic stainless steel triple calendar chronograph with moonphase. It's got UG's caliber 281 inside, which were supplier by an ebauche Martel and then customized by UG before being shipped off. Estimate: $2,600 to $3,800.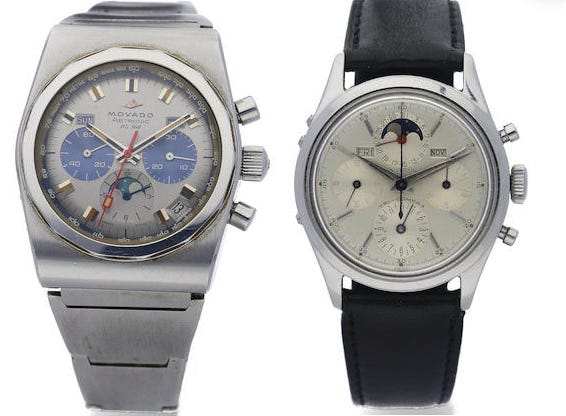 I've seen literally every (Worn & Wound) other (Hodinkee) outlet (Uncrate) feature this Omega Seamster 300 that comes from a gentleman that goes by the name and title of Lieutenant Colonel George Aikman Finter. So I guess we'll feature it too. It's set to be auctioned off by Fog City Vintage later this year. Read about it at one of the links above if you want to learn more.
---
Ticks & Tocks
Jackson Pollock and Your Watch is Dirtier Than Your Toilet
💎 The Best Quartz Watches of 2018. Time and Tide covers quartz, something the watch industry doesn't do enough of.
🤼 The battle between brands and retailers continues, as some retailers are deciding they don't want to partner with retailers who have explicit strategies to go direct to consumer.
🏄‍♂️ Hodinkee x Oris sells out in 10 minutes. It's a nice variation of Oris' popular Divers Sixty-Five with a manual wind and faded bezel. All 250 sold quick.
🎨 How Art Arrived at Jackson Pollock (7-min video). 🐳 In between posting about the Kardashians, DailyMail decided to tell you that your watch is dirtier than your toilet. 👋 Longines introduced the Legend Diver Tropical in 36mm (SJX). 📱 With the news that Jony Ive is leaving Apple, a look back at Ben Clymer's interview with the design king (Hodinkee); and more Jony Ive: The invisible design behind the Apple Watch's many faces. ☂️ Why weather forecast keeps getting better (New Yorker).
In Chicago: The "World's Largest Rooftop Bar" just opened on Navy Pier.
Thanks for reading!
-Tony
Questions/comments/tips? Just respond to this email (and please tap the heart above to like it!).
Meme of the Week:
Making fun of our favorite Watch 'Tubers