Discover more from Rescapement
Updates on my Hodinkee writing; b-sides and behind-the-scenes; unpolished personal musings; recs and other unsolicited advice.
John Glenn, Ironman, and More Gamechangers
Reddit loves its watches
Jeff Stein on John Glenn's watches
Jeff Stein, proprietor of Heuer-focused OnTheDash, published two articles this week diving deep into John Glenn's watches. Two of Glenn's watches are up for auction at Phillips' upcoming December 10 "Gamechangers" auction: a LeCoultre "Lucky 13" watch (Lot 13) and Breitling Reference 809 "Cosmonaute" (Lot 14). But, Stein was also able to acquire a few for himself. First, he tells the story of his Hunt for John Glenn's Watches, involving frantically phoning Glenn's estate sale in March of 2018. Then, he gives An Overview and Bibliography of the Watches of John Glenn.
First, Stein tells an exciting story of his efforts to buy a few of John Glenn's watches from a Glenn's estate sale over a year ago. The sale went largely under the radar until Stein discovered it and made an effort to purchase a few of Glenn's watches that hadn't yet been sold. These include a "poor man's Heuer" Bulova chronograph and a small black 24-hour LeCoultre that was specially commissioned for Glenn and the other Mercury 7 astronauts. Stein takes great lengths to describe how Glenn was a true hero of his growing up, so what I love most is Stein's recounting of the first time he slipped the watches he acquired onto his wrist:
I thought of the collectors who had bought Paul Newman's Rolex Daytona and Steve McQueen's Heuer Monaco, and wondered how they felt wearing those watches.  But I could honestly say, at least to myself, "Forget those guys. I am wearing John Glenn's watch." Newman and McQueen were actors cast as heroes. John Glenn was a real-life hero, celebrated around the world. More than that, he was my hero.    
Then, in his Overview post, Stein goes more in-depth into all of John Glenn's watches, both the ones he purchased and the ones for sale in Phillips' upcoming Gamechangers auction.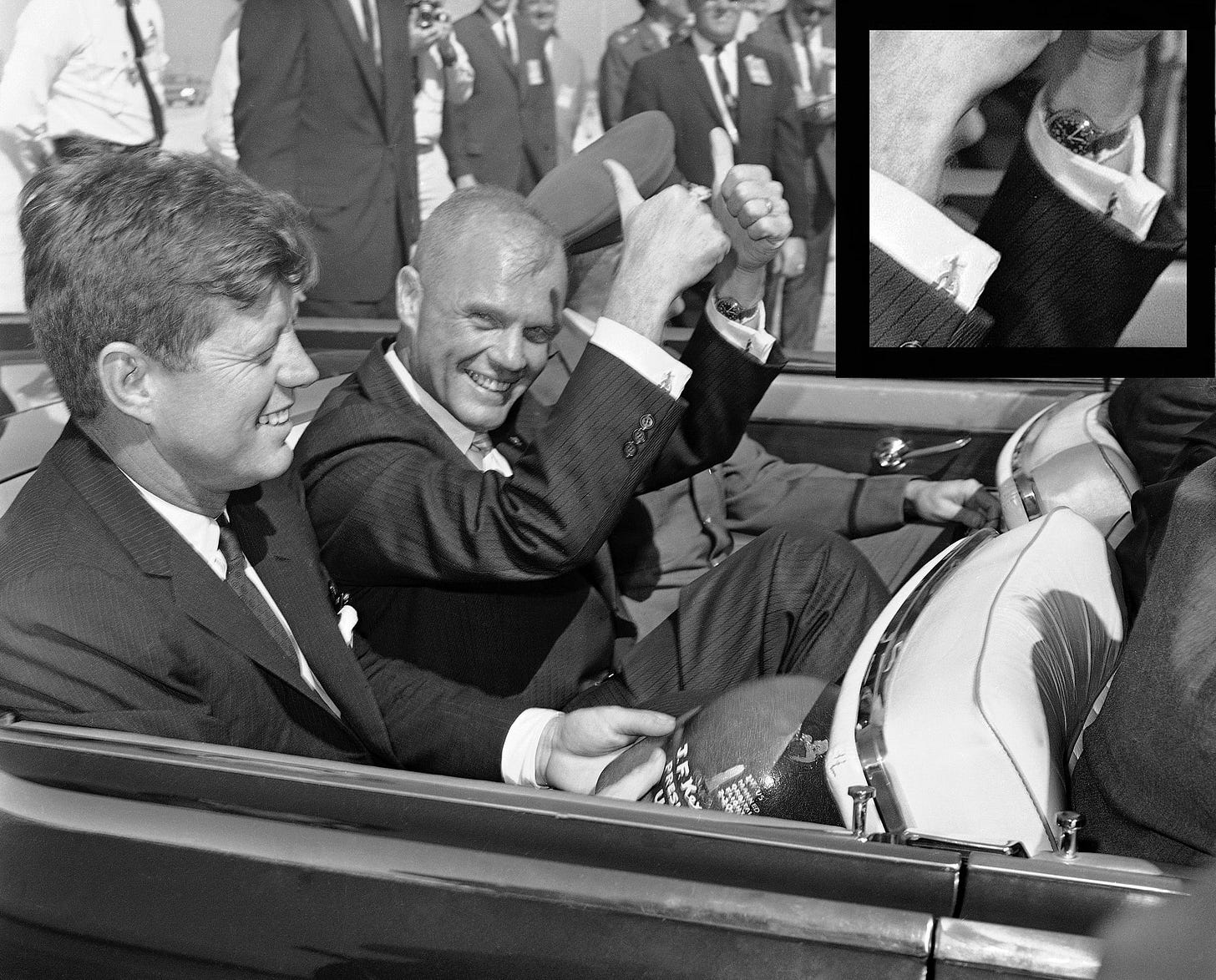 ---
Other News
T-Shirt Giveaway!
If you haven't yet, make sure to refer a friend to subscribe to Rescapement Weekly and then comment on Watch Thing's IG post by Sunday at noon ET for a change to win a sweet and soft t-shirt from Watch Thing celebrating old tritium dials.
Speaking of Gamechangers…
There's a lot of coverage of the Gamechangers auction coming to New York this week. In addition to highlighting John Glenn's watches up for sale, the Wall Street Journal highlights the Urwerk UR-105 CT Iron that Tony Stark wears as Ironman in Avengers: Endgame. Real life Ironman, Robert Downey, Jr., will donate the proceeds from the sale of Lot 75 to charity.
Quill & Pad also features a Lange 1 in stainless steel for sale, one of about 25 believed to be produced, as well as a Phillipe Dufour Simplicity in platinum. We featured one of these from Phillips' Geneva Auction X last month, which ended up selling for $325,000.
Speaking of that odd "Lucky 13" LeCoultre of Glenn's: It was gifted to him by the Anti-Superstition Society of Chicago. It seems like a missed opportunity not to auction this one off next Friday, December 13, but perhaps the sale price will have a few digits to spook the Paraskevidekatriaphobics among us.
Finally, there's also the Urwek AMC, perhaps even more astonishing than Ironman's Urwerk. Requiring a decade of research and development, just three pieces of the set were issued in 2019, selling for CHF 2,750,000 each.
The AMC melds two approaches to chronometry, fusing traditional horology and atomic physics to produce two autonomous but linked systems that achieve precision timing with a margin of error of one second in 317 years. Comprised of an atomic master clock and a standalone mechanical wristwatch, the master clock automatically winds, sets, and regulates the wristwatch when it's docked to improve its timekeeping.
However, the coolest thing about the AMC might be that it was actually inspired by Abraham-Louis Breguet.

In 1795, Breguet outlined his desire to create a timepiece that could be set, wound and regulated without the wearer having to do anything to the watch, including opening the case back, and in 1798 he presented his first Sympathique Clock. A technological marvel, the system featured a master clock with pocket watch, which could be attached to the clock and it would be automatically wound and adjusted. Apparently, Breguet could never quite get his contraption to achieve winding, setting, and regulating. A couple centuries later, Urwerk has taken Breguet's idea and revolutionized it by applying modern physics.
While the standalone atomic clock Urwerk developed is a stunning achievement in atomic physics (that I don't totally understand), the wristwatch is just as impressive a mechanical achievement. The watch's escapement is adjusted to beat more accurately through an entirely mechanical sensor within the watch that compares the timing of the clock to that of its own escapement. The clock therefore serves as the wristwatch's own "watchmaker", where its microadjustments, when performed regularly, merge the chronometric performance of the watch to that of the clock, leading to more precise timekeeping.
This week, Reddit released its 2019 Year in Review, highlighting the top communities, trends, and topics for the year. I'll save most of the highlights for the tech blogs, but it was a pretty big year for Snoo the Reddit alien: users grew by 30%, Bill Gates did an AMA with 110k upvotes, and Reddit took on a $150 million investment from Tencent, which users loved.
To me, what was notable was the list of the top 5 "General Style" subreddits by activity (where activity is measured as comments + posts):
That's right, we're number 2! As of this writing, r/watches is 764k strong. While r/sneakers and r/streetwear are larger by subscriber numbers, r/watches punches well above its weight in terms of how active its users are. For example, as I wrote this blog post on a Thursday evening, there are more users online in r/watches than either r/sneakers or r/streetwear. As someone who lurks in all three subreddits, this reflects my experience. Sneakers and streetwear are for flexing, but r/watches is a community in the true sense of the word. When I'm scrolling through posts, I tend to end up engaging someone in a back-and-forth about their watch, collection, or whatever else. Meanwhile, streetwear is mostly fuccbois looking to get a fit off.
Around the holidays, outlets are prone to putting out all kinds of "gift guides" offering recommendations on what to buy the watch lover in your life. In fact, this very publication made one last year. This year, instead of a listicle that Santa can check twice, I thought I'd give a review of a book I often see on these lists: The Watch, Thoroughly Revised, by Gene Stone and Stephen Pulvirent. Released in November of 2018, it's the follow-up to Stone's 2007 book, The Watch. This time around, Stephen Pulvirent, editor at Hodinkee, joins Stone to update the book. As the book's description says: "in the decade since it was first published, the international audience of watch lovers and watch collectors has grown exponentially."
As Pulvirent tells it, he didn't know much about watches when he first arrived at Hodinkee years ago, so the original printing of The Watch is the book that founder Ben Clymer stuffed in his bag as a homework assignment. "Read this, young padawan," the cashmere-clad Clymer said. Pulvirent says it's been a reference guide for him ever since.
The Watch is a three-part reference book. First, there's a brief overview of the history of timekeeping and watches. Second, and making up the majority of the book, are short profiles of 50 of the most important watch brands, accompanied by pictures of some of their most notable watches. Finally, there's a section titled "Buying, Collecting, and Maintaining", which gives tips for novice and experienced enthusiasts alike. While some of the tips are trite ("go online", "visit watch stores"), the commentary is at times illuminating, and there are short profiles of "normal" watch lovers worth reading. This last section also contains a number of "top ten" lists ("10 models you need to know", "6 manually wound chronographs"), likely designed to spark conversation and controversy more than anything.
"The urge to know time predates recorded history," begins part one of The Watch. From the beginning, we're told of the book's grand intentions to place timepieces as central to not only the fashion industry or perhaps to Switzerland, but as central to human history itself. And, by the way, as a watch enthusiast, I buy every word of it: as our ability to tell time evolved from looking at the sun and the stars to building sundials to creating mechanical timepieces, so to did civilization itself evolve. How else would all those new factory workers have gotten to their shifts on time during the Industrial Revolution if not for extremely accurate mechanical timepieces?
In watch collecting, as in other aspects of life, one of the greatest curses is to think or pretend that one knows it all; a reader that suffers from this curse may not enjoy this book, but others will. Head to the link for the full review.
Swiss watch exports grew by 1.5% in October 2019 as compared to a year prior, totaling 2.03 billion Swiss francs. But, growth was hindered by the Hong Kong market, which saw exports decline by 29.7% while the rest of the world was up 6.5%. Like outside the watch industry, much of the headlines within the watch industry have been dominated by Hong Kong throughout the year.
I'm always wary to focus too much on the Hong Kong angle of reporting on Swiss watch exports because declining watch exports is likely the least consequential effect of what's happening in Hong Kong; while it remains the largest export market through October 2019, exports are down 8.8% on the year.
Meanwhile, the rest of the top six markets are up for the year, with the second-largest market, the United States, up 8.8% (up 9.5% in October). China continues to see double-digit growth: it's up 15.6% on the year and was up 17.6% in October.
---
Ticks and Tocks
🔵 Why is the Rolex Blueberry GMT in the news again? New evidence that supposedly supports the claim that none of these are original; there are enough opinions in the forums from those way more knowledgable than me, so I'll abstain from commenting any further.
🤵 Omega introduces the newest Seamaster 300 007 Edition. 🎾 Hands on with the new Stan Smith-inspired watch. 📷 Fresh off becoming an Omega AD, Hodinkee is now a Bulgari and Leica Camera authorized dealer too. 💽 The enduring allure of retro tech. Chaos at the top of the world.
In Chicago: Chicago architecture, an illustrated guide.
Thanks for reading!
-Tony
Questions/comments/tips? Just respond to this email (and please tap the heart above to like it!).
Meme of the Week: