Discover more from Rescapement
Updates on my Hodinkee writing; b-sides and behind-the-scenes; unpolished personal musings; recs and other unsolicited advice.
IWC Portugieser Chronograph: Core competency
And Longines: A newfound love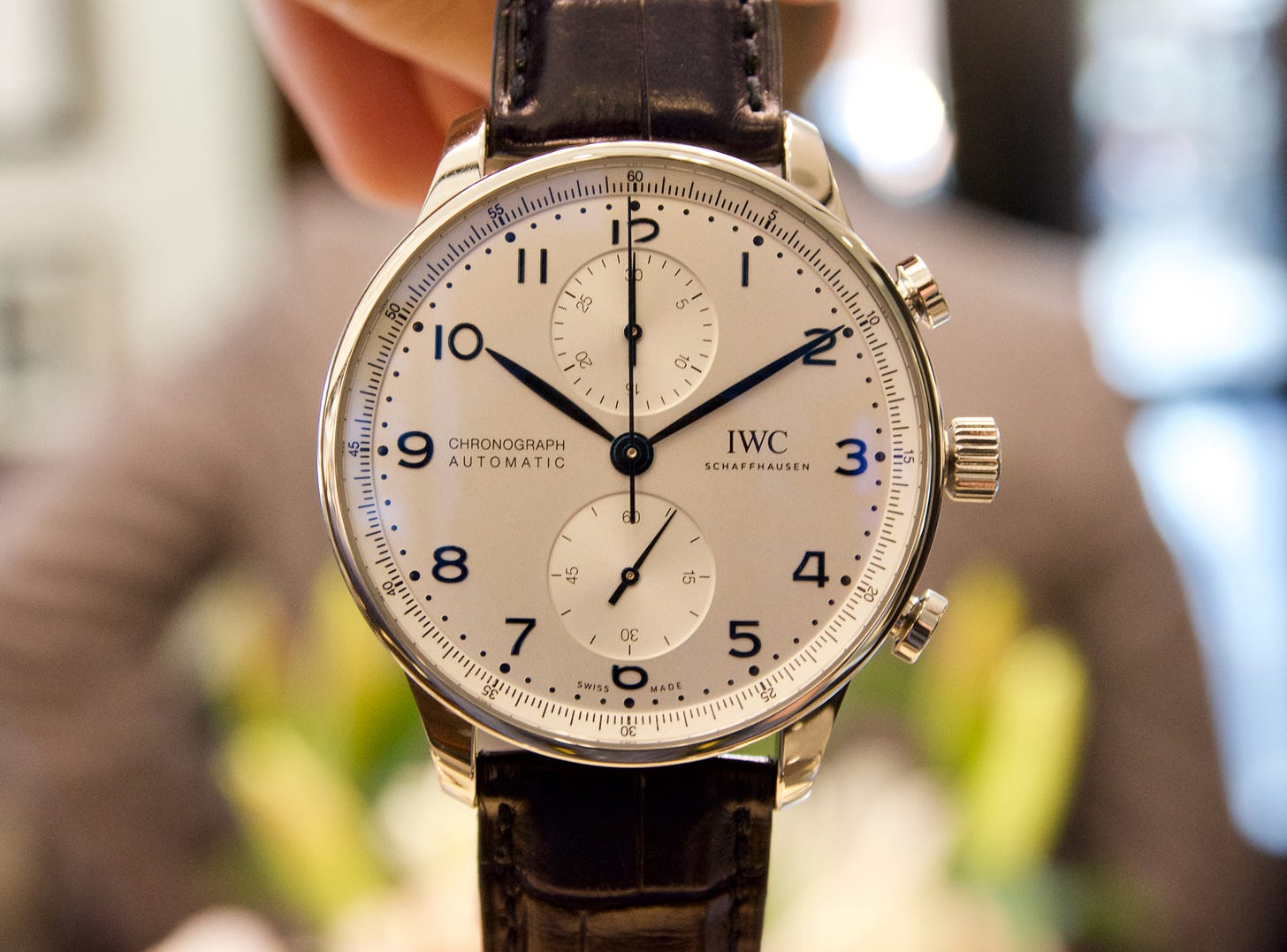 The IWC Portugieser Chronograph was perhaps the first watch I noticed. Like, distracted-during-my-first-interview-with-a-consulting-firm noticed. It didn't look like the Timexes or Fossils I'd seen growing up, or the gaudy Rollies and Pashas I'd seen jangling on the wrists of my favorite rappers. Finally, here's some partner with some management consulting job I barely understood, with an advanced degree from some school that U.S. News & World Report had anointed one of the best in the country, wearing a clean, sophisticated watch that I was totally transfixed by. Now, that's something I could aspire to.
The clean white dial, slim bezel, simple applied Arabic numerals that caught the fluorescent light and made it dance in ways I didn't realize fluorescent light could — and those two big sub-dials, what were those even for? I ended up getting the job, and one day, I vowed, I'd get the watch too.
Until 2020, the IWC Portugieser was just that: a great design. But this year, IWC updated the Portugieser Chronograph with an in-house movement, making it an all-around great watch. It's perhaps the most important update in the 20-year history of the model, and might make 2020 the most consequential year for the model since its introduction in 1998. With that, I wanted to look back at the history of the modern icon.
Portugieser: Best of breed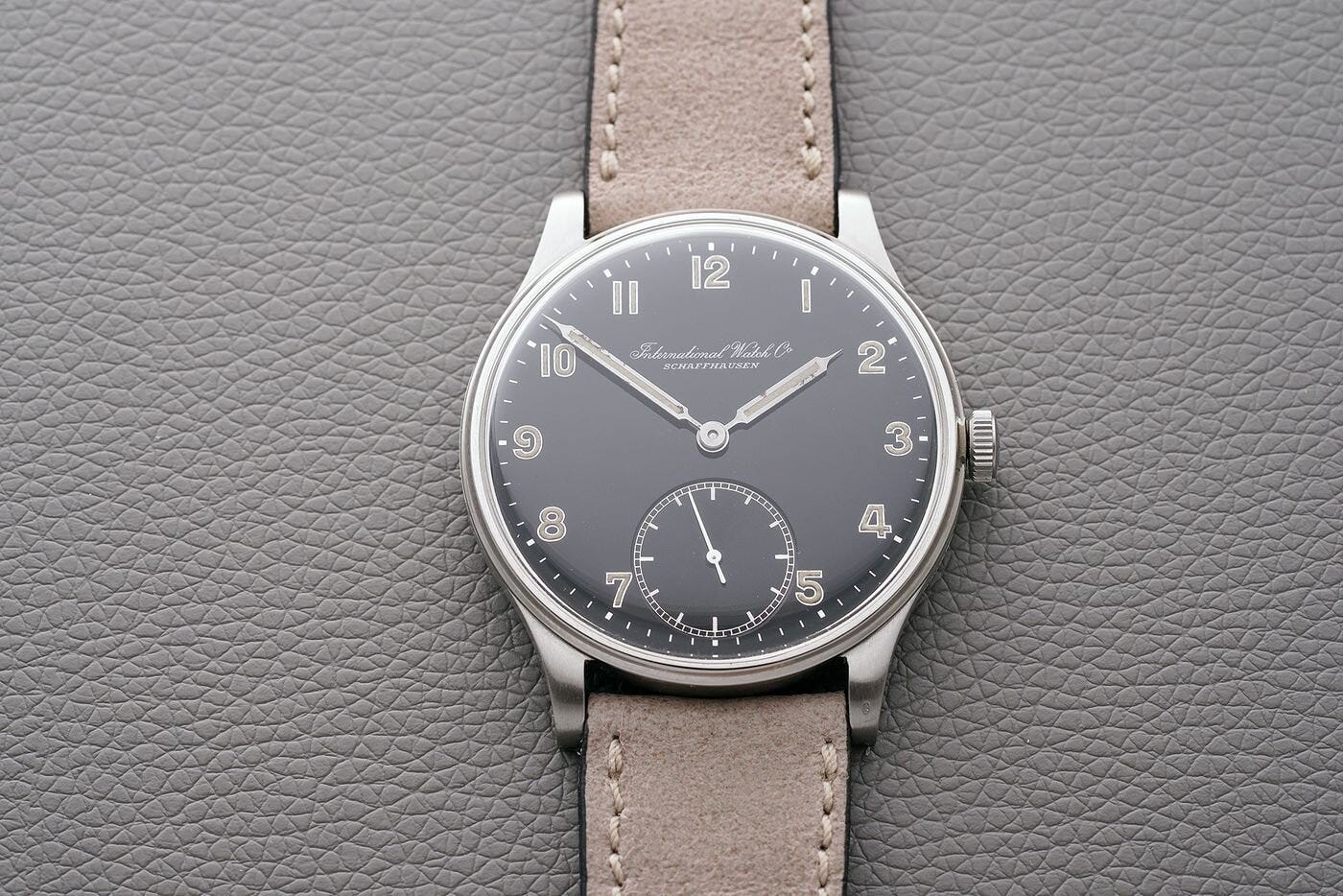 Portuguese Ref. 325 | Credit: Phillips
Before we get into the modern Portugieser Chronograph, we have to jump back to World War II. The time-only IWC Portugieser was born way back in 1939 with the Portuguese Reference 325. In the late 1930s, with Europe in peril, IWC sought to expand its business into new markets; around that time, a Portuguese wholesaler reached out to IWC, asking for a men's wristwatch that had the accuracy of a marine chronometer (meaning the piece is precise enough that it can be used to calculate longitude). Ever the navigators — Magellan, de Gama, Portuguese water dogs (sup, Bo) and all that — the Portuguese request pushed IWC to drop its accurate pocket watch movements into a large, 42mm wristwatch case. Funny enough, the first Portuguese was actually delivered to the Ukraine. Over the next 40 years, only about 700 Portuguese models were manufactured (for a complete history of the Reference 325 Portuguese, read IWC Journal's comprehensive article).
Portugieser Chronograph: Change management
Starting in 1993, IWC brought back the Portuguese to celebrate the brand's 125th anniversary (honestly, what is it with brands and celebrating anniversaries?). First, they brought back the OG time-only Portuguese, introducing the Jubilee Portuguese Reference 5441. A couple years later, IWC introduced the Portuguese Minute Repeater, adding a striking (get it?) complication to the Portuguese's classic form.
IWC then introduced the Portugieser Rattrapante Chronograph Reference 3712, with a movement designed by Richard Habring (who's know off doing his own damn thing). The Reference 3712 is fascinating because it was the first real industrialized, mass-produced split-seconds caliber, using the Valjoux 7750 as its base. This was made possible by the use of CNC, machines, etc. — proof (to me, at least) that modern manufacturing can still result in interesting watchmaking, in this case bringing the otherwise unobtainable split-seconds complication to the masses. "Aristocracy of taste, democracy of acquisition," as Jack Forster has put it.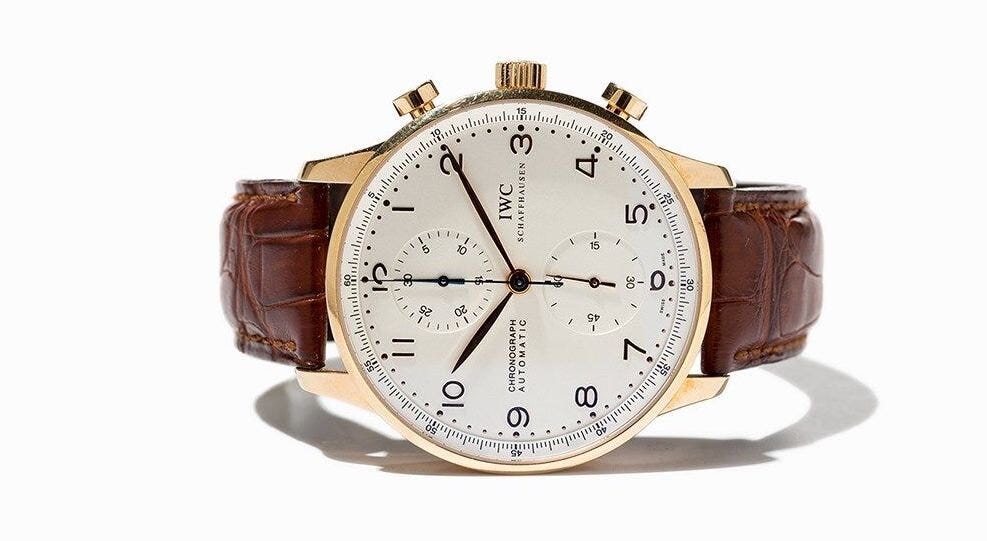 Portuguese Chronograph Ref. 3714
Finally, in 1998 IWC released the Portuguese Chronograph, the main object of our fascination today. Powered by a Valjoux 7750 movement, featuring Arabic numerals and large sub-dials at 12 and 6 o'clock, it's one of the most iconic new watch designs of the past 30 years. So iconic that you can spot no less than Keith Richards wearing one on the cover of Rolling Stone.
The Portugieser Chronograph has become IWC's most popular, best-selling model, somehow perfectly toeing the line between sportiness and elegance that everyone seems to have no regard for in an era of Lulumeon and Gucci crossbody bags. Unlike other fashion choices though, the Portugieser Chronograph has risen above trends for its ability to seamlessly complement nearly any style and situation. Since 1998, IWC has introduced a number of other calibers and complications to the Portugieser case, but the chronograph remains the most popular and familiar.
Other than the occasional update to dial colors or other special and limited editions, the Portugieser Chronograph has remained remarkably unchanged in the 20-plus years since being first introduced. It's a testament to a design that nailed it the first time and didn't need to be changed. The vertically aligned sub-dials provide a balance that few other brands had attempted, the font of the applied numerals is somehow modern, yet classic, and the size is inoffensive to nearly all (and that's in a hobby where every 0.5mm is fought over like the South China Sea).
Portugieser 2020: Value add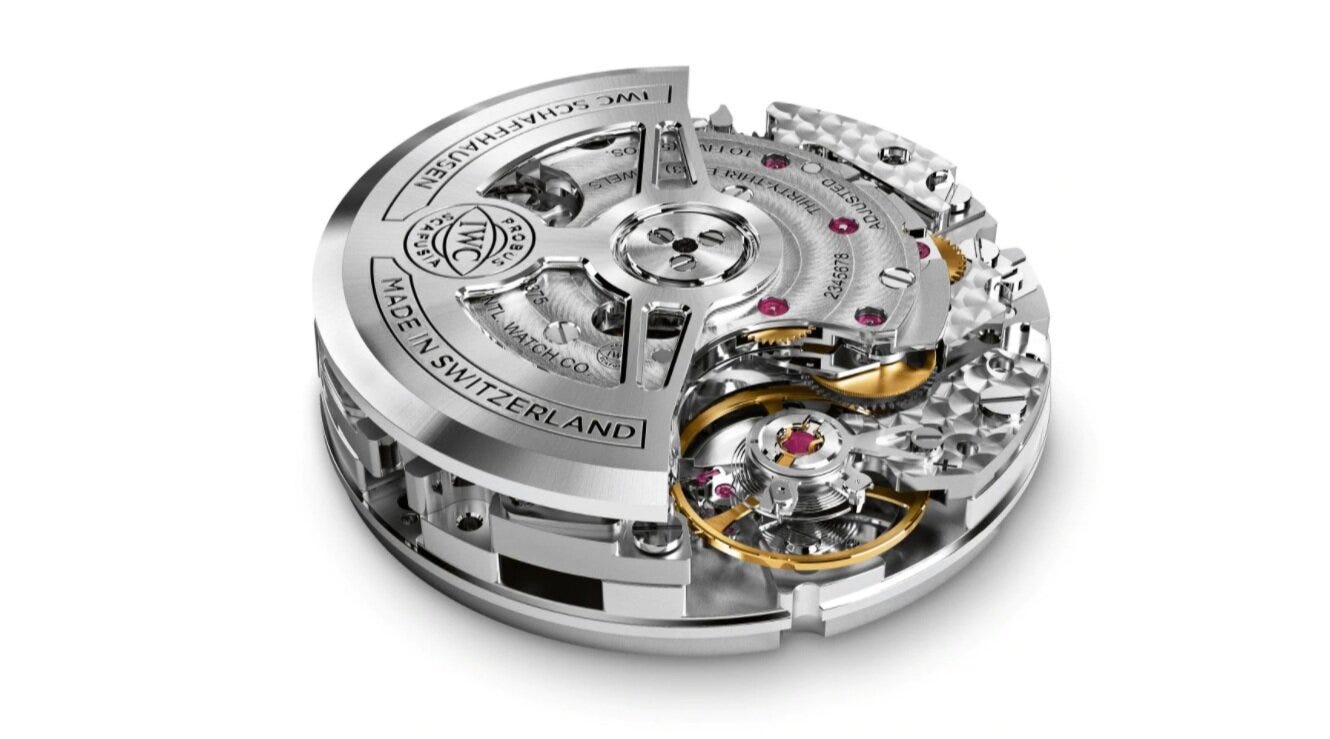 The new Portugieser Chronograph Reference 3716, released in 2020, is the first time the original Portugieser Chronograph package has featured an in-house caliber. Equipped with the automatic caliber 69355, a 27-jewel "IWC-manufactured" movement with 46 hours of power reserve, the Reference 3716 is the latest evolution in the history of what's become a modern icon. Perhaps most importantly, the in-house caliber introduces a column wheel mechanism to the line, giving the operation of the chronograph a much more tactile and satisfying feel. The caliber can also be seen through the exhibition case back — here, it becomes clear that IWC has drawn on the German strands of its Schaffhausen DNA, as the movement looks austere and engineered. However, some perlage and Côtes de Genève give assurance that the movement is much more than an afterthought.
The new Portugieser Chronograph measures 41mm, bumped up slightly (0.1mm!) from the Reference 3714's diameter. While the thin bezel means the watch feels larger on the wrist, the short lugs hug the wrist, meaning it wears well on a range of wrist sizes. It measures 13mm in thickness — while this might turn off some as a bit tall, here, again the lugs help: their slight downturn means the watch drapes like a nicely hemmed pant leg.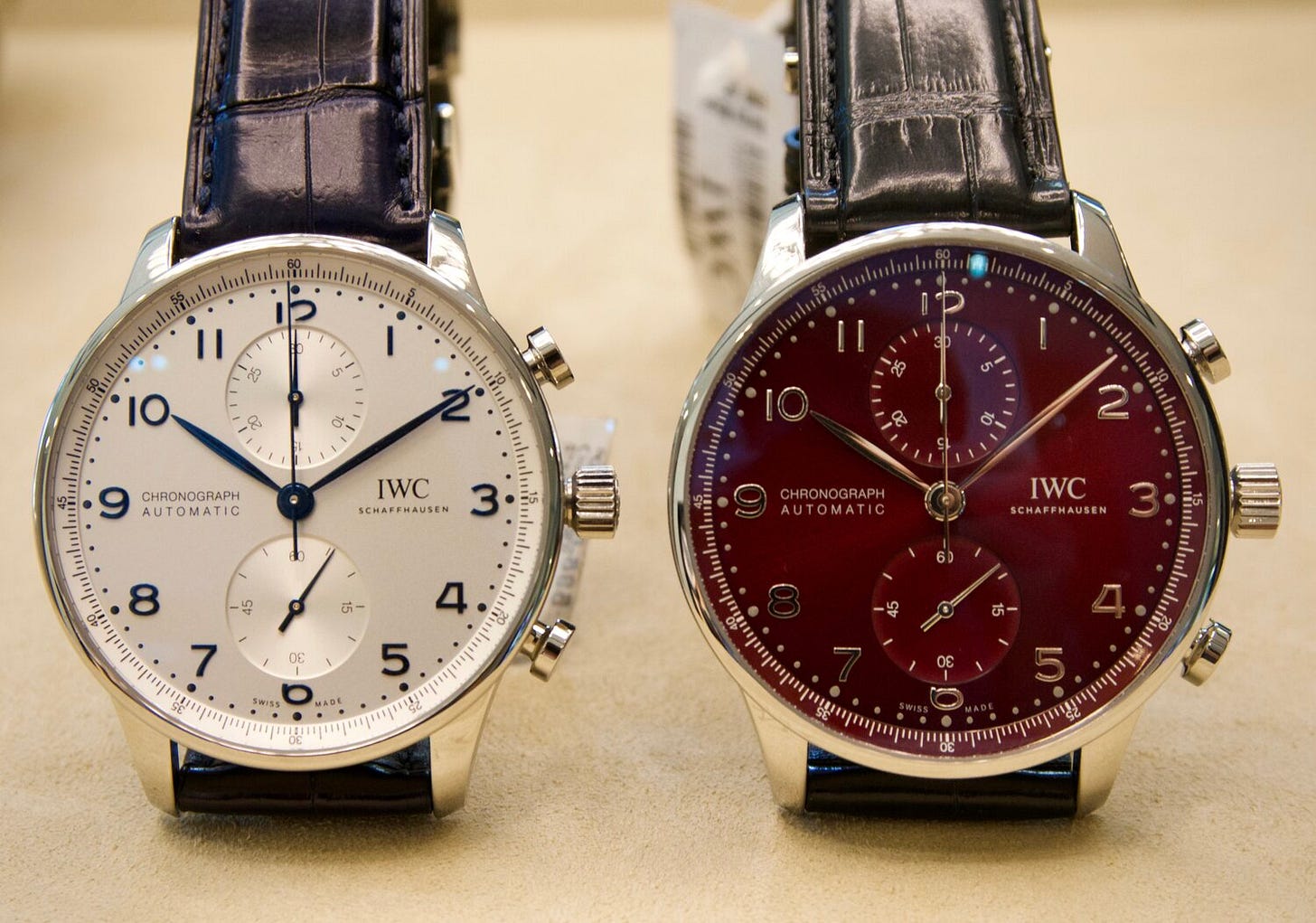 The form of the Portugieser Chronograph has remained impressively consistent over the past two decades, and 2020 seems a particularly inopportune time to wreak havoc on such a tried and true design. Thankfully, the Reference 3716 remains essentially unchanged from the previous model on the outside. But, IWC did introduce a number of rich dial variations. Aside from the familiar white and sunburst blue, there is also a black dial and deep red and green options. The Portugieser case can be had in both stainless steel and 18k gold.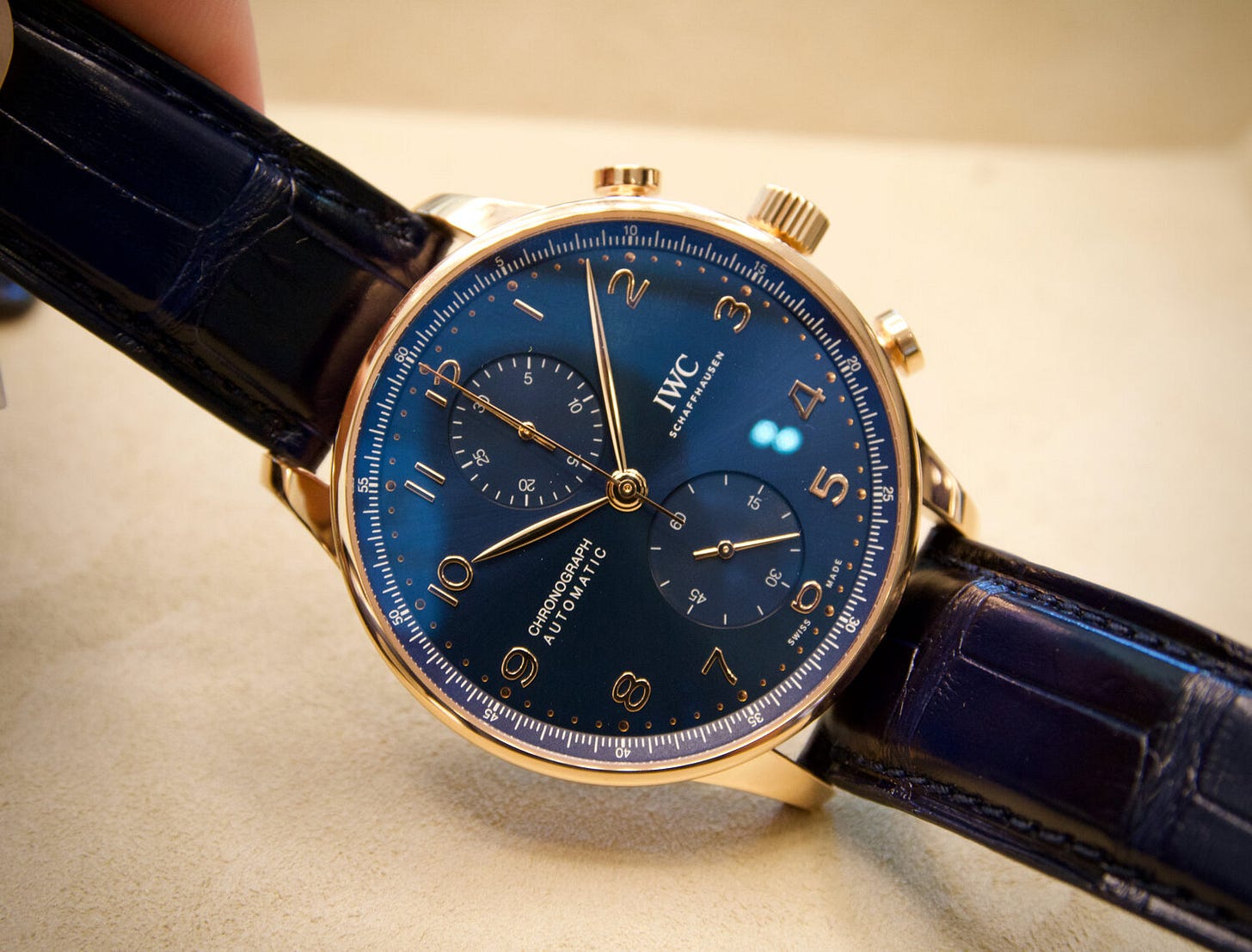 The clean, minimal white dial in a stainless steel case remains the most classic Chronograph option. But, perhaps the most strikingly luxurious 2020 model is the Boutique Edition, featuring an 18k rose gold case (technically it's 5N gold which is red gold) and sunburst blue dial. The Portugieser Chronograph has always been an appropriate 21st-century answer to the question "what's a great modern sports watch to get with my first Wall Street bonus?" It's large but clean, and it's not going to show up your managing director by standing out too much. It shows you've got some sense of taste and appreciating the finer things. The Boutique Edition's gold case pushes this proposition to its outer limit, without going overboard.
Shortly after the release of the new Reference 3716, IWC brought another big change to the Portugieser Chronograph in September 2020: for the first time, the model is now available on a stainless steel bracelet. The bracelet IWC has chosen features both satin and polished surfaces, again giving the watch a balanced sporty, luxurious look that has defined the Portugieser Chronograph over its entire lifespan.
Circling back to Schaffhausen
It's hard to believe the Portugieser Chronograph has only been a part of IWC's lineup since 1998. It has quickly become a modern icon, appreciated both by the aforementioned non-watch Wall Street or consulting bros who just want a nice watch they can wear while proofing PowerPoints, and by true watch folk who know a classic when they see one.
There are certain watches from the past 20-30 years that have risen above trend, quickly becoming iconic: the Lange 1, the Cartier Pasha and Panthere (I said it!), F.P. Journe, generally. The IWC Portugieser Chronograph is one of these icons.
At $7,950 ($8,900 on the new bracelet) in stainless steel, the Portugieser Chronograph isn't necessarily a value proposition. A new Rolex Submariner's MSRP is $8,100, though we all know how finding one of those for retail goes. That said, IWC managed to introduce the in-house movement this year without bumping the price up, a testament to the brand's commitment to providing a ton of watch for the price. It's a watch you can buy, confident that it'll look as good in twenty years as it did when first introduced twenty years ago. And there's something to be said for that sort of confidence offering a different type of value proposition altogether.
Watches courtesy of IWC Chicago. Thank you to IWC Chicago for allowing us to photograph their collection of watches for this article. For inquiries or to set up an appointment, email boutique@burdeens.com.
---
Sponsor
This weekend's newsletter is sponsored by eBay. With eBay's new Authenticity Guarantee, most watches sold above $2,000 will be automatically authenticated. After purchasing a watch that is covered by eBay's Authenticity Guarantee, it will be shipped directly to eBay's third-party authenticator. There, the expert authenticator will perform a meticulous inspection on the timepiece, verifying each part of the watch, also checking it against the original listing and description. Then, the authenticator will safely ship it off to the buyer via expedited and insured shipping.
The best part? Authenticity Guarantee is included in your watch purchase or sale. That's right, peace of mind for free, whether you're the buyer or seller. 

---
Next, an article from Charlie (@books_on_time) on discovering vintage Longines. Charlie is a long-time friend of the program and one of the best watch-related follows on Instagram.com, so I'm glad to have him share his newfound love for Longines, found through John Goldberger's Longines: Legendary Watches and his own Longines Conquest.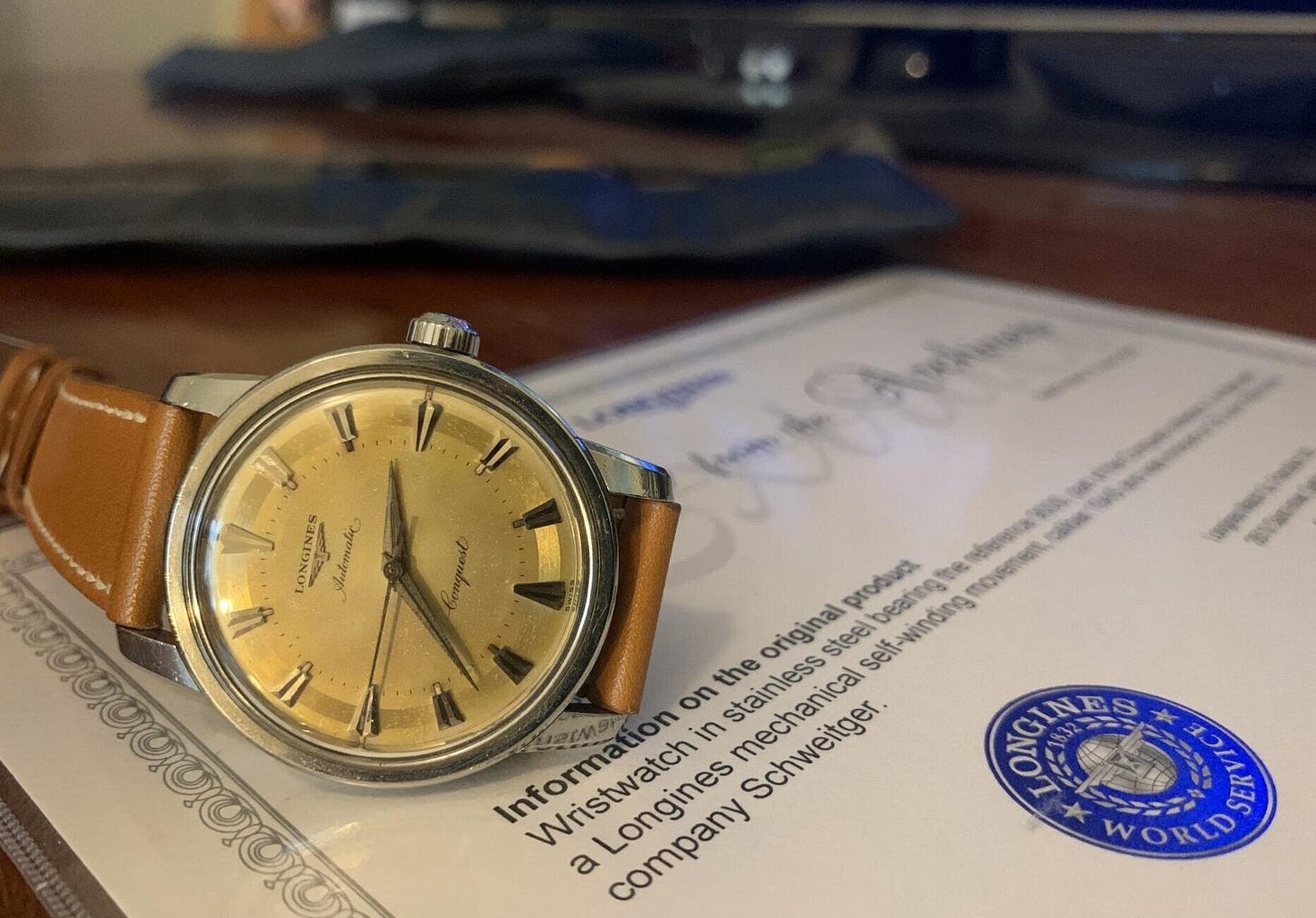 By: Charlie Dunne (@books_on_time)
Recently, I have begun to develop a fascination in vintage Longines. This was initially fueled by a recent book purchase, Longines: Legendary Watches, which ultimately inspired a watch acquisition: a Longines Conquest reference 9000. Despite being late to the party, I'm thrilled to have developed an interest in a watchmaker that many collectors and enthusiasts have long held in such high regard, and to have a watch that expresses that interest.
The Longines Conquest reference 9000 houses the Calibre 19AS movement, which was introduced in 1954 (the same year in which the Conquest line was introduced). To the best of my understanding, most of the Conquest cases from this period were made by JSG S.A. out of La Chaux-de-Fonds (which is identified by the Poincon de Maitre 129 hallmark). These watches were marketed to emphasize their adventurous utility, hence the name. The steel Conquests will feature a screw down case back adorned with a fish motif medallion. Gold Conquest cases will feature a slight variation with a depiction of an ocean and stars with blue enamel.
I never paid a lot of attention to the Longines Conquest line previously, but thanks to the Longines books and past posts by
@goldberger
and the beautiful one owned by
@justinvrakas
decided to give them a deeper dive. This one has a tropical two-tone dial and an extremely rare original Conquest bracelet (patent pending engraved in French on the inside clasp) and according to the Longines records, "was invoiced on 25 June 1959 to the company Schweitger. Unfortunately, we do not know where this agent was based." I did some digging and also came up empty on Schweitger, so I would welcome any help researching this mystery from anyone interested 🙏
On my particular Conquest, the heavily patinated dial is a testimony to nature's effect on the hand-made. The dial vibrantly transforms from a two-tone silver to a spectrum of citrus. As a result, the applied winged hourglass logo now blends into its backdrop with complete harmony. Each of the faceted dart indexes play with the light, almost as if screaming with jealousy at the attention the dial receives. 
Concluding on the Conquest
Recently, I was revisiting the "buy what you love" mantra that is often used throughout the watch community. Personally, I hope that the watches I buy provide opportunities to learn. However, I haven't found the process to be one where I invest a significant amount of research into what I want to own. Lately, it has been books that facilitate my interest in a timepiece. I firmly believe books are an essential resource to the watch community. I know there may be others who will ask "why would I purchase a book, when I can look up information online for free?" By no means am I trying to imply the contribution of watch blogs or online media is less valuable. In fact, I think it is just as important. The fact of the matter is there is no sign of watch blogs slowing down, while print has become less integral to younger generations. Hopefully, the watch community understands the passion and effort that goes into producing print content and are just as eager to build their library next to their watch collection. This is my approach and I find it to be very fulfilling. After all, this is the approach that led me from enjoying the book, Longines: Legendary Watches, to seeking out a more personal appreciation for the brand with my very own watch.
Read the

full article

on Rescapement.
---
Through the Wire
Omega Admiralty. I'm a big fan of the Omega Admiralty, a little 1970s dive watch. As the story goes, it was introduced as a cheaper alternative to the Seamaster. You'll see a number of different dial and bezel colors, but blue's gotta be the best. There's an example of the manual wind diver version on auction at eBay, ending tonight.
Cartier Santos-Dumont. It's not easy to find a Cartier Santos-Dumont nowadays, especially the extra slim version with a Piguet 21 movement. This yellow gold version for sale by an Instagram seller is worth a look.
🎨Algorithms can't automate beauty. "These platforms purport to calculate our judgments and tastes and then replicate them, serving us our own desires so quickly that we don't have time to consider how well our identities are being reflected by the algorithms' decisions." However, "More than a series of visual alignments or colors, beauty lies in our memories of the world, the connection of a flower to the experience of spring inevitably passing. Algorithms lack any understanding of this context; they can only approximate it."
🙀 Michael Williams Q&A in the Why is This Interesting? newsletter: a shoutout while wearing a Tudor Ranger? A man after my own heart. 😷 For the second time in as many months, A Collected Man goes deep on the mid-size version of a popular sports watch. This time it's the Royal Oak Ref. 14790. 🔨 It's nearly auction season, with Sotheby's Important Watches Auction HK next weekend the first big event of the fall. This Platinum Dufour Simplicity No. 100 should be at the top of almost any watch list.
Thanks for reading! -Tony