Discover more from Rescapement
Updates on my Hodinkee writing; b-sides and behind-the-scenes; unpolished personal musings; recs and other unsolicited advice.
IWC, A. Lange and Panerai Boutiques Open in Chicago
A Patek owned by Eric Clapton up for sale
Busy weekend and big Chicago news, which means Rescapement is hitting your inbox later than usual.
While there's plenty of places in Chicago to go shopping for watches (see my list here), there'd always been a certain lack of brand boutiques that meant Chicago could never compete with cities like New York, London, or even Miami or Los Angeles as a watch shopping destination. In almost an instant, that's changed, with the opening of three boutiques from Richemont's stable of brands.
IWC, Panerai, and A. Lange and Sohne have all announced the opening of brand boutiques at 11 E Walton Street, in the Waldorf Astoria hotel. The boutiques are operated by Burdeen's Jewelry, which has its original location in Buffalo Grove, Illinois, and also operates the ostentatious B. Young & Co in Chicago's Gold Coast. The three boutiques are excellent additions to Chicago's luxury shopping scene. While watch enthusiasts have long been able to stroll down Michigan Avenue through authorized dealers like Razny Jewelers, Marshall Pierce & Company, and Geneva Seal, as well as boutiques from Rolex, Cartier, Bulgari, Omega and Swatch, Richemont's new boutiques will bring some exciting variety to the shopping scene.
And while other neighborhoods in Chicago have been booming with growth and development, the openings cement the Gold Coast as Chicago's destination for the wealthy, affluent, Viagra popping and botox injecting.
On a personal note, I'm thrilled to see Chicago become a more legitimate watch shopping destination. At Rescapement, we're not necessarily the first to endorse heading to a boutique to spend money on a watch that loses 30 percent of its value as soon as you drive it off the lot.
But, there's almost no better way to see a bunch of modern watches at once. And, some people still love that boutique experience. Honestly, I do too: to be able to stroll in somewhere and just talk watches is a valuable service in its own right.
High-end boutiques like this are a marketing expense as much as they are a legitimate effort to make this a point of purchase for consumers. The number of touch points a customer needs to have with a brand before he or she decides to drop a healthy sum on a watch must be astronomical. So, those touch points better be luxurious themselves, and must also be surrounded by luxury to confirm to potential customers that this is in fact what luxurious people spend their money on.
A stroll through the Viargra Triangle down to these newest boutiques at the Waldorf Astoria should help these efforts for IWC, A. Lange, and Panerai.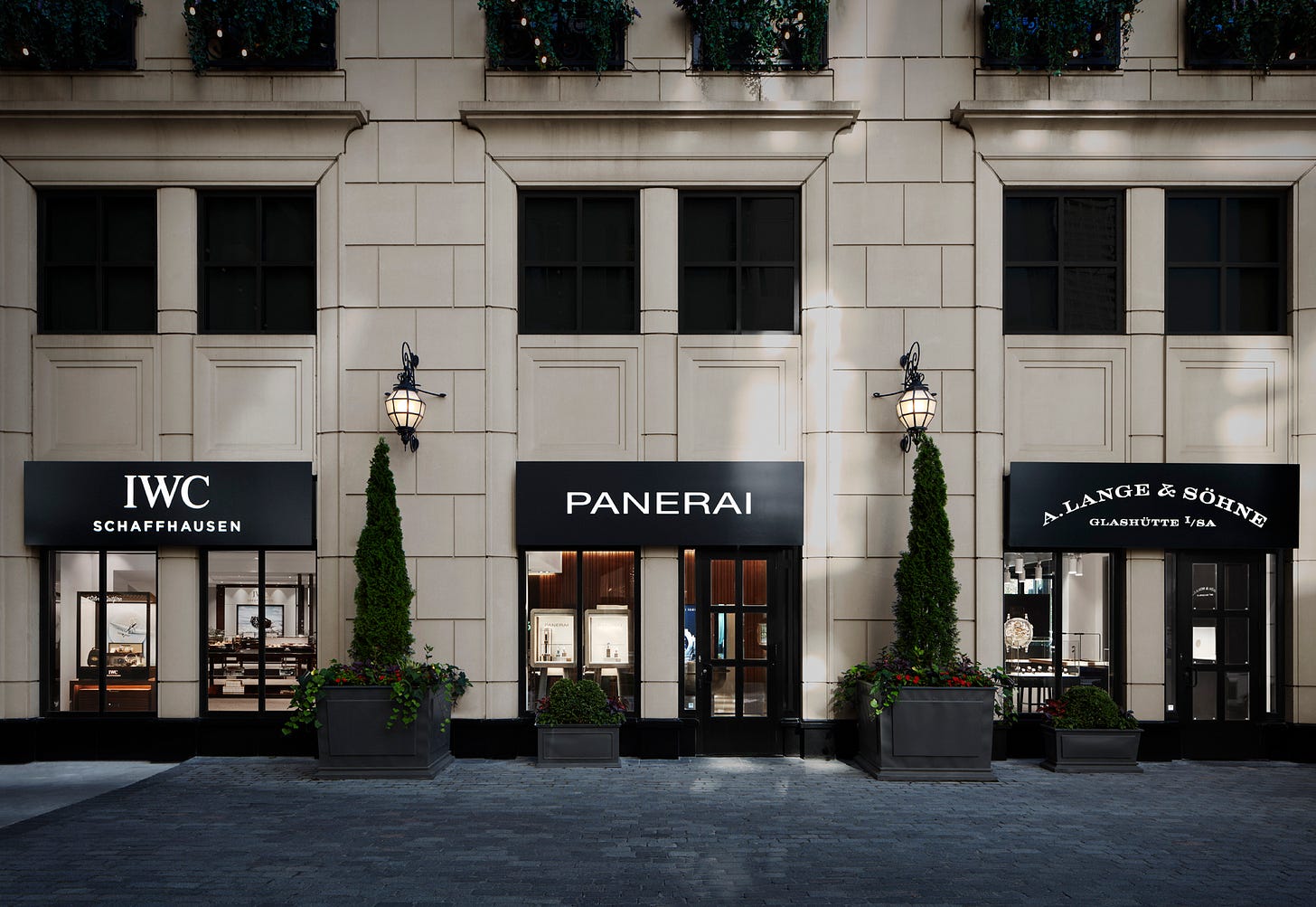 ---
Other News
It's a bit cliche to bemoan the rise of "affordable luxury" or "premium mediocre" at this point (I mean, if I've done it…). But invoking Aristotle to describe how watches are different? Well that's worth another look. In an op-ed for FHH Journal, Franco Cologni, former Chairman of Cartier, beautifully articulates something that's always bothered me: the difference between luxury and excellence. From Cologni:
Luxury for all is a contradiction in terms, designed to give the consumer the impression that he or she belongs to a chosen elite, one that is ideally cultivated and sophisticated, while charging them over the odds for services, objects, experiences and stories that have little, if anything, to do with luxury.
Cologni continues by tracing the root of the word "excellence":
What's more, we frequently pair luxury with an erroneous synonym; a generic attribute that we call "excellence" - the excellentia by which the Latins designated the highest level of perfection for both people and things. But remember: excellentia refers to a competency, not a privilege. As the sociologist Francesco Morace notes, it defines a merit, the ability to do better: an artisan, an industry, a business are said to be excellent when they produce something better than anyone else.
I've always struggled with this: sure, watches are luxury items in the truest sense. They're rare, expensive, and bought by the affluent in places like Chicago's Gold Coast. But in their truest form, watches feel just a bit different than a Gucci belt or Balenciaga Triple S sneakers. Watches have a closer relationship with the artisan and the craftsmanship, and the direct connection with history feels more apparent. All kinds of craftsmanship can fall into this category of "excellence": a finely tailored suit, quality leather, even furniture. Excellent are the items that last, that never go out of style; luxury, perhaps not.
But then again, maybe I'm just falling for the excellent marketing of these brands.
---
Sales Corner
Watches of Knightsbridge August Auction and a Patek from Eric Clapton
Rolex GMT-Master Reference 16750 'Pepsi'.
When I first saw this at the top of the lot list, I thought to myself "no fucking way, a Rolex Pepsi (any reference) for less than $10k?". Turns out, there's good reason for the low estimate: a service case.
The GMT-Master Reference 16750 was introduced by Rolex in 1981, remaining in production until 1988. It's considered a "transitional" reference from the unmistakably vintage Reference 6542 and Reference 1675, which this reference replaced. And when Rolex discontinued this GMT-Master in 1988, it moved into a definitively modern era, introducing the GMT-Master II (hey, you can finally set that GMT hand independently now!).
Overall, the Ref. 16750 is similar to its predecessor, the Ref. 1675, though it does offer some performance improvements. Let's also remember that the Ref. 1675 had been in production since 1959, so updating Rolex's GMT line was no small undertaking.
The new Ref. 16750 GMT-Master was powered by Rolex's new caliber 3075, bringing the quickset feature to the its GMT caliber (allowing the wearer to set the date independent of the hour hand). It also increased the balance speed to 28,800 bph, bringing the GMT in line with other models in Rolex's collection.
In another sign that this was a transitional reference, there are two dial variations of the Ref. 16750. In the early years, Rolex fitted these GMT-Masters with a matte dial and lume plots that were not lined with white gold. Towards the end of its run, these old-school matte dials were swapped for a glossy black dial that featured white gold surrounding the lume plots. Rolex transitioning from tool to luxury, in other words. The matte dials are harder to find, and thus more desirable. Lucky for us, this particular example looks to have a matte dial in pretty good condition. Particularly lucky since this example has a service case — often, these matte dials were swapped out for glossy dials when they went in for servicing.
So what's wrong with this particular GMT-Master? It's that service case: the serial number is 4,4xx,xxx, which would indicate a birthdate for this case in the 1970s, according to various Rolex serial number charts. As mentioned, production of the this GMT-Master didn't begin until 1981.
Lot 25 estimate: £7,000 to £8,000
Jaegre Le-Coultre 'Futurematic'.
For fans of symmetry and something different: the world's first wristwatch without a crown. In the 1950s, Jaeger-LeCoultre introduced the "Futurematic", a watch with an automatic movement and no crown. The watch is set by sliding a coin-shaped crown on the case back of he watch ("Don't Lift — Slide" it reads). To set the hands, the wearer simply rotates the crown clockwise; to get the hands going again, you slide the crown toward the outside of the case.
The lack of a crown gives the watch a noticeably symmetrical and smooth silhouette, with the curved lugs of this later era model flowing subtly off the case.
Lot 43 estimate: £1,800 to £2,200
🎸 Eric Clapton's Patek Phillipe Reference 5975R is up for sale.
You can usually find these things on the secondary market without any problem, but this one's special for its provenance. The seller says its consigned from a friend of Eric Clapton's. Patek Philippe made 400 of each reference in yellow, white and rose gold, and a further 100 with a black dial in platinum. But only one (that we know of) was owned by Clapton. Xupes is asking £85,000.

---
Ticks & Tocks
🚨 eBay is having a special Patek Phillipe auction until Sept. 2, offering as much as 10% off. 📸 The evolution of watch photograph in the Instagram era. 🇩🇪 GQ on Kudoke, a one-man watchmaking shop in Dresden. Doxa brings back the Sub 200 T.Graph, using new old stock Valjoux 7734 movements. 🎤 Taylor & Kanye: 2 stars, 4 words, and a decade of pop culture.
Thanks for reading!
-Tony
Questions/comments/tips? Just respond to this email (and please tap the heart above to like it!).