Interview: Motion City Soundtrack's Jesse Johnson
Going deep into the Cartier archives, 2 Heuer 3147s, and other objets d'art
There's something about meeting someone who's a true collector. Just listening to them talk about the objects they collect and the meaning and stories they associate with them — it breathes new life into you as a collector. On the surface, it sounds like quirky stuff you'll find scraping the bottom of the eBay barrel late at night: backgammon boards, toys, watches. But dig just a layer deeper and there's a story behind every single object.
That's how I felt when I first chatted with Jesse Johnson. Best known as the keyboardist of Motion City Soundtrack, Jesse's quick to drop hints that he's into some pretty off-the-wall stuff (and not afraid to admit he's kind of a "weird guy" too): poker chips, backgammon boards, vintage board games, records, Japanese toys, and of course, watches. But at his core, he's just a passionate collector.
Jesse's Omega Seamaster 300, Speedmaster Professional, with signed Elvis Costello records | Photo courtesy of Jesse Johnson
---
Q: Let's start with a quick introduction to you.
I'm Jesse Johnson, some people know me as Jesse Mack. I play in a band called Motion City Soundtrack, which will either get a shrug of the shoulders, some people might think it's cool. We've put out 6 albums over the past 16-17 years. We've been lucky enough to tour the world, tour with awesome bands like Blink-182. It's been a crazy, fun, weird life, but it's afforded me the opportunity to see the world. It's pretty amazing the things I've been able to do just being a weird guy. 
Q: Watch collecting can be such a cult. Pop-punk bands like Motion City Soundtrack also often developed cult-like followings. Do you find any similarities between the two?
One thing that connects a lot of music to watch collecting: if you talk to a musician about their guitar or their amp — for example, I remember we were recording and we were testing literally different guitars cables to see if they sounded different. The crossover between the two is in the passion for the actual objects that you're using to make the art of music or to build a collection and that high you get.
When you're at a watch meetup or hanging out with a dealer: you get that same kind of high. Like when I got to try on a quarter-million dollar Daytona — I will never own that watch, but I got that high from just being around it and talking about it — it's the same high as being around somebody that collects guitars. I had a friend who was working on a song and he was using Elliott's Smith's acoustic guitar to write it. There's that connection between the objects and their provenance that give you that little emotional connection and that flashback in your head, and you're part of that conversation for a moment. 
Q: When you're looking for vintage watches, what is it you're looking for that makes you want a particular watch or example?
I kind of like stuff that's beat up. The watch I wore when I did Hodinkee Radio was a blue Tudor Submariner 'Snowflake'. A lot of those dials really bubble up and get a little too chewed up, but the one I had had just light spotting, and I liked that when I looked at that watch I could tell that it was that specific example. I really like that idea of collecting vintage and spotting the little things that are very different. It wasn't a super clean dial, it wasn't a total eggshell patina on the indices, it'd been polished and worn. I could also tell that eventually [one of the new owners] switched out the bezel insert because there was a place where the bezel had a big chewed-up mark. If everything is perfect and clean it just looks like a watch someone else has. 
Q: Can you talk a bit about your Instagram account @modern.patina and what it's all about?
modern.patina I think of as crappy photos but great stories. They're all stories about why people have their watches and how they're connected to them. When I was out or on tour, I'd see someone wearing a watch and just ask them 'why are you wearing that?' I've seen people wearing gold Day-Dates with a bark bezel and Presidential bracelet, all the way to one of my favorite ones: this guy in his 80s wearing a gold-plated Seiko with the alma matter of his college on the dial. It's the only watch he's ever owned. And you can see it in the watch: It's beat to shit. But when I asked him to take photos of his watch, his face lit up. He was super stoked about it because for 40 years, probably no one has asked him about his watch.
I like the story of the watch, no matter the price point, and how they can mean so much to someone. When you can talk to someone about a watch and you can see them light up because no one ever asks about it, I love that moment.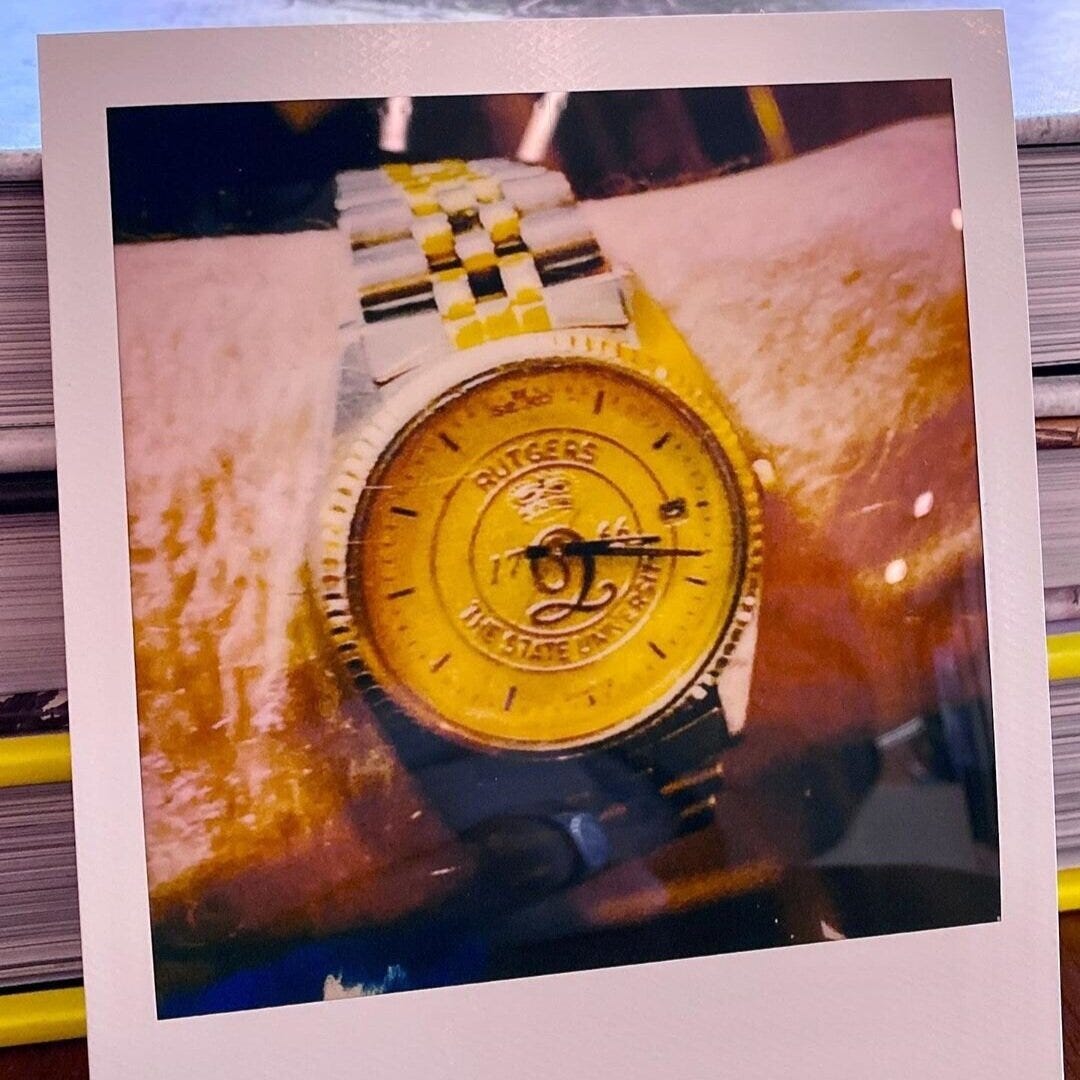 Q: Are there any recent watches you've picked up that have a story behind how or why you acquired it?
Right now I'm wearing a Nomos '100 Years of Bauhaus' Limited Edition. They released three colors, each a limited edition and numbered out of 100. Each sold out, but recently there was a secret page on the Nomos website, and each day they'd put up one watch at a random time every day. Eventually I managed to get the red '100 Years of Bauhaus' edition [through the secret page], and it just happens to be No. 11/100. My daughter was born on November 11 (11/11). It's a 38mm watch, cream dial, and hopefully down the line it will be hers now. I can put meaning to anything: she's a Scorpio, and I got the red edition. I like the little things about watches that you can connect to your past, to your future, to your family. 
It was totally random too. I logged in every day to check that site, and on this particular day I had gotten up at 7am with my daughter, checked the site, and for the first time in 2 months it wasn't already 'Out of Stock'. In my brain it's this totally serendipitous thing: that watch, that color, at that time with her — it was meant to be. I suffered two months because that moment is exactly what needed to happen. 
Q: What else are you into as a watch collector right now? 
With everyone being at home right now, friends of mine I've gotten into watches have been getting other friends in touch with me. So I have guys come to me with their collection of 10-15 watches that they want to sell so they can afford one 'big' watch. So I'll direct friends to — not always expensive — watches to consider.
I had one friend who had a collection of a bunch of watches, but had always wanted the white dial [Rolex] Oyster Perpetual 39. So I said 'let's get you that watch!' He had a ton of really good watches that I helped him sell, and now he's after that white OP. I'm trying to be that watch facilitator with the small reputation that I have. I'll get messages from these guys afterward, and they're so stoked — it could be an Oris, a Rolex, a quartz Seamaster — it doesn't really matter, but they're so stoked when they get these watches.
I tell them they better watch out because they'll get hooked, and then I'll get texts afterward like 'what do you think about this or that' — they get that bug. It's such an antiquated thing to collect watches, so when you see someone get the bug, it's so exciting. There's something exciting about being accepted into the community no matter what level you're at that I really enjoy. [Note: I caught up with Jesse before publishing and he confirmed that his buddy did indeed finally pick up a white Oyster Perpetual.]
Q: Any watches you're on the lookout for?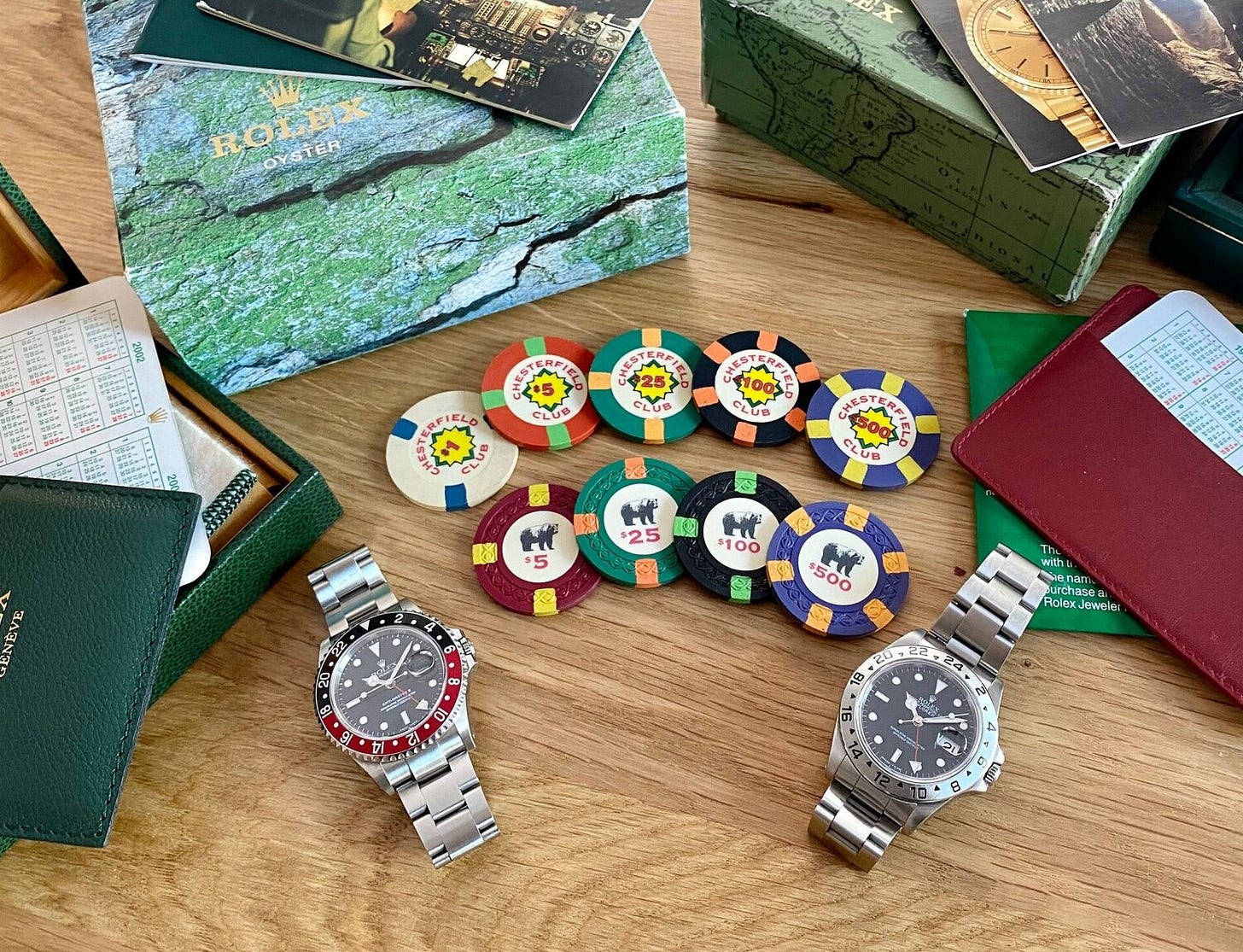 Jesse's GMT-Master II "Coke" ref. 16710, with his Rolex 16570 and poker chips used in the movie Rounders | Photo courtesy of Jesse Johnson
I did my big COVID purchase already, I picked up a Coke GMT-Master II [Ref. 16710]. This example was in a safe for the last 15 years. It came with box, papers, the original hand-written receipt for the sale, booklets. I know people feel one way or the other about that stuff, but I don't know if this watch had been worn more than five times before I got it. If you run your fingernail along the side of it, it'll shave a part of your fingernail off. It's the cleanest example of this watch I've ever seen. I kind of like that every single mark it's going to get is going to be mine. I got a clean example not to keep it clean, but so that maybe in 20 years my daughter will have it, or it'll be in the family and every ding or dent on it will be mine. 
I had this mental fight between vintage and modern and ended up with a 2001 GMT-Master II. It's SuperLuminova, it's got lug holes and solid end links. I'm in this stage where, let's say you find a beautiful, clean Submariner with pumpkin lume and a spider dial — it looks really great now, but what about in thirty years when I hand this down to my family, what's the watch going to look like then? I ended up going for a more modern watch that will probably look exactly the same 30-40 years down the line. I know that's not a very popular opinion in watch collecting, but that's where I ended up. 
You can find Jesse on Instagram @modern.patina and @jessemack. And of course, Motion City Soundtrack is on streaming platforms everywhere.
If you enjoyed reading this post, please share it with friends! 👇
---
Since launching his Instagram account dedicated to Cartier watches in 2019, Vu has become a go-to source for Cartier enthusiasts thirsting for in-depth information, posts and deep cuts from the Cartier archives. Originally "The Cartier Archives" and now "13byVu," the goal of his Instagram page remains the same: Sharing information and a passion for Cartier's horological creations.
I had the chance to chat with Vu about a few of his favorite Cartier timepieces, recent auction sales, and everything else Cartier.
Q: Cartier has seen a lot of notable auction sales in the past couple years. Are there any in particular that have caught your eye, or even surprised you?
A friend of mine (@TheSinoWatchGuy on Instagram) was the winning bidder of the recent 1991 Cartier Crash in yellow gold, Paris dial and limited to 400 pieces that made headlines for being the world record for the highest price fetched of the specific model ever sold at auction back in May of this year [note: it sold for HKD 812,500]. This just goes to show us the extraordinary and ever-rising desire for vintage Cartier.
Lot 192. Hong Kong Auction by Antiquorum, May 10th, 2020: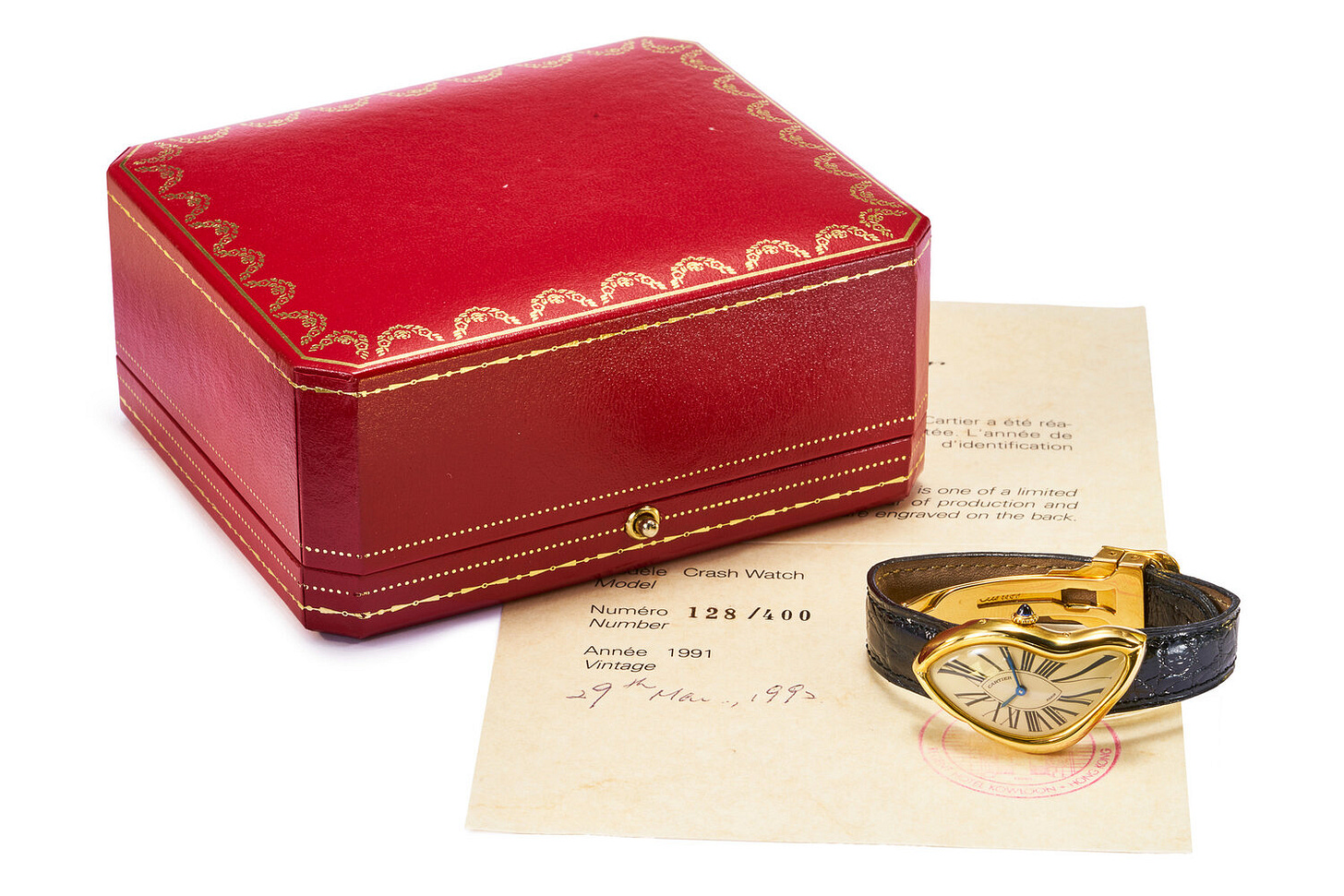 Instagram: @13byVu | 📸 Antiquorum
Q: Let's talk a bit about the state of the vintage Cartier market and Cartier collecting. Some models have experienced surges in popularity and value. As a passionate follower of the house, how does this make you feel, and is there any reason for consternation?
Vintage Cartiers have been desirable since as early as the early 1990s. The main reason for the exceptionally high prices that pieces are fetching just recently is due to collectors wanting something different, something unique and Cartier surely has enough designs to please everyone. Instagram collectors also play a big part in the contribution toward this trend.
---
Through the Wire
🧐 Examing Rolex gilt/gloss dials with collector Geoff Hess. An excellent primer on the complex process of creating a gilt/gloss dial, as well as its appearance in Rolex's most iconic models: the Explorer ref. 1016, GMT-Master ref. 1675 and Submariner ref. 5512 and 5513.
🖼 The app that's disrupting the art auction market by auctioning off one work of art a week. Last month, former Christie's rainmaker Loïc Gouzer launched Fair Warning, a members-only app that auctions off one lot a week. Honestly, someone in watches should do this yesterday. It's an interesting iteration on the "drop model" that streetwear drove into the ground. And the market need that Fair Warning is addressing certainly seems to exist in watches too. From WSJ: "Mr. Gouzer thinks his app will harness the gripping theatrics of live events and the discretion of private sales because his art and its prices will be revealed only to participants."
⏰ Okay, let's level set on what Hodinkee is. It's a venture-backed DTC e-commerce company that's taken on a couple rounds of funding from some big names in Silicon Valley, totaling at least $8.5 million. It's got a small editorial team on a staff of 40-plus. Back in 2018, 65 percent of its revenue was e-commerce, and that number has only grown in the past two years. A 2018 Digiday interview with Ben Clymer is particularly insightful (and the source for those numbers):
"We'd hit on something that hadn't been done before: An approachable vehicle to explain the world of high luxury to men. We're the only digital publication that focuses on men in luxury."
Hodinkee's pitch as a company that can scale to venture-level returns has very little to do with watches. It has to do with promoting a luxury lifestyle. So we shouldn't be surprised when they release a travel clock to promote that lifestyle. In the interview, Clymer continued:
"The Hodinkee lifestyle is thoughtful, handmade products built to last. It doesn't necessarily have to mean expensive. Quality made products that are slightly off the beaten path … that have a design ethos that is not trend specific. It's not about hype at all but lasting design."
And here's the disconnect. Is the travel clock "thoughtful" or a "lasting design"? Are these values even something that can be pursued when a company takes on venture money and has to grow at all costs (and sell $500k of travel clocks just because they can)? Or is it showing how Hodinkee's incentive structure has more in common with Allbirds or Juicero than, say, Nomos or Vacheron?
Hodinkee's shift to e-commerce has left the lane for quality, enthusiast-focused watch journalism wide open. The publication that accomplishes this will probably have to be membership (or subscription) driven. Existing publications, which all came up a decade ago with the existing assumptions of an ad-based business model, are all ill-equipped to take advantage of the opportunity. Further, many of the podcasts, etc. that I've seen gain traction are quick to partner with brands to monetize. There needs to be new blood in watch "media."
🎧 Podcast: Why your favorite writers are heading to Substack — an interview with Substack's CEO (your favorite watch 'letter has been here for 1+ year!). Also, the 80 best single-operator newsletters (scroll down, all the way down 😅).
🏎 I've always loved chronographs with oddly-placed date windows. There's something asymmetrically symmetrical about them that I find so weird and attractive, perhaps none moreso than the Heur 3147 Dato 45. It came in two executions: The first execution features a red date window just above the Heuer logo at 12 o'clock. The second execution is where things got real weird, with a black date window at 9 o'clock. Shuck the Oyster is offering a First Execution 3147N (black dial), while Rarebirds is offering a Second Execution 3147 with a reverse panda dial.
🍽 In Chicago: A first look inside Curtis Duffy's new restaurant, Ever.
❣️Please tap the heart or leave a comment!
Meme of the Week:
So many great memes (objets d'art) out there this week.
—
Rescapement is a weekly newsletter about watches. If you enjoyed this edition, consider forwarding it to a friend. For all the latest, head to rescapement.com.