Discover more from Rescapement
Updates on my Hodinkee writing; b-sides and behind-the-scenes; unpolished personal musings; recs and other unsolicited advice.
Internet Trends, Omega, and the Future of Watches
Rolex as bitcoin, Vacheron and blockchain, and vintage watches for sale
Written while watching the U.S. Open, brought to me commercial-free by Rolex
Feature
Internet Trends and the Future of Watches
This week, venture capitalist Mary Meeker released her annual Internet Trends report. It's 300+ slides of statistics about, well, internet trends. Given the frequent writing in this newsletter about the current state and the future of the watch industry, it's interesting to step back and look at the macro trends impacting the industry we tend to focus on here.
Among the highlights from Ms. Meeker:
Asia Pacific accounts for 53% of all internet users, but there is only 49% internet penetration in the region (for perspective, North America accounts for 9% of internet users but has achieved 89% penetration) — China alone accounts for 21% of all internet users

Ecommerce accounted for 15% of retail sales in the U.S. (it grew 12.4% year-over-year; physical retail grew 2%)

52m wearables users in the U.S., up from 25m in 2014
In the presentation, Meeker highlights disruptive fashion companies like Stitchfix and Farfetch. Both companies have articulated strategies that go beyond simply selling clothes: they're collecting data to optimize the customer experience. For Stitchfix, this means more personalized and accurate recommendations in each box ordered. For Farfetch, this will mean turning all the data it collects from each purchase into the basis of a business intelligence and advisory business for fashion brands.
The report also reveals that most retail customers (91%) prefer brands that offer personalization and recommendations. What's more, 74% of customers will actively share data in exchange for these personalized experiences. Yes, privacy is a concern, but only so far as consumers feel like they're not getting anything in return.
By the way, the future of ecommerce will be fraught with competition from tech giants, namely Amazon and Instagram (which keeps improving its in-app purchasing features). And remember how 21% of internet users are in China? Well China's tech giants — led by Alibaba and Tencent — are intent on selling stuff to them too.
Perhaps that's why Omega is experimenting with a "virtual pop-up" on Alibaba's Tmall Luxury Pavilion site. The pop-up will be the exclusive place to purchase the limited edition Aqua Terra Beijing. Yes, it's yet another "limited edition" from Omega, something we all joke about. But experimenting and partnering with these tech platforms is the only way forward for traditional watch companies, so I don't begrudge Omega and the Swatch Group for trying.
But, they must tread carefully: every purchase generates data that the technology companies intend to monetize in some way. It may be creating their own line of products, like Stitchfix and Mr. Porter have done. It may be selling business intelligence and insights, as Farfetch intends to; or, it may just be selling ever-more targeted ads, which companies like Instagram and Amazon have mastered. Whatever it is, watch companies would be best served by looking to form true partnerships with technology companies so they can share in the potential upside of these growing ecommerce platforms, and not become victims of their success.
---
Others News
On Blockchain and Speculative Rolexes
👨‍💻 Vacheron Constantin to Pilot Blockchain Authentication.
Speaking of innovation. Probably the most important question about a watch is its provenance. Where did it come from, and can you prove that it came from where you say it did? In reality, there's not a full-proof way to be sure that the box and papers being offered alongside the watch are legit. Vacheron Constantin is hoping to use blockchain technology to chain that. It's launching the pilot project with its high-end Les Collectionneurs timepieces, but if successful, will expand from there. Additionally, Vacheron is owned by Richemont, and the luxury conglomerate views this as a pilot for all its watch maisons; if successful, Richemont hopes to roll it out to its other brands.
🕹 The Most Technologically Innovative Watches of 2019.
Sure, innovation in how brands sell us watches is fun. But what about some good old mechanical innovation. Bulgari, Tag Heuer, and a certain "Freak" have all released some crazy watches in 2019. It's time to give them the attention they deserve.
💧 Water-is-Wet: Rolex Drought Shows No Signs of Easing.
As everyone knows, it can be hard to get a stainless steel Rolex from an authorized dealer — WatchPro isn't breaking any news there. But they've added some numbers to the equation, citing "a belief that production is increasing by around 6% per year. It is assumed (although never confirmed) that Rolex is making around one million watches per year, which would mean an additional 60,000 watches are being made in 2019.
In addition, Rolex is continuing to trim its global network of authorised dealers, which should lead to its most productive partners gaining share and infinitesimally better allocations."
Look, another 60k in production a year is a proverbial drop in the bucket. At some point, a Rolex becomes a speculative asset — like bitcoin, or tulips in 16th century Holland. Sure, there is intrinsic value in wearing one, but not at the grey market prices they can command. In short, there's no coming end to the Rolex shortage.
✈️ Rolex GMT-Master History and Timeline.
An excellent history and timeline of the Rolex GMT-Master line from Fratello. Launched for Pan Am in 1954, the GMT has evolved into a modern watch while retaining the elements that make a classic a classic. This articles covers all the references from the Ref. 6542 to 2019's Batman on a Jubilee bracelet.
---
Sales Corner
Last month, I took time to introduce you to Favre-Leuba, the second-oldest Swiss watch brand. One of Favre-Leuba's coolest innovations was the Bivouac, the first mechanical watch that could measure altitude and air pressure. This Ref. 53203 from the late 1960s is a great example of the Bivouac, with a silver dial, black bakelite bezel and an original vintage stainless steel bracelet. Price: EUR 3,900 (Watchpool 24).
Smiths was the last surviving British watch company to fully manufacture watches in the UK, and from the 1950s until the company was shuttered in the 70s, Smiths supplied watches to the Ministry of Defense. The W10 aviators watches were issued beginning in the late 1960s, and the Caliber 60466E movement inside beneath the shielding of an anti-magnetic dust cover was the last serially produced British-made movement. It's 35mm, got tritium lume, railway outer track, and a legitimate vintage military style that's just classic. Price: $1,880 (Those Watch Guys).
Gallet MultiChron Pilot Chronograph
Something about a mid-century chronograph with multiple colors of text on the dial just gets me. This 38mm stainless steel Gallet chronograph is an extremely clean example of the MultiChron Pilot, a watch Gallet produced from the 1960s through the mid-1980s. Early versions of the watch used either a Valjoux 72 or Excelsior Park 40; the example here used the V72 (more desirable — this movement can be found in Daytonas and Heuers of the era too). This one has the all white/silvery-dial; a reverse panda can also be found on the vintage market. The present-but-not-overpowering bezel gives it a bit of an Autavia feel, and the blue tachymeter and red telemeter give it a sporty and functional feel you expect from a mid-century chronograph. Price: $4,500 (Menta Watches).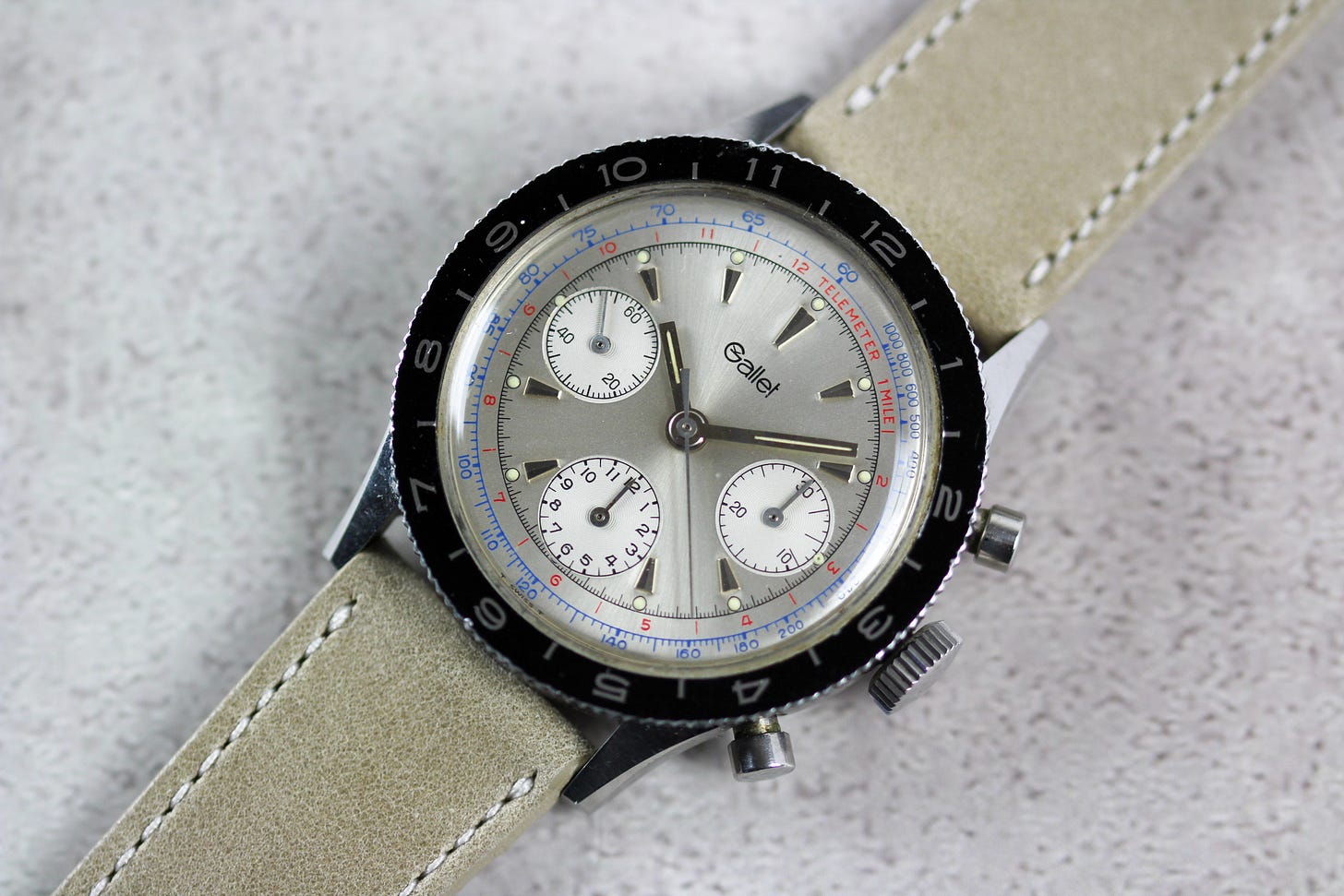 ---
Ticks & Tocks
🤷‍♀️ Audemars Piguet and Code 11.59: How to fail at marketing. 🌒 To celebrate the 50th anniversary of the first moon landing, Sotheby's will be hosting a special Omega auction in New York. ☀️ Movado Group will begin selling MVMT watches in the UK. 🇨🇭 Hodinkee's Joe Thompson and his dispatches from Swatch Group's anti-Baselworld. 🎧 Worn & Wound talks independents with Halios, Autodromo, and Baltic. 📹 And, Worn & Wound's video recap of Windup Watch Fair SF (p.s. host one in Chicago!) 🌲 The most secluded hikes in the U.S. ✍️ Here's what's changed about logos in the past year. 🏛 Curbed's guide to the best architecture in the U.S.
In Chicago: Can't get enough of Hamilton? Check out the Hamilton: The Exhibit on Northerly Island. (The Chicago Tribune's review says you'll love it too).
Thanks for reading!
-Tony
Questions/comments/tips? Just respond to this email (and please tap the heart above to like it!).
Meme of the Week:
(I don't hate Tag, just here for the lolz)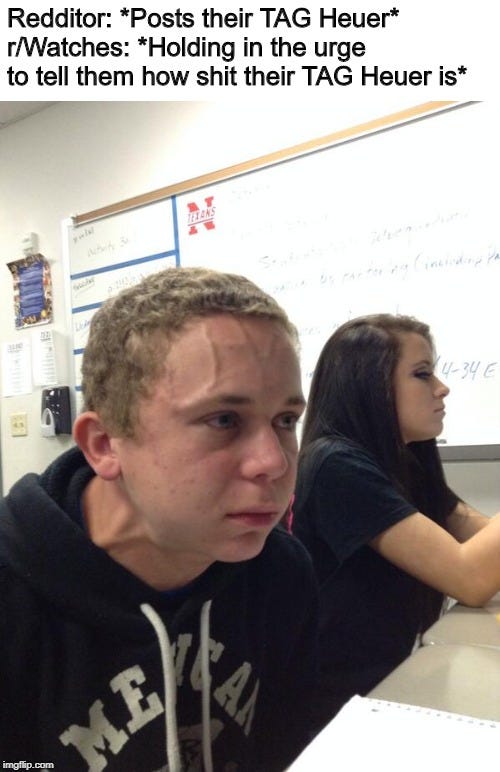 From redditor u/Tomas185