Discover more from Rescapement
Updates on my Hodinkee writing; b-sides and behind-the-scenes; unpolished personal musings; recs and other unsolicited advice.
In-Depth on Chronext and the Secondary Market
Anthony Bourdain's watch collection
In-Depth: Buying with Chronext
Note: This is not a paid placement in any way; it's simply a write up about my buying experience with Chronext.
Towards the beginning of 2019, I set out to buy a new — or gently worn, pre-owned — watch. I had my eyes on a Nomos Club Campus, but knowing new watches like this tend to lose at least 25% of their retail value once you take them home from the authorized dealer, I was reticent to buy at full retail price.
Like any decent enthusiast, I set up my alerts and scoured the forums to find one at a pre-owned discount. I also checked the grey market and pre-owned websites that the watch community loves to hate: Watchbox, Crown and Caliber, Watchfinder, and so on.
But one site kept popping up that I'd never heard of before: Chronext. As I tried to dig into the company, it turns out not many others had heard of it either. They raised $34 million at the beginning of 2018 and the company was seeking another $25 million at the beginning of 2019, but I couldn't find much on the actual customer experience. Most of all, one thing stood out about Chronext: The low prices.
While Nomos offers a brand-new Club Campus for $1,800 on its website (props to Nomos here, because unlike some brands, you can actually buy its watches on the company site), it was listed for a mere $950 on Chronext.
What Is Chronext?
Based in Germany, Chronext was founded in 2013 and has raised more than $50 million since it launched. At its last closed funding round in January 2018, Chronext said it saw $60 million transaction volume on its website in 2017 and expected that number to more than double in 2018. As of early 2019, the company said 23,500 customers had purchased a watch on its website, with an average order volume of about $5,000.
Chronext is a platform that allows authorized dealers to connect and do business with customers around the world. Even though it's a marketplace, customers still buy directly from Chronext, and the company takes care of the customer service (every watch comes with a 24-month Chronext warranty), authentication, and logistics. In fact, Swatch Group authenticated its workshops just last year.
Both new and used watches can be found on Chronext. For example, anything from a modern, Rolex Submariner Reference 114060 to a vintage Submariner Reference 5513 can be found on the site now. Nowadays, this means that Chronext sources its watches from two places: first, from its network of authorized dealers, and second, by offering to buy pre-owned watches from anyone who's willing to sell. This also means buying pre-owned watches from authorized dealers, giving these dealers an avenue to cash in on trade-ins made when customers come in for a new watch. This adds some much-needed liquidity to the pre-owned market, making it easier for customers to realize some cash for their watches so that they can put it towards their next purchase.
Nomos created waves when it appointed Chronext and Chrono24 as official retailers last year. So much so that Wempe cut ties in the wake of Nomos' announcement. Of Nomos' association with Chronext, Wempe CEO Kim-Eva Wempe said:
"Supplying products to Internet platforms that have not been licensed to date, and that primarily draw their product range from the gray market, is contrary to our marketing strategy," says Wempe CEO Kim-Eva Wempe.
Chronext says it has 14 brands that have signed up to partner with the platform, but only Nomos has gone public with its partnership.
Buying from Chronext
Back to the website. When you click on a watch model, you're shown all of Chronext's buying options: new, used, and by year. This is unlike many other pre-owned markets, which makes shoppers sort through pages of listings to find the few watches of the same reference they're interested in comparing.
This is basically the StockX model, and I think it's the right one: it allows customers to see prices for all options on one page, offering a more seamless experience. Chronext could take this a step further, allowing shoppers to see historical prices as well. Unlike StockX, Chronext sells new and used pieces, which sets it up to take a larger slice of the pre-owned watch market.
Vintage Vibes
Chronext launched as a platform for authorized dealers to expand their reach, but they have made efforts to expand into the vintage market. There are plenty of dealers (including those you'll find on Chrono24) selling vintage watches online, but there is too often a lack transparency into the quality and provenance of these pieces, and what the customer is getting for the quoted price.
In the pre-owned market, "buy the seller" is the common refrain heard from collectors; Chronext is trying to change that to "buy the platform." Chronext's willingness to take on the heavy lift of authenticating these pieces and also offering a two-year warranty is a position similar ecommerce companies have been reluctant to take on, especially in the vintage market.
Becoming a trusted marketplace and platform is the billion-dollar goal for technology startups: Amazon, Airbnb, Uber, and others have become global household names by pursuing this goal in larger industries. It starts with selection — Amazon wanted to become known as the "everything store" where customers could buy everything from dog food to Madagascar cockroaches from trusted retailers.
Chronext has the looks of a company with the goal of becoming the everything store, but for watches. I'd offer a word of caution here: selection isn't everything in watches. There should also be curation. If eBay has too many watch offerings and Hodinkee's vintage offerings are too few, the happy medium of selection and curation rests somewhere in the middle. Hopefully Chronext can strike this balance, offering a selection of watches for everyone's taste without drowning shoppers in choice.
Conclusions on Chronext
The entire buying experience with Chronext just felt a little different compared to some of its ecommerce competitors. It starts with the price: almost across the board, Chronext's prices seem fair, if not downright low, even compared to its secondary market competitors. Sure, forum prices on vintage pieces might still be lower, but play that game long enough and you'll lose on one.
The pricing instills an initial sense of trust that Chronext isn't another online dealer trying to fleece you by overcharging for a watch it acquired a few weeks back by low-balling some other poor schmuck.
Next — and it's a little thing — the website is just cleaner than any of Chronext's competitors. Apparently it took some German engineers and $60 million, but someone finally put some actual thought into designing a pre-owned watch marketplace. It's clean, cohesive, and easy to navigate.
The after-purchase experience was similarly cohesive and easy-to-navigate, with a customer service representative in constant contact until my watch arrived, even checking in to make sure I received it. It's a personalized, luxury experience on par with what you'd expect from a company you just spent $1,000+ with.
The pre-owned watch market is a better place with Chronext, and I'm excited to see where they head in the future with the significant investments they've taken on the past couple years.
Read about the entire Chronext experience and what's next for the ecommerce startup

here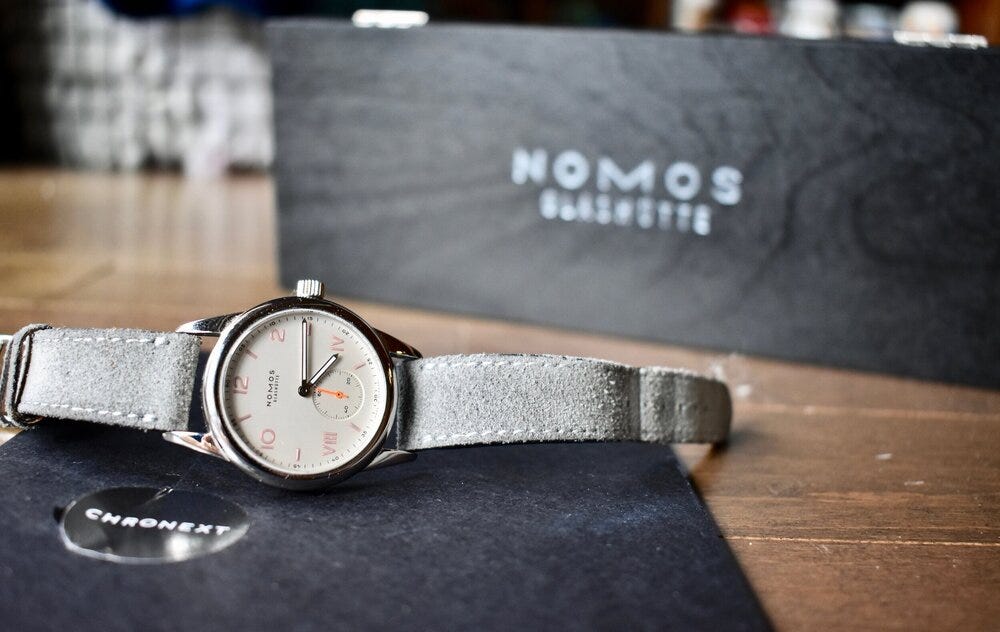 ---
Other News
Kind of. They're looking to hire a retail sales director and sales people for their first retail location. But, the new location won't be a first-level store front, it'll be upstairs in their Soho office building. It's a way to experiment-without-experimenting, and since everything the Dink touches turns to gold, it'll probably work.
Timex X Huckberry. The brands released a dive watch collab, and it doesn't look too bad. Kind of like a Casio Marlin at 3x the price and without the Bill Gates connection. Find it at Huckberry for $118.
Anthony Bourdain's Collection Up For Auction. Through October 30, you can bid on 8 pieces from Bourdain's collection that travelled the world with him. This little 9k rose gold Rolex, likely inherited from his father is a particular highlight for me. Current bids far surpass estimates for every piece in the collection, showing just how idolized the man has become in the year-plus since his untimely passing. For example, this Panerai Radiomir (which, if you look closely, you can see him sporting in any number of TV episodes) had an original estimate of $2,000 to $4,000. The current high bid sits at $12,000. If you can't afford these, Bourdain's Kitchen Confidential is one of the most fun reads I've had in the last couple years. You don't need to spend 5 figures to honor the man's legacy; just learn to live life like he did.
The 7 Vintage Watches That Changed How I See Movado. A decent intro to vintage Movado from publication that doesn't do much vintage.
---
Ticks & Tocks
😡 The 5 most sought after Rolexes. 📡 Something new from Gruebel Forsey. 🤵Another handsome watch from the Longines Heritage collection. 🏢 Rolex is building a new HQ in Manhattan. 🕺 Wrist-checking Will Smith.
In Chicago: Don't forget, this weekend is MicroLux Chicago at ArtSpace 8. Give me a shout if you're there on Saturday, I'd love to say hey!
Thanks for reading!
-Tony
Questions/comments/tips? Just respond to this email (and please tap the heart above to like it!).