Discover more from Rescapement
Updates on my Hodinkee writing; b-sides and behind-the-scenes; unpolished personal musings; recs and other unsolicited advice.
How Much Are Mayer's Watches Worth?
Our best of Baselworld + previewing Antiquorum's online auction
Feature
John Mayer Has How Many Daytonas?
A lot. If you haven't watched John Mayer's Talking Watches 2 yet, just do it. Sometimes, Hodinkee still gets it right — it's 30 minutes of pure bliss.
For this second installation, Mayer brought out some heavy hitters. His Rolex Daytona collection is likely second to none, and the other vintage and concept pieces he shows off tell the tale of a man deep into it in every way.
Mayer mentions at the beginning of Talking Watches 2 that if he tried to purchase all of these watches today it'd be "prohibitively expensive". In other words, he's bought and held on to many of these pieces for years and seen their values rise, sometimes significantly.
That said, we had some fun. We estimated the current value of the 20 watches he showed in the episode to see how much (part) of his collection is worth.
---
In Other News
Not Another Best of Baselworld Post
Yes, just one more. Our 10 best everyday watches from Baselworld 2019. From Patek's new complication to G-Shock's new Full Metal release, we've got you covered.
I Want A Little Lange. For their 25th anniversary this year, A Lange is introducing 10 limited edition pieces, each limited to 25 pieces. This month's release is the "Little Lange 1," a slightly more diminutive version (36.8mm x 9.5mm compared to the original's 38.5mm x 10.7mm) the Lange 1, featuring a white gold case and blue steel hands. Check it out on A Lange's website.
Why You Will Buy a Luxury Watch Online. The Wall Street Journal asks if you'd buy a luxury watch online. We know you will. Read our take here.
Back to Their Roots. How watch brands are rediscovering their DNA to discover their future.
Forum-goers have thoughts on the "Rolex paradox." It's the watch brand everyone knows — but why?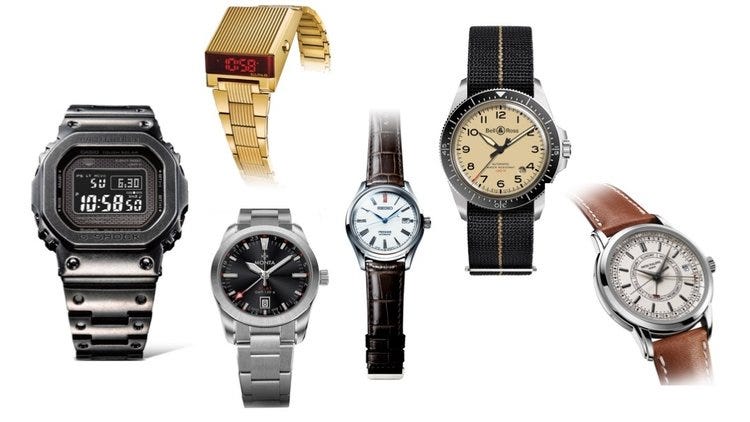 ---
Sales Corner
Spring for a New Watch at Antiquorum
Antiquorum is having an online auction on April 3, starting at 7am New York time. We took a look at the auction catalog too find some good stuff on offer:
---
Ticks and Tocks
Rainbow Everything
Rainbow was all the rage at Baselworld this year, and it turns out it's not the only place. Vox explains the rainbow everything trend. Men are ditching suits. An amazing New Yorker story on the day the dinosaurs died. Wired goes on the trail of the "robocall king." Apple redesigned the credit card, but can it redesign how we spend? How a 119-word FB post became the most-shared story of 2019. NYT's David Brooks goes looking for an internet cleanse. Why clothing quality is declining. GQ goes inside Tom Sachs' lab. The estate of Steve McQueen is suing Tom Ford. The $20 billion zipper lawsuit.
---
RESCAPEMENT Subscriber Referral Program
Refer 10 people, earn a NATO strap
We just finished our Seiko 5 giveaway, and if you didn't win, this is your chance at a consolation prize. All you have to do is refer your friends to this newsletter. When a new person subscribes, the first email they receive will now direct them to fill out a subscriber referral form identifying who referred them, so make sure they fill the form out so you can earn. It's simple:
Refer 5 people, earn RESCAPEMENT swag (stickers, magnets, a mug — we'll let you decide, subject to our inventory)

Refer 10 people, earn a NATO strap (color of your choice!)

Refer 1000 people, earn a Daytona or something — we'll figure it out
So what are you waiting for? Start referring now. Just tell them to go to rescapement.substack.com.
---
Thanks for reading; and now, referring!
-Tony
Questions/comments/tips? Just respond to this email.
Meme of the Week:
Not really a meme this week. But nothing I love more than capital J Journalists who are just trying to get some work done complaining about lower case journalists getting in their way. This from Mike Stockton over at Fratello. Come on guys, get out of Mike's way. He has some very serious busy posting some surely very original content about some watches that surely no one else was covering: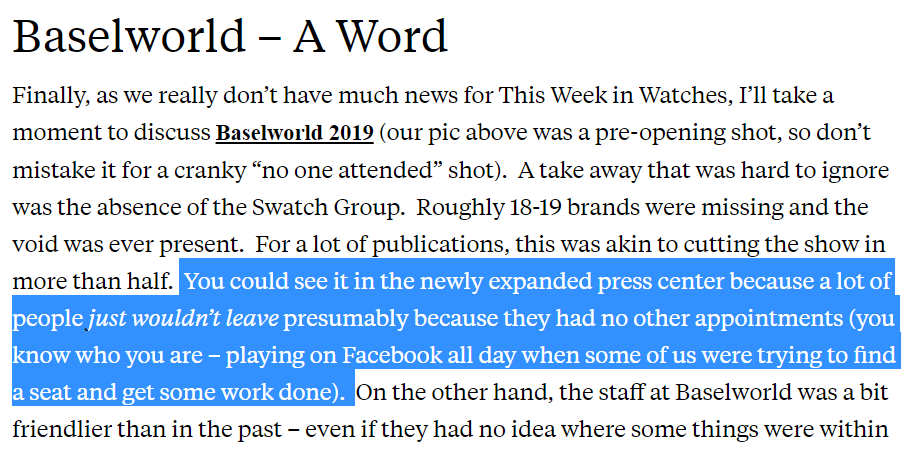 Then again, it looks like Mike just likes to complain.