Discover more from Rescapement
Updates on my Hodinkee writing; b-sides and behind-the-scenes; unpolished personal musings; recs and other unsolicited advice.
Hamilton v. Vortic Heads to Trial: Where We Are and How We Got Here
Plus, breaking down a Seiko 6139, the story on gem-set Rolex GMTs, and asking if it's bad that watch brands are adopting streetwear's "drop" model.
An update as Hamilton v. Vortic goes to trial, breaking down a Seiko 6139 chronograph, the story of gem-set Rolex GMTs, and asking if it's bad that watch brands are adopting streetwear's "drop" model. If you're new, please subscribe to get Rescapement Weekly in your inbox every weekend:
Hamilton v. Vortic Heads to Trial: Where We Are and How We Got Here
This update is meant to give an overview of the facts and law in Hamilton International Ltd. v. Vortic LLC such that readers can form their own opinions as the case heads to trial.
It's been a long two-plus years for Vortic Watches since Hamilton filed a trademark infringement and counterfeiting lawsuit against it back in July of 2017 (see the original complaint here). But, the suit finally comes to a head this week as a bench (i.e. non-jury trial) is set to begin in the Southern District of New York on February 19 (Hamilton International Ltd. v. Vortic LLC, 17-CV-5575).
Case background and complaint
In 2017, Hamilton, an historically American watch brand now owned by Swiss conglomerate Swatch Group, filed suit against Vortic and founder RT Custer alleging trademark infringement and counterfeiting, as well as levying claims of false designation and unfair competition under the Lanham Act, the federal statute governing trademarks and unfair competition.
Vortic Watches is an engineering and manufacturing company based in Fort Collins, Colo. The company uses 3D printing to create new, custom-built wristwatch cases, then drops mechanical movements and dials it sources from old American-made pocket watches to create bespoke wristwatches. In addition to manufacturing the case, Vortic also gets the original mechanical movement in working order, which at least sometimes means using movement parts from multiple antique watches.
In building these watches, Vortic maintains and restores the original dials and movements, meaning the branding of the original timepieces is kept. Visiting Vortic's website, you'll see watches with dials from historic American watch brands like Illinois, Waltham, and others. Before Hamilton filed its complaint, Vortic's offerings also included Vortic wristwatches with dials and movements bearing the Hamilton name.
In addition to bringing claims regarding Vortic's watches, Hamilton also asserts that Vortic's advertising materials — including its website — improperly infringe and suggest an affiliation with Hamilton. Hamilton alleges that the advertisements and watches are "likely to cause confusion", in the market, thus infringing on Hamilton's trademarks, and additionally that the use of the Hamilton name will wrongly cause consumers to believe Vortic's watches are endorsed by or associated with Hamilton.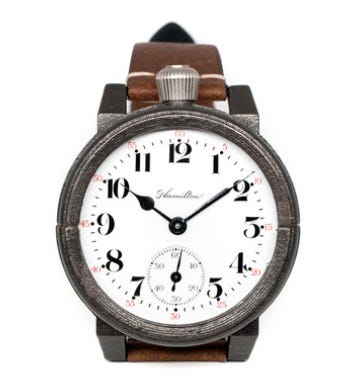 In its original complaint, Hamilton sought damages including: (i) a court order permanently preventing Vortic from using the Hamilton name in its products or advertising, (ii) Vortic's return of any materials (e.g. products, computer code, molds, advertising materials) bearing the Hamilton name, and (iii) monetary damages (including attorneys' fees for the cost of the suit), and that Vortic's conduct be found willful such that damages may be tripled.
That's just mean
You'll also find court records from 2018 evidencing what looks to be Hamilton's pretty blatant shirking of a settlement conference. The court scheduled two meetings between the parties in New York to discuss a potential settlement, and a Hamilton representative neglected to attend either, even after the court had said the representative could attend via phone. This came after Vortic's Custer came to New York to attend the conference in person. Because of Hamilton's bad faith actions, it was sanctioned and ordered to pay for Custer's travel and expenses.
Summary judgment
In September 2019, the court ruled on Hamilton's movement for summary judgment — essentially, a request that the court decide the case in Hamilton's favor before a full trial — providing a glimpse into where the case stood. The court denied Hamilton's motion on all counts, setting up the trial that is now expected this week. Denying a motion for summary judgment is basically the court saying "a reasonable jury could find for Vortic in this case", i.e. that there are genuine disputes as to material facts that need to be resolved through a trial.
In denying the motion, the court laid out its reasoning, giving a glimpse into what either side will be arguing in court this week.
Trademark infringement claims
The only element of trademark infringement subject to dispute in this case is whether Vortic's use of the Hamilton name could cause a "likelihood of confusion" among consumers, the standard for proving a claim of infringement. In determining whether there is a likelihood of confusion, the court in this case looks to: (i) actual confusion of consumers, (ii) the defendant's good faith in adopting its own mark, and (iii) the sophistication of the buyers. That's right folks, the sophistication of watch collectors as buyers is partially on trial here! Additionally, Hamilton must show there is a probability of confusion, not a mere possibility.
In addition to these factors, the court pointed out that in cases such as this one, involving genuinely modified products, adequate disclosure of the origin of the product has been enough to decide the case in the defendant's (here, Vortic's) favor. The court pointed to a case in which a defendant that sold reused spark plugs was found not to be infringing a trademark, so long as the spark plugs had "used" or "repaired" conspicuously stamped on them. In cases like this, the court weighs heavily this "disclosure" factor in determining whether there is a likelihood of confusion.
The advertisements
First, the court analyzed whether Vortic made adequate disclosure as to the origin of the products in the advertisements Hamilton took issue with. Taking the Vortic website first, the court points out that the branding Vortic had given the watch, "The Lancaster" and "American Artisan Series", appeared in large bold letters. Then, in smaller print, the ad explains that the movement, dial and hands came from an antique pocket watch "made by Hamilton Watch Company," going on to explain how Vortic builds its watches. The court ruled that a reasonable jury could conclude that this advertisement constituted "full disclosure" as to the fact that Vortic is producing watches from old Hamilton components, and thus absolve Vortic of the infringement claim. The court applied the same reasoning and analysis to a similar print advertisement, as well as to a Vortic tweet, sending all three claims to trial.
The watch
Similar to its analysis of the advertisements, the court also ruled that a reasonabl jury could look at the Vortic watch itself and conclude that full disclosure as to the source of Vortic's components had been achieved. The court pointed out that Vortic's wristwatches look like obviously modified pocket watches, additionally concluding that the Vortic name, serial number, and "Lancaster" branding might predominate over the original Hamilton marks. This might adequately lead a consumer to believe the Vortic product is what is, namely a Hamilton pocket watch that Vortic has restored and re-cased as a wristwatch.
As for the other factors to determine trademark infringement: actual confusion, the defendant's good faith, and the sophistication of buyers, the court didn't find enough evidence for Hamilton there either.
To prove actual confusion, Hamilton relied primarily on an email that a potential customer sent to Hamilton. That email had images of Vortic products attached, then asked the Hamilton recipient where one could be purchased. From a legal perspective that doesn't prove much, does it? All it shows is that some consumer, somewhere, is interested in buying a vintage Hamilton watch, and Hamilton's got Vortic to thank for it — that's hardly dispositive (from a business perspective, Vortic would argue that its business is actually a net positive for Hamilton, creating awareness for the brand and its history. Hamilton, meanwhile, argues that Vortic's use of the marks dilutes the brand).
Lastly, looking at the sophistication of consumers (that's us!), the court quoted a previous decision in saying that "the average consumer spending hundreds of dollars on a watch that will be worn for years is likely to give close attention to the type of watch he or she is buying." So, we're sophisticated and thus might understand the true origin of Vortic's watches, if only because we're spending ridiculous amounts of money on these things.
With that, the court sent the trademark infringement claims regarding both the advertisements and the watches to trial.
Counterfeiting and Unfair Competition
The standard for a counterfeiting claims is similar to that of a trademark infringement claim: Hamilton must show that Vortic's use of the mark is "likely to cause confusion, or to cause mistake, or to deceive". Since the court ruled on the trademark infringement claim that there is a genuine dispute as to whether there is a likelihood of confusion, the court also sent the counterfeiting claim to trial. Similarly, the standard for an unfair competition claim is the same as for trademark infringement, so that claim moved to trial as well. Summary judgment was also denied on Hamilton's dilution claim.
What to expect this week
While this case gets to the heart of many fundamental issues in the watch industry (and even the U.S. legal system), this analysis focuses on the legal framework that will be used by the court to decide the case. Of course, courts contemplate the broader implications of any decision they hand down, but they must do this within the bounds of legal precedent and analysis. It's fair enough to say that Vortic's founders are "good kids" or that Swatch Group is acting as a malicious luxury conglomerate (or to argue the opposite), but these statements have no direct implications for the legal arguments and decisions to be made. In court this week, both sides will surely try to make these broader arguments too, but in the context of the legal framework outlined here.
---
Ticks & Tocks
1️⃣ Breaking down the Seiko 6139 automatic chronograph, the brand's first automatic chronograph that competed with the Zenith El Primero and the Heuer Caliber 11 to lay claim to the title of the "world's first automatic chronograph" back in 1969.
🏆 Kanye West wore a gold Ikepod watch to an Oscars afterparty, a watch he's previously described as his "favorite watch." ☯️ Nomos: Creating symmetry from chaos. 📅 Hodinkee puts the Rolex Daytona reference 116500LN on the wrist for a week. ⁉️ Is it a bad that watch brands are adopting streetwear's "drop" model? 😱 Timex dropped (and promptly sold out of) the M79 Automatic. 💳 Fratello goes hands on with the Swatch Pay. 💎 The Rolex SARU: The story of the gem-set GMT.
🏙 Curbed on where to live in 2020.
Thanks for reading!
-Tony
Tap the heart above to like this email, comment, and and please share Rescapement Weekly: