Discover more from Rescapement
Updates on my Hodinkee writing; b-sides and behind-the-scenes; unpolished personal musings; recs and other unsolicited advice.
Feel Just Like a Rockstar: Post Malone and Spring Auctions
Post Malone's Milles, spring auction preview, a look at the vintage Zenith A3818, and is Top Gun about to give pilot's watches their moment?
Post Malone's Milles, spring auction preview, a look at the vintage Zenith A3818, and is Top Gun about to give pilot's watches their moment? If you're new, subscribe to get Rescapement Weekly in your inbox every weekend:
Reviewing Post Malone's Ridiculous Watch Collection
John Mayer may be "the world's most influential watch collector", but Post Malone is certainly something. As part of his stint as this month's GQ cover star, Posty also did a video with Gentleman's Quarterly in which he shows off a bunch of watches from his insane — and growing — collection (full video embedded below).
It's not surprising that a guy who's sung/rapped/bragged things like: "I'm in Saint-Tropez I had to check wrist", "Richard Mille my watch, thousand dollar Crocs", and "my AP goin' psycho" has a collection worthy of a GQ spread, so let's take a look at Posty's best pieces and how much big boy money he's dropped on them.
'Got 'em sayin' 'wow''
"It feels good to grow up, to wear cuff links and watches," Post Malone says before introducing us to his collection. "I feel like watches are a great investment, with the factory diamonds, super rare collectors' pieces, that's stuff I'm always looking for." For a guy that puts on a don't-give-a-fuck attitude, it seems Posty's got quite the horological investing strategy. While some might see Instagram or blog posts calling out Posty's million-dollar Milles and dismiss his collection as that of a typical rockstar, his watch box actually shows surprising depth and variety (especially when we remember the young Austin Richard Post is just 24 years old). he shows 9 watches to GQ this time around, so let's take a look at all of them.
Rolex Daytona reference 116595RBOW 'Rainbow Daytona'
Posty starts off with his Everose gold Rainbow Daytona. Released by Rolex in 2018, this Daytona, with factory-set rainbow colored gems in the bezel, is a follow-up to the immensely popular 2012 releases of the similar "Rainbow Daytona" motif in yellow and white gold. It seems to be a particular favorite among rockstars and Hollywood types that want something blingy, but still want to show that they know what Rolex is. Posty pulls this watch off as well as anyone I've seen.
Posty: "I think it's pretty bitchin'. It's classy but it still jumps right out and grabs you."
Price: $96,900
Patek Phillipe Aquanaut 'Khaki Green'
Speaking of John Mayer, the man himself has claimed that his taste was the inspiration for this Patek Phillipe Aquanaut. I'm assuming this is the recently released Aquanaut 5168G, and not one of the super rare stainless steel 5167A examples with the "Khaki Green" dial that are also known to exist (e.g., this example that sold at Sotheby's in 2014. Side note: holy shit, can you believe that 5167A sold for $52k six years ago? This thing is an easy six-figure watch now). The 5168G is a 2019 update to the white gold version of the popular sports watch from Patek.
Posty: "It's really really special to me, so I'm lucky and blessed to have this one."
Price: $39,690
Patek Phillipe Nautilus reference 5719/10G
Now for the diamonds. Post Malone next pulls out his iced-out white gold Nautilus — don't worry, it's all factory set diamonds here. Here's how Patek describes the factory-set diamonds in this ridiculous piece:
Case: 100 diamonds: ~0.69 ct. and 32 baguette diamonds: ~5.51 ct.

Dial: fully set with 255 diamonds (~1.36 ct) and 3 baguette diamond hour markers (~0.01 ct).

Bracelet: 803 diamonds: ~3.55 ct. and 150 baguette diamonds: ~7.52 ct.

Total 1,343 diamonds: ~18.73 ct.
Posty: "This is one of my favorites for whenever I feel like shining, whenever I feel like stepping out and making some trouble."
Price: Don't ask (about $400k)
Richard Mille RM-12 Tourbillon
Next up, Post Malone flashes what looks like an original RM-12 Tourbillon (i.e. the OG 2006 edition, not the 2018 re-release RM-12-01). The watch is packed with technical innovations: the first non-metal base plate, instead using a complex set of tubes, into which the tourbillon has been integrated. If an innovative tourbillion movement from one of watchmaking's biggest innovators isn't enough, the RM-12 was limited to just 30 pieces.
Post Malone also shows off some Richard Mille cufflinks to GQ, so that's fun too.
Posty: "They told me it was the lightest tourbillon in existence, which makes me feel like a spaceman."
Price: Really, don't ask
Richard Mille RM-55 'Bubba Watson'
We already know Drake likes this watch, and it turns out Post does too. Post Malone shows off what looks like the RM-55 'Bubba Watson", which is itself inspired by the RM-38 'Bubba', which Richard Mille first introduced in 2011. Much of the watch is made of titanium, and the case is constructed with stand-out white ceramic.
Posty: "I like the subtlety of it. If you look at it and you're not a watch guy, you won't know what it is."
Price: ~$200k
Richard Mille RM-52 'Asia Edition'
We've seen Post Malone wearing this Richard Mille RM-52 Tourbillon Skull "Asia Edition" before. Posty says this is by far his favorite watch, divulging that he spent $1 million on it. As Robb Report put it:
[The RM-52] watch features a giant skull, making it the perfect timepiece for someone who saw fit to get barbed wire, a Playboy bunny and 'Always Tired' inked across his face. But because this is Richard Mille we're talking about, that skull isn't just there for decoration. It's actually at the heart of the technically impressive watch. Made of grade 5 titanium, the front section of the skull includes the watch's skeletonized baseplate and bridge, while the back makes up the movement's center bridge.
This limited edition Tourbillon Skull was originally released back in 2012, when it carried a price tag of $500,000. Rest assured that prices have only increased since.
Posty: "this is my most expensive watch. One million dollars. I feel weird saying that. It's cool because now I have shit to talk about in my songs, so that's part of it too."
Price: $1 million
Audemars Piguet Royal Oak reference 15400
Post Malone next shows his Audemars Piguet Royal Oak, which he says was a gift given to him by 21 Savage. It looks like 21 Savage opted for the reference 15400 grey ruthenium-tone dial instead of the ultra-popular blue dial.
Posty: "He [21 Savage] doesn't rock a lot of jewelry, but I got him a nice icy Rolex for his birthday."
Price: $17,800
'Sorry momma for my vices'
Post Malone finishes by showing off a couple Hublots, both with healthy six-figure values. Panning over Posty's watch box, we also catch a glimpse of what look like a gold Rolex Sky Dweller and gold Day-Date, as well as a couple more Richard Milles. But, limiting our review to what he shows the camera gives a pretty good overview of what Posty's into.
Just the nine pieces Post Malone shows to GQ represent more than $2.5 million of watches. Not bad, considering the 20 watches from John Mayer'sTalking Watches 2 represented about $6 million in value. Of course, Posty's number is buoyed by a couple big-time Richard Milles, but the Patek and Audemars Piguet choices in his collection show he's a man with well-rounded and developing taste.
See the full review here
, including photos and video of Posty's collection.
---
Sales Corner
Spring Auction Preview: Watches of Knightsbridge and Antiquorum
Now, for something different. While the big trade shows in the watch industry, Baselworld and Watches and Wonders, have been cancelled for 2020, the auction show goes on. Some of the larger auction houses don't have their showcase "Important Watches" auctions until later in the season, but there are a couple upcoming sales from Antiquorum and Watches of Knightsbridge worth highlighting. Additionally, Christie's and Sotheby's will be hosting a few online-only auctions over the next month (see our preview of Christie's spring online auction in last week's newsletter).
Let's take a look at some of the most exciting lots from across the season's early watch auctions.
Watches of Knightsbridge's live auction will take place in London on March 28. Watches of Knightsbridge also hosts monthly online-only auctions that typically offer a range of affordable options for those looking to get into the auction game. Even this auction features an assortment of reasonably priced options: the highest estimate (at GBP 40,000) belongs to a Rolex Daytona reference 6262.
I'm big on watches with military provenance, and this Jaeger LeCoultre delivers that in spades. The Mark 11 (XI) was launched in 1948 when IWC and JLC produced watches based on specifications for the British Ministry of Defense. IWC and JLC made similar, robust watches that met the MoD's stringent requirements. However, JLC only made its version until the early 1950s, while IWC continued to produce its Mark XI until the 1980s, eventually selling theirs commercially. Inside the JLC ticks an anti-magnetic, chronometer-grade movement approved by MoD. Due to their rarity, these JLC Mark XIs offer an extraordinary value for a military-issued watch, especially considering the anti-magnetic, chronometer-grade, MoD-approved caliber inside.
The JLC Mark XI was made in two batches, the first delivered in 1949 and the second delivered in 1953. This is a first batch example, with case back engravings dating it to a 1948 production date.
But enough about the history: I love these military watches simply because they're vintage watches that still tend to be tough as nails and look great with pretty much anything.
Lot 85 estimate: GBP 4,000 to 6,000
We love the vintage Rolex Air-King reference 5500 (see in-depth article here), especially rarer or non-standard examples. That's exactly what Watches of Knightsbridge has on offer here. This is an example from 1958 and features a rare dial variation with 3-6-9 Arabic numerals and dagger markers between, as well as beautiful dauphine hands. There are a number of fun variations of the early Air-King from the late 1950s and early 1960s before Rolex standardized the Air-King dial to feature the standard baton indices and stick-like hands. They present excellent value in vintage Rolex, and an opportunity to pick up rare and unique watches at reasonable prices. This lot is a perfect illustration of that.
Lot 177 estimate: GBP 2,000 to 3,000
Antiquorum
Antiquorum's Important Modern & Vintage Timepieces Auction will take place in Geneva on March 21. There are nearly 300 lots on offer, ending with a Rolex Daytona Paul Newman reference 6241 (with an estimate stretching to $200,000). There are a ton of the expected offerings in the lead-up to the Paul Newman cover watch: a Patek Aquanaut 5064A, a Nautilus reference 5800, Nautilus reference 3700, a plethora of Audemars Piguet Royal Oaks and a bunch of special Rolex models. Here are a few more of our favorites.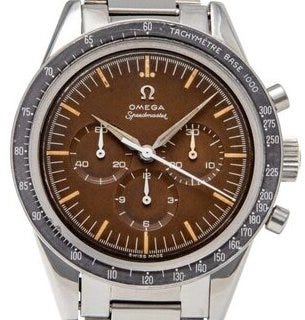 The Omega Speemdaster CK2998-1 is already an important watch, but that's not what caught my eye here. It's that delicious, tropical dial. Sure, we'll see a few CK2998 examples come up for auction every season, but how many of them look like this? According to Omega extracts, this particular example was delivered to Zaire, giving the dial a completely tropical and uniform look thanks to the hot African sun.
The Speedmaster was born in 1957, and was quickly replaced by this model, reference 2998-1. Produced only between 1959 and 1960, it's got a clean, straight lug case, dot-over-90 bezel, and the Lemania-based caliber 321 inside. And of course, that dial.
Estimate: $46,000 to 92,000
Okay, many will probably shy away from this Rolex reference 3055 chronograph because it measures just 29mm in diameter, but hear me out. Where else are you going to find a pink gold, black gilt dial Rolex chronograph for less than $20,000? The pink gold contrasting against the deep black dial has a dramatic effect, and the outer pulsation ring only adds to the dial's interest. Inside is the Valjoux 69, a super tiny column-wheel chronograph movement used in watches of similar stature to this "Piccolino." The Piccolino was first introduced by Rolex in the 1930s and billed as the "world's smallest chronograph"; Rolex brought it back in the 1950s, swapping in the square pushers present in this example.
Lot 263 estimate: $8,200 to 14,400
See the full preview with exclusive photos

here

.
---
Ticks & Tocks
💯 With the release of the Zenith x Revolution revival of the A3818 "Cover Girl", I took a look at sales of the hard-to-find vintage El Primero model. Production of the original El Primero reference A3818 is estimated at just 1,000 pieces, and as Revolution's post about its A3818 reissue alludes to, vintage examples of these El Primero references are difficult to find, and when they do come up for sale, they often change hands in private sales.
🎙 I was on the 40 and 20 podcast to talk about the Hamilton v. Vortic lawsuit. ✈️ NYT says it's going to be a big year for pilot watches with the return of Top Gun to theaters. GQ's watch reporting is killing it: 🤬 meet the man who tracks down stolen watches, and 👨‍🎨 meet the watchmakers who don't want to tell you the time. 🎉 New releases from Seiko: Diver's 55th Anniversary and highlights from Grand Seiko's 60th anniversary novelties.
In Chicago (kind of): 12 Frank Lloyd Wright houses you can rent right now.
Thanks for reading!
-Tony
Tap the heart above to like this email, comment, and please share Rescapement Weekly: